It's no surprise Safe Harbor Humane Society Fundraising Coordinator Erin Lenegar hoped for nice weather for the organization's Walk for Paws fundraiser on Sunday (Oct. 2) at Kenosha's lakefront.
As with most outdoor festivals, weather is a key factor in overall turnout and success. There was one other very important reason as well.
"I'm going to be in the dunk tank," Lenegar said.
Kenosha County's only open admission animal shelter holds its biggest fundraiser of the year from 11 a.m. to 3 p.m. in Wolfenbuttel Park, 5901 Third Ave. and Eichelman Park, 6125 Third Ave.
The forecast calls for a high of 61 degrees and sunny skies on Sunday.
Beautiful fall weather should be a welcome addition to the variety of outdoor activities — including a dunk tank — planned for area residents and four-legged friends.
A guided walk around the lakefront takes place at 11:45 a.m., followed by a trick or treat contest (12:30 p.m.), musical sits (12:45 p.m.), puppachino eating contest (1 p.m.), costume contest (1:30 p.m.) and raffle prizes (2 p.m.).
The first 100 guided walk registrants receive a free T-shirt and goodie bag. There will also be a free family festival, vendor booths, pet demonstrations, children's activities and animals available for adoption. To pre-register, click HERE.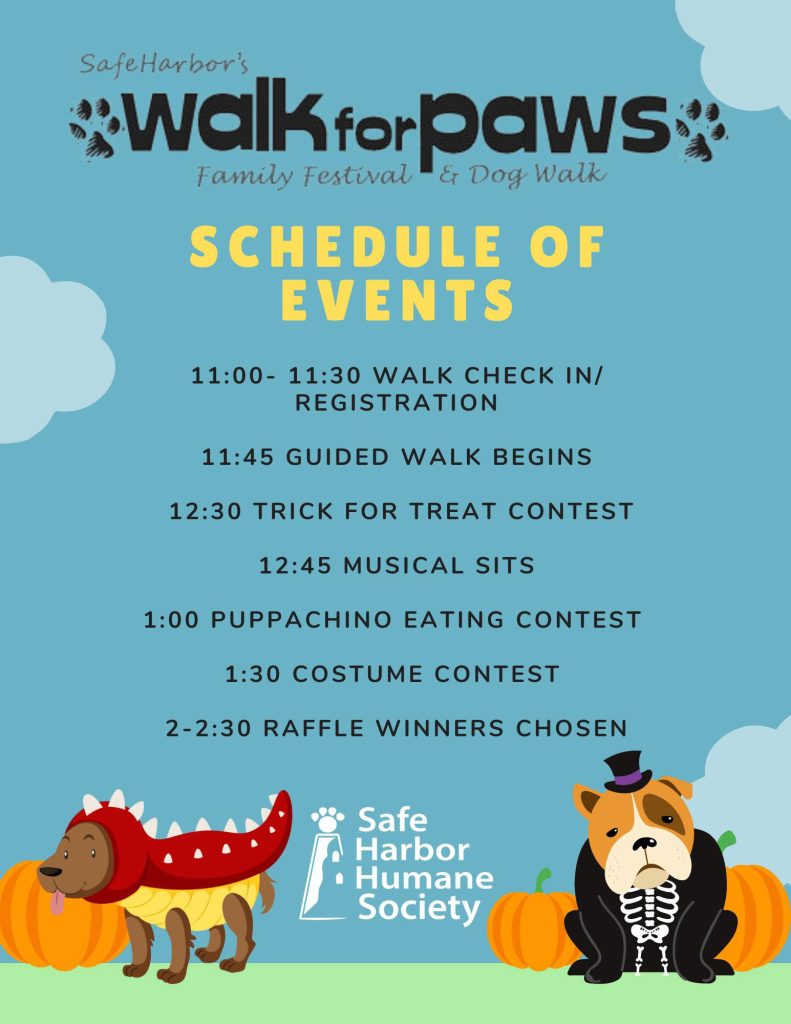 The event features a beer tent and a variety of food trucks including Marvelous Snax, Kona Ice, The Gutt Truck, Specialty Nacho Queen, Big Head Tacos and Nothing Bundt Cakes.
Safe Harbor, established in 1916, relies on donations and the generosity of the community to help thousands of lost and homeless animals each year.
With rising costs and an unprecedented amount of medical cases, the local nonprofit needs help now more than ever, according to Lenegar.
Safe Harbor recently started an Urgent Care Campaign.
"Since we don't have a vet, we've had to take these animals coming in with medical cases to the ER or the vet," Lenegar said. "It's always an ongoing fight and battle."