Lakeshore Pedal Tours is adding a spooky twist for the Halloween season to its one-of-a-kind night-out experience.
Throughout the month of October, Lakeshore Pedal Tours, Kenosha's "party on wheels," is offering both public and private ghost tours through downtown Kenosha. It's a perfect way to enjoy a night on the town with a paranormal twist.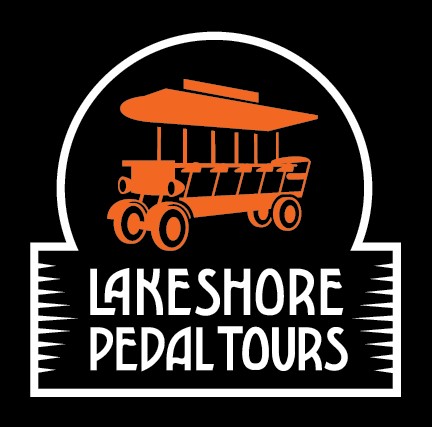 As Lakeshore Pedal Tours' website says about the ghost tours: "Downtown Kenosha is a hotbed of paranormal activity, and you will learn all about our resident ghosts and spirits. We will share tales about a sunken ship, haunted historical sites and mysterious happenings. We will make two bar stops for you to enjoy some 'spirits' during your 90-minute ride."
The ghost tour begins on Simmons Island, where staff will share stories about the burial practices of the Native Americans and the spirits that linger there.
Next, the tour heads downtown for the story of Bridgett and John McCaffary of Kenosha. John was convicted in 1851 for the murder of his wife Bridgett and sentenced to execution, but the hanging was botched and he was unintentionally strangled until he died. That led to the abolition of capital punishment in Wisconsin, but rumor has it that Bridgett's ghost still haunts downtown Kenosha.
After that, the tour makes a stop at the corner of 58th St. and 7th Ave., where riders can leave the pedal wagon and get a "spirit" at PUBLIC Craft Brewing Co., Tavern on Sixth, Gordon's Sports Bar & Grill or Rustic Road Brewing Company.
Then, the tour stops at Simmons Library for stories about the "secret crypt" before heading over to Green Ridge Cemetery, which reportedly has a phantom, and then to the famous Kemper Center to discuss why rumors of the old building being haunted continue to persist today.
After that comes a ride along the lakefront for a talk about the SS Wisconsin, which sank in 1929 in Lake Michigan off the coast of Kenosha, and how deadly the "Lake Michigan Triangle" can be for ships.
Finally, the tour stops at the Rhode Center for the Arts, home of the Lakeside Players, who celebrate their "haunted theater." At this stop, riders can refresh themselves at Slip 56 or Swede's, two of Kenosha's most popular bars.
The private ghost tours can be booked any day of the week by calling 262-842-5418 or visiting lakeshorepedal.com, but they must be booked online 24 hours in advance. The price ranges from $300 to $400, depending on the day of the week, and the bike holds 14 passengers. There are 10 pedaling seats, and four passengers can sit across the bench in the back.
The public ghost tours are offered every day except Saturdays. Seats for those tours can be purchased for $30, but the tours will only run if the minimum number of riders (six) sign up. The seats for public tours also need to be purchased 24 hours in advance.
Lakeshore Pedal Tours operates from 10 a.m. to 10 p.m. every day, with tours running every two hours. Each rider over the age of 21 can bring three cans of beer or their favorite fermented malt beverage (for example, White Claw or Truly) and snacks. The tours are always fun, but the ghost tours are going to be "extra special."
Lakeshore Pedal Tours also wants people to know that while most who book the tours are interested in drinking – and for them this will be a fun haunted pub crawl – passengers don't have to drink to have fun on the rides, and a private ghost tour for a family or group of non-drinking friends is sure to be great time, too.
Also, Lakeshore Pedal Tours notes that teenagers tend to be more sensitive to paranormal activity and get a thrill from learning about ghosts.
For more information, you can email info@lakeshorepedal.com.