The Restaurant:
Captain Mikes, 5118 6th Ave., is famous for unique and creative burger creations, amazing mac and cheese, and a huge craft beer selection.
The Featured Dish:
Clearing Stick Egg Fries — Your choice of hand-cut, or thin fries drenched in famous cheese sauce then topped with a fried egg and crumbled bacon chunks.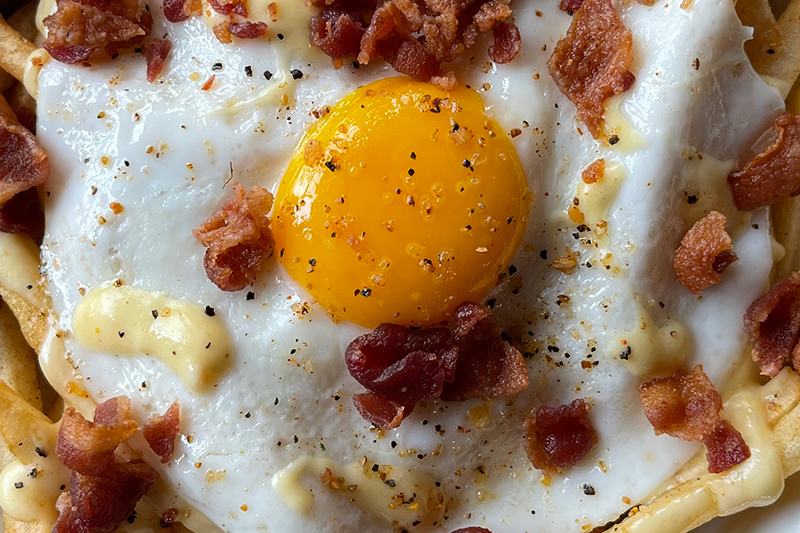 The Flavor and The Story:
Everyone knows Captain Mike's for burgers, and for good reason. It has created over-the-top burgers in Kenosha for over a decade. While we agree that its mainstays are incredible, it also has a full menu of delicious appetizers and sides that stand alone as absolute favorites.
The Clearing Stick Egg Fries start off with a large bowl of fresh, crispy french fries tossed in creamy cheese sauce. You can choose hand-cut or thin fries, but we recommend the thin fries for the perfect crunch to stand up to the gooey sauce. The "famous cheese sauce" is simply cheese in a "sauce form," according to owner Michael Kelly. He cheekily added, "How we change the state is a trade secret, but it mainly involves heat."
Atop the cheese-covered fries is a perfectly fried egg with a liquid yolk and a generous helping of large bacon chunks. When presented to your table or barstool, this dish is absolutely stunning.
However, we recommend completely "ruining" it.
To truly enjoy everything the Clearing Stick Egg Fries have to offer, break the egg and mix it all together. The egg yolk combines with the cheese sauce for a life-changing savory experience, while the crispy fries and crunchy bacon provide salt balance and wonderful texture.
The name "Clearing Stick" is a reference to the series Trailer Park Boys, as are many of the menu item names at Captain Mike's. In the show, a hockey stick is used to clear everything collected atop a vehicle before driving it. This is a nod to the many common grill items mixed together in this dish and was named by the previous owners.
Michael and Jeanette Kelly purchased the business in July 2019 and despite all the challenges of 2020, have managed to make significant improvements to the building, service quality and atmosphere. They also launched, The Galley, a food truck they affectionately describe as "Captain Mike's on wheels."
The Clearing Stick Fries are available every day and priced at $10.95
Captain Mike's is currently open for dine-in and also accepts carryout/curbside orders. You can view this dish and the entire menu, as well as order online, at Captainmikespub.com.