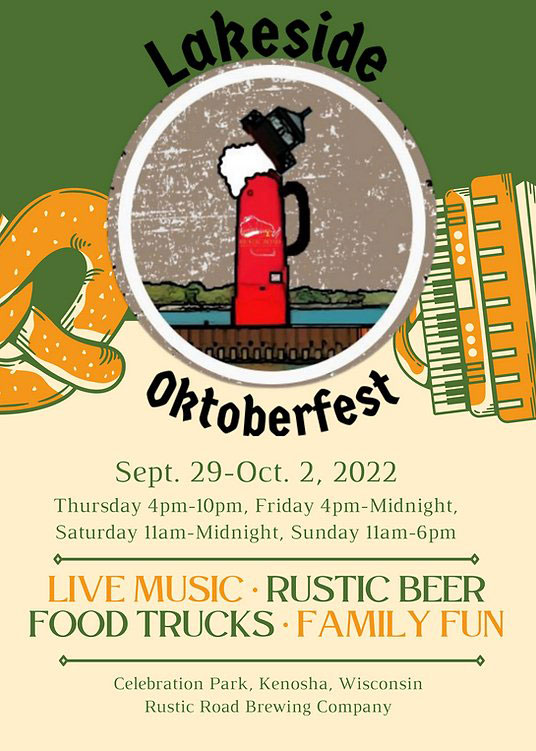 Rustic Road Brewing Company is holding its inaugural Lakeside Oktoberfest Thursday through Sunday (Sept. 29-Oct. 2). The hours are 4 to 10 p.m. Thursday, 4 p.m. to midnight Friday, 11 a.m. to midnight Saturday and 11 a.m. to 6 p.m. Sunday.
The festival will be set up at Celebration Place, HarborPark in downtown Kenosha. This event will feature four days of live music, food, family style entertainment, and, of course, Rustic Road's very own Crafted Brews — a true celebration of Kenosha in Deutschland style!
The festivities kick off Thursday (Sept. 29) with a traditional keg-tapping ceremony at 4 p.m. with Kenosha's 2nd District Alderman Bill Siel.
The large tent will be the center of the event at Celebration Place and the home of the four beer stations. The Lakeside Oktoberfest will feature Rustic Road craft beer along with guest offerings from other Kenosha breweries.
The event boasts a full line up of music throughout the weekend. The tunes start Thursday at 7 p.m. with acoustic guitarist Colby Millea. On Friday, the fun starts up again with The Spirit Shakers at 4 p.m. and Would You Kindly? at 7 p.m. On Saturday, Kai Andersen gets the party started at noon with Spare Animals to follow at 1 p.m. and more music at 4 p.m. with Ben Mulwana. Saturday closes out with Koltrane at 7:30 p.m. Sunday opens with a traditional four-piece German polka band, The Beer Men, at 11 a.m. followed by local favorite Indigo Canyon at 3 p.m.
What's an Oktoberfest without our favorite German food? Rustic Road is grilling up brats from local purveyor Hometown Meats, served on a Paielli's bun with all the fixins. The brewery's pop-up food stand will also have 1.5-pound German pretzels accompanied by mustard and a homemade beer cheese.
Captain Mike's Galley food truck will be parked at Oktoberfest on Saturday and Sunday with a specialty German menu featuring a bratwurst corn dog and schnitzel. Cut Stone Foods is excited to show off their Oktoberfest brat pizza along with their favorite pizzas. The fire truck will be set up Friday and Saturday until sold out each day. Rustic Road Brewing is also excited to welcome Mr. Wings and Rockitacos for the entirety of the event.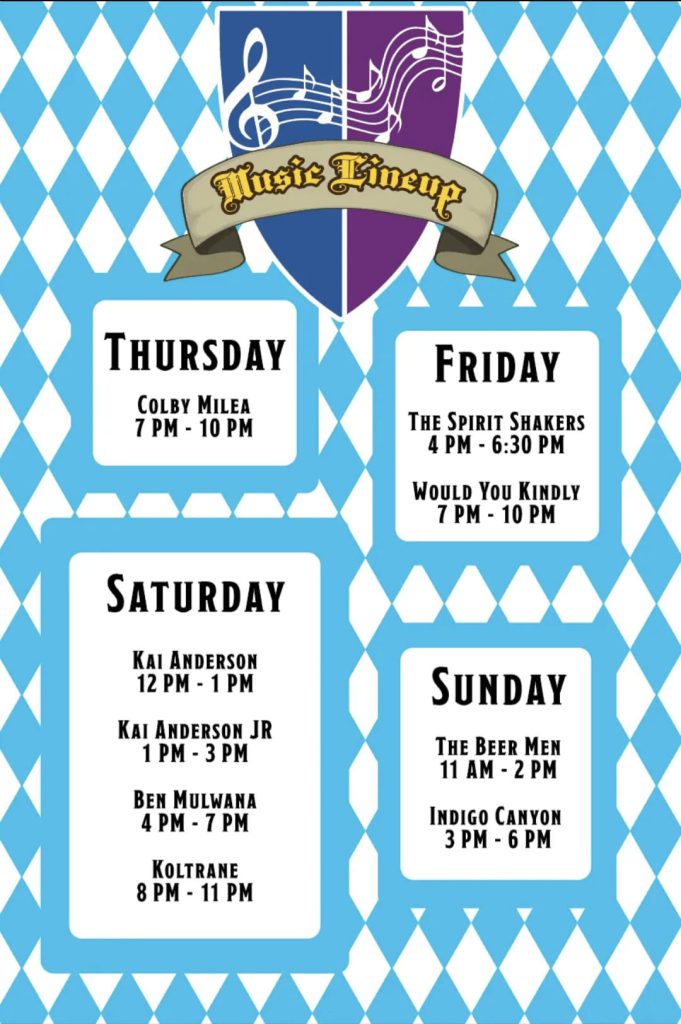 Brats, pizza, schnitzel, tacos and wings. There's something for everyone!
Rustic Road Brewing Company has planned a whole weekend of fun for our Oktoberfest entertainment.
Stein hoisting is a traditional Bavarian strength contest in which competitors hold a full one-liter beer stein in front of their bodies with a straight arm. The person who holds the stein longest is declared the winner. There will be two chances to test your strength — 3 p.m. Saturday and 2 p.m. Sunday. There will be men's and women's competitions both days.
Try your hand at Hammerschlagen, the German game of single-handedly hammering a nail into a stump. The stumps and nails will be available throughout the entire event. At 7 p.m. Saturday, we're hosting Hammerschlagen bracket style.
Bring your pups to the party for some Oktoberfest fun. Sunday at 12:30 p.m. we're putting on an Oktoberfest Dog
Costume Contest. Dirndls and lederhosen encouraged!
During the last hours of the Lakeside Oktoberfest, the brewery is hosting a bags tournament at 4 p.m.
Sign-up to participate in any event at the ticket booth at the entrance of the festival. Various yard games will be available for check out throughout the entire event at the ticket tent.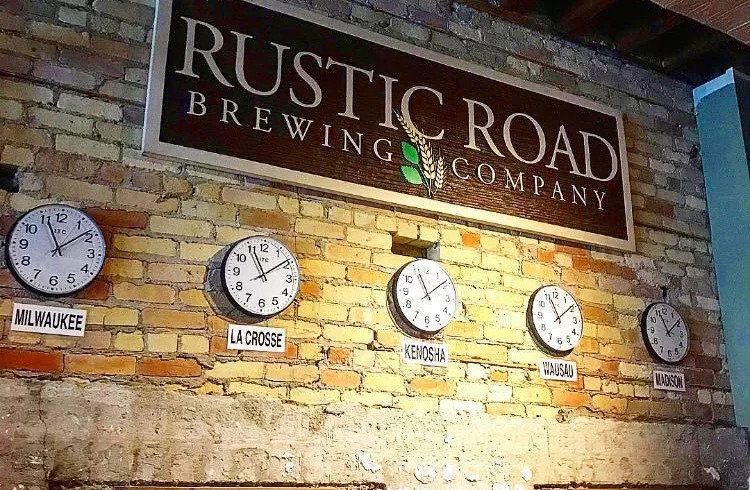 The inaugural Lakeside Oktoberfest could not have been possible without the generous support of our sponsors. Rustic Road would like to extend a special thank you to Snap-on, Otto Nelson Moving & Storage, Visit Kenosha, Tavern on 6th, The Lettering Machine, Federal Supply, BioFab, Berkshire Hathaway Real Estate Agent Laura Stoner, Paielli's Bakery, Hometown Meats, Lyons Truck Parts, US Foods, Casey Funeral Home, Executive Class Relocation, Ktown Connects and Diamond Properties Michelle Frederick Team.
Rustic Road Brewing Company sincerely hopes you will come join us in this wonderful celebration of craft beer, local businesses, Kenosha and community. Prost!