When Kenosha native Jon Olson Jr. opened Swede's in 2017, the goal was to bring a slice of the Wisconsin Northwoods to downtown Kenosha.
And if there was one drink he had to deliver, it was the Brandy Old Fashioned.
Deemed the official cocktail of Wisconsin and described by many as a warm, cozy drink (sort of a cocktail in pajama pants), Kenosha.com has awarded Swede's with Kenosha's top Brandy Old Fashioned.
"It's definitely our number-one selling drink, by far," said Olson, a 2001 St. Joseph Catholic Academy graduate. "The recipe is the same one we've been making at our cabin for years.
"There's really no secret ingredients. Sometimes a drink just tastes better when you're in a certain type of environment."
The main ingredient in a Brandy Old Fashioned is, of course, brandy. Swede's uses Korbel in its signature drink, a popular choice by many local bars and restaurants throughout the state.
In 2019, Korbel sold roughly 275,000 cases of Korbel nationwide. Over 150,000 cases were sold in Wisconsin, an alarming figure and glowing testament to the Badger State's love for the Brandy Old Fashioned.
Swede's does its part in boosting local bitters sales as well, going through more bitters than any bar in Kenosha, according to local distributor C.J.W. Inc.
Bitters, an alcoholic blend of botanicals, is an essential ingredient in any Old Fashioned.
So what else goes into the perfect Brandy Old Fashioned? Lots of love, according to Olson.
"Anyone can watch us make them," Olson said. "You can order it sweet, sour or pressed. Our No. 1 seller is sweet. We add a little splash of orange juice to it."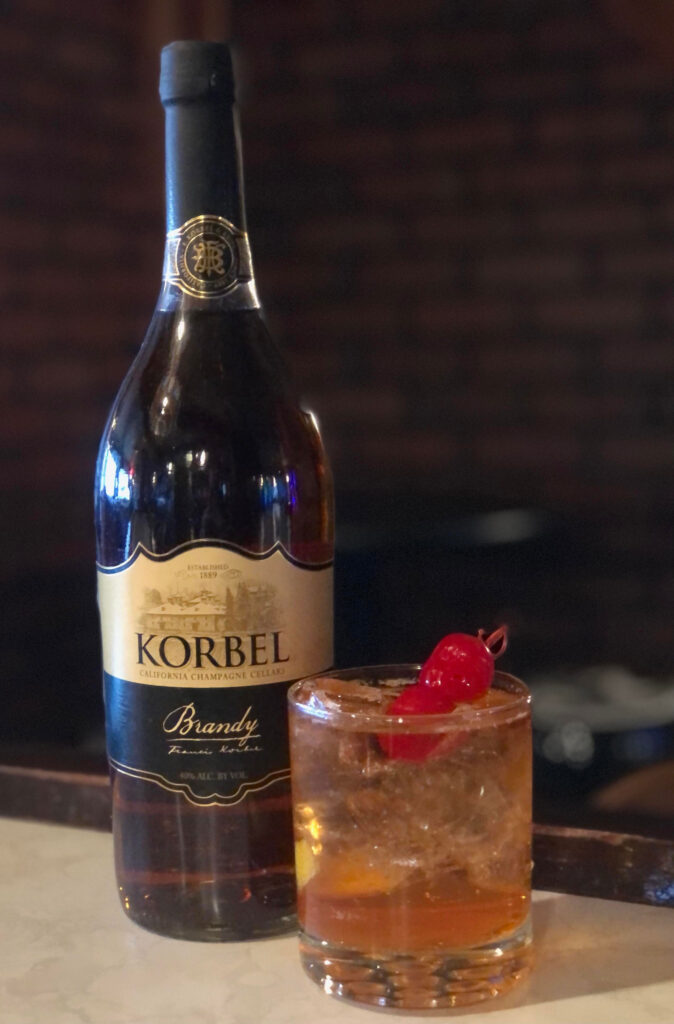 The standard Brandy Old Fashioned is typically served sweet with Korbel, bitters, 7-Up and a sugar cube, garnished with maraschino cherries and an orange peel.
Some prefer it sour with a splash of Squirt (instead of 7-Up) and topped with olives opposed to fruit. You can also order it pressed with equal parts soda water and either 7-Up or Squirt.
Served in a 14-ounce tulip glass, Swede's Brandy Old Fashioned costs a reasonable $5.50 (cash only).
"When it comes to bargains, it's tough to beat," Olson said.
Swede's isn't alone in its claim of Kenosha's top Brandy Old Fashioned.
While the drink can be served in a variety of ways — El Camino, 9900 77th St. in Pleasant Prairie, features a mango habanero Old Fashioned — sometimes simple is better, according to Sara Lucci, manager of Lucci's Grandview, 6929 39th Ave.
"A great cocktail doesn't have to have a million moving parts," Lucci said. "I'm sort of a purist when it comes to a real Wisconsin Old Fashioned. For me, an Old Fashioned is how (Bartley O'Mara Jr.) used to make it at the Bartley House."
Lucci said she learned to perfect the drink while bartending for Scotty Laskis, owner of Scotty's Tavern, 2117 50th St.
Lucci's Grandview and Scotty's Tavern each make their own Old-Fashioned from scratch using fresh ingredients, never from a pre-made mix, according to Lucci.
When it comes to choosing Kenosha's top Brandy Old Fashioned, Lucci didn't hesitate.
"Scotty's Tavern," Lucci said. "Hands down. One-hundred percent. You can argue, but you'd be wrong."
Here is a look at other strong contenders for Kenosha's top Brandy Old Fashioned: