Ingredients:
1 cup crushed Ginger Snaps
3/4 cup crushed graham crackers
4 oz. cream cheese, softened
2 1/2 cup melted white chocolate
1/2 cup pumpkin puree
1 tsp pumpkin pie spice
Pinch kosher salt
1 Tbsp coconut oil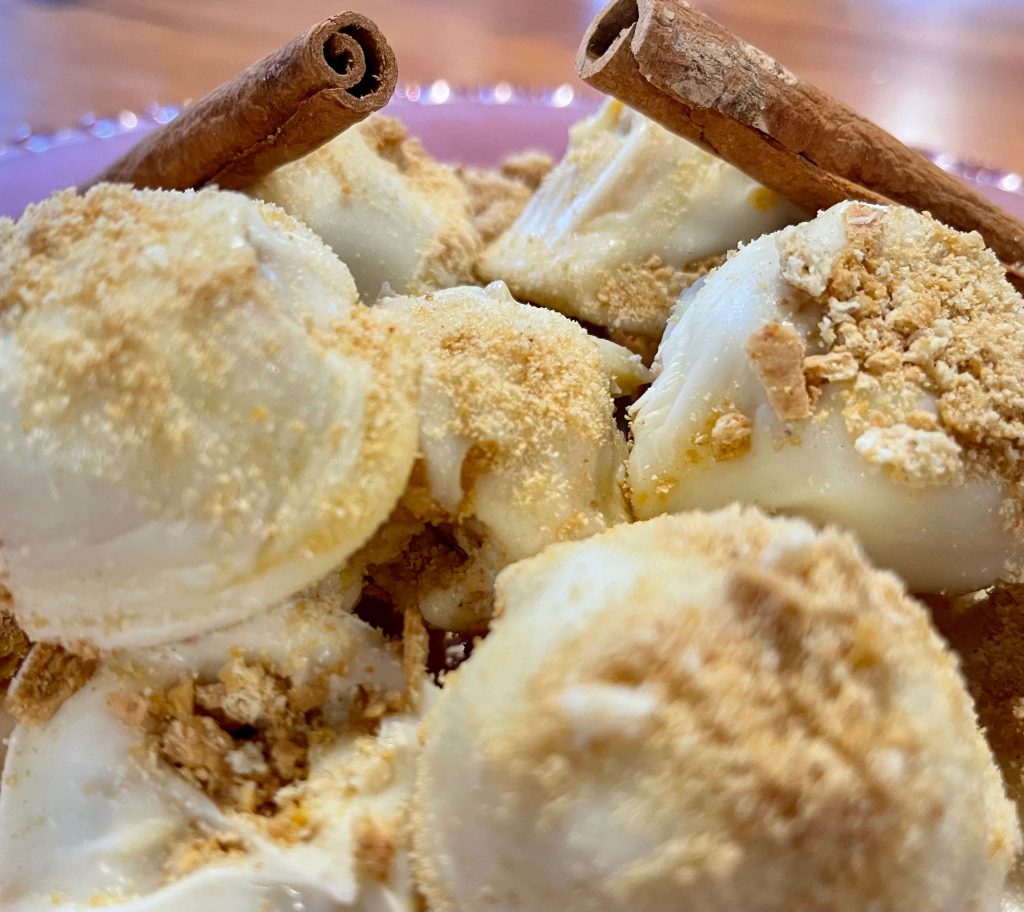 Instructions:
Line a large baking pan with parchment paper. In a small bowl, mix together Ginger Snaps and graham cracker crumbs. Leave two tablespoons for later. 
In a large bowl, beat cream cheese until light and fluffed. Then, add 1/2 cup of melted white chocolate, pumpkin puree, pumpkin pie spice, and salt. Beat until all combined. Then, mix in cookie crumbs. 
Scoop mixture into tablespoon-sized balls and put in the freezer until frozen (usually takes about 40 minutes).
Roll frozen balls to round out edges, then chill for another 5 minutes.
Mix together the remaining two cups of melted white chocolate with coconut oil, then dip the bites until coated in chocolate. Place back on the baking sheet, and sprinkle with saved cookie crumbs.
Refrigerate at least one hour, or until chocolate has hardened and is ready to serve.
While fall is still a few days away, the pumpkin cravings have already begun! I personally like this treat because when you bite into them there's a blast of flavor to your taste buds. You have the chocolate layer and then a creamy pumpkin filling inside that will only leave you wanting more. Try to eat just one (impossible!). I will definitely make this recipe again because when the fall season starts pumpkin treats are a necessity for me. These pumpkin bites definitely satisfy that craving. Enjoy!