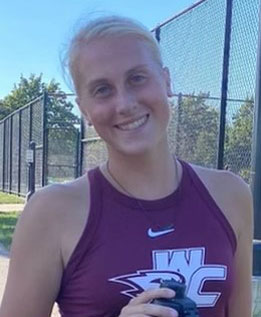 The last time Gwen Hammond was able to compete in the Wisconsin Interscholastic Athletic Association high school girls tennis season, she was a state champion.
One high school switch later, Hammond is competing in WIAA events again this season and is on a mission to get back to the State Tournament in mid-October in Madison.
Hammond is having a fantastic senior campaign as the No. 1 singles player for the Westosha Central girls tennis team, entering this week 19-0 and ranked No. 4 among Wisconsin singles players in the Tennis Reporting Power Ratings on tennisreporting.com.
In a two-day invite last Friday and Saturday, Sept. 9-10, at Waukesha South and Mukwonago, Hammond went 4-0 in her matches, winning each one in straight sets and losing just two games overall, to lead the Falcons to a 4-0 team record in their matches.
For her performance last weekend and overall this season, Hammond has been named this week's Kenosha.com High School Athlete of the Week.
Winning at Wilmot
Hammond attended Wheatland Center School and then went to high school at Wilmot.
She was a girls tennis standout with the Panthers and in 2020, as a sophomore, accomplished an unforgettable feat with her No. 1 doubles partner, then-senior Halle Rosentreter.
Seeded No. 8 in the WIAA Division 1 State Tournament doubles draw, played at the Lake Geneva Tennis Club that year, Hammond and Rosentreter ripped off five consecutive victories to claim the state doubles title.
While Rosentreter graduated later that school year and went on to play tennis at Gustavus Adolphus College in Saint Peter, Minn., Hammond seemed poised to have another couple standout seasons at Wilmot.
Except her next time playing in high school competition wouldn't be until 2022, and it would be for Wilmot's county rival.
Transferring to Central
Prior to the 2021-22 school year, Hammond made the decision to transfer from Wilmot to Central.
In a phone interview Wednesday afternoon, Hammond said that decision was made solely for academic reasons. She's hoping to study environmental science or biology in college and felt Central had better academic programs for what she wanted to pursue.
"It was an academic reason for me," Hammond said. "I want to go into a science and math field, and they were offering classes at Central that I couldn't necessarily take at Wilmot.
"It was a very academic switch. I would've played tennis anywhere if they would've let me."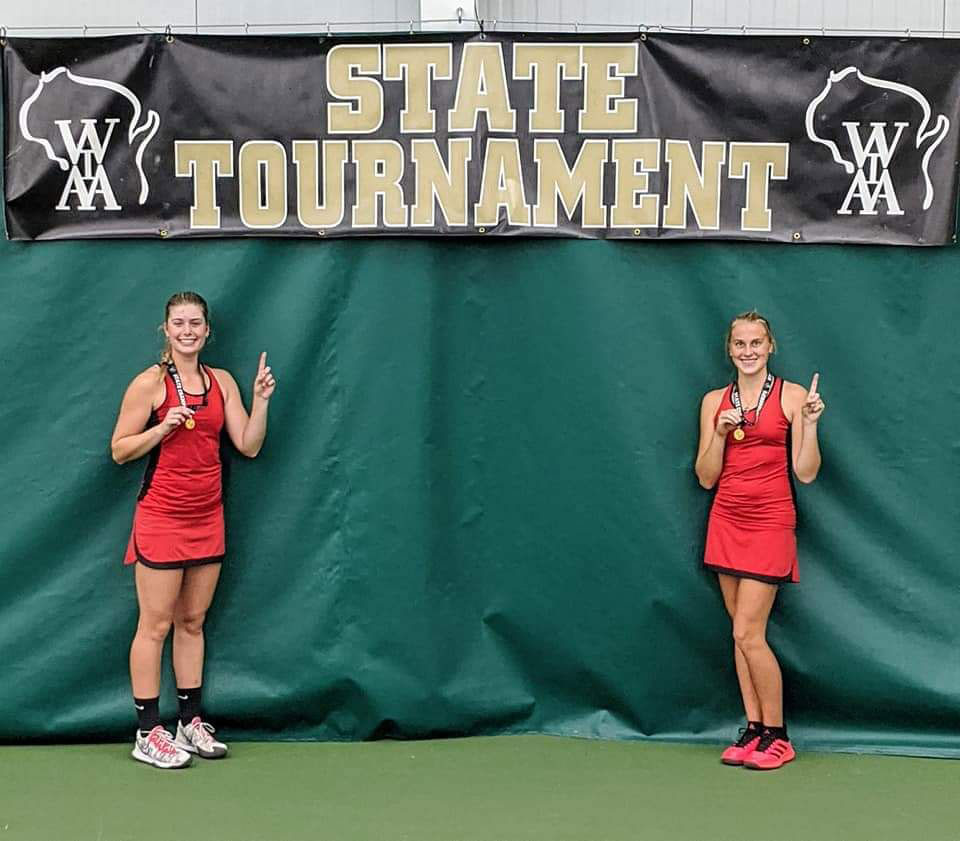 Unfortunately, the WIAA wouldn't let Hammond play tennis for Central last season. Despite efforts by Hammond and Central tennis coach Alex Ferruzzi to get an appeal, the WIAA stuck to its transfer rules in Hammond's case, making her ineligible for high school competition last season.
So one season after winning a state title, Hammond could not play in WIAA competition. Still, she said she made the most of it and said the break from competition was actually a blessing in disguise following the mental grind it took to win a state title in 2020.
"I feel like I made the best of my situation, and I wanted to play, I really did," Hammond said. "But at the same time, I was grateful that I was able to still bond with the team and take time to work on my mind and myself, both in tennis and outside of tennis."
Helping the program
For Ferruzzi, a standout tennis player for the boys team at Central and later the men's team at Carthage College, adding a player of Hammond's caliber to his program was obviously a huge opportunity.
Ferruzzi said he's known Hammond since she was a kid through his and her family's involvement in the Western Kenosha County Tennis Association, and he had also helped coach Hammond's brother, Gavin, when Ferruzzi was still in high school himself.
Though Hammond couldn't compete in matches last season, she was allowed to practice with the team at Central, and Ferruzzi said she was absolutely committed to doing whatever she could to help the Falcons.
"Gwen was able to pass on a lot of competitive wisdom that really helped the kids later in the year," Ferruzzi said. "I was just really thankful for that. It was amazing. She would attend practices and wouldn't miss for any reason, unless it was something super important. She would always let my assistant coach and I know if she had to miss for any reason.
"She came to every match, she kept our scorebook, and just did so much for the team last year."
Ferruzzi said Hammond's efforts helped the Falcons have a very successful campaign in 2021. Tristin Jantz, for example, reached the third round of the WIAA Division 1 State Tournament singles draw, while the duo of Alexandra Wells and Chloe Alcalde also qualified for state in doubles.
But those three were all seniors last year, along with a big chunk of the varsity team. All told, the Falcons graduated their top two singles players and their top three doubles teams from last season and had just two returning varsity players for 2022.
So, needless to say, having Hammond eligible to play again as a senior this season has been a massive help to the program.
"It was painful for her not to be able to play, but this year it has been such a payoff," Ferruzzi said. "Her work into the program the last two years is really paying off more than just at her No. 1 singles spot. It's really impacting the whole team."
Ferruzzi said the program has nearly 50 girls in it this season, a number so large the Falcons have to hold two separate practices. Many of them, however, entered the season with limited or no experience, so Hammond has been especially looked to as a team leader and is one of the team's five captains.
"She's been instrumental," Ferruzzi said. "She's hosted a team bonding (event) and invited all the players over to her own residence. She comes often, even early, to the JV practice time and helps pick up balls, gives pointers to the girls, is really just a good influence, talking to them when we get water breaks.
"She's just been nothing but helpful. She often carries stuff off the bus."
As Hammond continues on her mission to finish her high school career with another trip to the State Tournament, a college decision is looming in her near future. She plays tennis all year at Four Lakes Athletic Club in Elkhorn, and playing at the next level is certainly a possibility.
However, Hammond said she's "come to terms" with herself that she's not seeking to compete at the intercollegiate level for a large program, since the time commitment required is so high. She said she might consider playing for a smaller college program, but either way, she plans to keep playing tennis in college, at least at the club level.
"I would still play club, but I think that for me, I'm at the point where I just want to enjoy it," Hammond said. "I'm free where I'm at and I like where I'm at.
"… I'm putting academics first before tennis."
"5 Questions with" Gwen Hammond
Favorite food? Steak
Favorite movie? "Bushwhacked" (1995 comedy starring Daniel Stern)
Favorite musical artist? Ed Sheeran
Favorite athlete? Roger Federer
Where do you see yourself in 5-10 years? "I hope to be in college, and I hope to still be playing tennis. I'm looking to go into environmental science or biology, so I really hope to be completing my college degree within those fields."