Tenuta's Delicatessen and Liquors, 3203 52nd St., isn't a Kenosha tradition only because it's a place where you can find items you simply can't find anywhere else.
People also love familiarity, and Tenuta's has long been a place where customers can count on the type of old-school service that you just can't find at big chain stores, where nobody knows your name. At Tenuta's, frequent customers enter a world where the staff certainly knows your name and exactly what you're looking for.
If there's a perfect embodiment of this legendary synergy between Tenuta's staff and its customers, it's Cinzia (pronounced "Chin-zee-uh") Savaglio.
For more than 43 years, since February 1979, Savaglio has worked at Tenuta's. If you've visited the store frequently over the last four decades, then Savaglio likely knows who you are, you likely know who she is, and she can help you buy exactly what you need.
"The days that I'm not here, they come in and ask for me, or they call," Savaglio said on Tuesday afternoon during yet another shift in the Tenuta's deli. "There's people that ask for me, and they want to put orders in, and they just ask for me."
Coming to Kenosha
Savaglio quite literally helps to give Tenuta's some of its authentic Italian flavor, since she was born in Italy before moving to Chicago at 12 years old. Then, at 19 years old, she moved to Kenosha.
Savaglio had worked at a deli in Chicago, starting at age 15, and needed a job in Kenosha, so Tenuta's was a logical destination.
"I started working here right after I got married, moved from Chicago to Kenosha," Savaglio said. "Then I had my kids, so my schedule worked out very well. I dropped off the kids at school and picked them up after school.
"Ralph Tenuta worked with me with the schedule. So I just stuck around, and time just flew by."
What has Savaglio, now the longest-tenured employee at Tenuta's, enjoyed most about her considerable time at the store?
"The people," she said. "I got to meet a lot of people. When I first moved to Kenosha, I didn't know anybody, because I was from Chicago. But I got to know a lot of people, and it's a great little town here. And you get to see everybody in the store."
Old and new
Savaglio said she's been through three remodeling phases at Tenuta's. When she first started there, the grocery store was separate from the liquor store. Now, everything is connected, and the outdoor grill has dispensed lunch to countless customers on summer days since it was added.
"I started as a cashier, and then when we remodeled, I went into the deli and started to prepare food and took it from there with Ralph," Savaglio recalled.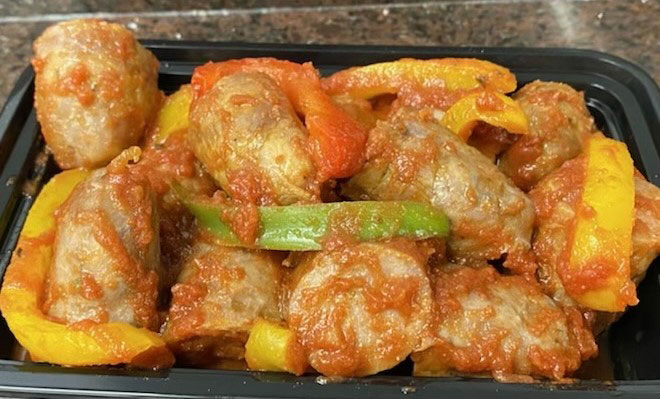 While Tenuta's has always featured a famous selection of unique items, Savaglio points out that now, there's almost nothing you can't find there.
"Just the servings of wines that we have now (are) out of this world," she said. "And the cheeses. We have thousands of different kinds of cheeses. If you don't find it at Tenuta's, you won't find it anywhere."
Of course, nobody can talk about the history of Tenuta's without fondly remembering Ralph Tenuta, who helped his father, John, open the store on Sept. 1, 1950, and led its establishment into literally one of the most famous locations of its kind.
Ralph Tenuta died in January 2020 at age 87, and Savaglio expressed gratitude for working for him for so many years.
"Ralph was a great guy," she said. "He was here in the morning, opening up the store, then he went home in the afternoon for a little break and then stayed until the end."
Then, with a laugh, Savaglio pointed to the deli case, which on Tuesday afternoon featured a few empty spaces due to a strong morning of sales. She knew what Ralph would say about that.
"If he would find this right now like this, he would say, 'Hey girls, are we going out of business here or what?'" Savaglio said.
Many employees
It's not just the many customers that Savaglio has grown close to over the years. Tenuta's has employed a massive number of Kenoshans, many of which were working their first jobs in high school or college.
In fact, Savaglio said that when Tenuta's celebrated its 50th anniversary in 2000, she and Ralph counted 25 couples who had met while employees at Tenuta's and later married.
All the while, Savaglio has been a mainstay among the many Tenuta's employees who grew up and started families and careers of their own.
"I work with teenage kids all the time," Savaglio said. "I'm on my second generation now. They come in and say, 'My name is so-so,' and I say, 'Wait a minute, is your mom, or is your dad, so-so?'
"And I'm going, 'Oh, my God, I'm getting old.' Already there's another generation coming in and working. Time just flies. I look back, and I say, 'Oh, my God, where have 43 years gone?'"
Savaglio joked that she's "like the mom here" and has heard years and years of stories involving teenage hijinks.
"I hear a lot of teenage stories on Mondays when they come to work," she said.
Savaglio herself recently turned 64 and has two children and two grandchildren. She said she and her husband now spend three weeks in Florida during the winter and also help to babysit their grandchildren.
So, these days, Savaglio works three days per week at Tenuta's instead of the five per week she previously worked.
"I think maybe in a couple years," she said when asked if she plans to retire anytime soon.
But for now, Savaglio is happy to help Tenuta's customers, as she's done consistently since 1979. On Tuesday, she highlighted many of Tenuta's classic ready-made deli options, including mostaccioli, meatballs and lasagna that can be purchased by the pound or the pan, along with a variety of ready-to-go sandwiches.
With school back in session and families as busy as ever, Tenuta's ready-made options, often requiring just a quick spin in the microwave, are a perfect and always-delicious option.
"We have all kinds of prepared items here," Savaglio said.
Indeed, people have been coming to Tenuta's for the same reasons since the store opened in 1950 and certainly since Savaglio started working there in 1979.
"You need anything, come to Tenuta's," she said. "We'll have it."