The Restaurant:
Gateway Cafe, 3619 30th Ave., is a classic diner serving all-day breakfast, fresh baked pies, and standard lunch fare on Kenosha's north side.
The Featured Dish:
Homestyle Cinnamon French Toast — Four slices of French toast made with Vlore Bakery cinnamon swirl bread with two eggs and two sausage links.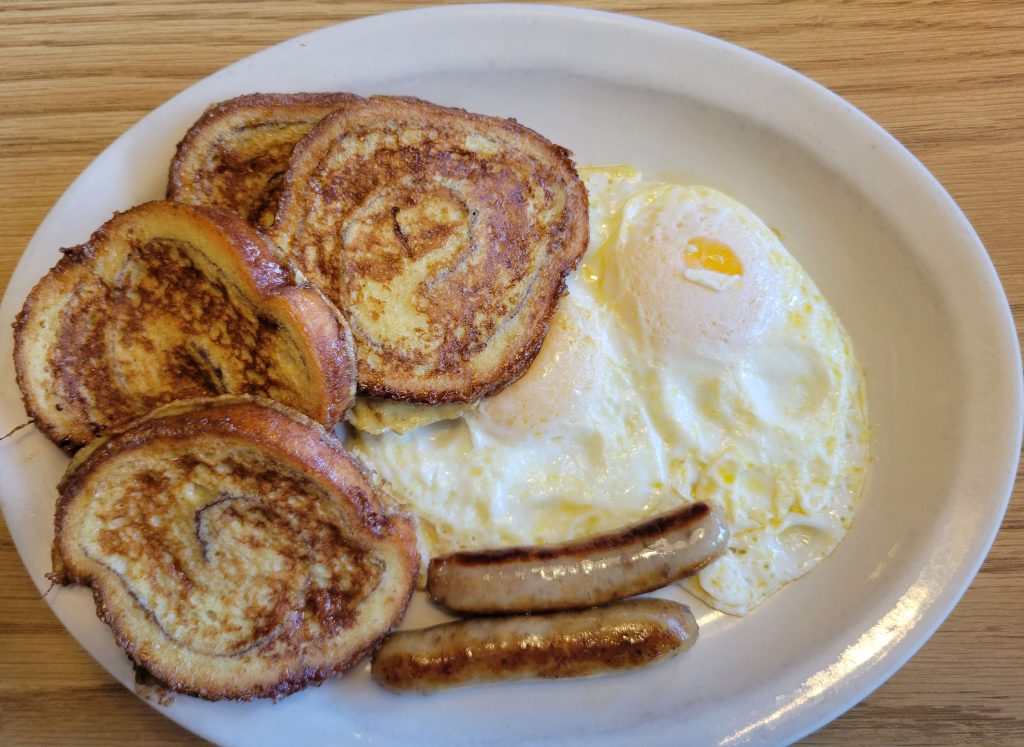 The Flavor and The Story:
Gateway Cafe is a classic neighborhood place to gather and share a meal. 
With long hours, and a huge menu, there is something here for everyone as well as a large dining room to accommodate groups of any size.
In classic diner or "family restaurant" style, Gateway Cafe offers one of the greatest options to ever grace humanity — the all-day breakfast. 
There's just something about breakfast food that makes any day a little better and the ability to eat it at 8 p.m. feels like getting away with something.
The breakfast options at Gateway Cafe are impressive with almost four full pages of just morning-time delights.
Obviously, the favorites are all present from pancakes, to skillets and omelets, but there are some unique items as well. 
Personally, I'm a huge fan of the Homestyle Cinnamon French Toast. 
The dish is prepared using Vlore Bakery cinnamon swirl bread that is so delicious on its own that you can buy the loaf right from your table.
This sweet treat gets even better when pan-fried to perfection in egg wash and drizzled with syrup. 
The cinnamon comes through with a wonderful sweetness and the French Toast batter adds hints of vanilla for a decadent way to start or at gateway, even end your day.
The meal is rounded out by eggs cooked your way and your choice of two sausage links or bacon strips. 
The Homestyle Cinnamon French Toast is available every day for $9.89. 
Gateway Cafe is currently open for dine-in and carry-out. They also accept online orders through Grubhub. You can view this dish and the entire menu, as well as order online at GatewayCafeKenosha.com.