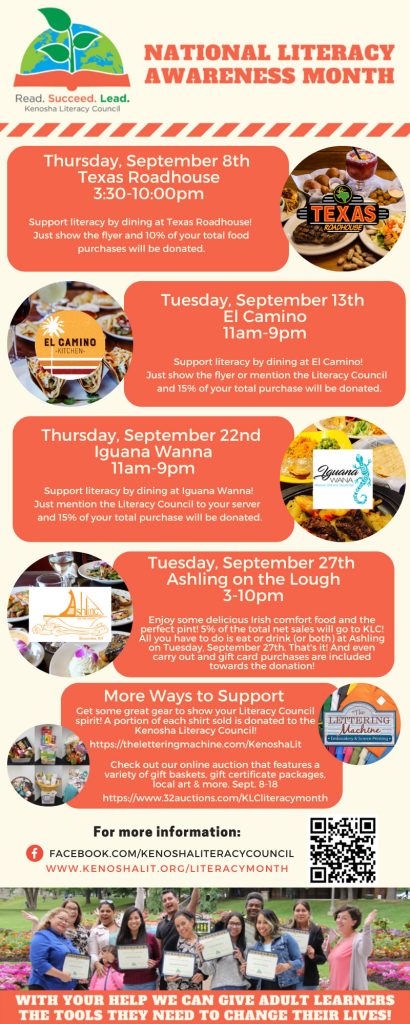 September marks National Literacy Awareness Month to remind us all that reading, writing, and basic math remain an elusive target for 43 million adults nationwide, including in our own community.
The Kenosha Literacy Council is working every day to provide education programs that help adults and their families earn financial independence, achieve good health, and become active members in our community.
"Low literacy costs the nation more than $2.2 trillion dollars each year in lost productivity, as well as an additional one to two billion in health and safety issues," Literacy Council Director Cheryl Hernandez said. "Every dollar spent on adult literacy and education provides returns to our community through higher employment, added tax revenue, reduced welfare, and less crime.
"Literacy helps families be healthier and safer and provides people sustainable opportunities to support themselves through work, ultimately contributing to the growth of our community."
Several events are planned throughout the month to promote literacy and help raise funds for the Kenosha Literacy Council's life-changing education programs.
Join us at Texas Roadhouse on Thursday (Sept. 8) from 3:30-10 p.m. When you mention literacy, 10% of the sales will be donated to KLC.
Support us on Tuesday, Sept. 13 from 11 a.m.-9 p.m. at El Camino Kitchen. Mention the Literacy Council and 15% of your total purchase will be donated.
On Thursday, Sept. 22, you can find us at Iguana Wanna Mexican Grill from 11 a.m.-9 p.m. Mention the Literacy Council and 15% of your purchase will be donated.
Finally, come close out Literacy Month with a great night at Ashling on the Lough on Tuesday, Sept. 27 from 3-10 p.m. Five percent of the total net sales will go to the KLC.
More information and flyers can be found online at www.kenoshalit.org/literacymonth.
Established in 1965, The Kenosha Literacy Council is a nonprofit organization that uses volunteers to provide and promote adult literacy education to nearly 500 learners from 40 different countries, so that they can achieve financial independence, good health, and greater involvement in our community.
For more information, visit www.kenoshalit.org, visit KLC's Facebook page or contact us at (262) 654-7323 or cheryl@kenoshalit.org.