Ingredients:
Dough
1 tablespoon (9g) of instant yeast
4 cups (482g) of bread flour
2 teaspoons (12g) of salt
1 tablespoon (14g) brown sugar
1 1/3 cups (303g) of lukewarm water (between 98 and 105 degrees)
Water Bath
2 quarts (1814g) of water
2 tablespoons (28g) of brown sugar
1 tablespoon (14g) of granulated sugar
Directions for making the dough:
Combine all of the ingredients into a bowl and mix well. Kneed the dough vigorously by hand for 15 minutes or using a hook attachment on your mixer for 10 minutes. The dough will be quite stiff and keep its shape.
Place the dough in a lightly greased bowl and cover. Let the dough rise for 1.5 hours (noticeably puffy, but not exactly doubled in size).
Lightly grease a baking sheet, or use parchment paper (also lightly greased). Move dough to a clean work surface and divide into 8 (for larger bagels) or 12 (for standard sized bagels) pieces.
Take each piece and roll it into a smooth ball. Place the balls of dough on the baking sheet and cover with plastic wrap. Let them rise for 30 minutes. They should puff slightly.
While the dough rests, preheat your oven to 425 degrees and get the water bath prepared. Using a large pot (preferably one with a larger width) dissolve the sugars in the water and heat until it's a gentle boil.
For each ball of dough, press your index finger into the middle to create a hole. Twirl and stretch the center hole until it's 1.5 to 2 inches wide (the hole will not stay this large). Place them back on the prepared baking sheet.
Transfer bagels (however many will fit – 2-4) into the simmering water. Let them bathe for 2 minutes and then turn them to bathe for 1 more minute. If water stops simmering when placing the dough in the water, adjust temperature to a low simmer again. Place the boiled dough back on the baking sheet.
Bake the bagels for 20-25 minutes. After 15 minutes, turn them over and allow them to finish baking. Remove bagels and enjoy!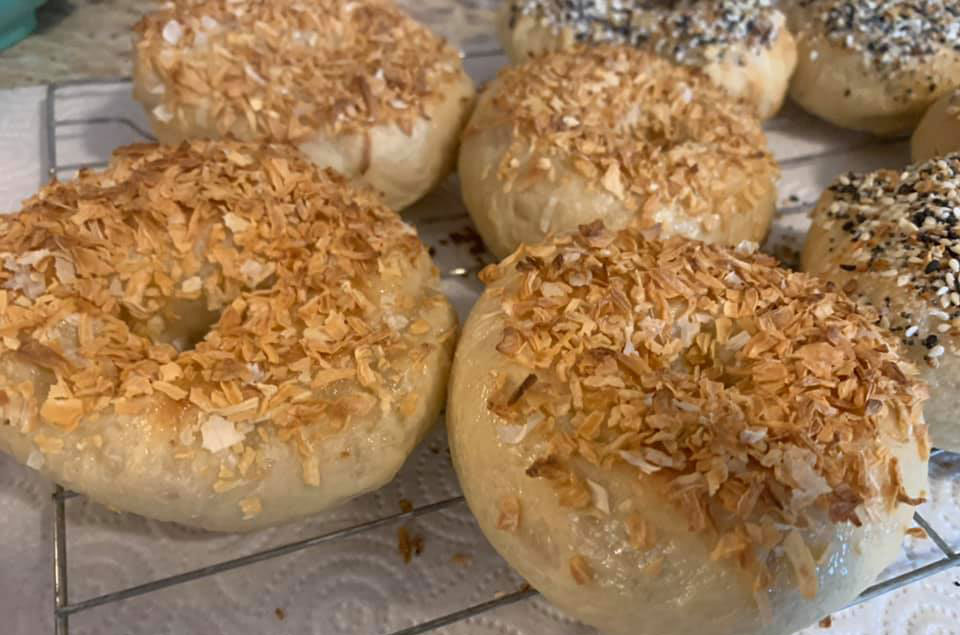 Variations:
Top your bagels off with some fun toppings.
Make a quick egg wash by whisking 1 egg and 2 tablespoons of water. When there's about 3 minutes of baking time remaining for the bagels, remove from oven and cover the tops with the egg wash using a brush. Sprinkle everything bagel seasoning, minced dried onions, Asiago cheese, etc. and bake for the remaining 3 minutes.
For a sweeter treat, rub melted butter on top of the bagels and sprinkle with cinnamon and sugar mixer. Return and let finish baking.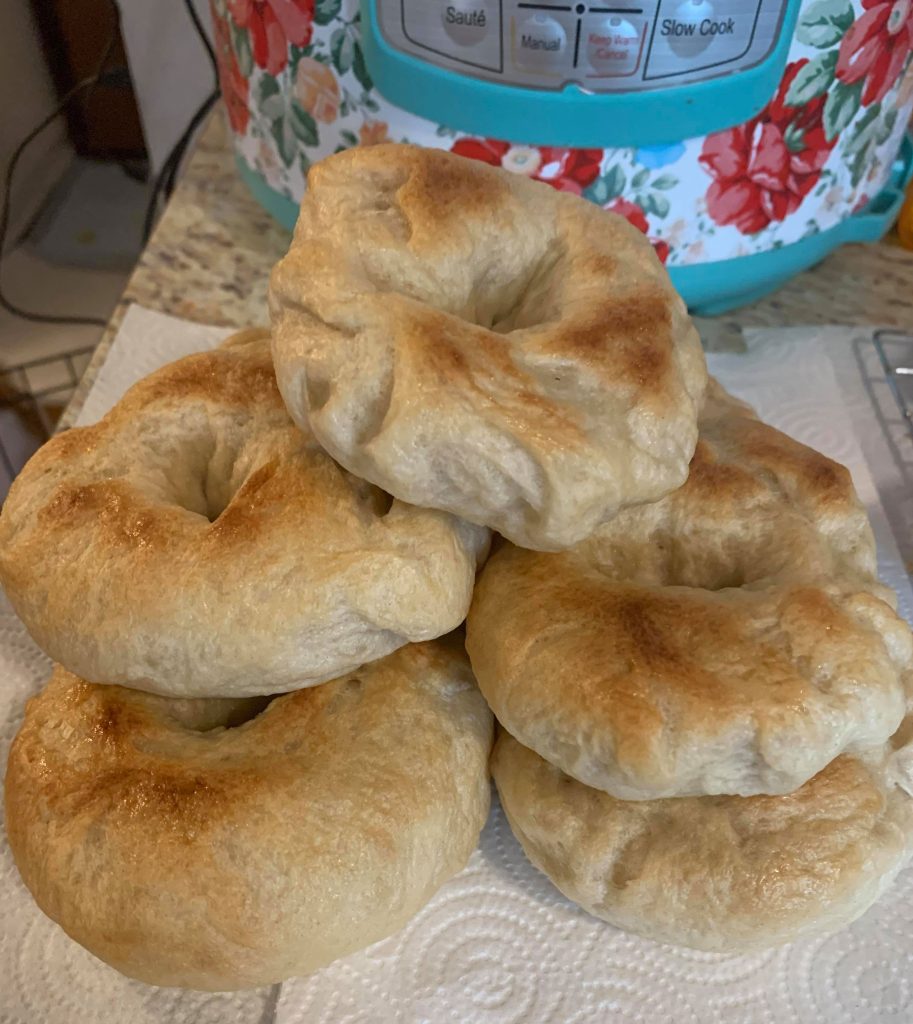 Tips:
Weigh your ingredients! Purchase a digital scale to truly create perfect baked goods. Using grams will elevate your final product. If you don't have a scale, scoop using measuring cups and then take the back of a knife to push off any extra ingredients.
When forming the dough into balls, I recommend watching this video. This method of forming balls is common, but highly effective:
https://www.kingarthurbaking.com/videos/bake-it-better-with-kye/how-to-shape-bagels.