Regulars at the American Heroes Café at Festival Foods in Kenosha wanted to pay tribute to their group's founders, and they went above and beyond in their fundraising quest.
Meantime, another area veterans' organization was looking to show its support for the relatively new Kenosha County Veterans Memorial Park.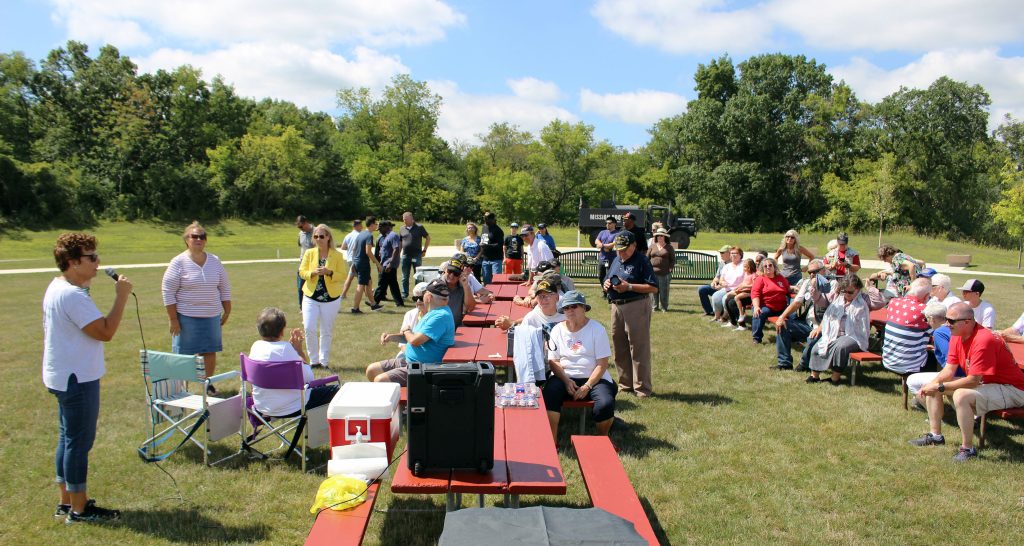 The end results of these efforts came together Friday, with the dedication of three commemorative benches that will serve as permanent tributes in the park.
In trying to raise money to purchase a bench in honor of Sharon Janusz and the late Mary Domes — the American Heroes Café founders — friends of the group raised enough money to purchase two benches.
The second one honors the memory of U.S. Air Force veteran Paul Fredericksen, an active veteran and café attendee who passed away earlier this year.
The third bench dedicated Friday bears the logo of the Korean War Veterans Association S.E. Wisconsin Chapter 227, honoring the veterans of that war.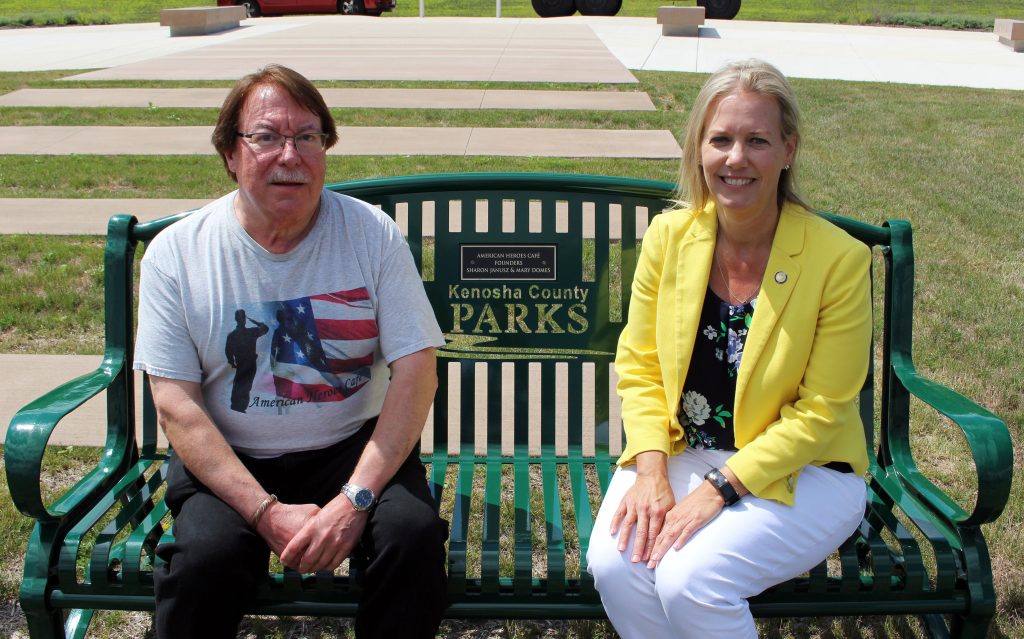 "When they dedicated this park last fall, they put out a flyer for bench donations," explained Bob Blodgett, Chapter 227 quartermaster. "Our commander brought it to a meeting, passed it out, and we said, 'OK, we'll buy a bench if they put our logo on it. One thing led to another, and here it is."
The American Heroes Café had a similar thought process — along with the desire to memorialize its founders.
"We wanted to be a part of this park and get our name out there," said Anne Wasilevich, veteran support leader at the American Heroes Café. "This is a great park for the veterans, and today gives them a day to come out and see the park and the benches."
In her brief remarks, County Executive Samantha Kerkman asked for a show of hands from those who were visiting the park for the first time. Many arms went up.
"I hope that this today gives you incentive to come back," Kerkman said.
"Mary and I were friends," Kerkman said, of the late Heroes Café co-founder, "so when Annie approached me about the bench, I was so honored to help in any way that I could."
Kerkman said she also knew Fredericksen, whom she called "truly just a great hero, just like many of you are."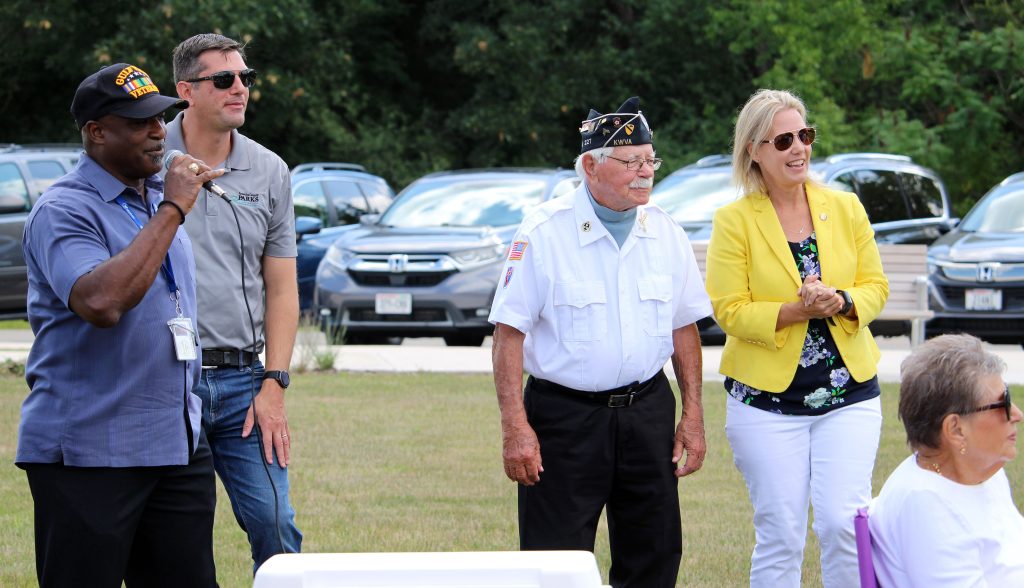 Barry Domes said the park is the perfect place to honor his late wife.
"I think it's an honor," Domes said. "She was extremely patriotic."
A former gravel pit that was purchased by the county more than 20 years ago, the park was long known informally as KD Park before it was rechristened as the Kenosha County Veterans Memorial Park in 2019.
Situated on 335 acres, the park includes the 39-acre Freedom Lake and eight miles of hiking trails.
A Veterans Honor Plaza, where Friday's event was held, was dedicated in October 2021. Future planned improvements include six memorial shelters — each one honoring a branch of the Armed Forces. The first of which, the Army shelter, is to be constructed later this year.
The park is located on Highway KD (352 nd Avenue) just north of Highway F (Bassett Road) in the towns of Randall and Wheatland. Access to the Veterans Honor Plaza is from a separate entrance on Highway F, west of Kaskin Park on Highway F.
More information about the park is available at https://www.kenoshacounty.org/1658/Kenosha-
County-Veterans-Memorial-Park.