Recently, a growing number of couples are taking their nuptials outside the United States. In fact, the top five destinations to host an overseas wedding are, according to theknot.com: Mexico, Italy, Ireland, Jamaica and Dominican Republic. This is an interesting shift away from traditional locales like Florida or New York where destination weddings have been popular for years. Here's some destination wedding insight from the local travel advisors of LaMacchia Travel:
One wedding, But multiple days of fun
If you're planning a destination wedding, it's important to start planning the days you're in-destination with all of your guests. With guests arriving days before and returning home days after your wedding day, there's so much room for opportunities for you all to really experience the destination you're in! Luckily enough, when you have your wedding abroad, this welcomes the opportunity for a world of things to do which will make it memorable for all the right reasons. Some popular ideas include group excursions before leading up to the exciting big day such as a catamaran sailing on the Caribbean, to golfing on the emerald isle in Ireland. The world is your oyster!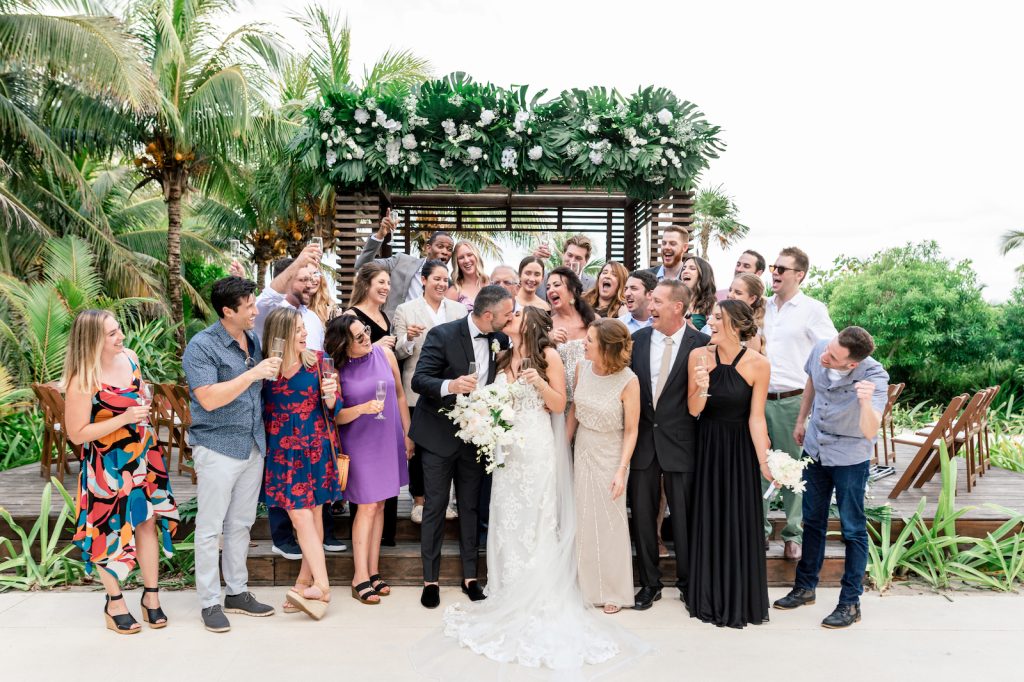 The destination is the biggest decision
When picking a destination to host your long-awaited wedding, it's important to think of these main factors: accessibility, culture, and options. While making sure the destination is certainly accessible to most of your guest list, making sure there's plenty of things for your guests to do while traveling is also very important. Overall, making sure of the destination. We spoke with Jennifer & John Hogan of Kenosha, Wisconsin, who just celebrated their 5-year anniversary of when they tied the knot in Ireland, and here's their story on how they chose their destination:
It was St. Patrick's Day, two years before our wedding, and my dad, Jen and I were finishing up the day's festivities at Ashling on the Lough. My dad requests, with a sliver of impatience built over our 5 years of dating, "When are you getting married?!?". We both respond with eyes locked on each other coupled with a "you go first" grin. "Ok, well do you at least know where you want to get married?" Dad's not relenting. This elicits plenty of response from us: Kenosha would have its benefits, but we don't want a large wedding; or maybe something outside of Kenosha, but what place has meaning for us? "What about Ireland?" my dad responds half joking. And that half joking statement snowballed over the next few months into full family approval. Ireland it was.

John Hogan
All-inclusive or not?
One huge trend in the world of destination weddings is finding an all-inclusive resort for your guests to stay at. With this in mind, guests will be able to leave their wallets in their room, and know that meals, beverages, entertainment, and activities are all included. Best of all, many all-inclusive resorts in the Caribbean and Mexico have incredible benefits for couples hosting their wedding ceremony and reception all on property. These benefits range from welcome parties, complimentary rooms, upgrades, group excursions, food and beverage credits, and more!
Boots on the ground
With so much planning taking place back home, one way to take some added wedding planning stress away is working with a wedding planner that's located in the destination. This could range from a resort's wedding coordinator to even a wedding planner that specializes in weddings in that area.

"Work with LaMacchia Travel and they will also help you find a reputable planner at your destination. They connected us with the most amazing planner, Michelle McDermott, that made my wedding dreams come true and gave our guests that traveled 8+ hours to celebrate with us an unforgettable experience. Michelle made all of the details happen with her local connections from flowers to our cake. She didn't miss a beat and made the entire day flow exactly how we wanted it to."
In the end, when it comes to destination vs. stateside weddings, there is no single "best" option. However, if you're looking for a truly unique experience and a memorable one that you can share with your friends and family for years to come, an overseas wedding might be the right choice for you. Get in touch with one of the destination wedding travel experts at LaMacchia Travel to begin planning your big day. From helping you find that perfect destination, to taking care of all the travel arrangements in-between, LaMacchia Travel is your first stop on your journey to getting married abroad.