While he was talking on the phone for an interview Monday afternoon, Cory Martin was also lining up a short putt for an eagle on the par-5 10th hole at Kenosha's Maplecrest Country Club.
Unfortunately, he missed it left and settled for a birdie. Fortunately, he could laugh about it.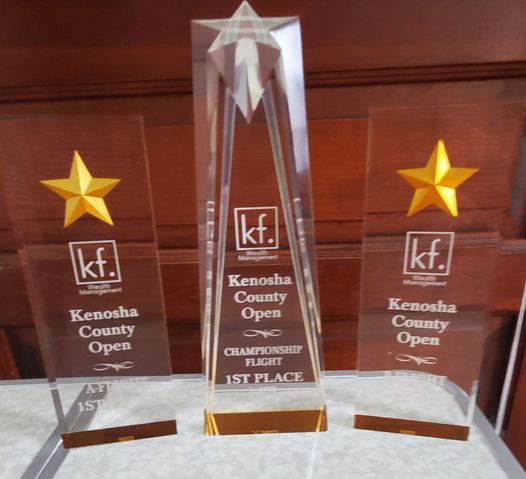 For one thing, Martin's round Monday was just for fun with his brother. For another, he was in a fantastic mood after coming off a big victory over the weekend, when he won the 70th annual kf. Wealth Management Men's County Open for his second County Open title and first since 2005.
Martin, who graduated from St. Joseph Catholic Academy in 2001 before moving that year to North Myrtle Beach, S.C., where he's resided ever since, finished the weekend with a three-round total of 1-under-par 213. He was the only golfer under par for the tournament.
The County Open was played at three courses, on Friday at the Brighton Dale Links White Birch Course in Kansasville, on Saturday at Spring Valley Country Club in Salem and on Sunday at Bristol Oaks Country Club.
Martin fended off Travis Engle, who won four straight County Open titles from 2017-20, a stretch that included five in six years and six in 13 years, to win the Championship Flight by three strokes this weekend.
Martin said it was the first County Open he's entered "in at least eight years" and his first title in 17 years.
"It's kind of cool and nostalgic to, 17 years later, do it again, just prove that I could do it," Martin, 39, said in his phone interview Monday.
Playing in State Opens
Martin still has family in Kenosha, so it's not like he never comes back to the area since moving to North Myrtle Beach, where he works as a roofer.
But he decided to enter this year's County Open in part to prepare for a shot at the 102nd Suter Ward Wisconsin State Open, scheduled for Aug. 15-17 at Ozaukee Country Club in Mequon.
To get into that field, Martin has to make it through a State Open qualifier. He's playing in the one scheduled for Tuesday (July 26) at Washington County Golf Course in Hartford.
"I thought maybe come up, play the County Open, and knock a little rust off," Martin said.
Martin has made it a priority this summer to compete in State Opens.
He tied for 24th in the Vermont Open from June 13-15 and tied for 20th in the New Hampshire Open from June 23-25.
Navigating County Open
Martin opened the County Open on Friday with an even-par 72 on the Brighton Dale White Birch Course, generally considered the toughest course of the weekend.
But it was Martin's 2-under 68 at Spring Valley on Saturday that was his most impressive round.
"Surprisingly, I thought Spring Valley was actually tougher, because of the undulations in the greens," he said. "I couldn't really remember the course from back in the day, so I played blind.
"And I played well, because I played a little smarter."
That gave Martin a five-shot lead over Engle and a seven-shot lead over Michael Matteucci heading into Sunday's final round at Bristol Oaks.
"I don't care who you are, playing with a lead is something — in golf, you're not used to playing with the lead," Martin said. "… The guy who has the lead doesn't sleep."
Martin said he didn't start Sunday's round with as much focus as he should have, but he was able to settle in with some pars. A wayward, out-of-bounds tee shot on the short par-4 10th hole, however, left him with just a one-shot lead over Engle with eight holes to play.
That's when Martin kicked it into gear.
"I said, 'OK, it's game time. You've got a par-5 and a short par-4. It's time to score. You've got to birdie out,'" he said. "My goal was to birdie every hole coming home, and I birdied 11 and 12. That helped me get the three-shot lead.
"… That made a world of difference. I had to score. I figured if I could score on those two holes, I could get a little cushion, and then I could beat those guys from there to the house."
When asked what the best part of his game was over the weekend, Martin said it was grinding out pars and playing smart. He said he doesn't hit the ball as far as he used to, or as far as some of the other players in the County Open field, but he has experience being in the final group in the tournament and plays smart these days.
"Consistently just getting a par, saving par, up and down, short game," Martin said. "But not risking it all. I think I just hung in there and played a smarter game than I used to.
"Because back in high school, I wasn't fearing anything."
There were three people that Martin wanted to single out after his County Open win, his wife, Lauryn, and their 6-year-old twin daughters, Viviyn Sue and Vayda Jean.
With a laugh, Martin said mentioning his wife was the most important part of the interview.
"Maybe she'll let me play more golf," he joked.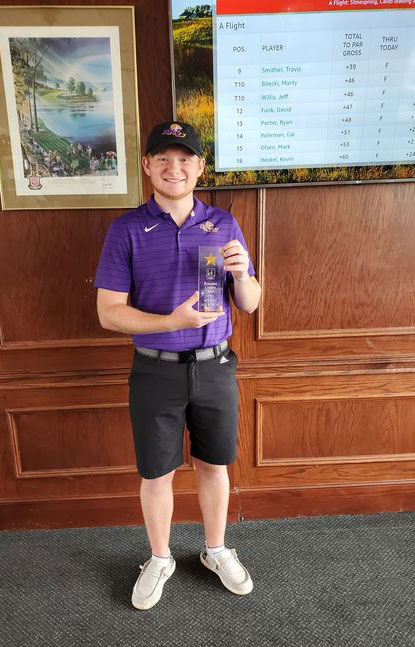 Engle, meanwhile, added another notch to his stellar County Open resume by placing second in the Championship Flight at 2-over 216. Matteucci was third at 5-over 219, Luke Millhouse placed fourth at 12-over 226 and Bob Tierney finished fifth at 14-over 228.
Caleb Stinespring, meanwhile, won the A Flight title with a 237 and Jason Barnhill was the B Flight champion at 264.
A total of 43 golfers competed between the three flights. Here are the full results:
kf. WEALTH MANAGEMENT MEN'S COUNTY OPEN
Friday-Sunday
(Friday at Brighton Dale Links White Birch Course; Saturday at Spring Valley Country Club; Sunday at Bristol Oaks Country Club)
CHAMPIONSHIP FLIGHT
213–Cory Martin (72-68-73). 216–Travis Engle (77-68-71). 219–Michael Matteucci (77-70-72). 226–Luke Millhouse (74-75-77). 228–Bob Tierney (76-72-80). 232–Sam Serdar (75-74-83). 234–Noah Cortez (89-79-73). 236–Gabe Mattick (80-78-78). 237–Sam Hawkins (82-78-77); Dylan Rivard (79-78-80). 243–Oscar Davidson (81-78-84); Alex Dykes (82-78-83).
A FLIGHT
237–Caleb Stinespring (82-86-69). 245–Ed Moreno (87-81-77). 247–Aaron Heidersheid (90-80-77). 249–Connor L'Esperance (82-83-84); Fred Goetz (83-81-85). 250–Ed Paha (86-84-80). 251–Don Stinespring (85-84-82); Ryan Derler (82-82-87). 253–Travis Smither (85-81-87). 260–Jeff Willis (90-86-84); Marty Bilecki (92-85-83). 261–David Funk (97-77-87). 262–Ryan Porter (88-87-87). 265–Cal Rohrman (91-81-93). 267–Mark Olsen (89-85-93). 274–Kevin Heckel (92-86-96).
B FLIGHT
264–Jason Barnhill (95-90-79). 265–Terry Simmons (91-92-82); Trevor Herin (93-87-85). 271–Joe Zenzola (95-91-85). 274–Jerry Kochman (96-91-87). 277–Eric Kjerulf (93-91-93). 282–Kyle Techert (95-92-95). 287–Dan Harris (91-100-96). 290–Greg Leonard (93-99-98). 296–Steve Hartman (111-90-95). 303–Jerrod Lavassor (108-97-98). 309–Mike O'Connor (107-112-90). 310–Scott Kessler (104-97-109). 313–Ramon Gonzalez (115-106-92). 323–Donald Purfeerst (128-99-96).