The Featured Dish:
Fruity Dream Vanilla Shake — Milkshake with Fruity Pebbles cereal, a Fruity Pebbles rim, strawberry Pop-Tart, vanilla wafer, strawberry Pocky, and a lollipop.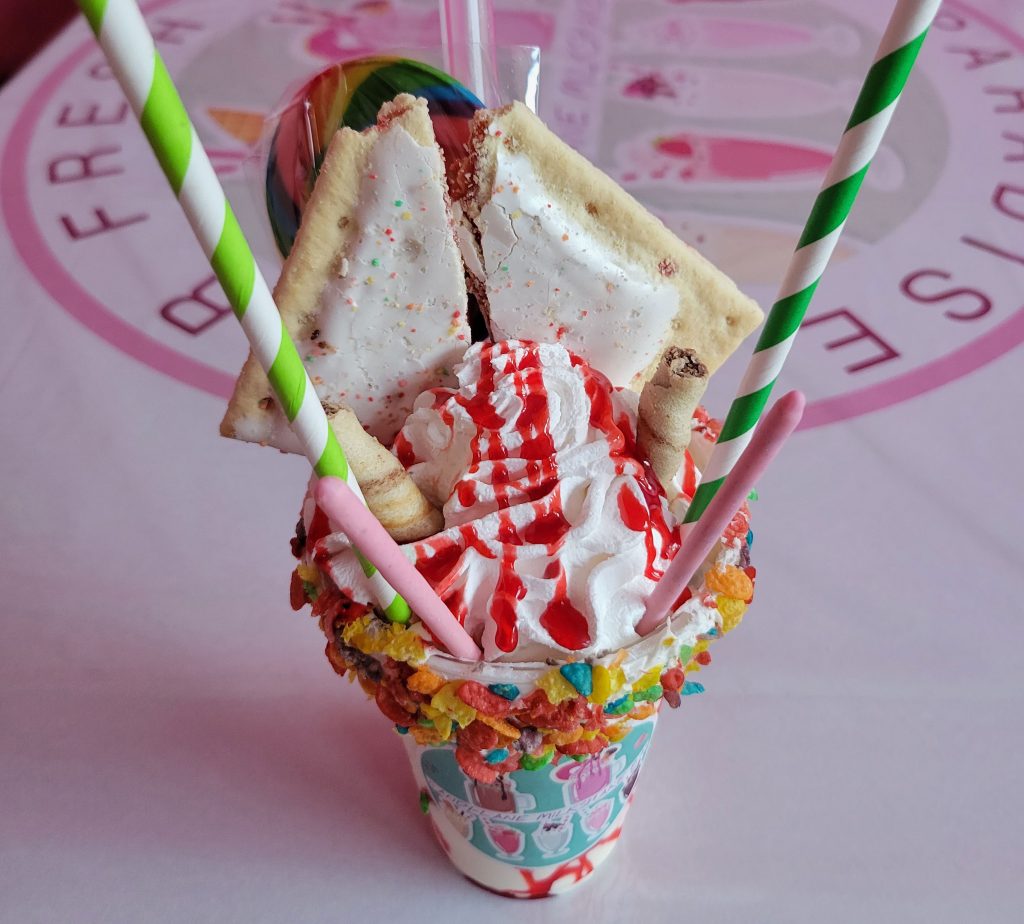 The Flavor and The Story:
Candy Lane MIlkshake Bar has been causing quite a stir lately in Downtown Kenosha.
During their grand opening on Saturday, June 25, the line to get in the door stretched down the street from the moment they opened until they sold out later that evening.
The hype hasn't stopped since then, and for good reason.
Candy Lane is creating monstrous milkshakes and other nostalgic soda shop treats in spectacular style.
The brightly colored interior makes you feel as though you've stepped right into another sweeter dimension, and that feeling doesn't go away once you get your order in.
While they do offer traditional milkshakes, the real star of the show here are the Gourmet Biggie Shakes.
These things are crafted from a dream I don't want to wake up from, and if you can finish one alone … you have my respect.
We tried the Fruity Dream Vanilla Shake on our visit.
First off, bring a friend.
Not only because this is more milkshake than I personally can handle alone, but also because you're going to want someone around to share your childlike joy with.
This massive dessert is piled high with some of the best vanilla milkshake I've ever tasted accented by surprise bursts of flavor and texture when you encounter a Fruity Pebble.
On top of this already decadent treat sits whipped cream strawberry drizzle, an entire Pop-Tart, and assorted candy.
Oh, and they rim the entire thing with more Fruity Pebbles.
I'm not sure there are words to describe this tasty treat with enough justice, but I can tell you that no matter how your day started, you will have a smile on your face when you experience this milkshake.
Bonus mention: The staff here is amazing. If the milkshake doesn't get you smiling, their laughter and joy will.
The Fruity Dream Vanilla Shake is available every day for $14.
Candy Lane Milkshake Bar is currently open for dine-in orders. You can learn more about this disha and see their full menu at CandyLaneMilkshakeBar.com.