If you're looking for a wallet-busting round of destination golf, valet parking, a golf shop that resembles Macy's and a whiff of snobbery, you've come to the wrong place.
If you're looking for nine holes of affordable fun, a laid-back atmosphere and locals who will bust your chops, well, welcome to Muni.
That's what everyone calls Washington Park Municipal Golf Course, located at the corner of Washington Road and 22nd Avenue, and the only golf course within the Kenosha city limits.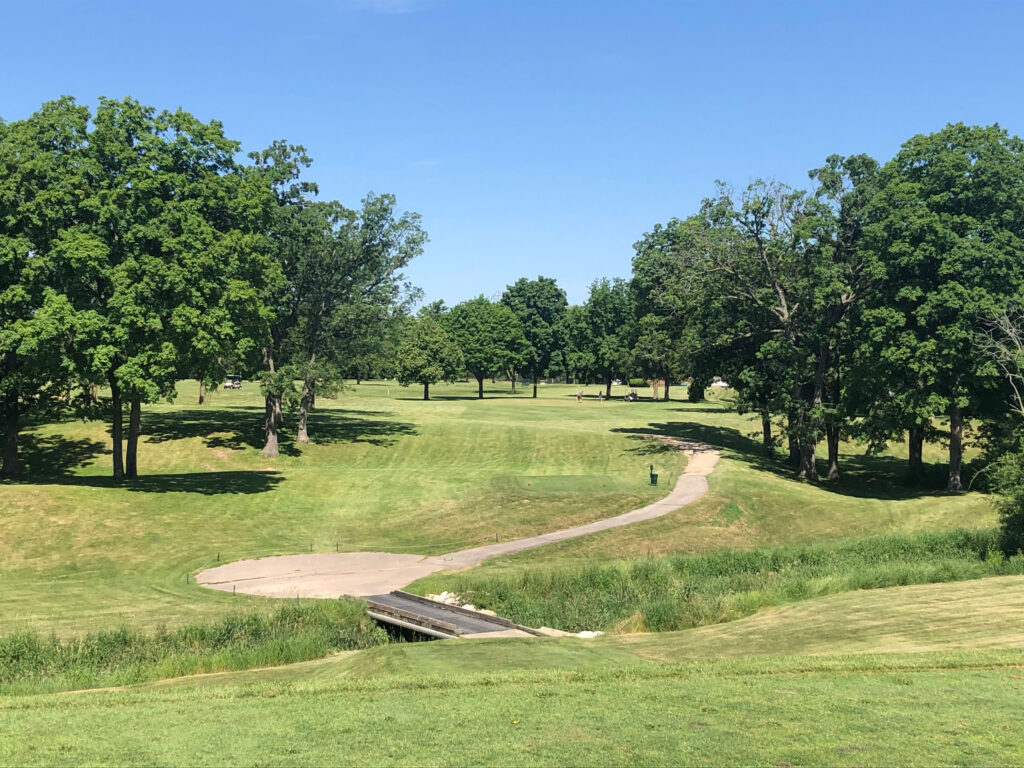 Muni is celebrating its 100th anniversary this year — the course was dedicated on May 28, 1922 — and it's only a joke that some of the regulars were in attendance that day.
"I was born in 1942 and I started playing here in 1951 or '52," said Ted Becker, who was spectating as a group of his buddies played a spirited game of cribbage in the clubhouse. "The course hasn't changed one bit. It really hasn't."
Washington Park is a throwback to a simpler time, with its quaint clubhouse and a nine-hole course that won't beat you (or your wallet) up, but is no pushover, either. The course measures 2,831 yards at its longest, but tree-lined fairways, small greens and significant elevation changes — plus Pike Creek, which comes into play on seven holes — give it teeth.
"We're proud of it," said Joe Bill, field supervisor of parks for the City of Kenosha. "It's kind of a hidden jewel."
Muni attracts some golfers from northern Illinois and Racine, but most who play it are locals and Bill estimated that 70 percent are ages 60 and older. He said the course did 15,000 rounds in 2021 but is slightly off that pace this year, mostly because of poor weather in April and May.
There are leagues every weekday, dominated by seniors. Junior golfers once flocked to the course, but that's no longer the case.
"I can remember in summertime when the kids were out of school, they hammered this course," Bill said. "They packed it up. And now since Kenosha has been such a retiree town, there's a lot of people here my age and a little younger. A lot of seniors and a lot of women come to play it. You don't have to bomb it 300 yards."
There are three sets of tees at Muni. From the white, or back tees, the first hole is a 220-yard par-3 through the trees, with Pike Creek in front of you. It's not the easiest way to start a round of golf. Nos. 2 and 3 are short par-4s, but the fourth hole is tight and the second shot must carry the creek to an elevated green.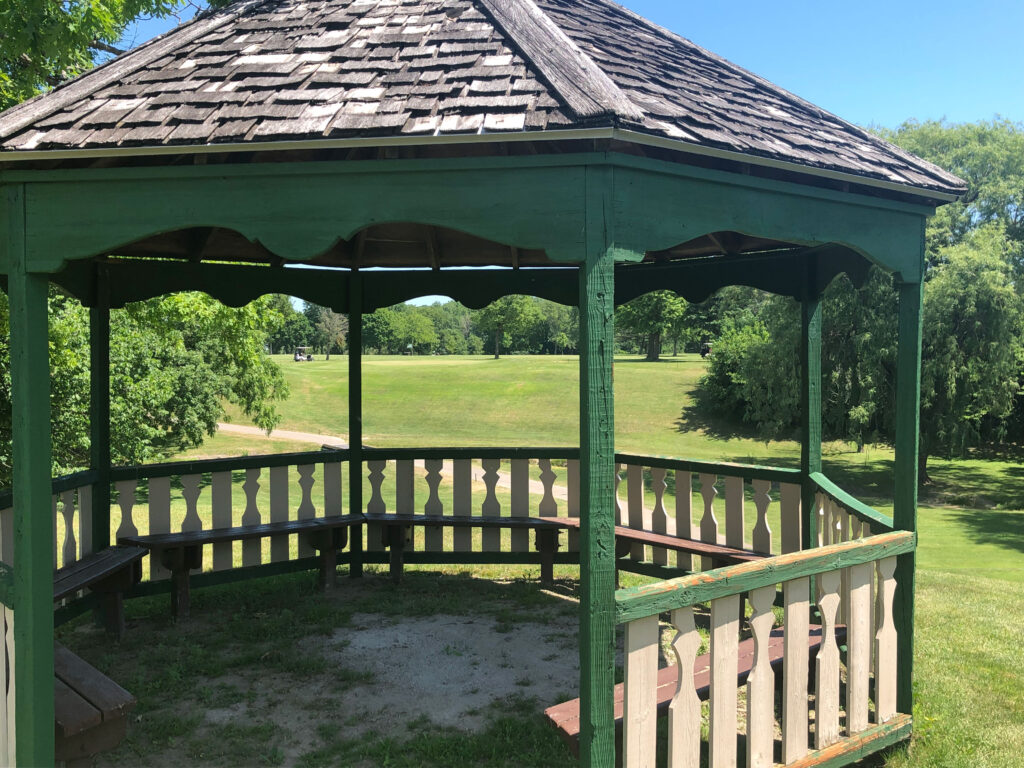 The par-4 seventh is one of the tougher holes, even with a modest length of 275 yards. The closer to the green, the tighter the landing area, and a hillside on the right is dominated by a hazard and trees, making it problematic for the right-handed slicer.
No. 9 is by far the most difficult hole, a 406-yard par-4 that bends slightly to the right and requires a long second shot over Pike Creek.
Bill said the two-person grounds maintenance crew — the appropriately named Mickey Parr and Tom Rozanas — take great pride in the course conditioning. Steve Raith is in his fifth year as the clubhouse manager.
The small clubhouse was built in the 1930s as a Works Progress Administration (WPA) project and reeks of charm and character with its vaulted wooden ceiling, old newspaper clippings on the wall and no-frills snack bar.
"That front door and that screen door have been slamming the same since I started here in 1952," said Becker, who at 75 is old enough to remember when the old Chicago North Shore & Milwaukee Railroad ran past the course. "Same doors. Stick when you're coming in, stick when you're going out. Screen door slams behind you.
"One guy was going to plane them a couple years ago. Somebody saw what he was going to do and said, 'Don't you touch those doors.' He thought he was doing them a favor."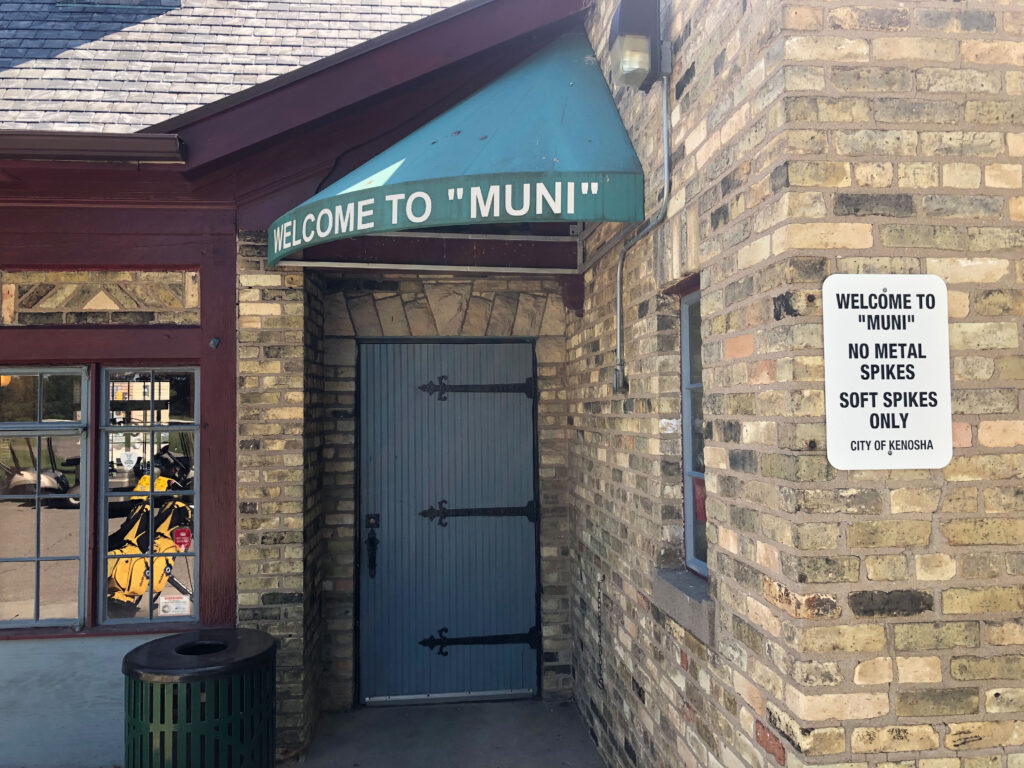 On a hot weekday afternoon, the clubhouse was empty save for Mike Rasmussen of Caledonia, who was enjoying a cold post-round beer. A retired mail carrier, he plays in a senior league on Fridays and subs in another league on Mondays.
"This is the only place I play," Rasmussen said. "I don't hit it as far as I used to, but you've got to be straight here. You can't be spraying it. I like it because of the people that I golf with, probably more than the course. We shoot more B.S. than we golf."
Bill was raised a mile from Muni and started playing golf here when he was 10.
"That was 47 years ago," he said. "I never thought I would be in charge of it back then. It's our little place. We take a lot of pride in it."