The Restaurant:
Shirl's Drive In, 7943 Sheridan Road, is a classic American eatery featuring fresh-made frozen custard.
The Featured Dish:
Big Burly Shirly — Classic American bacon cheeseburger with grilled onions and special "Burly Sauce." It also happens to be almost two pounds.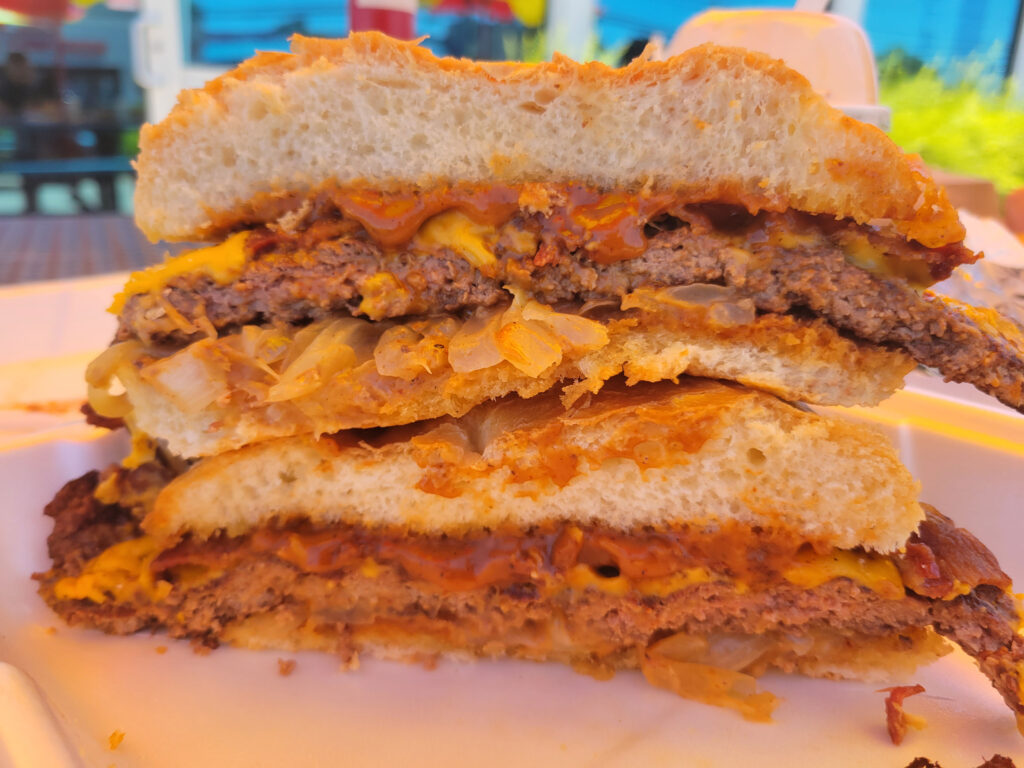 The Flavor and The Story:
Shirl's Drive In is about as Kenosha classic as it gets. 
Located near Simmons Field and Sheridan Lanes, this small restaurant with big flavor is a "must-stop" on family outings.
As a lifelong Kenoshan, it's hard for me to admit this, but until this visit, I had never experienced this local gem.
I've been given plenty of grief about it, including by my 9-year-old daughter. I just simply had never made it.
Now that I've experienced Shirl's, I understand why I got hassled so much. It was spectacular.
When I asked around about what is "the dish" that I absolutely had to try, I kept hearing the words: "Big Burly Shirly." So, I just went for it. 
I have to say, I had no idea what I was getting myself into. 
The menu doesn't list any description. It's just listed near the rest of the burgers at a reasonable price point. Since I love most food, I didn't even ask.
I just said, "I'll take one with everything" and rolled the dice. 
I probably should have asked a question or two, but the surprise was so mind-blowing that I'm almost glad I didn't.
When I picked up my order, I was surprised by the weight of the bag, but didn't fully realize what I was about to attempt until I opened the box. 
The Big Burly Shirly is no joke. 
The burger is served on what has to be a 10-inch bun and somehow the patty still extends beyond the bun on all sides. 
I mean, this thing is massive — potentially the biggest burger I've ever seen. 
Beyond its eye-popping size, this burger is delicious!
The burger is cooked perfectly and served on a toasted bun with sweet, grilled onions, melted American cheese, "Burly Sauce" and crispy, high-quality bacon.
I inquired about the "Burly Sauce" and it seems to be a closely guarded secret. 
I was told it most closely resembles a chipotle mayo, but I definitely taste a hint of BBQ smoke and sweetness.
I can't say it enough: This thing is so tasty! Just don't attempt it solo. 
I'd wager that you could cut this in four pieces and feed an entire family. And, if you can tackle more than half of it yourself, you deserve some sort of trophy.
The Big Burly Shirly is available every day for $10.99. 
Shirl's Drive In is currently open for dine-in and also accepts carryout and drive-thru orders. They don't have much of an online presence so you'll just have to stop in and check it out. They do, however, post their daily custard flavors on their Facebook page.