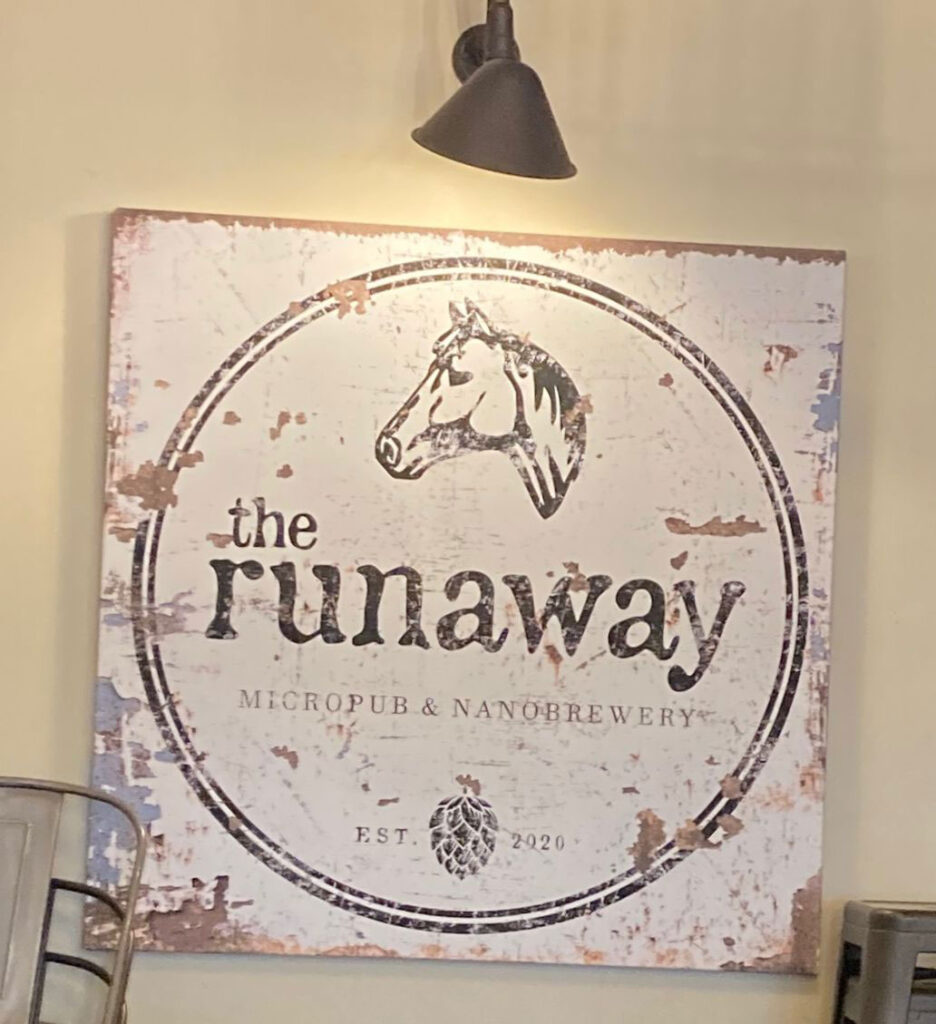 BURLINGTON — I've wanted to live in downtown Burlington ever since I discovered the hamburgers at Fred's Parkview. I know I'd have to take a cardiologist with me, but I'd be a happy guy as my arteries hardened. Now, I have another reason to move — The Runaway Micropub & Nanobrewery.
A microbrewery is generally defined as a brewery that produces less than 15,000 barrels per year and sells at least 75 percent of its product off-site. A nanobrewery is a microbrewery that sells its product primarily on-site.
The Runaway, 109 E. Chestnut St., is a single-room micropub, with a rear outdoor beer garden, that serves handcrafted, small-batch beer and local food. The name refers to a runaway horse from the horse-and-carriage era, an event that was entertaining and unexpected.
Owner and brewmaster Bernard Petersen presents a constantly rotating list of beers and food. The room is currently open only on Wednesdays from 5-9 p.m. (summer only) Thursdays from 5-9 p.m., Fridays from 4-10 p.m. and Saturdays from noon to 10 p.m.
In mid-June, the weekly beer lineup included:
Schwarzbier, a German dark lager
Vista, a smash ale with Vista hops
Victor Lap India pale ale
Sim's Sour, a key lime pie cream ale
Miller's Prize, a lemon meringue India pale ale
Pistachio Cream Ale, an American cream ale
Red Corvette, a raspberry wheat ale
Milk Can Stout, a coffee, dark chocolate and milk stout
Heirloom, a vanilla and honey cream ale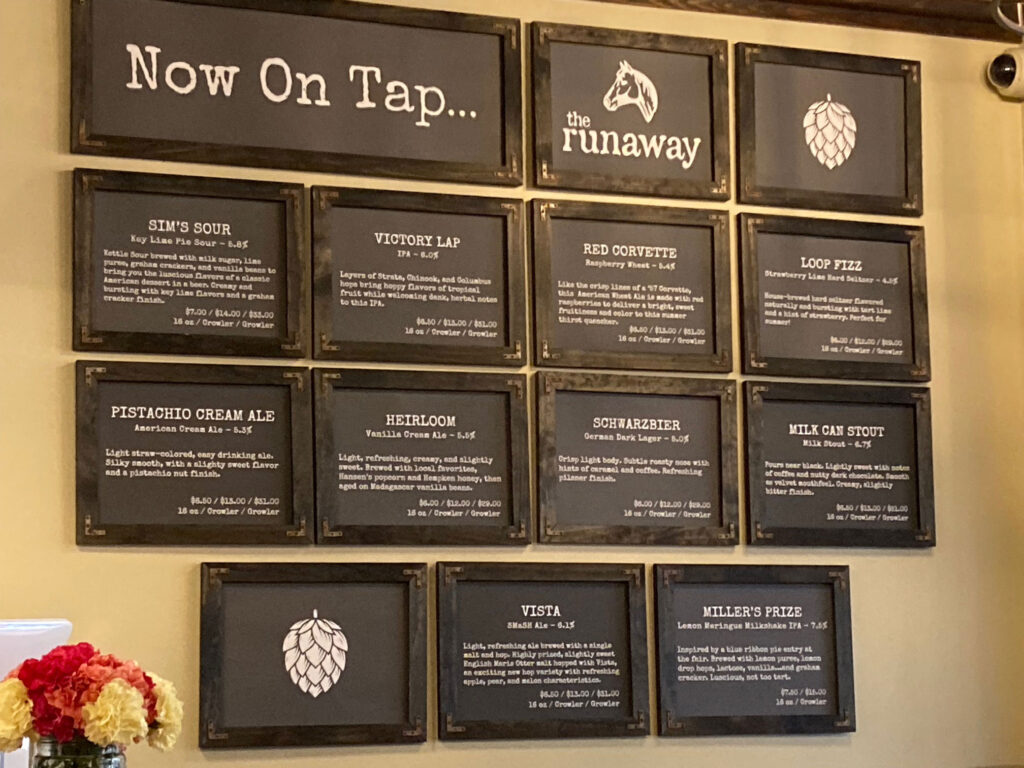 On the "Coming Soon" list are:
Citra Crossing, an American pale ale
Dusseldorf, a German altbier
Guest tap Rustic Badger, a Madison farmhouse ale
Mid-June food offerings included:
Milwaukee Pretzel Company soft pretzel (three sizes, $4/$8/$12) served with Merkts cheese spread and homemade mustard dip
Slide Gourmet Potato Chips ($4) with house-made caramelized French onion dip
Kelly's Chicken Pot Pie ($10), which are also available at the Kenosha HarborMarket
Smoky Pulled Prime Sandwich ($12), smoked prime rib served on a pretzel roll with provolone cheese, homemade creamy horseradish sauce and arugula
BBQ Rotisserie Chicken Sandwich ($12), served on a toasted brioche roll with cheddar cheese and barbecue sauce
Southern Belle Ham Sandwich ($12), served on a pretzel bun with pimento cheese and pickled red onions
Hometown Cheddarwurst ($8), a cheddar bratwurst made by East Troy's Hometown Sausage Kitchen and served on a pretzel roll with sauerkraut and mustard.
Craft Mac 'N' Cheese ($8.50), made with both white cheddar and toasted cheddar cheese and offered with several optional additions, including pork carnitas (+ $1.50), barbecued beef brisket with crispy fried onions (+ $1.50) and uncured all-beef hot dog (+ $1.50)
Hummus plate ($8), which is served with seasonal vegetables and Kalamata olives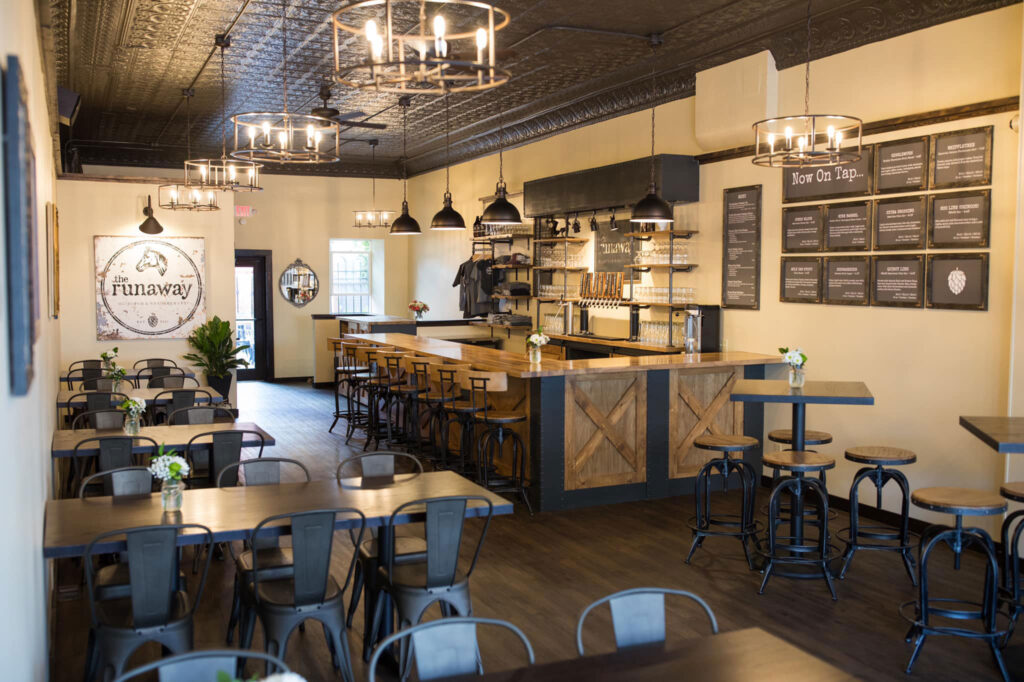 On the recommendation of a friend of ours from the Burlington Police Department, my wife and I tried The Runaway on a Thursday night in mid-June. I have to say that this is my kind of place. Great beer, a small menu of terrific food, a pleasant room and very accommodating staff. My version of heaven would be lunch at Fred's and dinner at The Runaway.
At our visit to The Runaway, I ordered a Victory Lap IPA and my wife a Point Premium Root Beer, while we perused the menu in the cute beer garden at the rear. My apologies to the two guys at the bar, but I think I got the last Victory Lap of the day. The IPA was slightly hazy, very hoppy, a little fruity and quite refreshing, a really good IPA rendition. We ordered a medium pretzel, which came with both the homemade mustard dip and Merkts port wine cheese spread. The whole-grain mustard, mixed with some horseradish, was a great accompaniment to the pretzel, which was warm, soft and doughy, dusted with some sea salt and very tasty.
My wife had the Southern Belle Ham Sandwich, which was nicely stacked with thin-cut ham and pickled red onions and heavily sauced with a pimento cheese-type spread on a pretzel bun. Pretty good. I had the Smoky Pulled Prime Sandwich, which I really liked. The beef was tender, well-seasoned and delicious with melted provolone cheese and nicely garnished with a creamy horseradish sauce and some very fresh arugula. The latter was the key element. A slightly-bitter green and a big favorite of mine, the arugula offers a really nice balance and an unusual touch to the meat and the horseradish. Nicely done and a really, really good sandwich.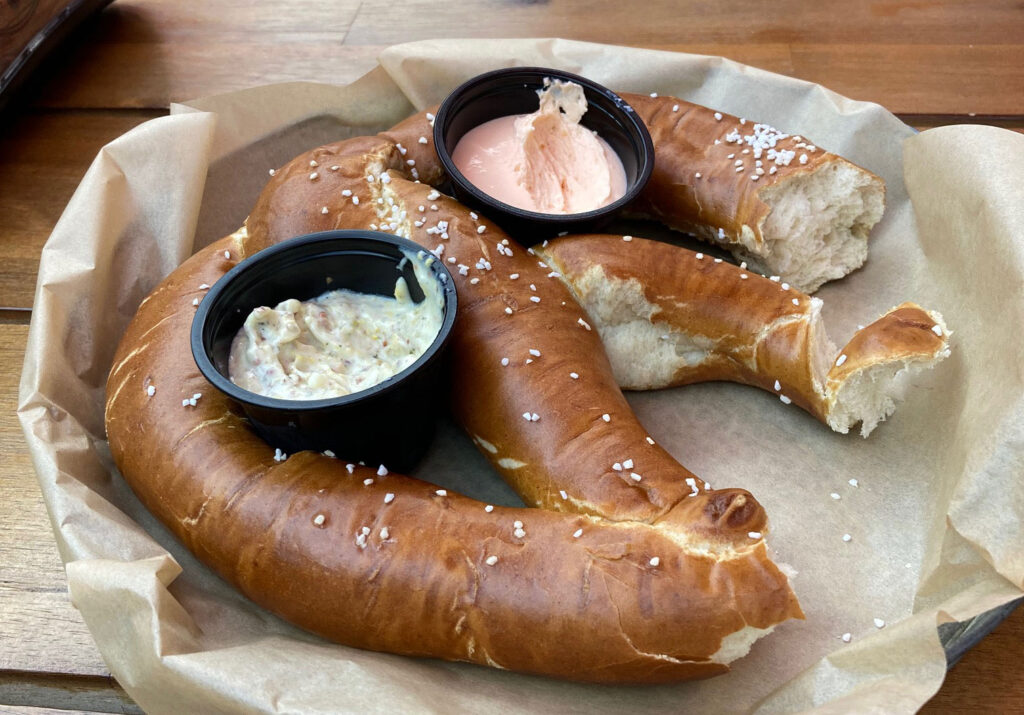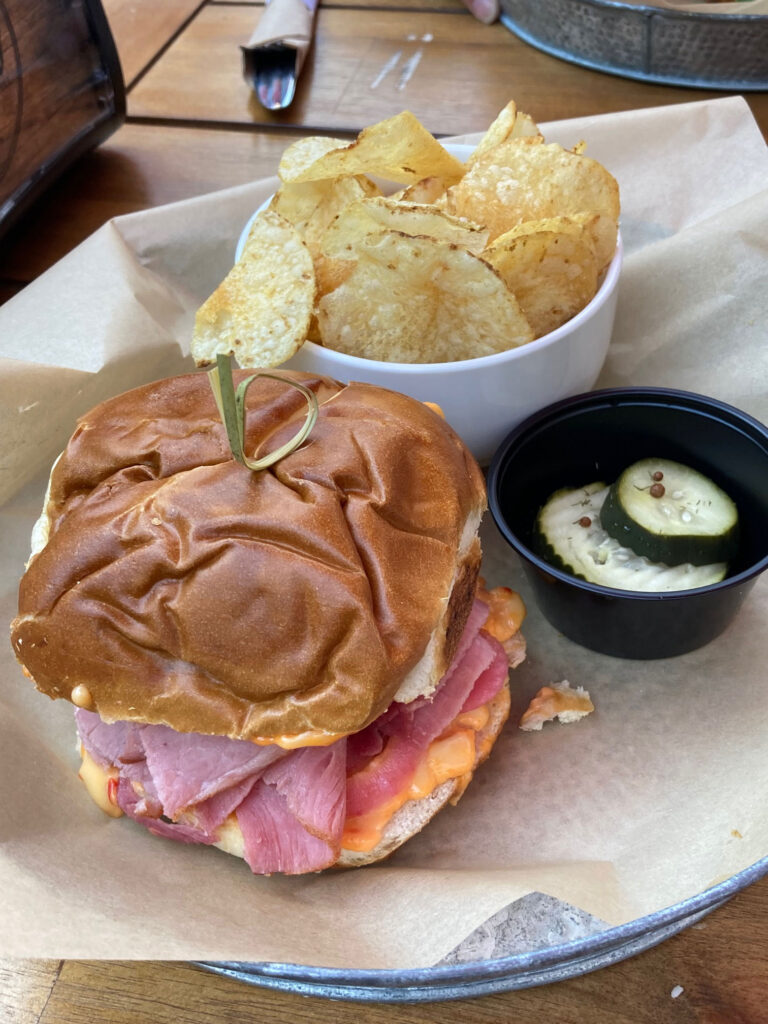 All the sandwiches are served with house made potato chips and homemade pickles. The chips are great, very crispy and kind of addictive. The pickles are sweet and sour or bread and butter, meaning they have some sugar to balance out the acidity of the vinegar. They come sliced in cross cuts, and they're quite good.
I had a Schwarzbier with the sandwich. Similar to a Munich Dunkel, it reminded me of the Stroh's Dark that I sometimes drank when I lived in Ann Arbor, Mich., in the 1970s. The Schwarzbier is a notch darker than a Munich Dunkel. Like a porter, it looks heavy but drinks light. It's crisp with a roasty nose and has hints of coffee and caramel with a refreshing pilsner finish.
The craft beer industry is ale-heavy, presumably because ale is easier and faster to make. It's great that Runaway is willing to produce, not only a lager, but a dark lager, which used to be a common item in German restaurants.
We didn't try Kelly's Chicken Pot Pie only because we had just bought two of them the previous Saturday at the Kenosha HarborMarket. A few days after we visited Runaway, we took the pot pies out of the freezer and sampled those. The chicken pot pie was a classic rendition with peas, carrots, celery and potatoes. Nothing out of the ordinary but very well executed with a flaky crust and a comfort-food filling. Really good.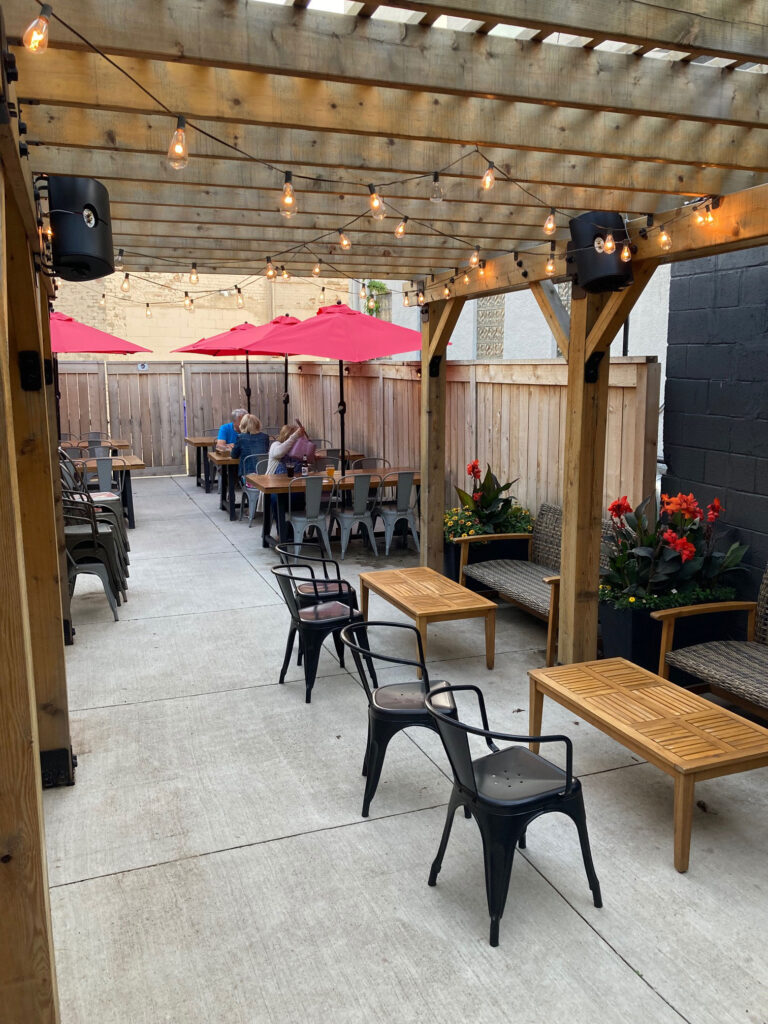 We also had a Reuben pot pie. I was prepared not to like this one, and in fact, the first bite confirmed what I feared. While I expected an awkward mix of flavors that wouldn't work in a pot pie setting, what I wasn't expecting was how addictive it became. I couldn't stop eating it.
The mixture of corned beef, carrots, potatoes, onions, gooey Swiss cheese, sauerkraut and Thousand Island dressing tasted just like a sandwich inside a pot pie. It was fantastic. Unfortunately, the Reuben version is not available at The Runaway, only the chicken. If you can hear me in Burlington, you need to add this to the menu. Kelly's Reuben pot pie would match perfectly with many or most of the draft beers.
Writer's note: In addition to HarborMarket, Kelly's Pot Pies are available at their store in East Troy as well as LarryVille Gardens in Burlington, Directmoos in Salem, and other locations in southeastern Wisconsin. Besides chicken and the Reuben, they also make beef, turkey and a vegetarian pie.
Back to the beers. I also had a taste of the Heirloom, which is a cream ale made with Madagascar vanilla beans and honey and is slightly sweet. It was really tasty. Like the Milk Can Stout, you can get this with a scoop of vanilla ice cream for a $2 upcharge and call it dessert.
My overall opinion of The Runaway? Well done, Bernard. This is a great addition to what's already a thriving dining scene in my favorite small town around Kenosha or Racine.