When the Kenosha Literacy Council decided to go outdoors for the first time in 2021 to hold its biggest fundraiser of the year, the main impetus was to be able to hold a socially distanced and safe event amid COVID-19 concerns.
Well, the event was so popular, it turns out, that the Literacy Council may have found a perfect fundraising event for years to come, regardless of any pandemic.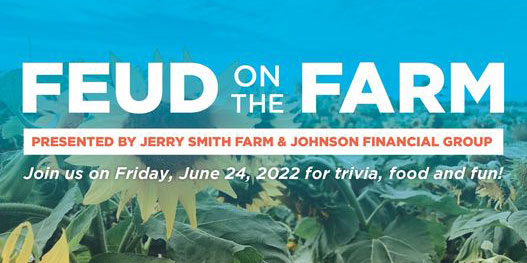 This Friday (June 24), for the second year in a row, the Literacy Council is partnering with Jerry Smith Farm to hold the Feud on the Farm event, which is also being presented by Johnson Financial Group.
A game featuring survey-style questions in the model of the classic game show Family Feud, the Feud on the Farm will pit teams against each other in a friendly competition.
The event runs from 5:30 to 8:30 p.m. Friday at Jerry Smith Farm, 7150 18th St. There will be a social hour beginning at 5:30 p.m., with the competition set to begin at 6:30.
Tickets are $50 per person, or $250 for a team of six. Tickets can be ordered on the KLC's Facebook page by clicking on the Eventbrite link for ordering tickets. Teams can also register for the competition at that link.
Tickets also include food that will be served on-site by the DeRango's Express food truck, and a cash bar will be available, too. A silent auction, which has already begun online, will also be part of Friday's Feud on the Farm.
Cheryl Hernandez, Executive Director of the Literacy Council, said teams should be registered for the Feud on the Farm competition by the end of the day Wednesday.
"We had about a hundred people last year, and we're hoping to have at least that many this year," Hernandez said. "We would like 15 teams registered, and so I think we're getting close to that.
"It's our biggest fundraiser of the year. It supports all of our literacy education programs."
And it appears that holding the event at Jerry Smith Farm has already become a big hit.
"Last year came about because we wanted to be able to do something outdoors, and so that was the connection with the farm," Hernandez said. "This year, too, with everything that was going on with COVID, we were a little nervous to plan a big event indoors still. So we decided to go with this event again.
"Last year, we got tons of great feedback after the event. People really enjoyed it, so we decided to go with it again."
The Literacy Council's mission, according to its website, is "to provide and promote literacy education in English to adults in Kenosha County with the assistance of trained volunteers."
"Our classes focus on adult learners, and we do some family activities, too," Hernandez said. "Most of our students are learning English as another language.
"About 80 percent of our students are learning English, and so it's all the different programming and citizenship classes and English classes that help them. And then we also help people who are learning to read (and) working toward a GED."
Also at Friday's event, Viktoriia Stoieva will be featured as the Literacy Council's student speaker.