BRISTOL — No matter how much they prepared, no matter how many checklists they crossed off, no matter how many people they could accommodate, there was one thing Dale Elfering and his family had no control over in hosting the annual Kenosha County Dairy Breakfast at Elfering Farms on Saturday morning.
For that, he hoped for some divine intervention. Obviously, that worked.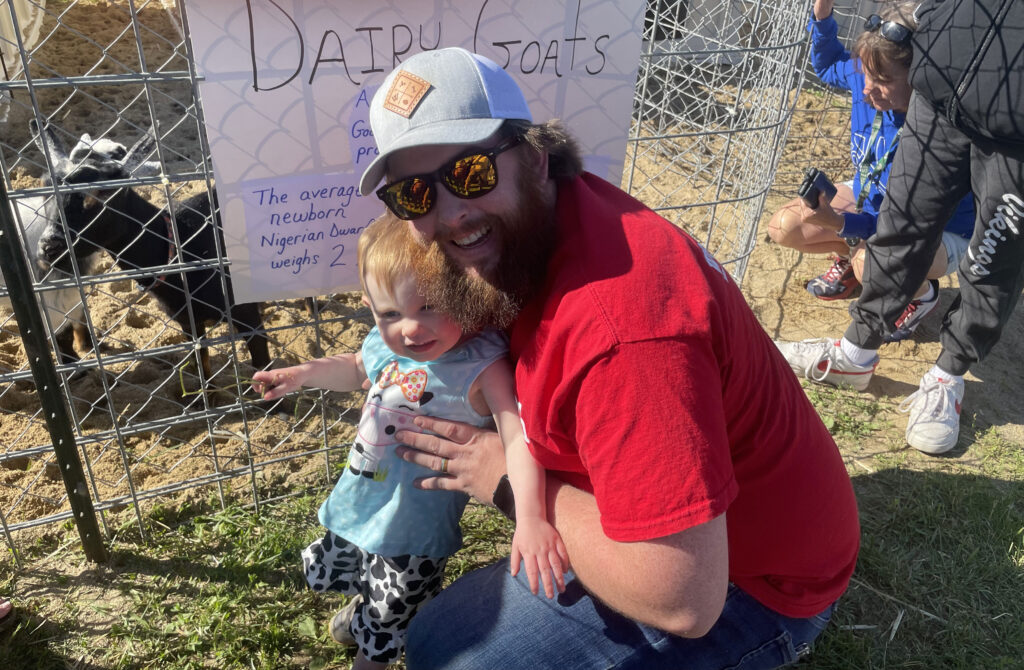 As much as anything else, cool, dry weather with total sunshine and no clouds in the sky helped make for a rousingly successful Dairy Breakfast in the event's return to normal procedure for the first time since 2019 after the COVID-19 pandemic had affected it the last two years.
A crowd of what Elfering estimated "should be well over 3,000" turned out at Elfering Farms throughout Saturday morning to eat a big farm breakfast and get a peek at life on a working dairy farm, the only one left in Bristol and one of a dwindling number in the county.
It was all smiles Saturday, and Elfering, a third-generation dairy farmer who runs Elfering Farms with his wife, Janet, and their two sons, Daniel and Dustin, was brimming with emotion at how well everything came together.
"This is gorgeous," Elfering said of the picture-perfect weather for such an event. "This is what we pray for."
Everything seemed to go off without a hitch, with the big breakfast, of course, being the main event.
For $10, and free for kids 6 and under, patrons were treated to a plate of eggs with ham and cheese, pancakes with butter and syrup, and string cheese. The breakfast also included milk, coffee, water and juice, yogurt, pastries, fruit and ice cream for dessert.
The breakfast also brought out scores of volunteers to help cook and serve the food.
Giant, rotating griddles cooked pancakes as fast as people could eat them. Working one of those griddles were volunteers Pauline, Sue and Michelle from Johnson Financial Group and Nancy from Paddock Lake.
There was an art form to cooking the perfect pancake.
"Let them cook. Let them bubble," Pauline said.
"You've got to peek at the bottom to see if the bottom's done," Nancy added.
When asked how many pancakes they figured the breakfast would churn out, Pauline said Elfering told them he figured on about 6,000.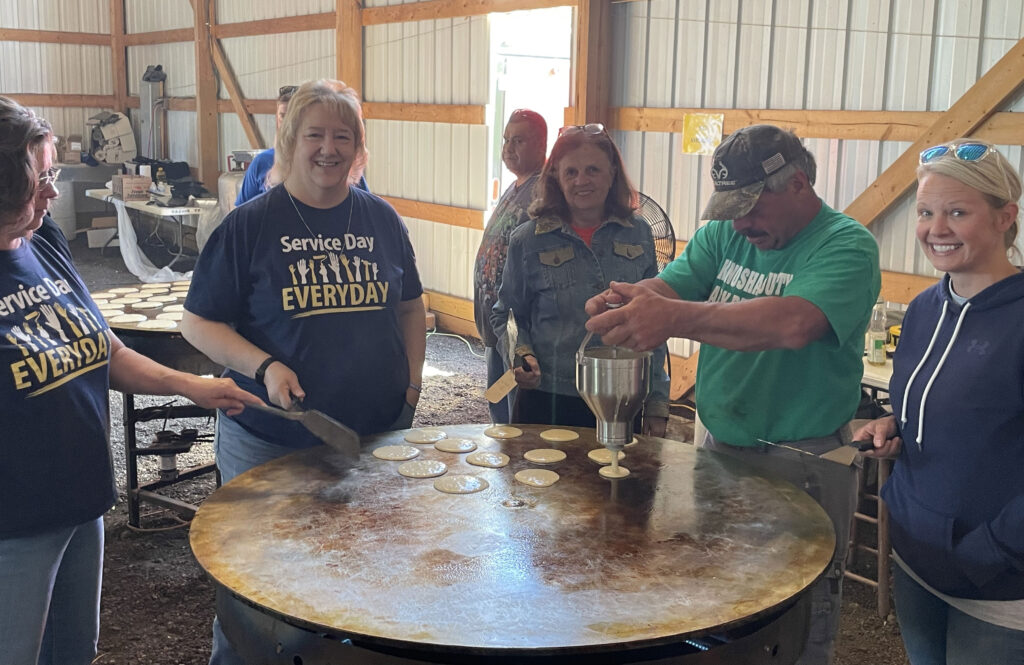 Kenosha County Executive Samantha Kerkman was also in attendance Saturday, and she spent some time dishing out food to patrons as they passed through the line.
"This is a beautiful day on the farm," Kerkman said. "This is like my 25th year helping out at the Dairy Breakfast. We're just pleased to be out here at the Elfering Farm. Come out, it's a great time. The weather is beautiful. I don't think we've seen a day so beautiful in years. If you're hungry and you want to see an actual working dairy farm, come on out.
"Hopefully we'll have thousands of people out here on the farm today, where (they) can see what actually goes on at a working dairy farm. Farmers work from 4 o'clock in the morning until the sun goes down. It's great to be out here, and the Elferings, we appreciate them hosting the Dairy Breakfast this year."
Other activities
The delicious — and filling — breakfast was only part of the day's action.
There was a giant sand hill for kids to play on, a myriad of vendors selling and marketing agricultural-related items, cows and calves for people to observe and interact with, wagon rides, and in general just a variety of ways for people to see what goes on at a dairy farm.
And, of course, a nice dose of country music blaring from big speakers.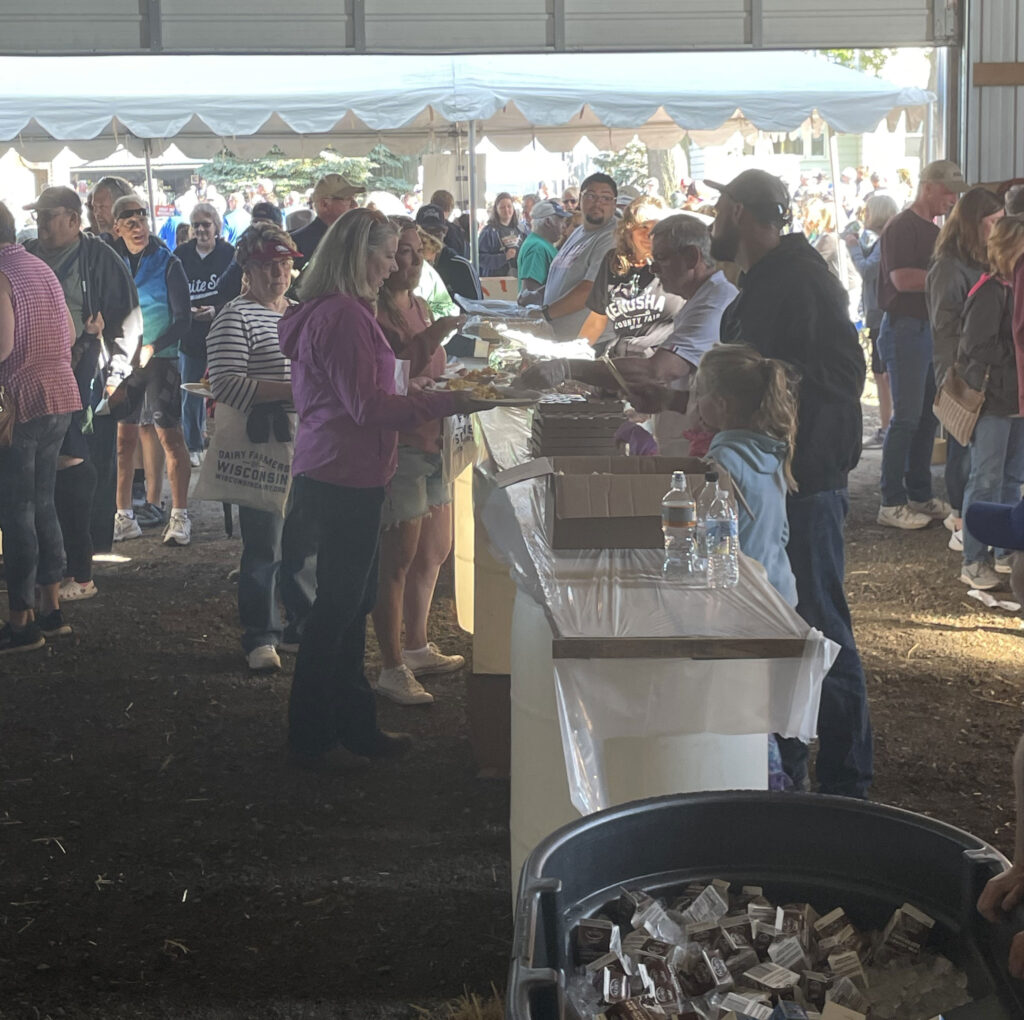 Vanessa Moravec was there with her son Marshall, 4, who was busy petting a baby goat. Vanessa said it was nice to be back at the Dairy Breakfast after missing out the last two years.
"We've come every year probably since this thing started, since we were kids," she said.
Partway through the morning, a nice rendition of the National Anthem was played, followed by a ceremony to recognize the very large Elfering family, which has operated the farm since 1927, when Dale's grandparents, Felix and Ruby, moved to 120 acres of land in Bristol from Libertyville, Ill.
Kerkman issued a proclamation for June being Dairy Month in Wisconsin, and the Elferings were also recognized by the Wisconsin State Legislature and given a certificate of Congressional recognition.
Additionally, three scholarship recipients were announced for students who plan to study in college for careers that can be later used in agriculture.
Dale Elfering gave a speech thanking everyone for coming out Saturday, during which he was briefly choked up and overcome with emotion and gratitude.
"It takes a lot of volunteers to really make it work," Elfering said. "So I really do appreciate the help, and I really appreciate all you guys coming out and getting a chance to see the farm."