Battle-tested.
If there's one way to describe the players on the St. Joseph Catholic Academy baseball team, that would be the best choice.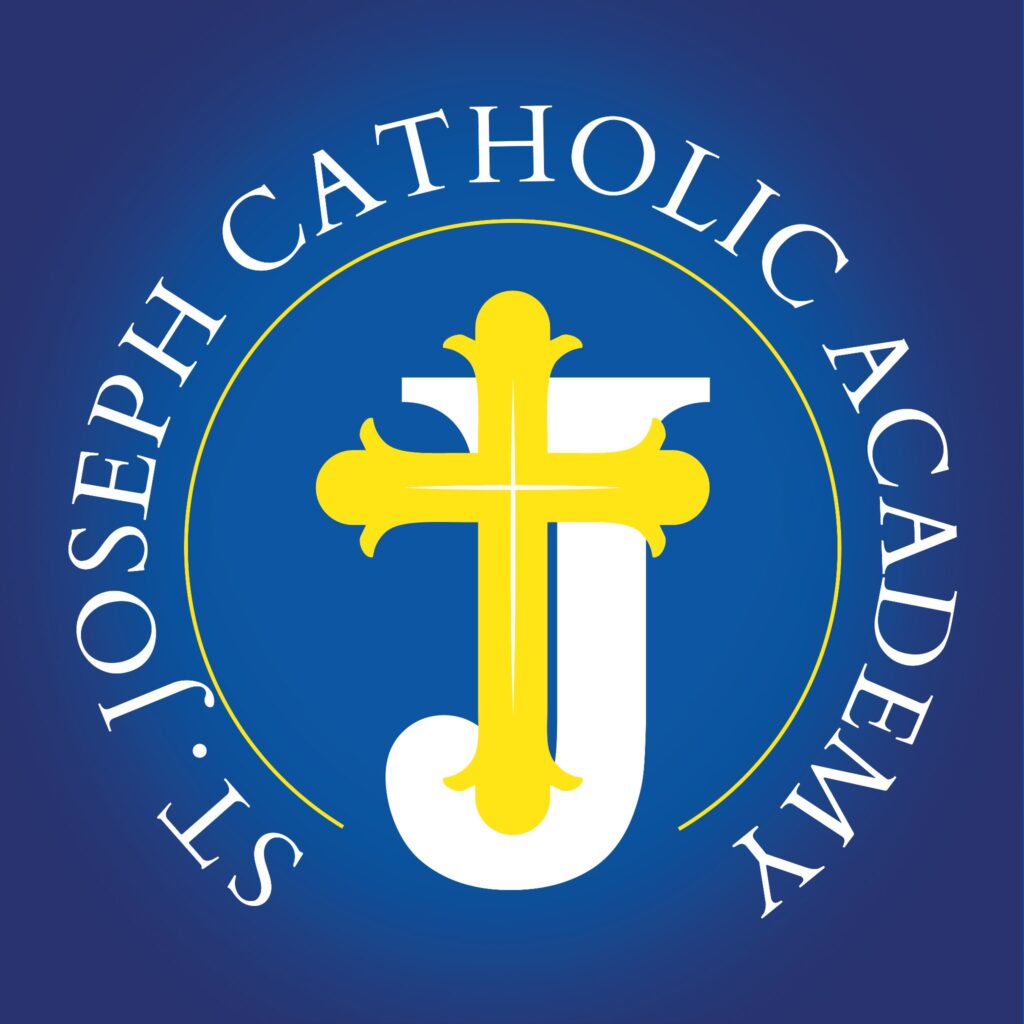 When the Lancers take the Neuroscience Group Field at Fox Cities Stadium in Grand Chute this week to defend the Wisconsin Interscholastic Athletic Association Division 3 State Baseball Tournament title they won last year — starting with Wednesday's state semifinal against St. Croix Falls at approximately 2:30 p.m. — they'll possess as much big-game experience as high school athletes can possess.
And that's far more than just a result of the state baseball championship they won in 2021.
Starting with that memorable championship run last June, St. Joseph's players have been part of a historic year of success for the school's athletic program.
Among the St. Joseph boys programs during the last year, the football team won an undefeated Midwest Classic Conference title and reached the WIAA Division 6 state quarterfinals, while the boys soccer and boys basketball teams both reached the WIAA Division 4 sectional semifinals.
Of the 15 players on this season's baseball roster, 10 played at least one of St. Joseph's other three boys team sports this school year.
Three players, senior Jacob Ashmus — a three-year starting quarterback for the football team — junior Luke Schuler and sophomore Eric Kenesie, played on both the football and boys basketball teams. Two others, senior Matt Schulte and junior Jack McTernan, played on both the boys soccer and boys basketball teams.
Overall, it's created a roster that won't likely be too affected by nerves this week, especially considering much of the team was part of last season's state baseball title run, too.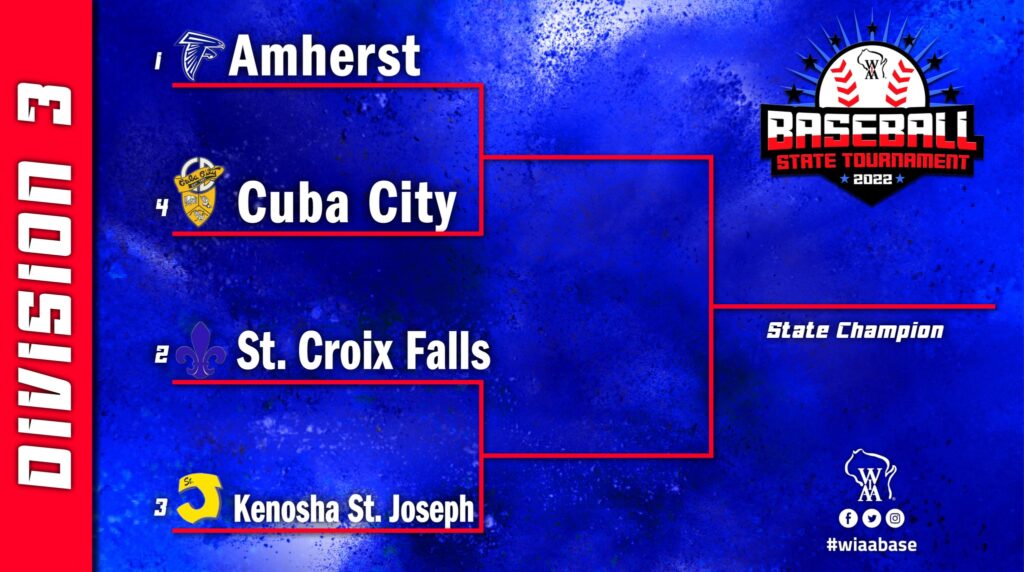 "I think we have a very confident group in everything they do," St. Joseph head baseball coach Ryan Gavinski, in his third season leading the program, said in a recent phone interview. "The whole group played multiple sports, and they made the run in basketball, they made the run in football.
"I think it all just gelled. They have confidence, and they believe in themselves. We just talk about that stuff. I think that's where it stems from, just the confidence that the group has."
That confidence has certainly been reflected on the diamond over the last two seasons by the manner in which the Lancers have dispatched their opponents.
Last season, St. Joseph finished with a 25-1 record and outscored their opponents, 294-74, an average of about 11-3 per game.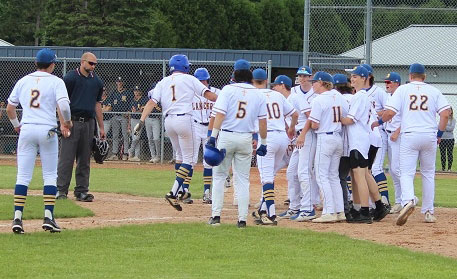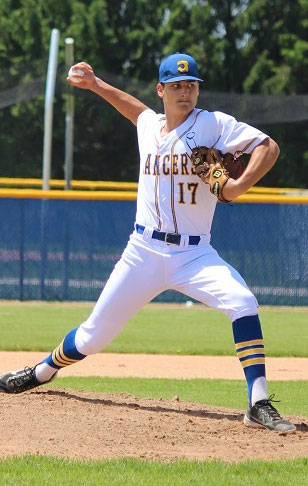 This season, the Lancers enter the State Tournament with a 20-2 record and have outscored their opponents by a total of 266-51, or an average of about 12-3 per game.
After graduating six seniors from last year's state championship squad, Gavinski said he and the coaching staff still had to figure out where some of their players best fit in when this season started. The Lancers opened the 2022 season ranked No. 1 in Division 3 in the Baseball Wisconsin Yearbook preseason poll, which Gavinski admitted made him a little nervous.
But the Lancers settled in just fine and rolled to their third consecutive outright Metro Classic Conference title, a string interrupted only in 2020 when the COVID-19 pandemic canceled that season, which was also technically Gavinski's first in charge of the program.
Sectional semifinal test
Of course, when a team dominates so many opponents, as St. Joseph did all of this season and last, there's always a concern over what will happen when it's forced into a tight game.
The Lancers had to answer that question during last week Tuesday's Division 3 sectional doubleheader at Chilton High School.
Facing Brookfield Academy in the day's second sectional semifinal, St. Joseph found itself trailing 3-0 after the top of the first inning and 10-5 after the top of the fifth.
But the Lancers kept rallying back, tying the game at 10-10 in the bottom of the fifth on Schulte's two-run homer to left that scored him and sophomore Tommy Santarelli.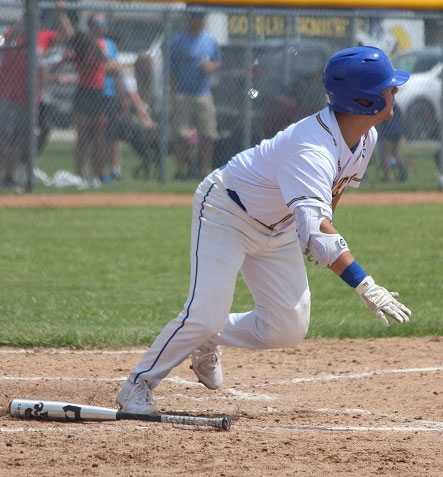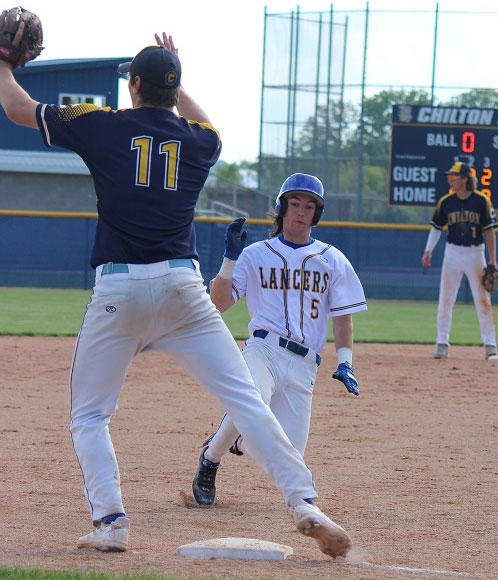 Brookfield Academy took an 11-10 lead in the top of the sixth, and it stayed that way going into the bottom of the seventh, with St. Joseph down to its last at-bat and the season on the line.
The Lancers responded, as Santarelli and McTernan were both hit by pitches to open the inning. After a fielder's choice put Schulte on first base and McTernan on second with one out, Kenesie walked to load the bases. Ashmus drove in the tying run on a fielder's choice, then Brookfield Academy walked the Lancers' No. 3 hitter, junior Brady Davidson, to load the bases with two outs and freshman Peter Visconti at the plate.
The first pitch to Visconti was wild and bounced to the backstop, allowing Schulte to score from third for a walk-off, 12-11 victory.
In the sectional final later Tuesday, St. Joseph had an easier time with Chilton, winning 8-2 to advance back to the State Tournament.
Throughout the day, the Lancers proved they could stay composed when challenged.
"The sectional (semifinal) game against Brookfield Academy really impressed me," Gavinski said. "That was an absolute grinder.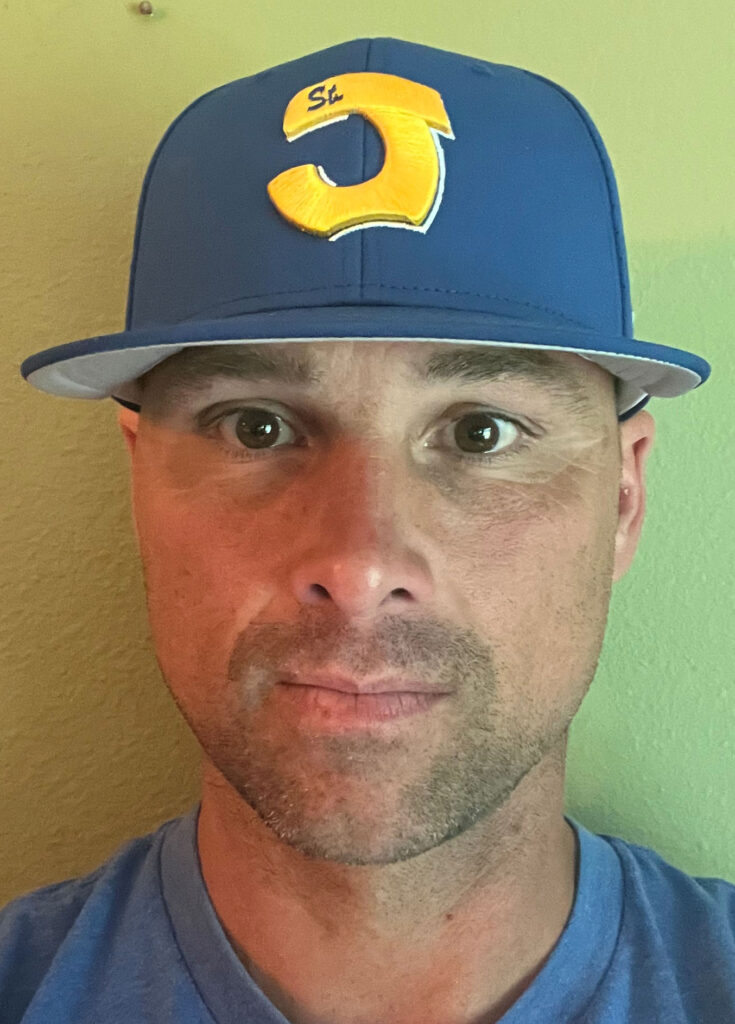 "… We were down that whole stinking game. And nobody in that group didn't think we were coming back when we were down 10-5. I remembered to huddle, and I said, 'Hey, I told you guys all week we're going to have to grind through this day.' I walked away, and they had a conversation, and I kind of listened. And it was, 'We've still got this.'
"That comes from everything they've done in football and in basketball, the confidence they have. And being there last year, too (in baseball), being part of what we did last year and understanding that we are a team that's capable of doing this."
During the season, Gavinski also makes it a point to schedule some tough non-conference opposition, particularly against much larger Division 1 schools.
The Lancers had 14 games this season go less than the regulation seven innings because they were winning by 10 runs or more after five. But they also played four games against Division 1 schools, including a 5-1 loss to Burlington — a frequent qualifier for the Division 1 State Tournament field in recent years — to conclude the regular season.
"I scheduled Burlington for a purpose," Gavinski said. "I know what we're going to get from that group. You schedule those teams because you know what you're going to get."
Going into the State Tournament this year, Gavinski said the Lancers are also "100 percent healthy" and ready to go.
They were bolstered immensely for sectionals by the return of Davidson, who had been out since suffering an injury during a 4-3 loss to St. Thomas More on May 18, the Lancers' lone Metro Classic defeat this season.
St. Joseph has a number of eye-popping offensive statistics. But it's Davidson, who's batting .583 with a homer, five doubles four triples, 29 RBI and a .917 slugging percentage, who really drives the middle of the order.
"If we didn't have Brady at the sectional, I don't know if we'd be talking right now," Gavinski said. "It's not only that he's a heck of a player, it's also that he's our spark. He's our No. 3 hitter.
"… He keeps things loose. We don't have anybody that really fires anybody up. But it's just having that kid that's confident right in the 3-hole. He just attacks, and he's always there."
Impressive legacy
By reaching the State Tournament again, St. Joseph has already added to its incredible baseball legacy.
This is the Lancers' seventh WIAA State Tournament appearance in baseball, and they'll be going for their ninth state championship overall in the sport.
St. Joseph won state titles in the now-defunct Wisconsin Independent Schools Athletic Association in 1965, 1970, 1977 and 1988 and WIAA state titles in 2005, 2006, 2009 and 2021.
"They have confidence, but I think they also want to validate what happened last year," Gavinski said of this year's team.
Ranked No. 3 in Division 3 in this season's latest Wisconsin Baseball Coaches Association state poll, St. Joseph received the No. 3 seed in the four-team Division 3 State Tournament draw and will face No. 2 seed St. Croix Falls (25-2), which was actually ranked a spot behind St. Joseph at No. 4 in the latest state coaches poll.
They'll play Wednesday's second Division 3 semifinal after No. 1 seed and top-ranked Amherst (28-0) takes on No. 4 seed Cuba City (21-4) in the first semifinal at 12:30 p.m.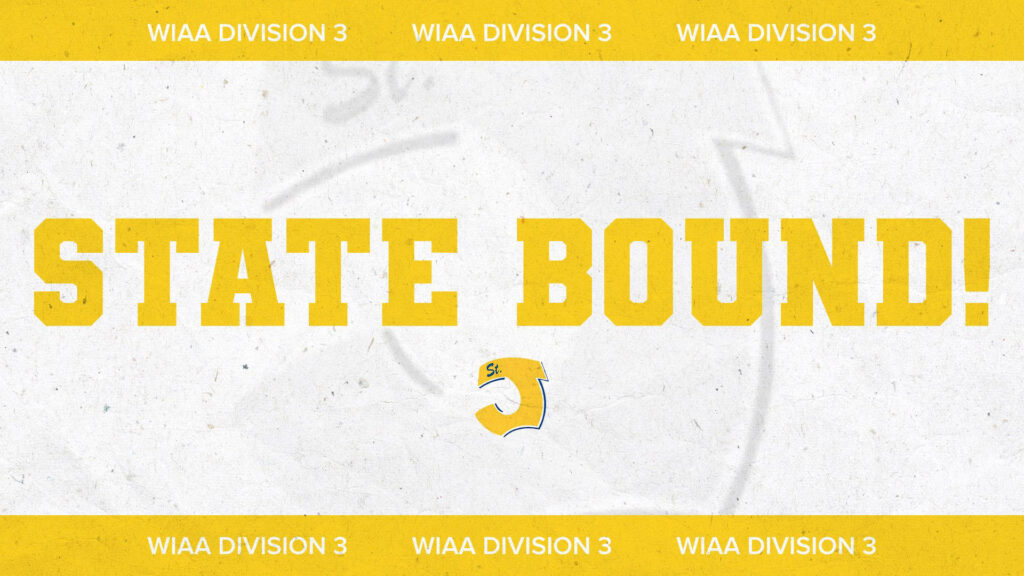 Gavinski, somewhat tongue-in-cheek, said he can use the Lancers' State Tournament seeding for some extra motivation.
"I think I've got another one, because we're the 3-seed," he said. "I think I'm going to utilize a little bit of motivation on this one."
The semifinal winners Wednesday will face each other in the Division 3 state title game on Thursday at approximately noon.
All tickets for the WIAA State Baseball Tournament must be purchased via the WIAA's online sales portal at gofan.co/app/school/WIAAWI?activity=baseball. The cost is $11 for single-session tickets and $25 for all-day tickets.