Friends and family of 2009 Wilmot High School graduate Ryan Young have grown accustomed to him adding a little play-by-play to just about any baseball game.
Reaching the level of working for a Major League Baseball team has long been the dream of the 30-year-old, who uses the name "Young" for professional reasons — his real last name is Yonushatis.
And while that's a long and winding road to get to that spot, Young has continued to grind away, kick open some doors and walk through others en route to the ultimate landing spot.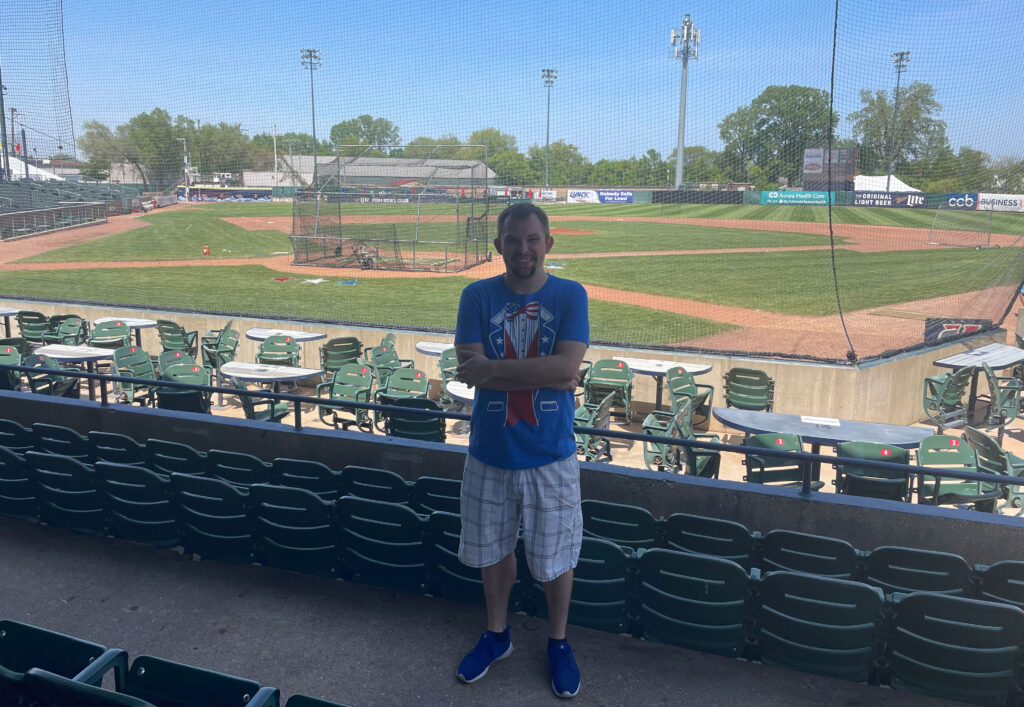 After spending last summer as an intern with the Chicago Dogs baseball team, an independent professional organization in Rosemont, Ill., Young has turned his attention to a destination much closer to home.
For the next few months, he will serve as the public address announcer at Simmons Field, the home of the ever-popular Kenosha Kingfish of the Northwoods League — and Young, who made his debut before a record-breaking crowd Monday (May 30) for the 2022 home opener, couldn't be more excited for the opportunity.
"I'm very excited. It's a chance to get my foot in the door," Young said from a picnic table outside the stadium. "Obviously, my dream is to be an MLB broadcaster, but to be able to be a PA announcer, especially where you can't get any closer than this (is great). 
"I had a job opportunity in Oklahoma City with the Dodgers Triple A team. I was a finalist for that. But everything happens for a reason. This job opportunity became available, and I was able to get it. I'm definitely excited. I'm looking forward to it."
Young, a lifelong resident of Silver Lake and a devout Chicago Cubs fan — and all things Chicago for that matter — completed a two-year program with the Illinois Media School in Chicago, and the 30-year-old has his sights set on chasing that dream.
But for the immediate future, he's ready to settle into the pressbox that sits atop Simmons Field for 30-some home dates this summer.
"It's a new opportunity, so I'm looking forward to just doing something new," he said.
Learning experiences
Young cut his teeth in just about every part of the business with the Chicago Dogs a summer ago, where he did both broadcasting and camera work for that club.
"That was a very fun summer," he said. "It was a good team, a lot of great people that I met there. It was so much fun."
Young also has some name familiarity in a completely different circle, that of professional wrestling and a number of area independent circuits he worked for, both as an analyst for online productions and in the ring as an announcer.
Those experiences gave Young his first chance to perform in front of people, and while calling professional wrestling certainly was different, it helped him develop the skills he needs to grow in the business.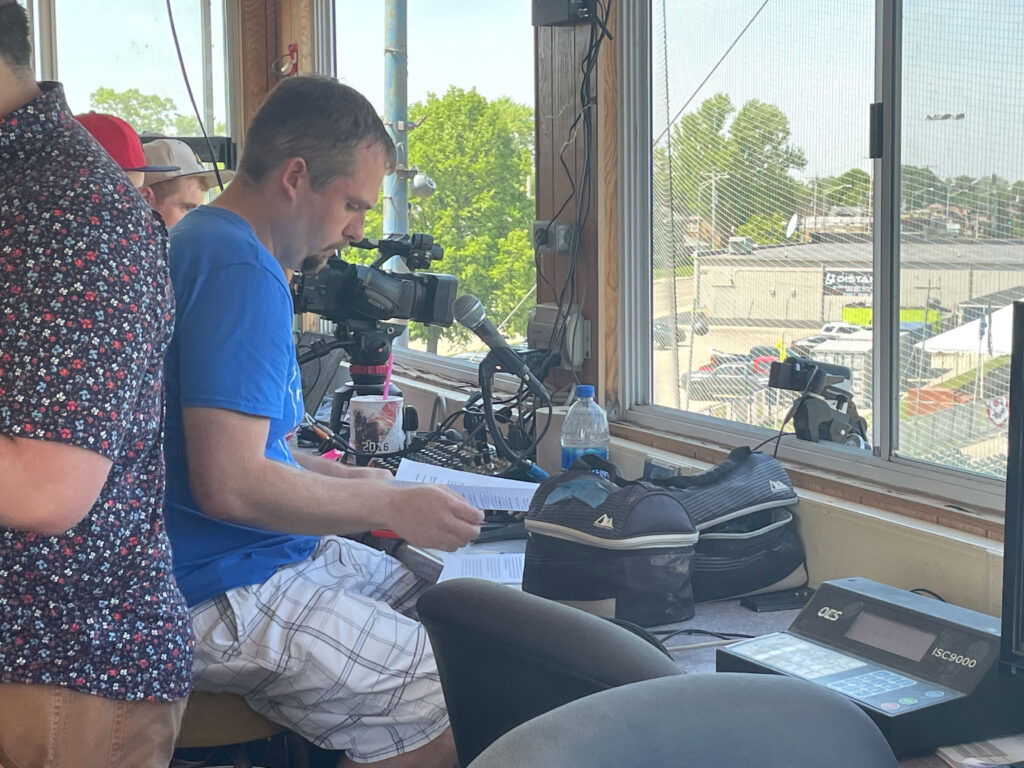 "The companies I worked for, they just let me do my own thing," he said. "They gave me a rundown and let me do my thing. Ring announcing definitely helped me."
Young goes back to his younger days, when a video game would turn into his own play-by-play studio, as the place where his dream began to take form.
And to this day, he still uses that activity as a chance to practice his craft and hone his skills.
Even when he attended games of his beloved Cubs at Wrigley Field, Young would find himself focused on somewhere else than what was happening on the field.
"I'd go to a Cubs game, and everybody would be staring at the field (at) Sammy Sosa, and I'd be looking up in the booth and saying, 'Look, there's Chip Caray,'" he said. "It was meant to be. I've always wanted to be in media. I still broadcast video games for vocal training. Baseball has always been my favorite sport."
Young, whose first Kingfish game was Memorial Day (May 30), said he was excited to experience firsthand the love and fandom the team has built in this city.
He also admitted there would be some nerves talking to crowds that fill Simmons Field seats on a nightly basis — but it didn't take long before he settled in for the opener and kept the fans abreast of all the action on the field and in between innings.
"It's for sure the biggest crowd I've ever called anything in front of," he said. "I'm looking forward to that. That's going to be exciting. In any entertainment business, you feed off the crowd. That's the big thing. These games get loud, and I'm excited for it."
Putting his own stamp on it
Young said he knew early on the challenge would be learning how to pronounce the names of the young men who will compete every night for Kenosha, but in time, he expects to add his own style to the job.
Every announcer eventually finds that spot they can call their own, and he's confident that will happen as the summer days and nights roll along.
"I have to create my own thing," he said. "I think that will come with time. I'll find my way."
Looking past this summer, Young continues to have his eyes on the ultimate prize and dreams of a day when he may just be working for his beloved Cubs.
Never say never, and with his drive and determination to succeed, that just may happen.
"It would be the lead play-by-play of the Cubs, but '1A' would be any major league team," he said. "But I've also dabbled in radio now, so I'd like to do radio, too. You have to paint a picture, which is fun. But TV is where I think I'm meant to be."
Young always keeps one thing in mind as his journey continues.
"Never give up," he said. "I started late. I took that whole, 'Let's take one year off after high school,' and that turned into 10. … Just hold on. Turning 30 was a very hard age for me, but a lot of people say the 30s are the best years of their life, but as long as I can talk and I have a memory, I can do this."