Mike Steinborn tried his very best, but he had to throw in the towel.
Actually, the napkin.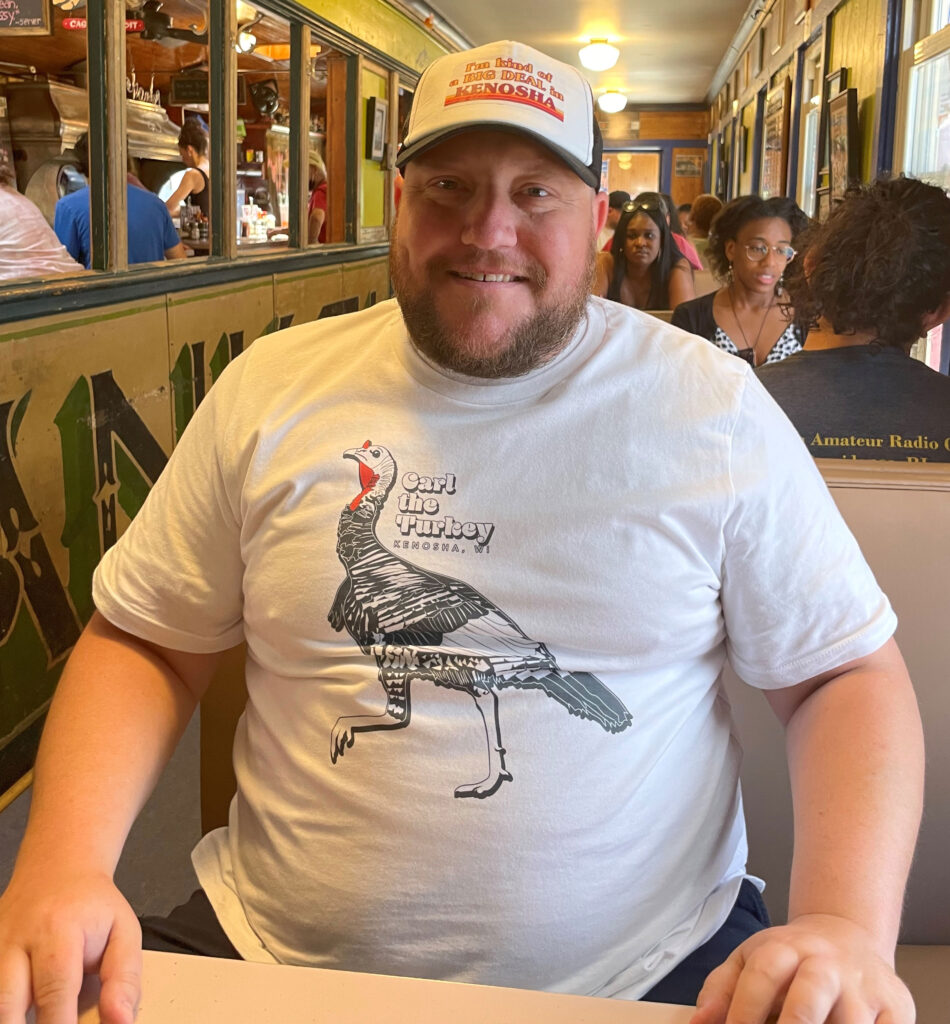 Steinborn, 39, of Kenosha, was attempting to become the 30th person to complete the Carthage College Firebird Challenge at Franks Diner, 508 58th St., on Friday afternoon, and he was trying to do it for the cameras of the nationally syndicated TV show, "Small Town Big Deal."
Alas, about 30 minutes or so into his 45-minute time limit, Steinborn waved his white napkin and put it over his half-finished garbage plate, the dish made famous by Franks Diner.
He'd simply had enough.
"The pancakes took me down," Steinborn said of the first half of his gluttonous challenge, conceding that he should've eaten the garbage plate first, then the pancakes.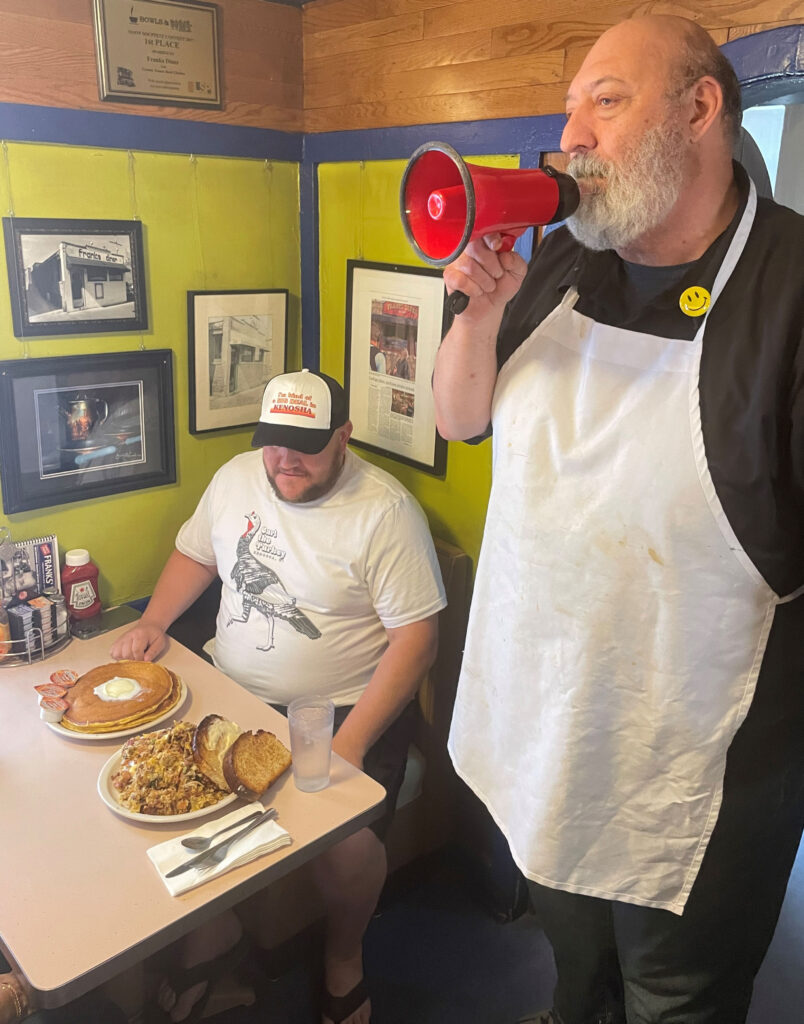 At any rate, the challenge was all in good fun. After marking his surrender, Steinborn received a nice round of applause from the rest of the patrons at Franks Diner and got a hearty congratulations from "Small Town Big Deal" co-hosts Jann Carl and Rodney Miller after they conducted a "post-eat" interview.
Steinborn attempted the challenge in response to a social media call from Franks Diner co-owners Kevin Ervin and Julie Rittmiller for someone to try the challenge for the "Small Town Big Deal" cameras.
According to Ervin, the challenge was initiated about 15 to 20 years ago by some players from the Carthage football team, which is where the challenge got its name.
Ervin said the group of football players — large men, no doubt — would come into the diner once a week and progressively raise the stakes on each other to see how much they could eat.
From there, the Carthage College Firebird Challenge took on its current form. Contestants must eat a full stack of pancakes and a full garbage plate within 45 minutes, with one significant catch: There can be no bathroom breaks during eating.
For reference, the pancakes are each about a half-inch thick and have the circumference of a dinner plate. Ervin said, "It's like eating a small cake."
And the famous garbage plate, in full size, contains five eggs, five meats, five cheeses and all the vegetables that come mixed in. Plus, there's also bread on the side.
If you complete the challenge, you get half off the entire order, along with a T-shirt and your name on a plaque inside the famous train-car diner.
Ervin said it's all around six pounds of food, but it's actually not as much as the Carthage football players who started the challenge would eat. The challenge had to be "pared down" for public consumption.
"One of the guys (former Carthage football players) a couple of years ago wrote us, saying, 'That's not the challenge. We did so much more,'" Ervin said. "'Excuse me, sir, we understand this, but normal human beings can't even come close to what you ate.'"
Prior to attempting the challenge on Friday, Steinborn said he didn't eat all day. He had a pretty simple motivation for trying it.
"Free food," Steinborn said. "Kevin's paying for it."
But Steinborn's attempt Friday was no ordinary Carthage College Firebird Challenge, because this time it was part of a televised segment on Franks Diner.
In town to highlight the iconic diner were Miller, the co-host and founder of "Small Town Big Deal," and Carl, the co-host of the show with Miller.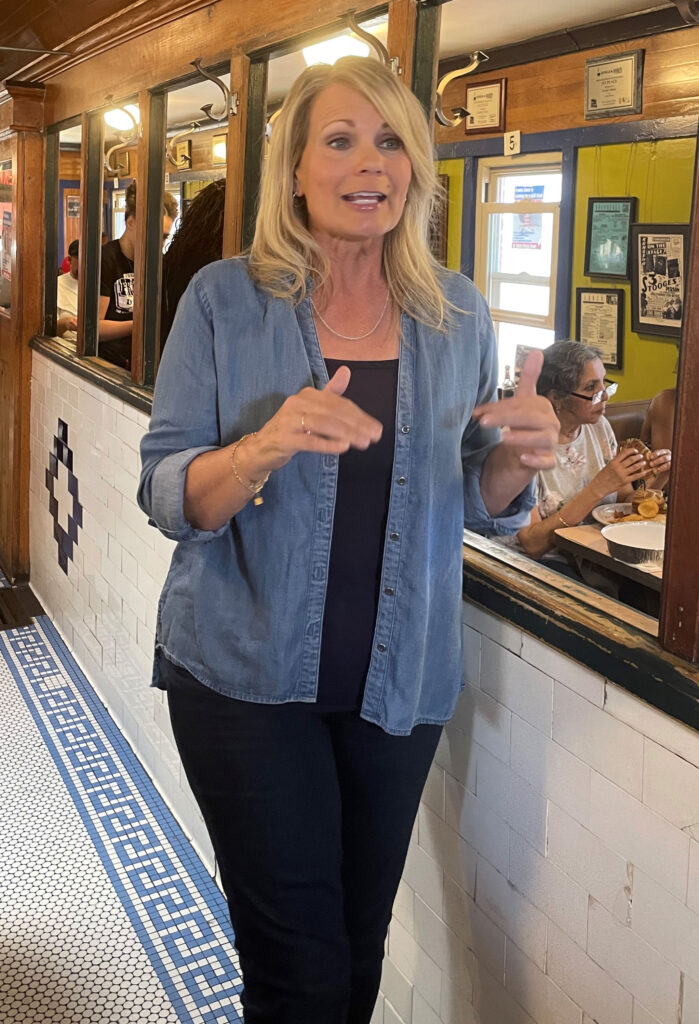 Nationally syndicated, the weekly half-hour TV show airs around the country on about 300 stations and has been running for 10 years.
The goal, both Miller and Carl said, is to highlight what's happening in small towns across America.
"We go all over America and we highlight big deals in small towns," Miller said. "A lot of that is festivals. We really do a lot of stuff on the military, veterans, and stuff like that. And then mom-and-pop, family-owned businesses, made in America."
Carl, whose long, impressive resume includes a stint as a senior correspondent and weekend anchor for "Entertainment Tonight" and has profiled some of the biggest stars in Hollywood, said the show is like a "love letter to America."
"There's lots to love," Carl said. "Just so often, there's so much coverage of negative things, and every media outlet covers the same negative thing. I understand that we have to talk about those things, but we sort of feel like there's a lot of great things happening.
"… That's what gives you hope. I think maybe we need a good infusion of good things and hope. Rodney always says, 'Wherever we go, good things happen.' We want to share those with all the viewers."
So, why did the show choose Franks Diner?
"We love to focus on just really cool things that sometimes don't always get highlighted on a national level," Carl said. "Boy, it has not disappointed. It has far exceeded expectations."
In addition to filming Steinborn's attempt at completing the Carthage College Firebird Challenge, Miller, Carl and the show's camera operators and producers did segments highlighting the history of Franks Dinner, shipped to Kenosha on a railroad flatcar and pulled into its current location downtown by six horses in 1926.
Miller and Carl also interviewed some of the diner's employees. One, by Carl, featured waitress Naomi Miller, a 15-year-old Christian Life School student, in what was sure to be one of the most exciting days ever for a first-day employee, because Friday happened to be Naomi's first shift at the diner.
For Ervin and Rittmiller, meanwhile, having the crew of "Small Town Big Deal" visit was just another great way to gain publicity for Franks Diner, which has been featured in national publications and twice by Food Network's Guy Fieri for his popular show, "Diners, Drive-Ins and Dives."
This time, it was "Small Town Big Deal" that wanted to profile the diner.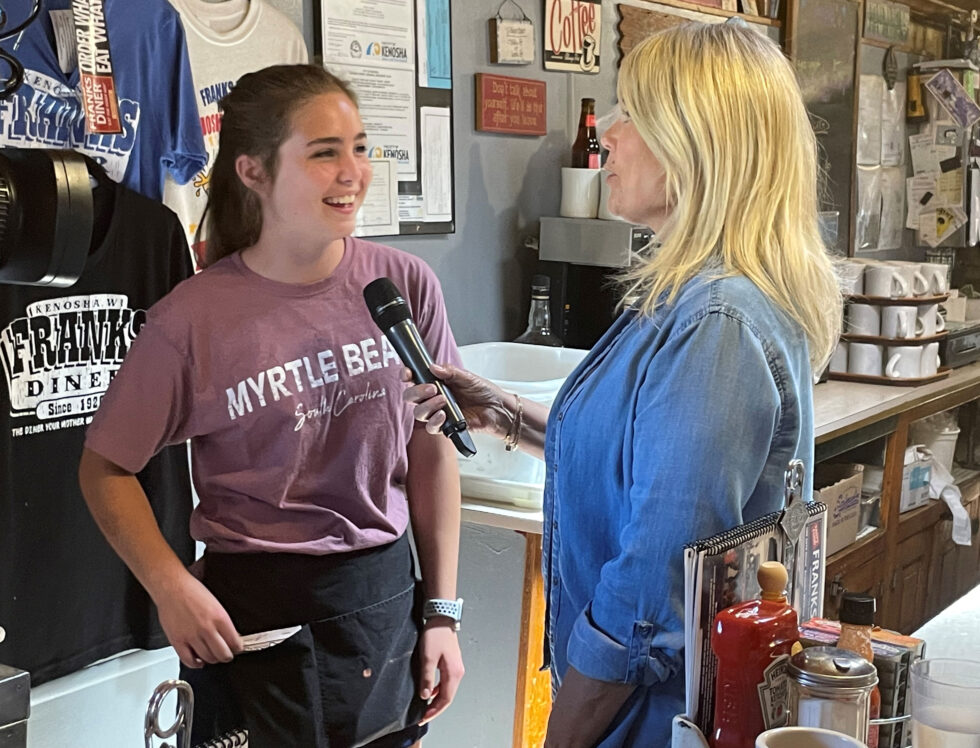 "They just called us a couple weeks ago out of the blue and said, 'Hey, we want to come in and feature you guys,'" Ervin said. "And we're like, 'Absolutely.'
"Any time anybody wants to come in and give us the publicity, we're up for it."
And downtown Kenosha wasn't the only place in Wisconsin the show was going to visit.
On Thursday, the crew was in Pulaski to do a segment on Bay Tek Entertainment. After filming the Franks Diner segment, the crew was headed out to Union Grove to profile Shepherds College.
"There's a lot of cool stuff happening in Wisconsin," Carl said.
Alas, Kenosha residents will have to wait a while to see this particular episode of "Small Town Big Deal." It won't air until the show's new season in October.
For listings and to find out when the episode will air as the new season approaches, visit the show's website at smalltownbigdeal.com, or its Facebook and Instagram pages.