Since 2003, Downtown Kenosha has enjoyed an outstanding farmer's market along Second Avenue near the museums. Since 2020, we've been blessed with a second one behind the Kenosha Municipal Building.
Now in its 20th year, the Kenosha HarborMarket began in 2003 on the Place de Douai, in front of what is now Ashling on the Lough, with 18 vendors. Mostly the vision of then-retired city planner Ray Forgianni, who died in 2020, it took a few years for the word to get out, but when it did, the market exploded. It has taken over Second Avenue all the way from 54th Street to 56th Street and beyond, with vendors sometimes spilling over down 56th Street.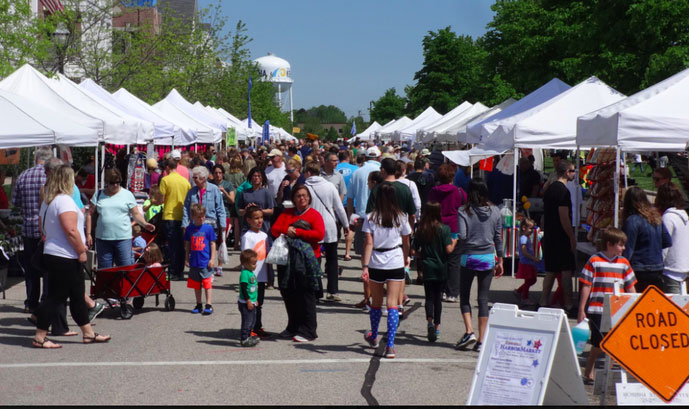 The quality of the Kenosha HarborMarket vendors, along with the exquisite background of water pieces, flower beds, condominiums and two excellent local museums, makes the Kenosha HarborMarket one of Wisconsin's "go-to" locations. For my money, the only market that's better, both in terms of ambiance and selection, is the one that rings the state capitol in Madison. Fittingly, the market's current executive director is Andrea Forgianni, Ray's daughter.
A couple blocks away, tucked in behind the Kenosha Municipal Building is a competing market known as the Kenosha Public Market. The Kenosha Public Market began operations in 2020 and was born out of some internal conflicts within the Kenosha HarborMarket. I'm not going to get into the politics of all that. Is Kenosha big enough for two markets? Certainly, but I think the conflict is limiting the potential of both markets. I shop at both, and some vendors even sell at both. I don't know. HarborMarket is such a great location and a lot nicer than a parking lot. I can't speak for the two groups, but I think Kenosha would be better served by one spectacular market instead of two really good ones a few blocks apart. Just my two cents.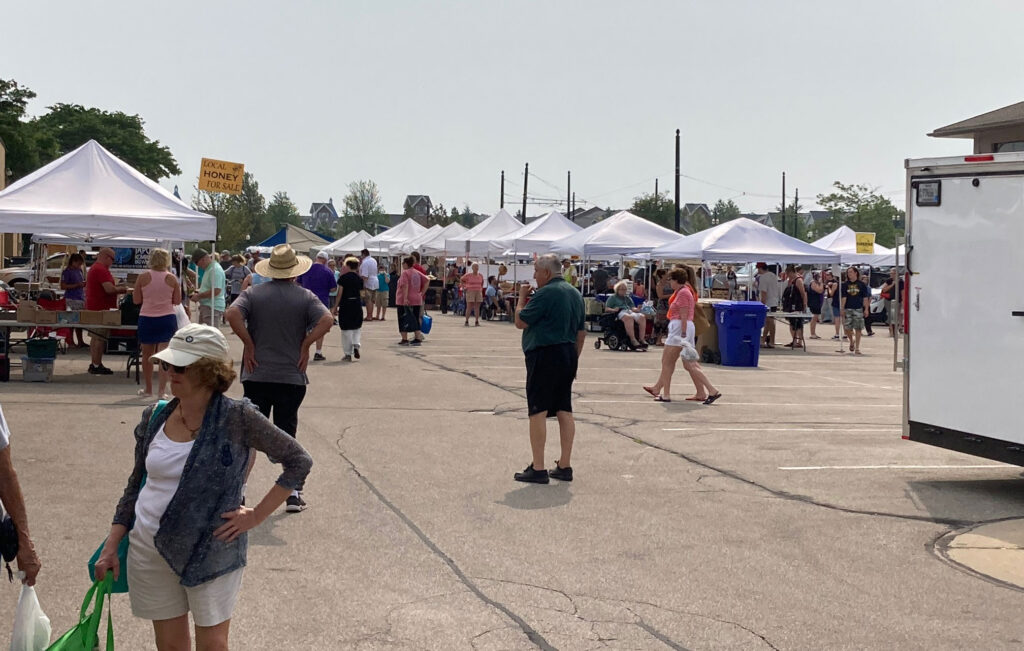 A few disclaimers before I get into the reviews. A lot of what's for sale at both markets are crafts, pastries and bread. Nothing against crafts, but I'm a foodie, and I start walking faster when I approach a crafts stand. I'm just not that interested. As for pastries and bread, I don't eat a lot of pastries, and I bake all of my own bread. As a result, I don't buy pastries or bread very often. Maybe I should have sampled some for this review, and maybe I will in the future. For now, my apologies to those vendors for being passed over.
Just an aside, Kenosha HarborMarket used to allow dogs. Aggressive dogs and some thoughtless owners led to an eventual ban on dogs, which I think it was the right decision, although my dog misses the Kenosha HarborMarket on Saturdays. She goes on Sundays to clean up. The Public Market allows dogs on a three-foot, non-retractable leash, and it seems to working out just fine.
So, in reverse order, here are my combined top-eight favorites from both markets:
#8 B & J's Pampered Pup Bakery
Kenosha HarborMarket
East side of Second Ave., just south of 55th Street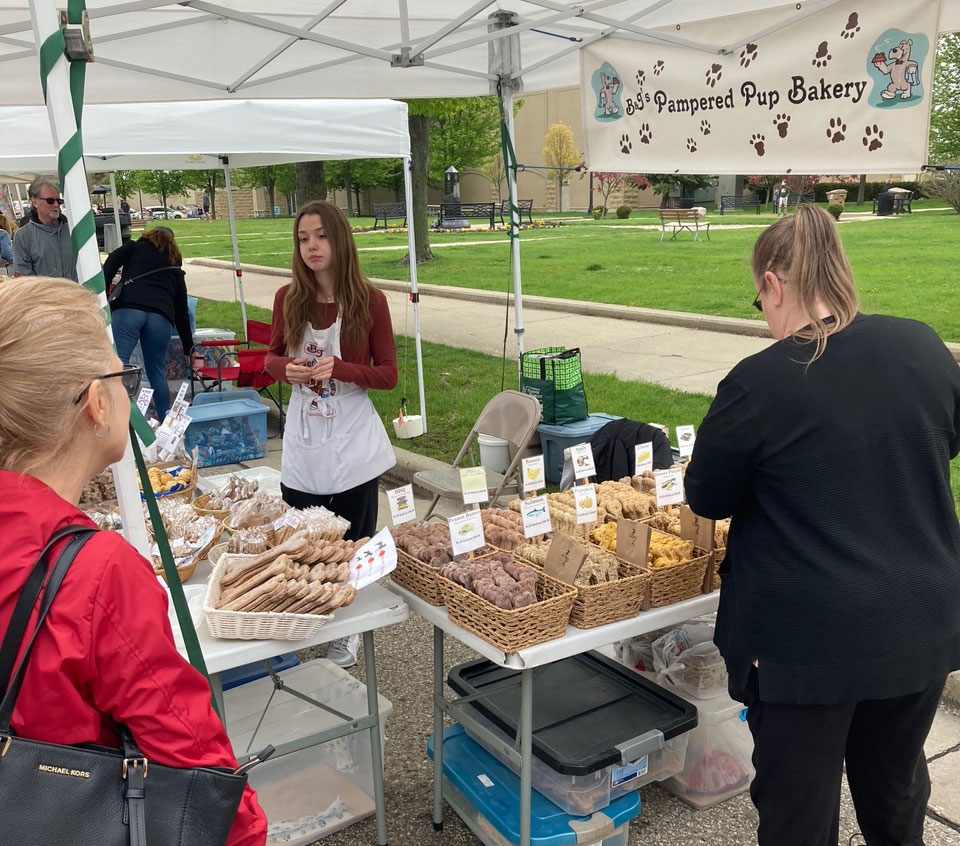 On the topic of dogs, Kenosha's own Pampered Pup Bakery has been at the HarborMarket since day one, and they make the best dog treats ever.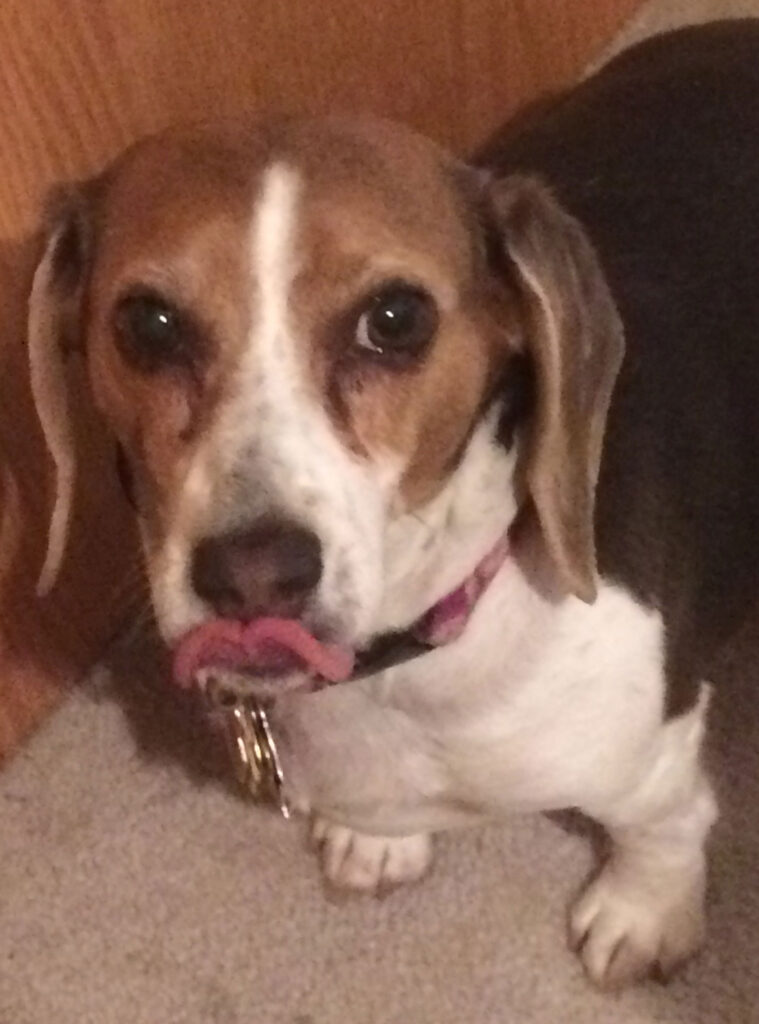 Our first beagle, Dickens, used to camp out at their stand on Saturdays and would beg unmercifully for a blueberry or corn muffin.
Our second beagle, Cricket, is now banned from the market, along with every other dog, which makes me cry.
The Pampered Pup Bacon Hogs are the best things at the stand and are made with real bacon. Also recommended are the Cheddar Crunchers and the liver/beef treats.
We always have something from Pampered Pup in a drawer, and Cricket knows where the drawer is.
Update: Cricket and her canine friends are still banned, but Pampered Pups is still going strong with the best dog treats in town, like Bacon Hogs.
# 7 Cheffrey's Fine Foods
Kenosha HarborMarket
East side of Second Ave., about midway between 54th and 55th Streets.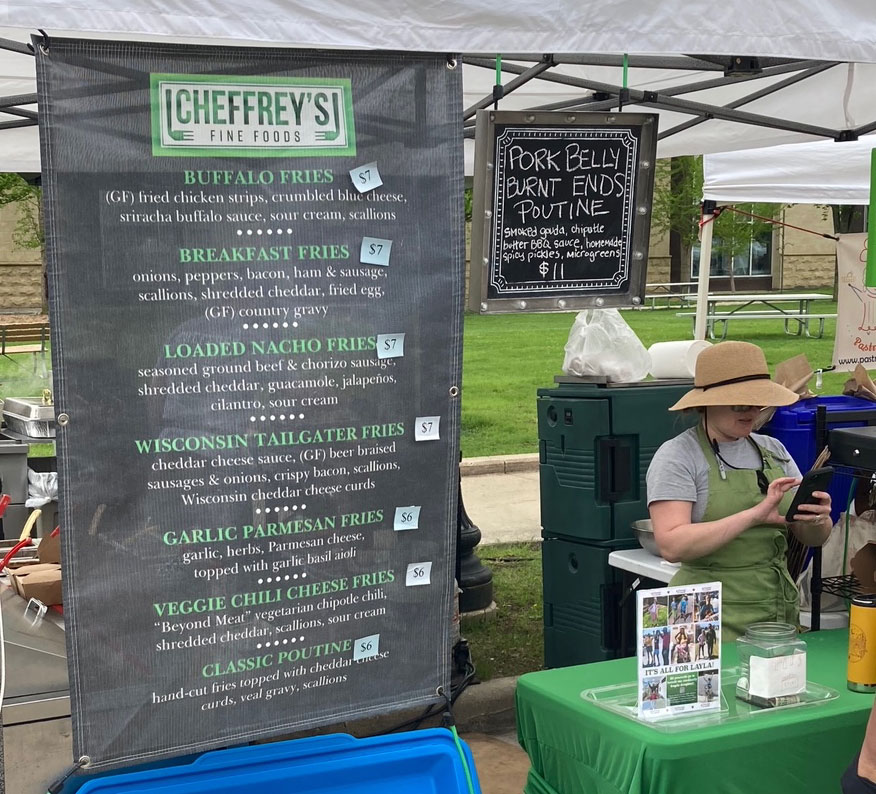 I'm a sucker for poutine, which is a dish made with french fries and cheese curds and topped with brown gravy. As the story goes, poutine emerged in Quebec, Canada, in the late-1950s, although its origins are subject to dispute. What's not in dispute is that poutine is one of the world's greatest guilty pleasures. Cheffrey's sells a classic poutine topped with veal gravy — talk about gilding the lily!! Other choices (most around $7) include:
Buffalo Fries with fried chicken strips, crumbled blue cheese, sriracha buffalo sauce, sour cream and scallions
Loaded Nacho Fries with seasoned ground beef, chorizo sausage, cheddar cheese, guacamole, country gravy and a fried egg
Wisconsin Tailgater Fries, which I sampled, with beer-braised sausage and onions, bacon, cheese curds and cheese sauce. Delicious.
Garlic Parmesan Fries with garlic, herbs, Parmesan cheese and garlic-basil aioli
Veggie Chili Cheese Fries with Beyond Meat vegetarian chili, cheddar cheese, sour cream and scallions
Cheffrey's usually has at least one special fries each week. On July 24, they had Crab Fondue Fries ($11) with crab, spinach and artichoke fondue with lemon, Parmesan cheese and scallions.
Update: Same location as 2021 and the same delicious poutine. Their May 21 special poutine was pork belly burnt ends with smoked gouda cheese, chipotle butter barbecue sauce. Homemade spicy pickles and microgreens.
#6 The Soft Wave Fish Company
Kenosha HarborMarket
West side of Second Ave., just south of 56th Street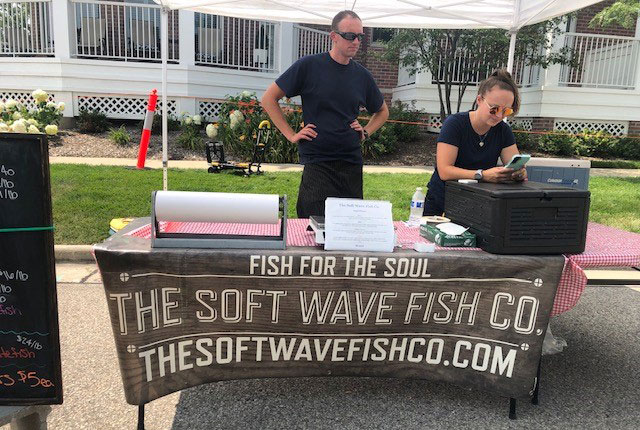 From Lake in the Hills, Ill., Soft Wave is a recent addition to HarborMarket. They also sell at 14 other Illinois farmer's market locations, including Arlington Heights, Crystal Lake, Deerfield, Frankfort, Hinsdale, Ravinia, Glencoe, Grayslake, La Grange, Lake Bluff, Libertyville, Palatine, Schaumburg and Skokie.
Soft Wave is not cheap, but where else around here can you buy the array of fresh seafood they carry? The following were available on their website in late-July, some of which are also for sale at the market (all market prices subject to change): Alaskan king crab legs ($49 pound), lobster tails (3-ounce tails for $40), Florida stone crab claws ($36 pound), yellow fin tuna steaks ($34 pound), Emerald Bay halibut ($33 pound), Florida Keys grouper ($29 pound), Atlantic seaboard flounder ($28 pound), Atlantic seaboard scallops ($24 pound), monkfish ($24 pound), wild gulf shrimp ($24 pound), Great Lakes walleye ($23 pound), Arctic char ($22 pound), ruby red trout ($22 pound), branzino (also known as sea bass, $21 pound), Lake Superior whitefish ($15.99), Order of crab cakes ($15 apiece or three for $40), Faeroe Island salmon ($23 pound), Idaho rainbow trout ($20 pound), gulf shrimp, cleaned and shelled ($16 pound), Atlantic winter skate ($12.95 pound) and true cod ($11.99). On the day I went, they also had Alaskan sockeye salmon ($29 pound), Florida Keys snapper ($29 pound), smoked salmon, trout or whitefish ($24 pound) and both salmon or whitefish spreads ($10 per container).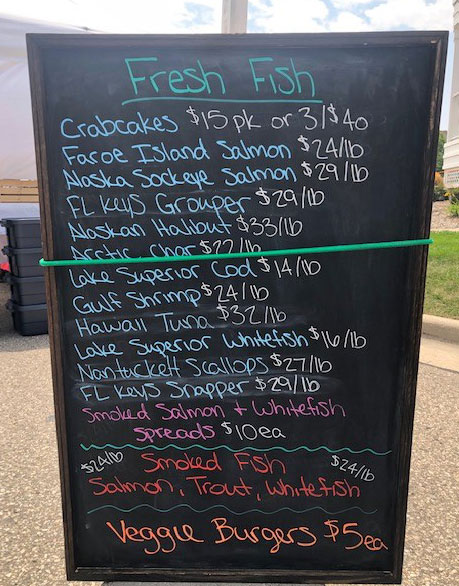 For review purposes, I bought the Emerald Bay halibut, roasted it in a potato crust and dabbed it with a little brown butter mixed with lemon juice and fresh thyme. The halibut was delicious, perfectly fresh-tasting and flaky. No complaints from this chef. I don't know how often I'm going to splurge on $30-per-pound fish, but I'm really tempted to try the Florida Keys grouper next week.
Update: Not at the May 21 market, but we'll watch for them. I'm afraid of what 2022 prices might look like.
#5 Elsie Mae's Canning and Pies
Kenosha HarborMarket
Second Ave., east side and just north of 56th Street
Everybody knows this is the best pie in this town or any town nearby. I'm partial to the apple, the pecan and (in season) the pumpkin pies. The pies are damn good, and it's a shame that they no longer have a store on Sixth Avenue. I suspect a money-grubbing landlord is to blame for that. Since being forced out, Elsie Mae's has been working out of a production kitchen in Milwaukee while continuing to search for another store location in Kenosha.
Update: Same location, same great pies, and we still miss your downtown retail location. Please come back.
#4 Piscasaw Gardens
Kenosha HarborMarket
Southeast corner of Second Ave. and 56th Street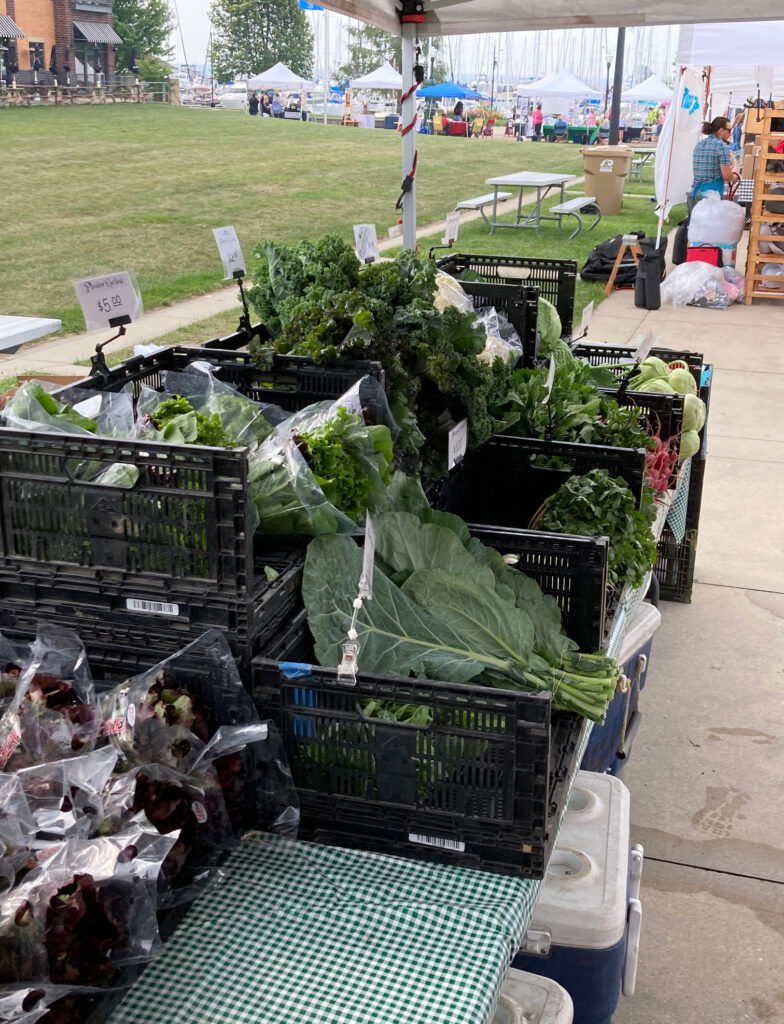 Piscasaw Gardens has a new name and a new market location since 2019, both of which confused the hell out of me this year. From Harvard, Ill., and formerly known as Twin Garden Farms, Piscasaw used to be located on the south side of 56th Street, right next to the Masons' Club. They're now at the southeast corner of 56th and Second Avenue. I always referred to them as the melon and corn people, since that seemed to be their niche. Well, neither season had started yet by late-July, so I had no idea it was the same vendor. Whatever they're called, they've always been one of my top-three favorite produce stands at HarborMarket. I've been buying lettuce from them most of the season. The lettuce is beautiful, particularly the mix of red leaf, green leaf and romaine. I'm told the melons and corn will be along in early-August, and that drought has curtailed a lot of the harvest. My wife, Melissa, buys flowers from Piscasaw Gardens, when they have them. Their flower arrangements are gorgeous, and the flowers are pretty long-lasting.
Update: Not at the May 21 market, but it's very early in the growing season.
#3 Family Farmer's Market
Kenosha HarborMarket
Second Ave., east side and a little south of 55th Street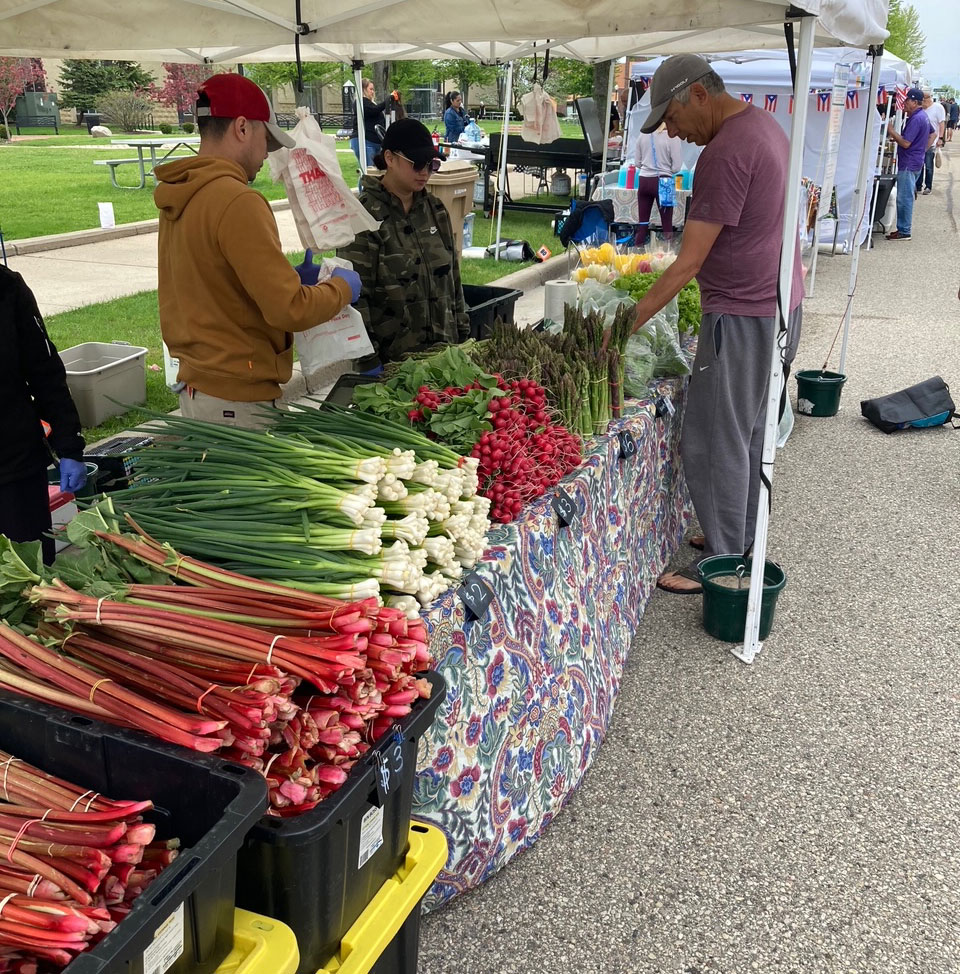 Early this market season, Family Farmer's Market was the only produce stand at the Kenosha HarborMarket. I loved them for being there when nobody else was. Right after the market opened in late-May, the stand had lovely asparagus and scallions, both red and white. They've been a go-to for me since then. Soon after, they had red and green leaf lettuce, garlic, snow peas and rhubarb. On the July day I reviewed the market, they had small cucumbers, beautiful ripe tomatoes, dill, onions, zucchini, green and yellow beans, garlic, beets, carrots and flowers.
Update: Still one of my favorites and still in the same location. I bought some spring lettuce mix on May 21, and they also had asparagus, rhubarb and leaf lettuce.
#2 Xiong Family Produce
Kenosha Public Market
South side first booth from Eighth Ave.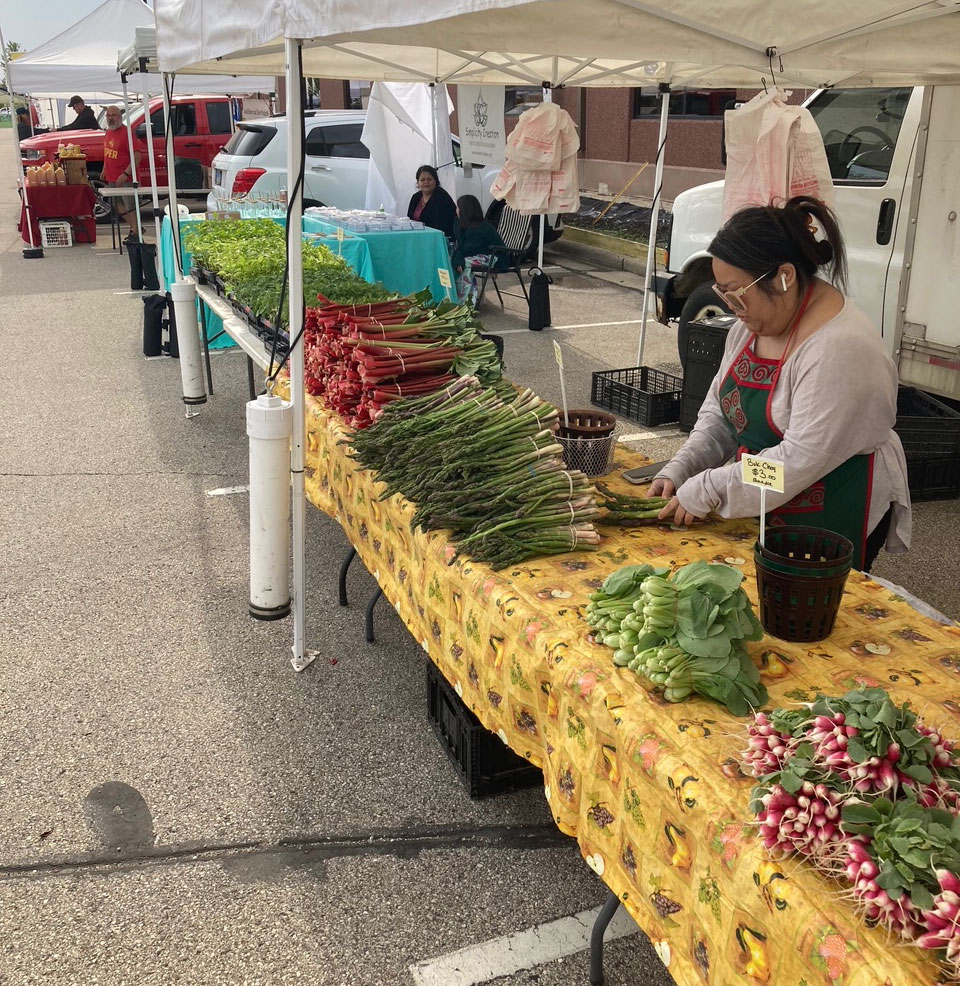 Xiong Family Produce, located in Caledonia, used to be at the HarborMarket, but now they're one of the stars of the Kenosha Public Market. This stand has it all, an incredible array of produce, including everything you'd expect and hope to find, along with a lot of things you didn't expect. They have a really nice collection of hot peppers and several fresh herbs, including Thai basil. I don't shop at the Public Market every week, but Xiong Family Produce is one reason I should do so. This is arguably the best produce stand in Kenosha and some of the nicest people, as well. There are a lot of great produce stands at both markets, and the quality is high at all of them. but I love Xiong Family Produce for their variety of products. Great place.
Update: Xiong Family Produce remains my go-to produce dealer on Saturdays. I bought asparagus and red scallions on May 21, and they also had rhubarb. I can't wait for more stuff to come out of the their ground.
#1 Churchill Orchards
Kenosha HarborMarket
Second Ave., west side and about midway between 55th and 56th Street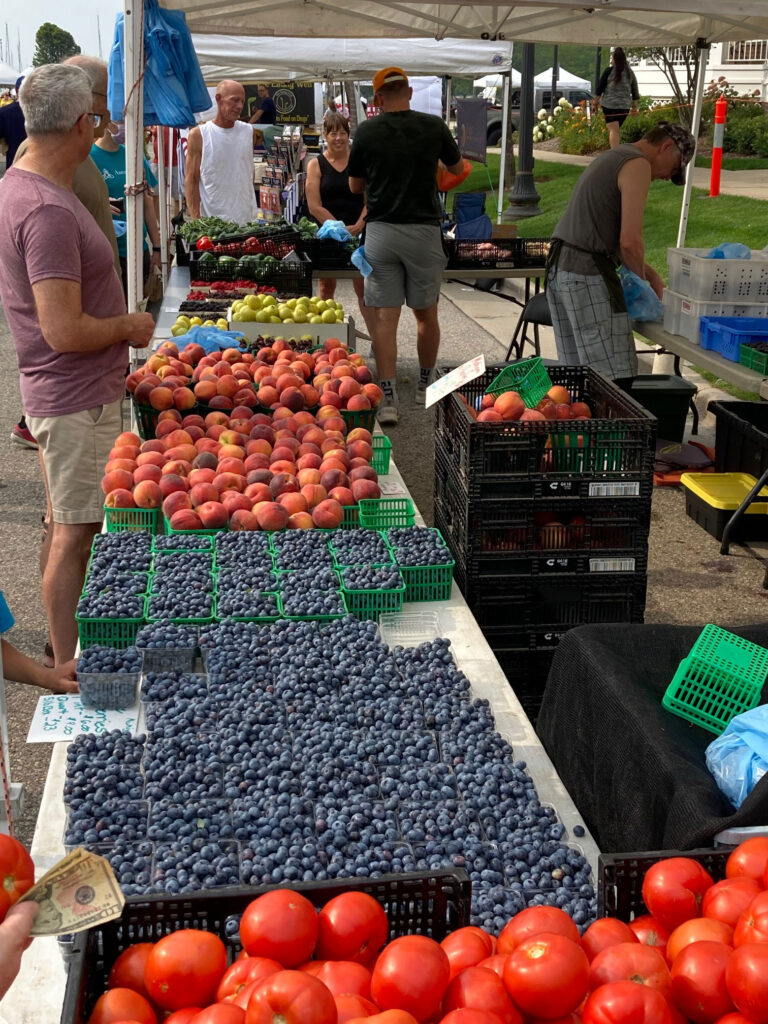 I'm going to admit to a bias right out of the chute. I grew up in southwest Michigan — Kalamazoo, to be exact — and I happen to think that the fruit belt along the eastern side of Lake Michigan is as good as it gets. Upper New York, along the southern shore of Lake Ontario, is the only other fruit belt that I think rivals southwest Michigan. There's something about being on the windward side of the one of the Great Lakes that allows growers to produce fruit that, when ripe, is like candy.
Churchill Orchards was not an original vendor at Kenosha HarborMarket, but I want to say they've been here about 10 years. They probably come from farther away than anyone. They're located in Coloma, Mich., which is 175 miles away or about three and one-half hours driving time. They're here almost every week, unless the guy in charge of the stand is playing golf.
The fruit here is amazing, as are the vegetables, and I typically spend about 70 percent of my money each week at this stand. In season, I can buy enough fruit to last a week. In June it was strawberries, and I wish the season was longer. Blueberries came next, and they're outstanding. So are the raspberries, but you need to eat them pretty much the first day — they just don't have much a shelf life.
In July, the stone fruit starts to show up, and this is where Churchill Orchards really shines. They have the best peaches that money can buy. You have to let them ripen at room temperature for a few days. Typically, mine are ready to eat by Tuesday morning, sometimes Wednesday. These are absolutely the sweetest and juiciest peaches around. I can't say enough good things about them, except that I recently discovered how good their apricots are. The apricots, by the way, are probably ready to eat on Saturdays, or maybe a day later. The plums are also exceptional, and the first pears showed in late-July.
By the way, I'm hardly the only one who's caught onto Churchill Orchards. When I was leaving the market at 9:20 a.m. on July 26 (the market opens at 9 a.m.), the line at Churchill was 10-deep. The week before, they pretty much sold out all of their fruit.
Update: Not at the May 21 market, but I have my fingers crossed. I'll be opening my veins if they're not here by strawberry season.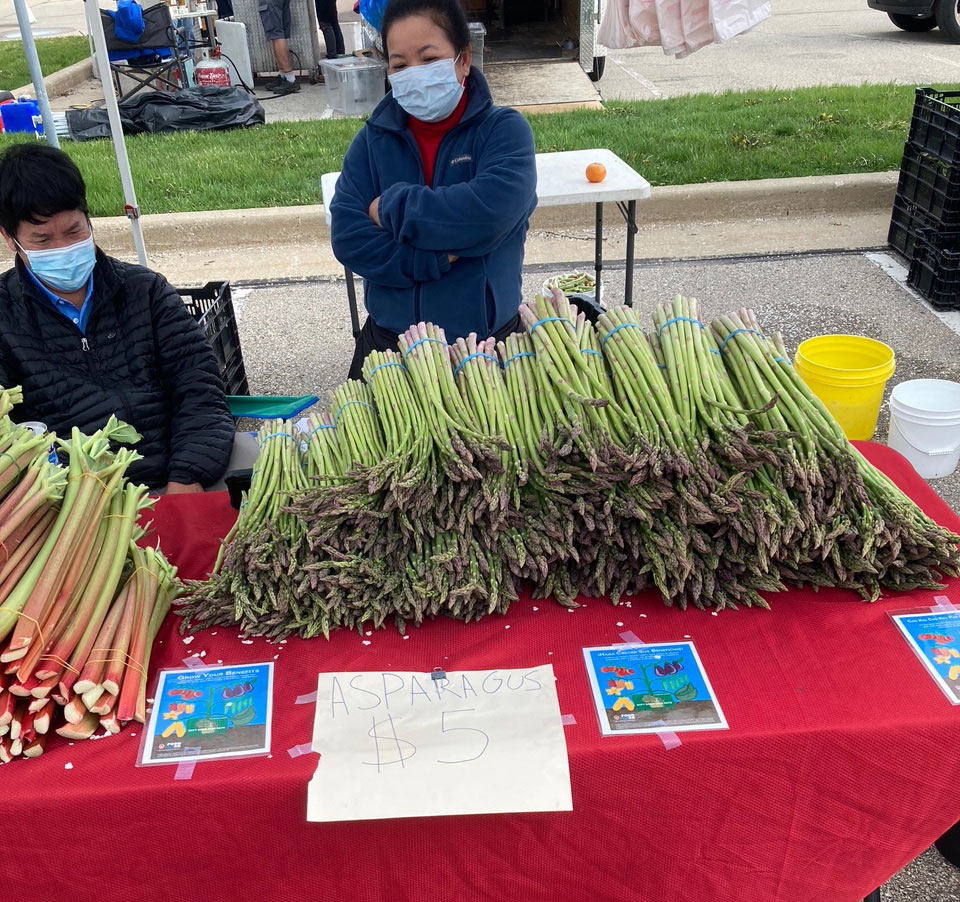 One that just missed the 2021 list
Right across from Xiong Family Produce at the Kenosha Public Market is Moua Flowers, who also sell a limited amount of produce. Later in the summer, they have corn, and on May 21, when I visited them, they had rhubarb and some beautiful long, thin asparagus. Most local produce dealers tend to bundle their asparagus with various widths, which drives me crazy. Moua's bundles were all nicely uniform, which I really appreciate.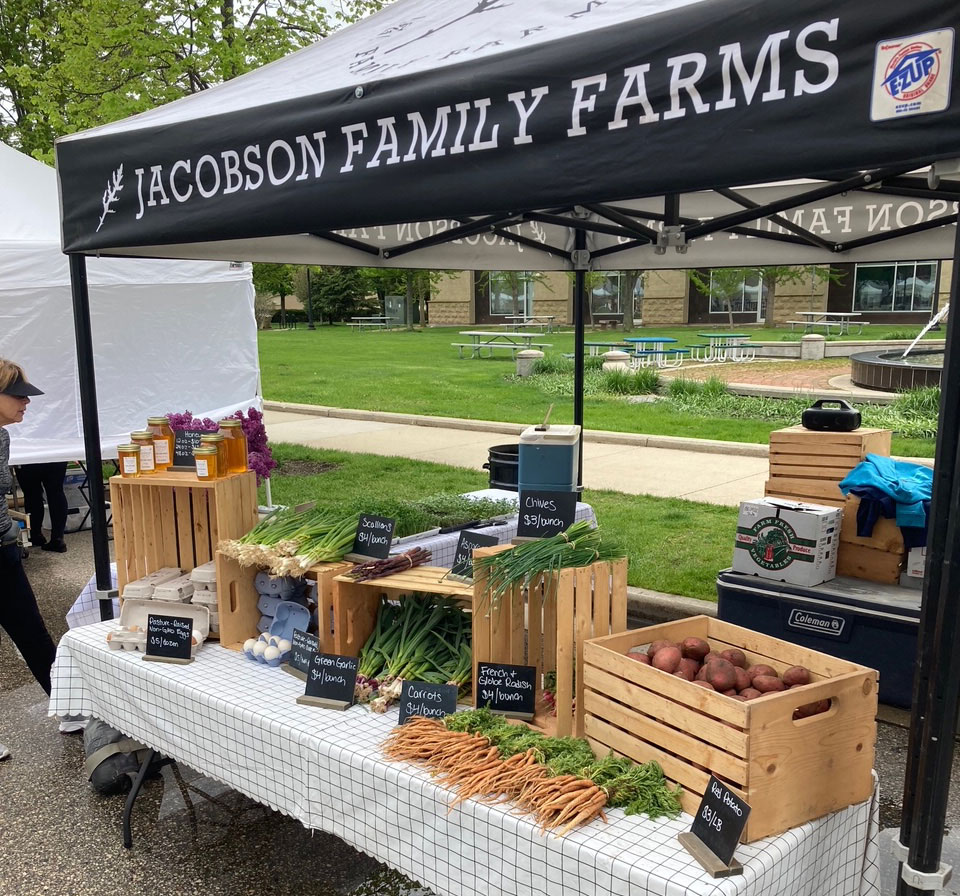 One promising new addition
Jacobson Family Farms is a new addition to the Kenosha HarborMarket and located on Second Ave., about midway between 55th and 56th Streets on the east side of the street. When I walked by on May 21, they had scallions, red potatoes, eggs, honey and some tiny slivers of carrots. Looks promising, and we'll keep an eye on them.
Gone but not forgotten
For about the first five years of the Kenosha HarborMarket, the true star of the show was the lamb from Pinn-Oak Ridge Farms. Their farm and production facility is in Delavan, and they used to sell lamb chops, racks, cute little sirloin roasts, ground lamb and lamb brats. At some point, owners Steve and Darlene Pinnow decided to focus on their production operation and their restaurant delivery, which at the time included the Grand Geneva Resort & Spa in Lake Geneva, Spiaggia Restaurant in Chicago and Mangia, right here in Kenosha. Their lamb was special. For a couple of summers, we ate an unhealthy amount of it, like four or five times a week, but I really miss it.
The last word
Both Kenosha markets now have a heavy food truck presence. While I mentioned one in my top-eight, the others are deserving of a fuller treatment. I'm going to need a cardiologist to accompany me, but I'll think about a future review of just those food trucks.