A lot has happened since the last time Craft Beer Week could be properly celebrated in Kenosha.
Public Craft Brewing has a big new home at 628 58th St., a block east of where they started. Rustic Road Brewing Co. has been in its new digs a bit longer, and also has grown in a major way. The craft beer community gained a bigger footprint expanding west with R'Noggin Brewing Co., 6521 120th Ave., and Kenosha Brewing Co. 4017 80th St. Remarkably, all four businesses continue to find a way to survive the pandemic.
That calls for a week of celebration, culminating in a bigger-than-ever bash as the Craft Beer Week Big Block Party returns to the streets of downtown Kenosha. The party runs from 11 a.m. to 10 p.m. Saturday (May 21) outside Public.
"This is an amazing opportunity to highlight the craft beer community in and around Kenosha," organizers said. "Through small breweries, bars, restaurants, beer gardens and retailers, craft beer makes a positive difference in Kenosha. Where you find craft beer you'll also find entertainment and culture, revitalization, development and most importantly, people who support local businesses."
In addition to the craft beer tent, the event features music, food and games.
Evening Breeze (jazz) opens the live music lineup at 1 p.m., followed by The Space Echoes (Rockabilly) at 2:30 p.m., Spirit Shakers (Progressive Rock) at 4 p.m., Donoma (Alternative Rock) at 5:30 p.m., 2 Ball Screwball (Punk/Ska) at 7 p.m., and Revival (90s & 2000s hits) at 8:30 p.m.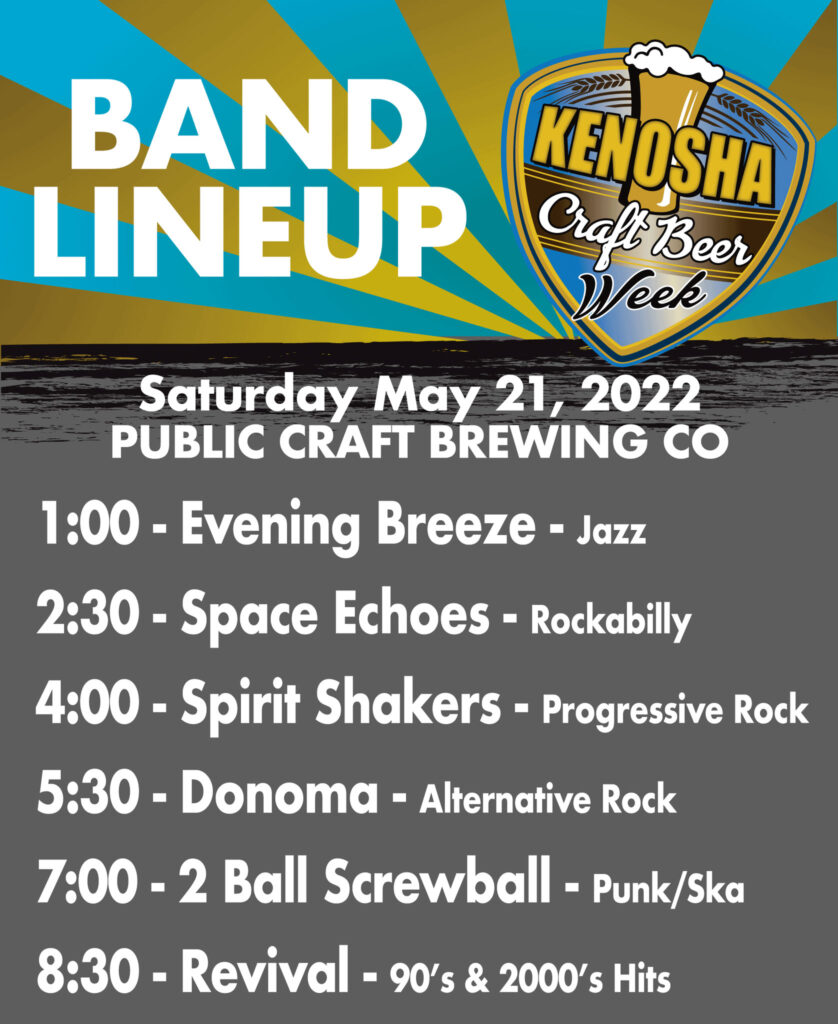 Food will be available for purchase from Public's kitchen along with vendors Cut Stone Foods, The Galley and Mr. Wings. Party-goers can also play baggo and hammer-schlagen games. Entry to the event is free and open to the public.
Organizers are calling it "New Block, same epic party."
"It's time to bring back a full day of beer, bands, food, games and more! Mark your calendars and get ready to make up for the two years the world was on hold," host Public said on social media.
Kenosha Craft Beer Week opened with the release of the KCBW collaboration brew, which is available at all four local outlets. More new beers will debut this week, including cask ales from local area breweries at the Cask Conditioned Beer Event Thursday at Rustic Road's loft.
The week-long celebration is certainly well-deserved by the craft beer community, but coming together to help those who have nothing to celebrate right now will be part of the event as well.
Kenosha breweries are offering several ways to go the extra mile for war-torn Ukraine.
The Kenosha Craft Beer Week Collab, "Putin Huylo," is a recipe from Pravda brewery in Ukraine. For every pint sold, $2 is sent to Ukrainian humanitarian efforts.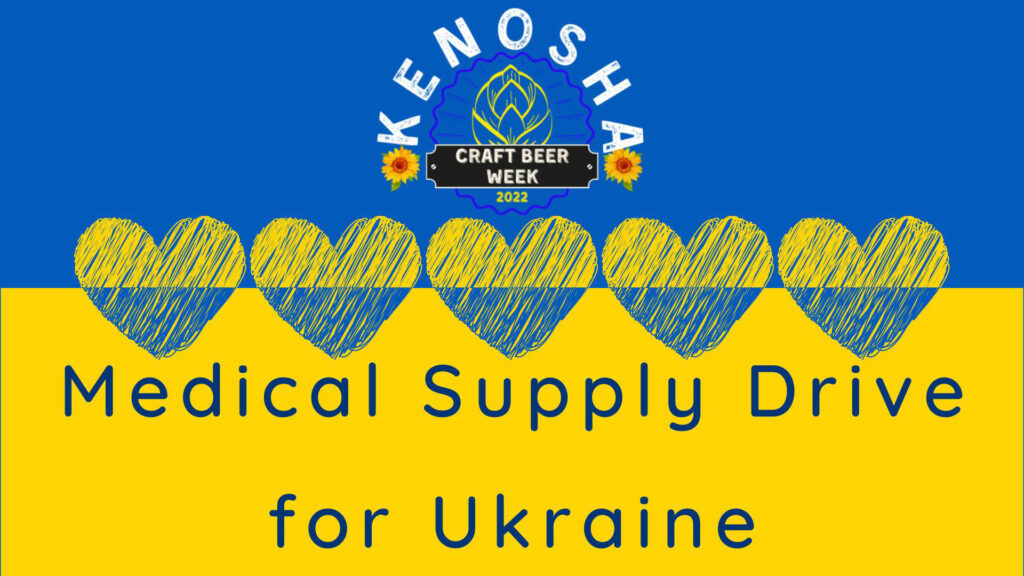 Rustic Road is working directly with an area resident to send needed supplies to Ukraine.
"This Kenosha Craft Beer Week is a little different this year," organizers said. "Rustic Road is using this week to support the people of Ukraine."
The brewery is hosting a medical supply drive. Collected items will be given to Ukraine native Oleksander Musiievych, who has been returning to Poland weekly to bring supplies to the border.
Musiievych has been going the distance to support his family and friends amid the conflict in Ukraine since February – 4,700 miles each way, to be exact.
"Oleksandr and a small group of friends have made it their mission to take weekly commercial flights from Chicago to Krakow, Poland, to deliver duffle bags full of medical supplies and essential items to the front lines," according Rustic Road's social media. "The group has made more than 20 roundtrip journeys to the area, and they intend to continue as long as the people of Ukraine need help."
Totes are set up in Rustic Road's taproom to collect the following donations: duffel bags (new and used, must zip closed), first-aid kits, hygiene items (soap, feminine products, toothpaste/brushes, shampoo etc), pain relievers (Ibuprofen, Tylenol, Aleve etc.), tourniquets, gauze, bandages and slings.
Earlier in the week, the brewery featured a Ukrainian dinner menu of borscht and pierogies with a portion of the proceeds going toward humanitarian aid for Ukraine.
For more information see the block party event page as well as breweries' social media.