Long-awaited signs of spring in Kenosha include busy drive-ins, the iconic purple flowers dotting the Kemper Center lawn, and the return of our popular outdoor markets.
Both the original Kenosha HarborMarket, 2nd Avenue and 56th Street, and Kenosha Public Market, 625 52nd St., emerge from their winter seasons Saturday (May 14). 
Saturday marks the 20th Opening Day for Kenosha HarborMarket, founded in 2003 by Ray Forgianni.
"Kenosha HarborMarket is thrilled to open for our 20th outdoor season at our beautiful location on 2nd Avenue, which has been our home since the beginning," said Executive Director Andrea Forgianni.
"Kenosha HarborMarket is not just a place to find fresh local food and artisan products. It's a place to linger at, to savor and enjoy with all of your senses," she added. "Unbeatable scenery, delicious eclectic foods and local, talented musicians all create the unique atmosphere that makes Kenosha HarborMarket the place to be on Saturdays, and has done so for the past 20 years. That's why we were voted Kenosha's No. 1 event!"
Both markets are open from 9 a.m. to 2 p.m. Saturdays through Oct. 29.
On opening day Kenosha HarborMarket will offer more than 100 booths both on 2nd Avenue and the adjacent Place de Douai. Familiar vendors include local produce, meat, poultry, cheese, eggs, dog treats, artisan breads, French pastries, baked goods, pantry staples, nuts and snacks, honey, prepared foods and beverages, soaps and body care products, arts and crafts and professional on-site knife sharpening.
"We're welcoming back many familiar vendors customers have come to know and love," Forgianni said, "as well as a wide array of new vendors, including several offering produce and prepared foods."
Also on tap are two live music booths with performances by local artists, Kenosha Public Library Bookmobile, Versiti blood drives and other special events.
"This season brings a lot of exciting ways to enjoy the day at Kenosha HarborMarket," Forgianni said. "We're always looking to add something else to add to the uniqueness of the experience for our guests."
Kenosha HarborMarket is also a stop on the Lakeshore Pedal Tours route.
Also returning to its downtown home for the season is Kenosha Public Market, now in its third year.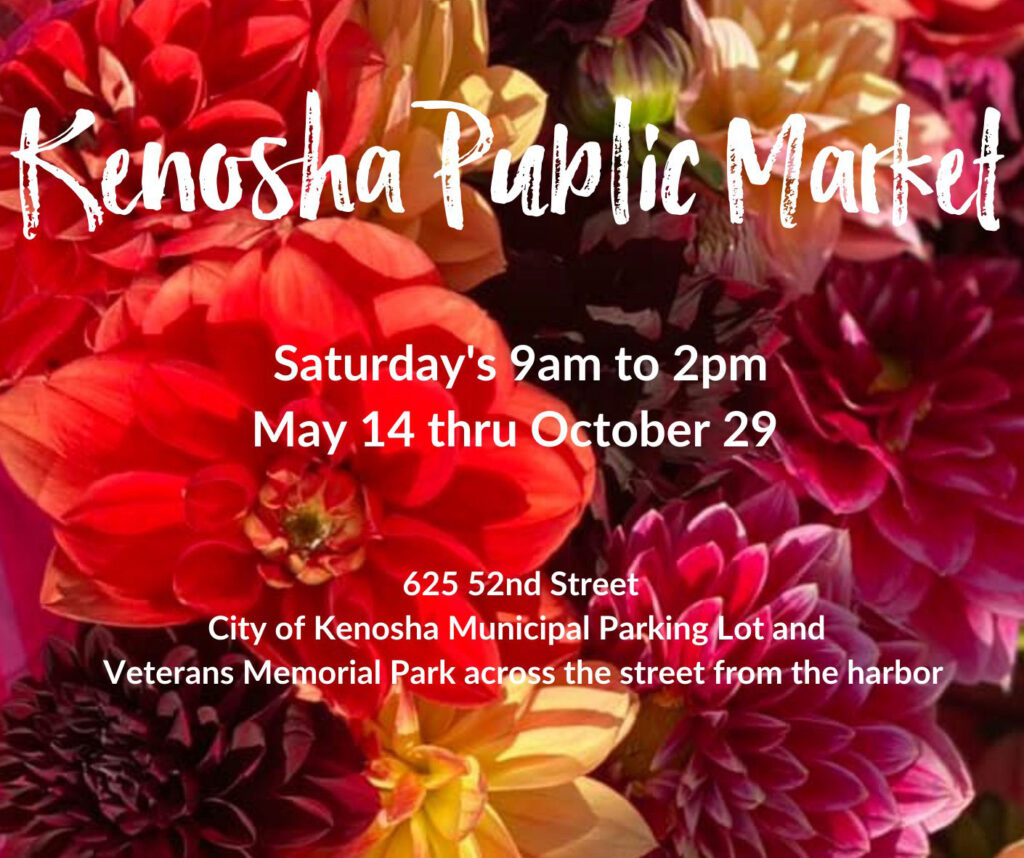 "Kenosha Public Market (KPM) was created to provide a collaborative, organized and educational marketing alternative for small scale agricultural and specialty products; to educate the public in the value of these products and activities," organizers said on their website.
KPM vendors present a variety of products including locally grown greenhouse produce, mushrooms, artisan pastries and confections, locally sourced meats, poultry and eggs, fine cheeses, prepared foods, handmade soaps and lotions.
A unique feature is KPM2GO, an online store run by a team of farmers, food producers, and volunteers. Orders are accepted from 1 p.m. Saturday until 9 a.m. Friday.
KPM also features live music in Veteran's Park adjacent to the market.