A familiar face with a sophisticated palate has taken over The Apis Hotel & Restaurant.
In his fifth year with the Grease & Honey restaurant group, local wine connoisseur Ken Murray was recently named general manager of the globally-inspired boutique and culinary creation located in downtown Kenosha.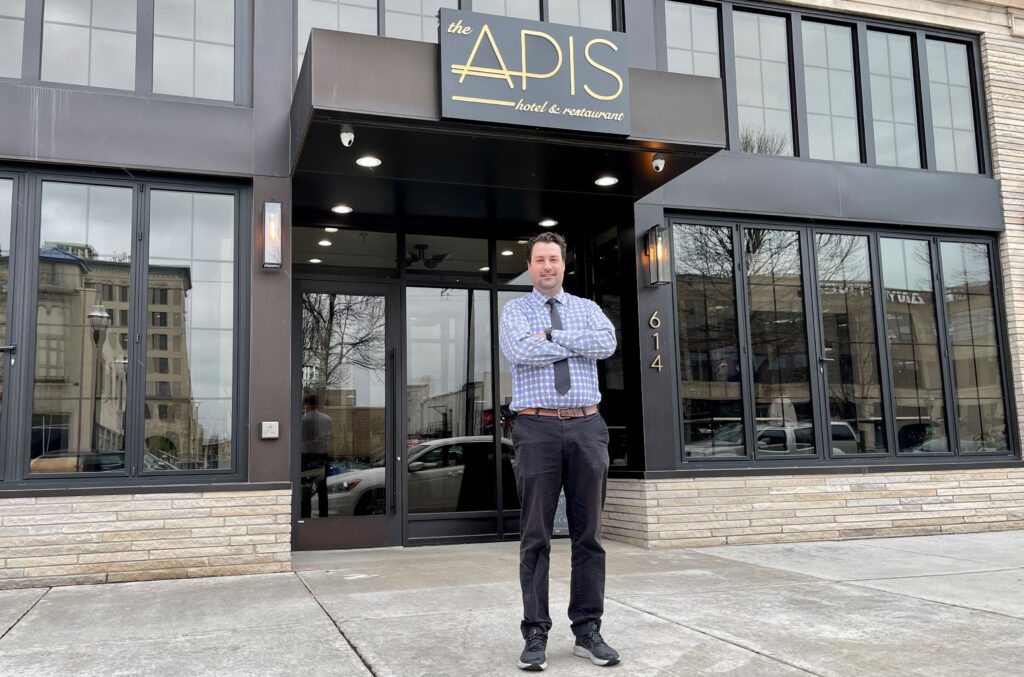 With a menu ranging from New York Strip to birria to smoked lamb to salmon tartare to smash burgers, The Apis aims to please a broad clientele in a hip, sexy environment while providing comfortable, hometown service.
The Apis, which opened in 2020 in the midst of a pandemic and civil unrest, is finally operating at full capacity with a lower-level lounge, main floor and mezzanine dining areas and a rooftop bar.
All six hotel rooms of the renovated 1919 building are available for booking.
Murray quickly climbed the ladder from Sazzy B dishwasher to The Apis general manager. The Minneapolis native launched Sazzy B's first Reserve wine list and earned recognition with the restaurant group's first Wine Spectacular Award of Excellence in 2020.
The 33-year-old recently introduced nightly happy hour specials and a monthly winemaker event, which continues Tuesday (April 11) at The Apis with a five-course meal and Napa Valley lineup from winemaker Jeff Owens of Odette Estate Winery.
Tickets are $120 and available here.
Kenosha.com recently caught up with Murray to discuss his background, new position, challenges in the industry and, of course, food and wine.
Kenosha.com: As a Minneapolis native, has Kenosha become your new home?
Murray: When I first came to town, I moved into an apartment in the old Hrupka building (5022 Sixth Ave.) I had a little one-bedroom in the heart of downtown. It's a cool building. I really enjoyed living there. My (future) wife lived in a condo right behind Indian Trail (High School). We moved into a single family home in Allendale and rented it for three years. We loved the neighborhood so much we ended up buying a house there.
Kenosha.com: How did you eventually land a job with the Grease & Honey group?
Murray: I spent a very brief period as executive director of the Kenosha Symphony Orchestra, which was the first time I was intrinsically tied to this community. After moving out of that role, I was between jobs and I started washing dishes at Sazzy B. Mary Radigan was in the kitchen. Riki (Tagliapietra) was managing the restaurants. They needed help. I needed money.
Kenosha.com: That's quite a climb in five years.
Murray: I started doing outside sales and events for them and it wasn't long before they asked me to take over purchasing wine. We built a budget and figured out our needs and a timeline. My project management experience translated over to these roles.
Kenosha.com: As general manager, you're in charge of the restaurant and hotel. What has been the interest in the hotel side of the operation?
Murray: We're seeing bookings picking up, usually throughout the week and by the weekend they're full. There are several couples that have used this space as a staycation. Next month, we have some reservations from out of the country. It's amazing. They're from France just outside of Paris. I haven't interacted with these customers yet, but it will be interesting to find out how they discovered us from such a far field.
Kenosha.com: I see you've added nightly happy hour specials and a smash burger night on Wednesdays. Was this an attempt at making your restaurant more inviting to someone who might be intimidated by dining here?
Murray: We very much want to be a place for foodies, for wine aficionados and spirits connoisseurs, but it's important we do that through a lens of local service. Gone are the days where dress codes are a part of dining. You don't even see those in Chicago anymore. That's not the style of service we try to embody. We want comfortable, hometown service with influences beyond Kenosha.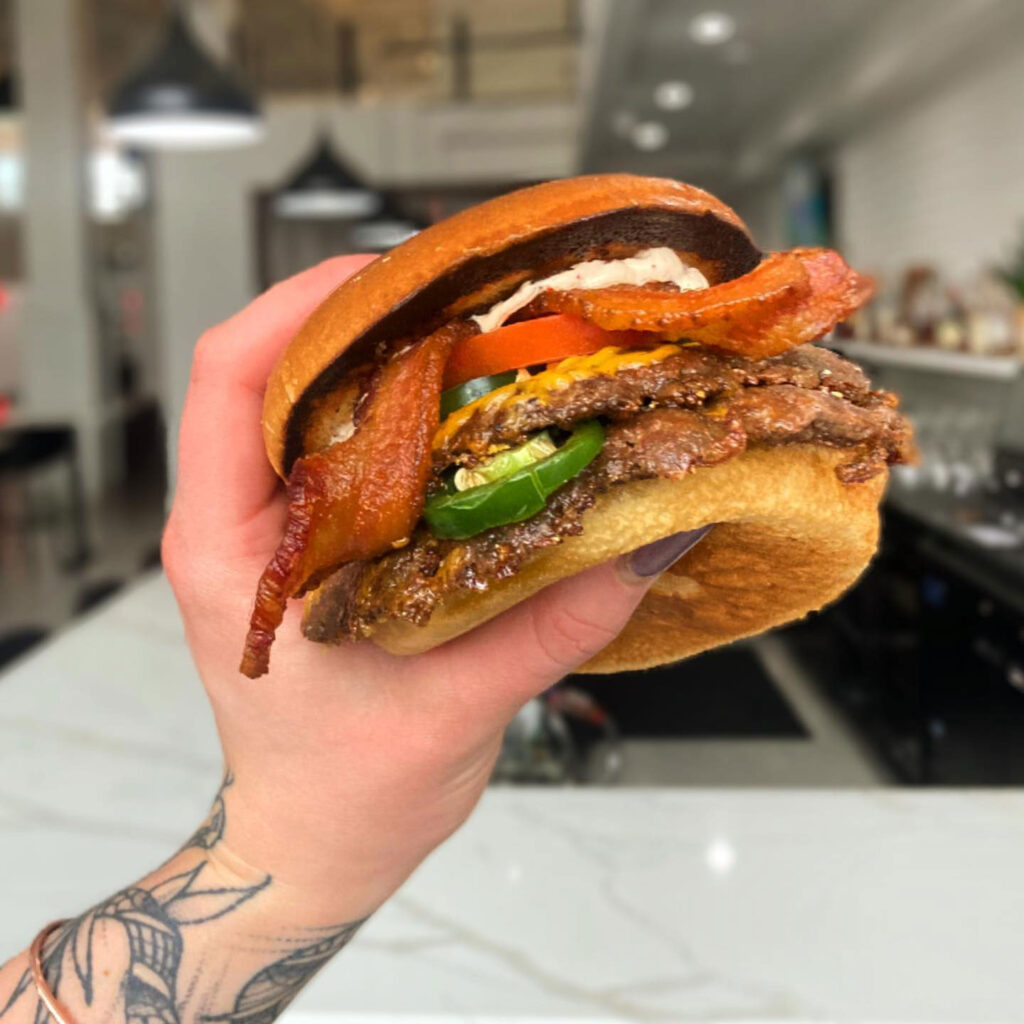 Kenosha.com: Who do you usually see walk through these doors?
Murray: It's such a wide spread. From retirees who are out on an anniversary to people celebrating a 21st birthday. We had a family celebrate their three-year-old's birthday with their extended family. There were 17 of them in the mezzanine for brunch. We see ourselves as a place for everyone. A broad base of clientele is very important to us.
Kenosha.com: Is this becoming a popular place for private events?
Murray: That's a big component of the business here. We have a summer full of private events. Every weekend in June is booked on our rooftop. Most of them are wedding groups.
Kenosha.com: Do you feel there's a renewed energy with people feeling more comfortable and excited to be socializing in group settings again?
Murray: I don't think it's ever going to go back to what it was. It seems to us there's a movement towards smaller, more intimate gatherings. Events that might've had 300 guests are now 80 or 90. That might just be a conscious choice by the bride or groom. What it allows is for us to be a part of their celebration. It's an energy we're capturing. People want to get back out and celebrate the important moments in their life with the people they love. I think we're going to be very busy this summer.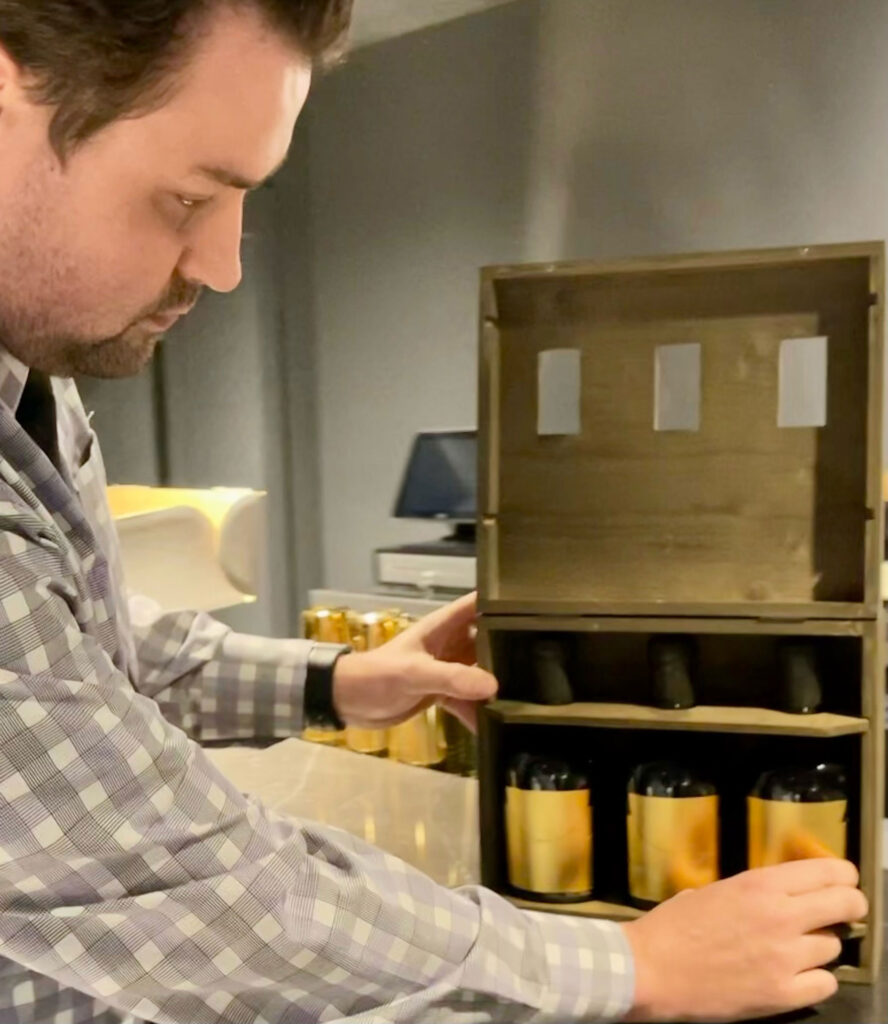 Kenosha.com: Are you concerned about staffing?
Murray: It's always been known it will be challenging to find 50 or more people in the community of Kenosha with the talent and drive and the dedication to execute the vision here. It's not something that would automatically come into place in any environment. We're challenged the way everyone else is right now, but encouraged. We believe earnestly we're doing some really important work here in terms of delivering on cultural amenities for this community.
Kenosha.com: So how do you attract enough talent to operate at the level you expect?
Murray: I'm not as doom and gloom as some pendants are. I don't necessarily believe there is a talent shortage. I think there's a big shift in resource allocation and I think there's a really big shift culturally in the valuation of time. I think that employers like us, it's our job to innovate. If we can innovate well, we should be able to reach the talent we need to acquire. In my opinion, The Apis is a place people can be excited to apply for and work at.