There are a variety of upcoming events to help you enjoy the return of warmer weather and sunny days at Hawthorn Hollow !
Gardening 101
The Heritage Farmstead at Hawthorn Hollow will be kicking off their 2022 educational program with Gardening 101 on Sunday, April 3. Farm Manager Allison Garren will help new and prospective gardeners learn about different types of gardens, site selection and prep, basic plant botany, seed starting, pest management, growing, and harvesting tips. Participants will leave with a sample pack of seeds. This course starts at 2 p.m. and will be about 1.5 hours long. The cost is $15 per person, advance registration required.
Hikes
Spring also means the return of Night Hikes! Naturalist Kailyn Daum will lead you through Hawthorn Hollow's woods and meadows as you learn about the adaptations nocturnal creatures have developed to survive and thrive when the sun goes down, gaze in awe at the night sky, and listen to the songs that fill the woods and fields after dark. This is a 60-minute outdoor program, so please dress for the weather. Advance registration is required.
Bird Walks with Rick Fare from the Hoy Audubon Society also kick off on Thursday, April 28 at 5:30 p.m. These free walks wind through Hawthorn Hollow's trails as Rick helps you identify different native and migratory bird species. Bird walks are held every Thursday at 5:30 pm until May 19.
Hawthorn Hollow's first Wildflowers of the Season walk will be on Saturday, May 14 at 10 am. You will see what's in bloom in our prairies and woodlands and get to identify unusual flowers. Walk the grounds of Hawthorn Hollow with Restoration Ecologist Lori Artiomow and learn about different wildflower species, why they grow here, and how they affect the rest of our ecosystem. Don't forget to bring your camera! Advance registration required.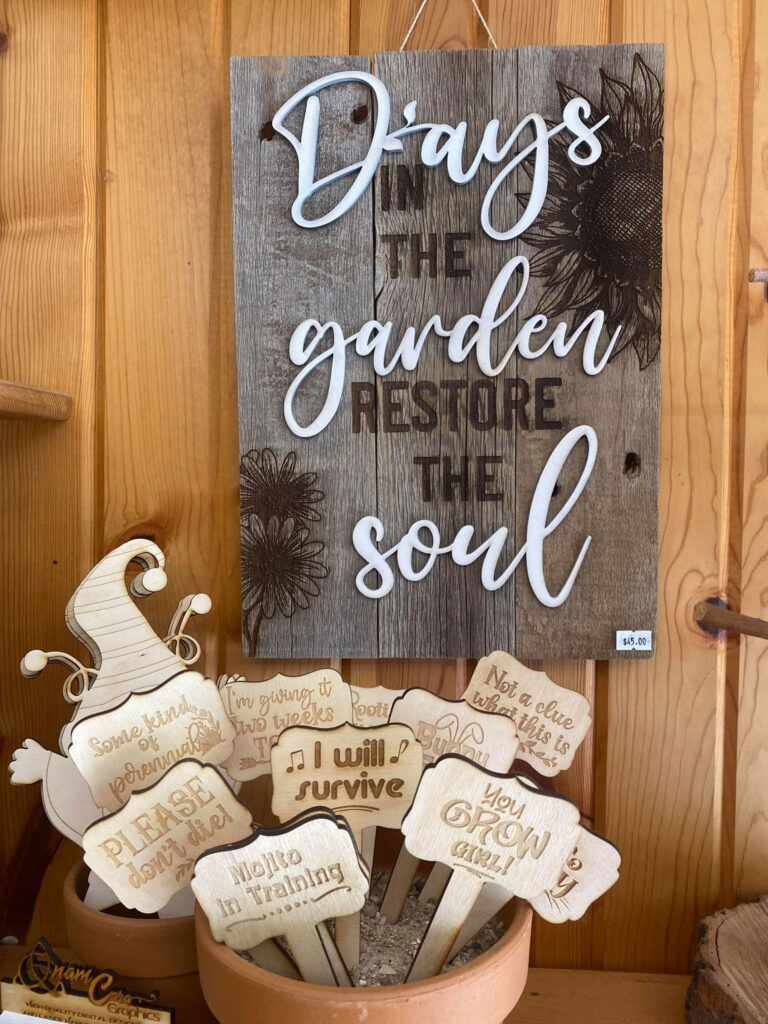 Boutique
The Two Sister's Boutique at Hawthorn Hollow will open for the 2022 season on Thursday, April 21.
Featuring a variety of nature-inspired products from area artisans as well as Hawthorn Hollow branded merchandise, the boutique will be open Thursday-Sunday through Memorial Day Weekend. Thursday & Friday hours are 9 am to 5 pm, while Saturdays & Sundays closing time will be 3 pm. The boutique is located on the west end of the Hyslop Nature Center. All proceeds support Hawthorn Hollow.
Volunteering
If you're looking to roll up your sleeves and get your hands dirty, springtime at Hawthorn Hollow provides many volunteer opportunities. Help is needed with spring planting in our garden, arboretum, and farm, as well as to staff the Two Sister's Boutique. Upcoming volunteer events include a farm volunteer day on Sunday, April 24 from 10 a.m. to noon and Hawthorn Hollow's famous Garlic Mustard Pull Party & Luncheon on Saturday, April 30. For more information about other volunteer needs, please email Allison Garren at agarren@hawthornhollow.org.
Birds & Plants
Hawthorn Hollow's first major fundraiser of the year is Birds & Plants (formerly Birds & Breakfast).
Browse hundreds of native & decorative plants for sale, shop the Two Sister's Boutique, join one of our Bird Walks hosted by Rick Fare of the Hoy Audubon Society, or relax and listen to some live folk music. Birds & Plants will take place on Saturday, May 7, from 9 a.m. to 1 p.m.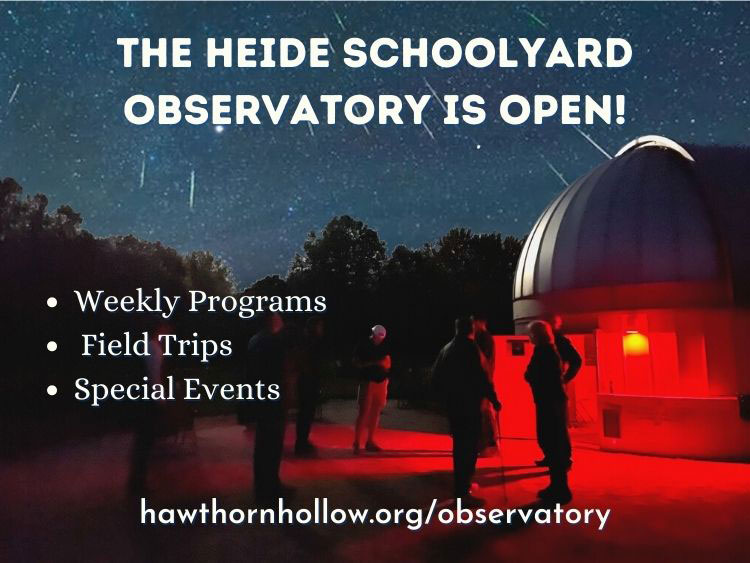 Observatory
The Charles & Kathryn Heide Schoolyard Observatory's holds weekly programs and viewings of celestial events whenever they occur. Observatory weekly programs continue this spring, with classes almost every night of the week (advance registration required):
Mondays – Beneath the Cosmos: Relax in a zero-gravity chair while we guide you through the night sky, using our laser pointer to show you stars, planets, constellations, galaxies, and other objects of interest while explaining their relationships and significance.
Tuesdays – Through the Lens: Take turns looking through our 16-inch telescope at binary stars, dim planets, distant galaxies, and other sky objects. Between individual views in the observatory dome, receive a guided sky tour standing outside under the stars to appreciate the broader picture of what you see through the telescope.
Wednesdays – Wine Wednesdays: Relax in a zero-gravity chair with your own wine or beverage you bring while we guide you through the night sky, using our laser pointer to show you stars, planets, constellations, galaxies, and other objects of interest while explaining their relationships and significance. There will be no beverages available for purchase.
Fridays – Small Eyes under the Skies: Bring the family out to the Schoolyard Observatory and take an interactive trip through the solar system on the meadow as we learn about the size and distance of our closest neighbors, followed by an adventure through the telescope to view the planets and other amazing objects. "Space" is limited to 10 total individuals so reserve your tickets early.
The Schoolyard Observatory will also be holding a Lunar Eclipse Party fundraiser on Sunday, May 15.
Come learn about lunar eclipses from our observatory staff, take a peek through our telescopes, and jam out to the music of Mountains on the Moon! Admission is $10 per person, a Night Hike and Lunar Yoga session will also be available for extra fees.
There will also be a viewing party for the Lyrid Meteor Shower on Friday, April 22. Advance registration is required. Registered Observatory events are weather-dependent and will be canceled by email 24 hours before the scheduled start time in the event of a cloud cover forecast greater than 30 percent.
Reservations can be transferred for any other nightly event. Dress appropriately for being still in nighttime outdoor weather.
Stay tuned as we announce more events this spring & summer. Follow Hawthorn Hollow on Facebook
and Instagram, or sign up to join our mailing list at www.hawthornhollow.org.