Local residents witnessed firsthand the power of art — with its ability to impact human emotions and change perspectives — when boarded storefronts became murals in downtown Kenosha.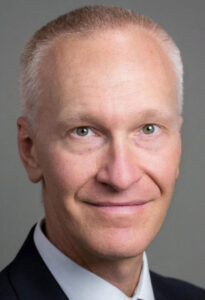 For the next month, Kenosha's youngest and brightest artists have a platform of their own in the 50th annual Districtwide Student Art Exhibit at the Kenosha Public Museum.
The free exhibit, featuring over 1,100 pieces of art, is on display through April 24.
"It's always so interesting to me to see how our students express themselves, communicate and story tell through their visual images and 3D pieces," said Scott Plank, Kenosha Unified School District Coordinator of Fine Arts.
"This is an opportunity for them to come together across the entire district and display their work and see the work of their peers."
The display includes artwork from students in grades kindergarten through high school.
Awards were presented for two-dimensional, three-dimensional and digital design art for high school and middle school students.
Collection awards were selected by the City of Kenosha, Kenosha Area Business Alliance, Kenosha Unified Fine Arts Department, Kenosha Unified Board of Education and Kenosha Unified Superintendent of Schools.
Rachel Klees-Anderson, Kenosha Public Museum curator of exhibits, presented awards to three elementary, three middle school and three high school students.
Lemon Street Gallery selected three pieces of art to be displayed in its showrooms.
The Helen Mears Memorial Award was presented to the district's top seventh- and eighth-grade students.
Judges included Nancy Watson, Bruce Niemi, Peter Koszyczarek, Jessie Tuttle, Tina Niemi-Johnson and Klees-Anderson.
Somers Elementary teacher Kristine Nixon is one of several KUSD art teachers featured in a promotional YouTube video created in place of the grand opening, which traditionally attracts close to 1,000 people.
While the grand opening was canceled due to safety precautions, the show returns for the first time in two years.
"You should just see (the students') faces lights up when they're like 'I'm going to be in the art show?'" Nixon said. "It's as if you gave them the world."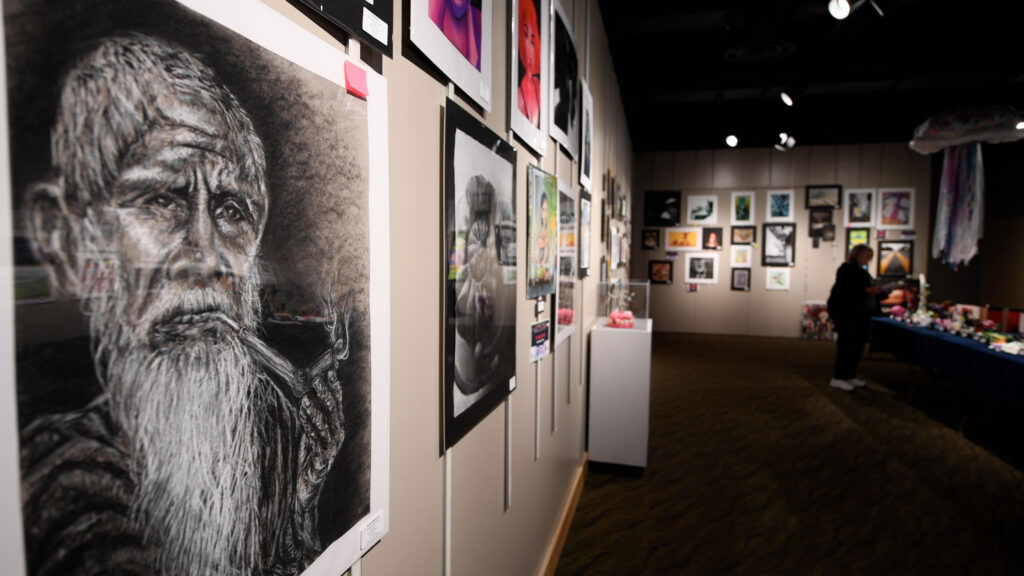 A district known for its talented music program and nationally-recognized theater department, Kenosha Unified appears to be thriving, as well, in art.
"Student voice takes many different forms," Plank said. "It can take the form of visual communication or music or storytelling through theater or dance. Those are all different avenues for kids to express themselves. That's important right now, especially as we just spent these last couple years with limited ability to do that."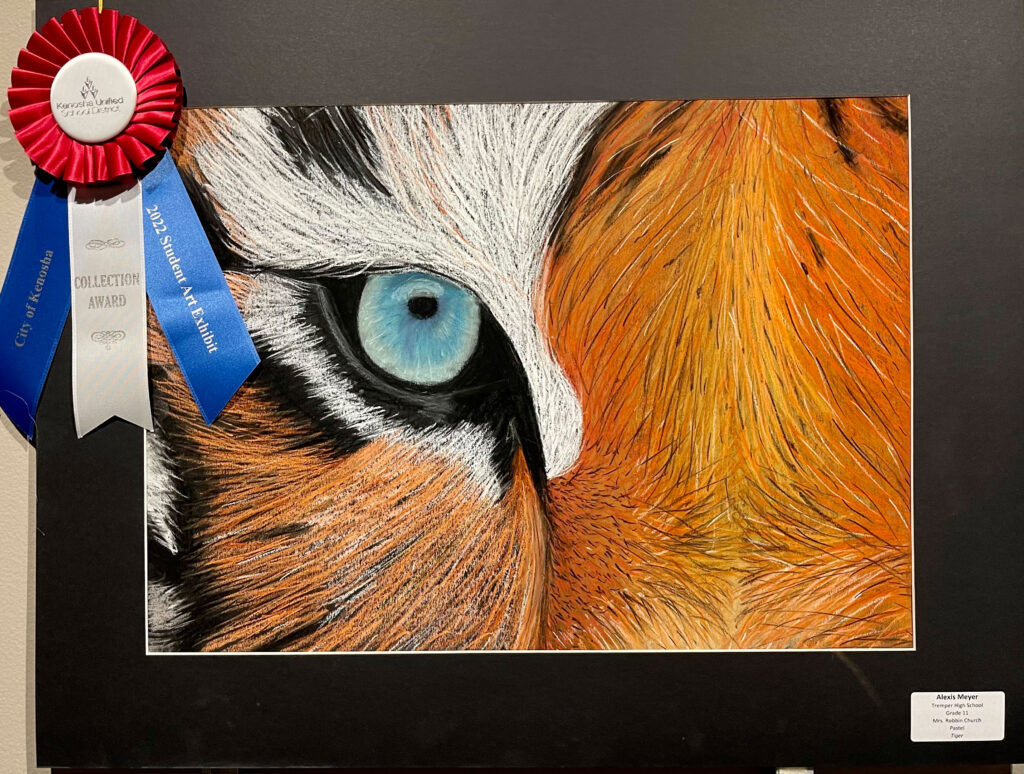 2022 Award Recipients
Collection Awards
Department of Fine Arts
Joeila Baduria, Grade 12, Tremper High School (Mrs. Robbin Church) — Uzumaki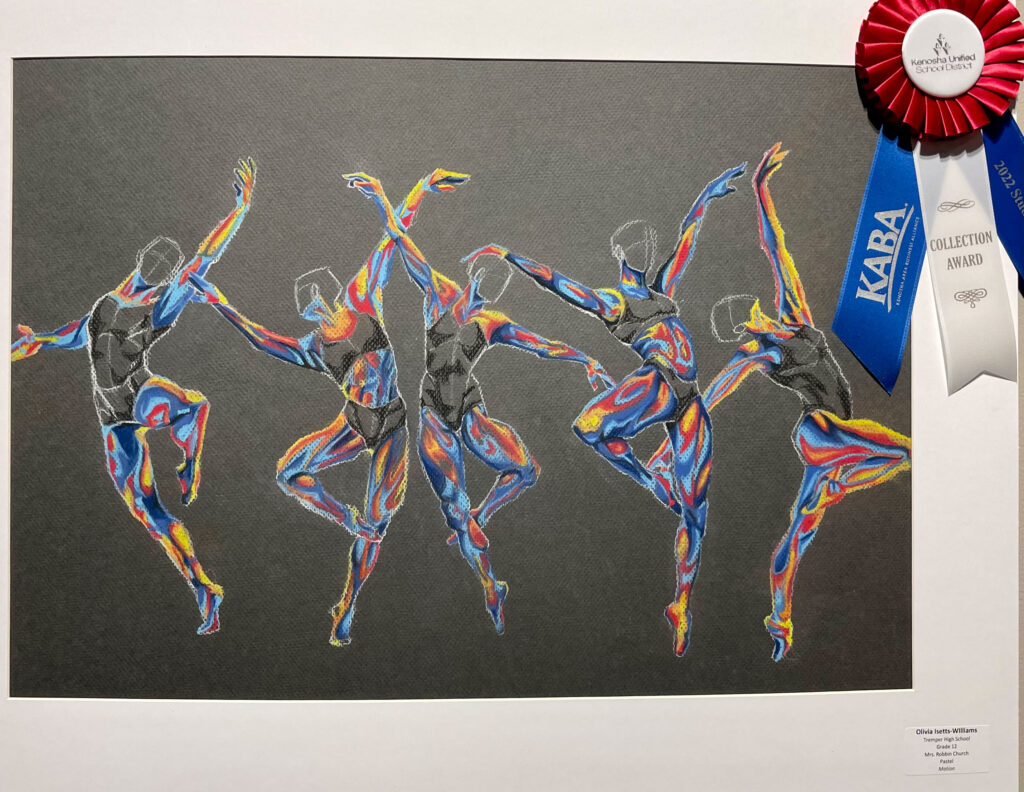 Kenosha Area Business Alliance
Olivia Isetts-WIlliams, Grade 12, Tremper High School (Mrs. Robbin Church) — Motion
City of Kenosha
Alexis Meyer, Grade 11, Tremper High School (Mrs. Robbin Church) — Tiger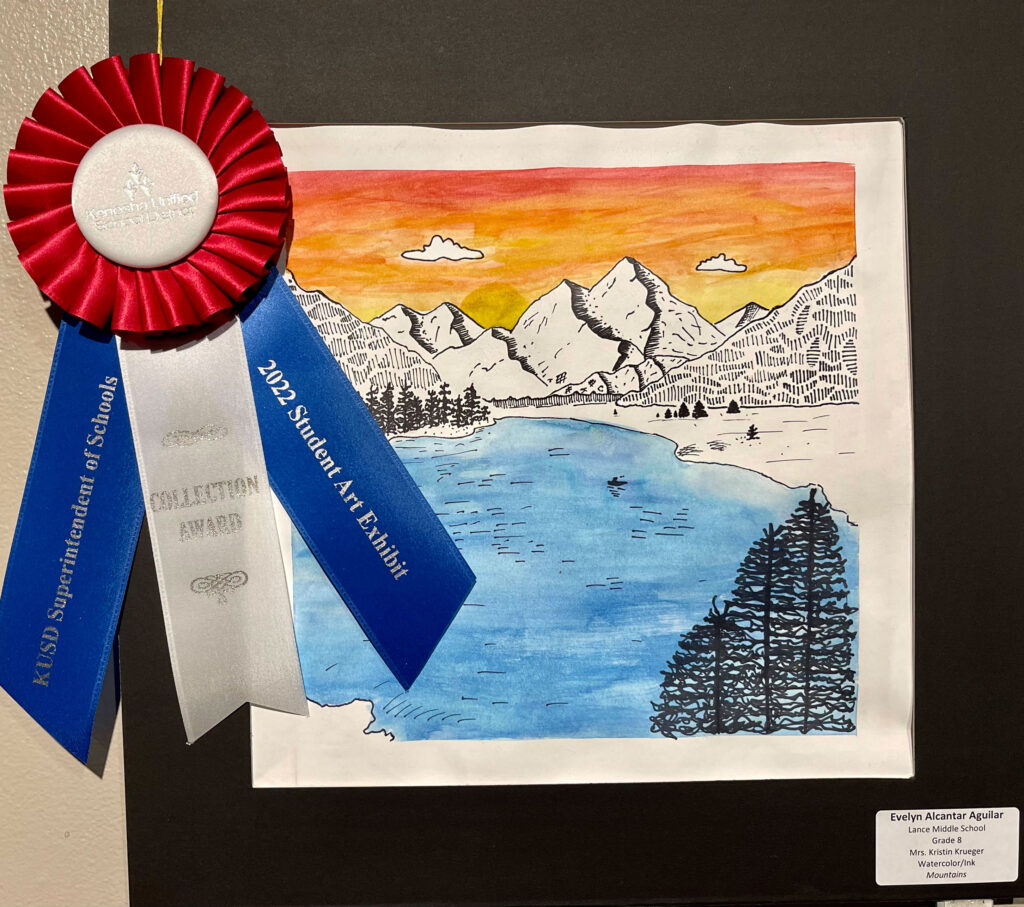 Superintendent of Schools
Evelyn Alcantar Aguilar, Grade 8, Lance Middle School (Mrs. Kristin Krueger) — Mountains
Board of Education
Kiara Ramirez Campos, Grade 10, Bradford High School (Ms. Beverly Su) — Rainbow Sherbert
High School
Award of Excellence in 2D Design (Judged by: Nancy Watson)
Rosie Helgeland, Grade 11, Bradford High School (Mr. David Koel) — Wiser Than You Know
Nadia Covelli, Grade 12, Indian Trail High School (Ms. Allyson Neu) — Adonis
Reanna Stevens, Grade 9, Indian Trail High School (Ms. Bri Sayeg) — Hunter
Briana Tocci, Grade 11, Tremper High School (Mrs. Robbin Church) — Kitsune
Ashley Osorio, Grade 12, Tremper High School (Ms. Laura Covelli) — Broken Path
Luchia Ricker, Grade 11, Tremper High School (Ms. Sarah Gapinski) — Vetrina
Award of Excellence in 3D Design (Judged by: Bruce Niemi)
Ellsa Rumph, Grade 11, Bradford High School (Mrs. Cara Leiting) — The Residence of Disco Fever; Band Studio
Ian Gates, Grade 12, Indian Trail High School (Ms. Bri Sayeg) — The King of the Cretaceous Period
Neil DuJardin, Grade 11, Tremper High School (Mrs. Robbin Church) — Clyde
Tyler Stanz, Grade 11, Tremper High School (Mrs. Robbin Church) — Claudia
Tristan Krueser, Grade 12, Tremper High School (Mrs. Robbin Church) — Levitate
Joeila Baduria, Grade 12, Tremper High School (Mrs. Robbin Church) — Uzumaki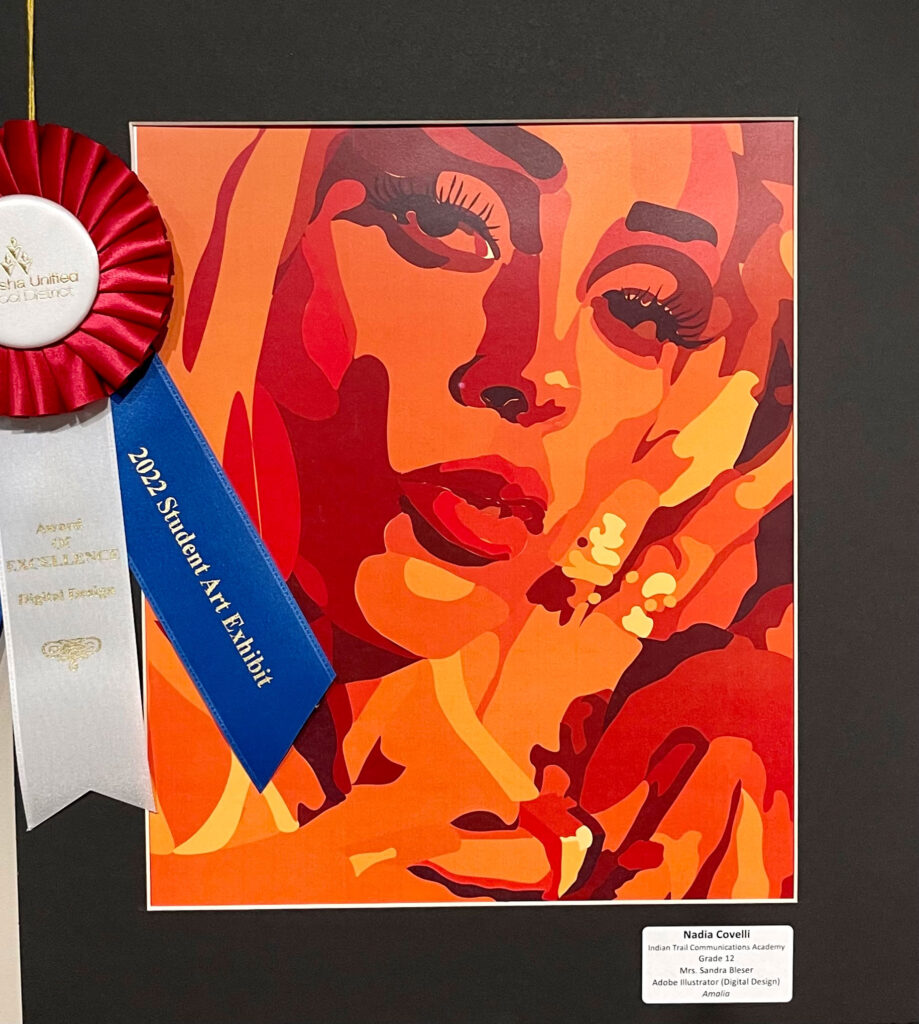 Award of Excellence in Digital Design (Judged by: Peter Koszyczarek and Jessie Tuttle)
Nadia Covelli, Grade 12, Indian Trail Communications Academy (Mrs. Sandra Bleser) — Amalia
Jane Sekas, Grade 12, Indian Trail Communications Academy (Mrs. Sandra Bleser) — Lorelai's Colors
Matthew Torresin, Grade 10, Indian Trail Communications Academy (Ms. Katie Sciarra) — Hand Painted Typography Self Portrait
Dania Hernandez, Grade 11, Indian Trail Communications Academy (Ms. Katie Sciarra) — Digital Subtractive Scratch Art – Self Portrait
Jesse Brackney, Grade 9, Reuther High School (Mrs. Amy Misurelli-Sorenson) — Digital Self Portrait
Nicole Smith, Grade 12, Tremper High School (Ms. Laura Covelli) — Reflecting
Middle School
Award of Excellence in 2D Design (Judged by: Tina Niemi-Johnson)
Sydney Hesprich, Grade 7, Bullen Middle School (Mx. Kat Frederick) — Rats Away
Eva Vargas, Grade 7, Bullen Middle School (Mx. Kat Frederick) — Ship Postcard
Jessica Camacho, Grade 7, Dimensions of Learning (Mrs. Jurga Petkus) — Portrait
Lydia Kennedy, Grade 8, Lance Middle School (Mrs. Kristin Krueger) — Zen Snake
Brady Starosta, Grade 8, Mahone Middle School (Mrs. Katie Starosta) — Graffiti Name Design
Alyssa Flannery, Grade 8, The Brompton School (Mrs. Angela Konicki) — My Character
Award of Excellence in 3D Design (Judged by: Bruce Niemi)
Liliana Kolczaski, Grade 6, The Brompton School (Mrs. Angela Konicki) — Chihuly Sculpture
Eva Ziccarelli, Grade 8, Lance Middle School (Mrs. Kristin Krueger) — Spirit Animal
Daniela Taft, Grade 8, Lincoln Middle School (Ms. Chelsea Deaton) — The Watch Tower
Lily Andrews, Grade 7, The Brompton School (Mrs. Angela Konicki) — Pop Art
Curator's Awards (Judged by: Rachel Kees-Andersen)
Elementary School
Carter Wtorkowski, Grade 4, KTEC (Mrs. Kristin Cushman) — Blue Portrait
Alaina Franklin, Grade 4, Dimensions of Learning (Mrs. Jurga Petkus) — Picasso Portrait
Jack Morton, Grade 3, Whittier Elementary School (Mrs. Mary Beth Braun) — Inspired by Alma Thomas
Middle School
Anbriana Pillizzi, Grade 7, Washington Middle School (Ms. Meredith Huber) — Watercolor Flower
Violet Ortiz, Grade 6, The Brompton School (Mrs. Angela Konicki) — Pop Art
Michelle Miks, Grade 8, Bullen Middle School (Mx. Kat Frederick) — A Take on Starry Night
High School
Ashley Osorio, Grade 12, Tremper High School (Ms. Laura Covelli) — Ojos Verde
Alexa Didinsky, Grade 11, Bradford High School (Mr. David Koel) — Ginesburg
Cassidy Gallagher, Tremper High School (Mrs. Laura Covelli) — Long Exposure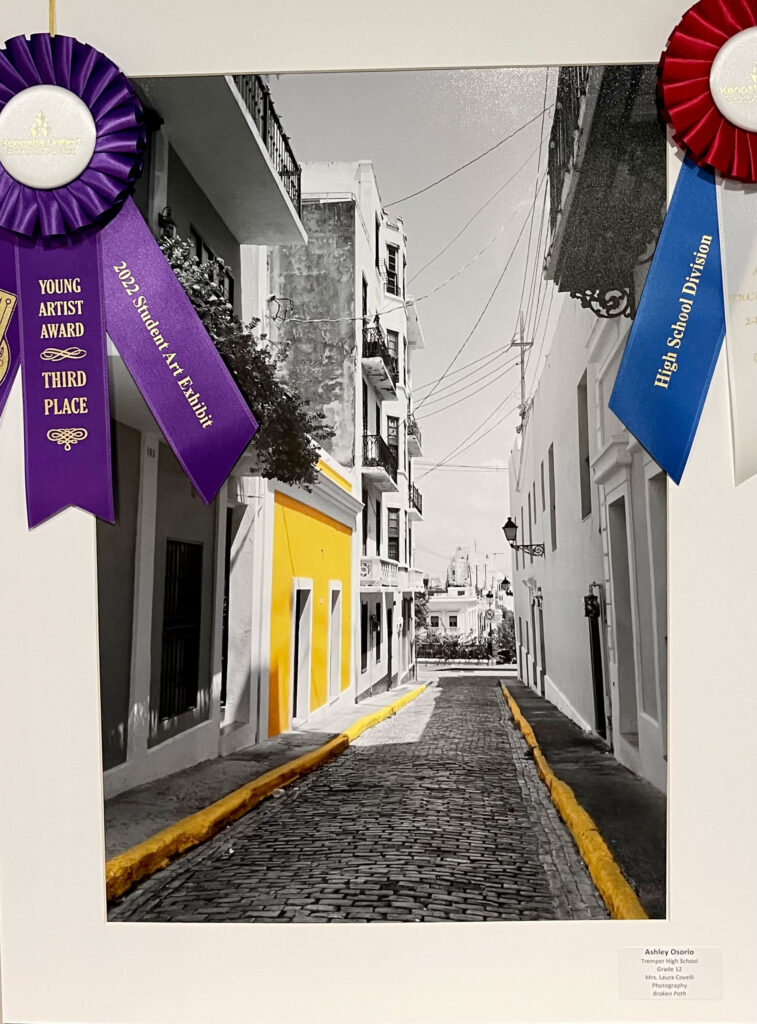 Lemon Street Awards
First place
Rosie Helgeland, Grade 11, Bradford High School (Mr. David Koel) — Good Bones
Second place
Corbin Fromelt, Grade 11, Bradford High School (Mr. David Koel) — Automation
Third place
Ashley Osorio, Grade 12, Tremper High School (Mrs. Covelli) — Broken Path
Helen Mears Awards
First place
Eliza Keller, Grade 7, Dimensions of Learning (Mrs. Jurga Petkus) — Beatle
Eliana Poulsen, Grade 8, Lance Middle School (Mrs. Kristin Krueger) — Funguy
Alyssa Flannery, Grade 8, The Brompton School (Mrs. Angela Konicki) — My Character
Second place
Sydney Hesprich, Grade 7, Bullen Middle School (Mx. Kat Frederick) — Rats Away
Vianca Miranda-Tovar, Grade 7, KTEC (Ms. Bryanna Van Caster) — Self-Portrait
Ashley Rodriguez Mendoza, Grade 8, Lincoln (Ms. Rachel Koepke) — Glump
Third place
Rowen Crowder, Grade 8, KTEC (Ms. Bryanna Van Caster) — Jackal
Aubry Smith, Grade 7, Dimensions of Learning (Ms. Jurga Petkus) — Butterfly
Leah Carver, Grade 8, Lance Middle School (Mr. Daniel Delaney) — Color Wheel