SOMERS — The Petrifying Springs Biergarten is known for its variety of beers from lagers to ales to porters to stouts.
Miller Lite slushies were a late addition on Saturday (March 12).
Nearly 400 competitors braved below-zero wind chills as they sipped frozen beer and dashed to the finish line at the fifth annual Leprechaun and Lederhosen 0.1K Beer Run at the Petrifying Springs Biergarten.
The event, billed as the "least athletic, most fun event ever," was hosted by the Boys and Girls Club of Kenosha and the Petrifying Springs Biergarten and presented by Heating & Cooling Solutions and CJW Inc.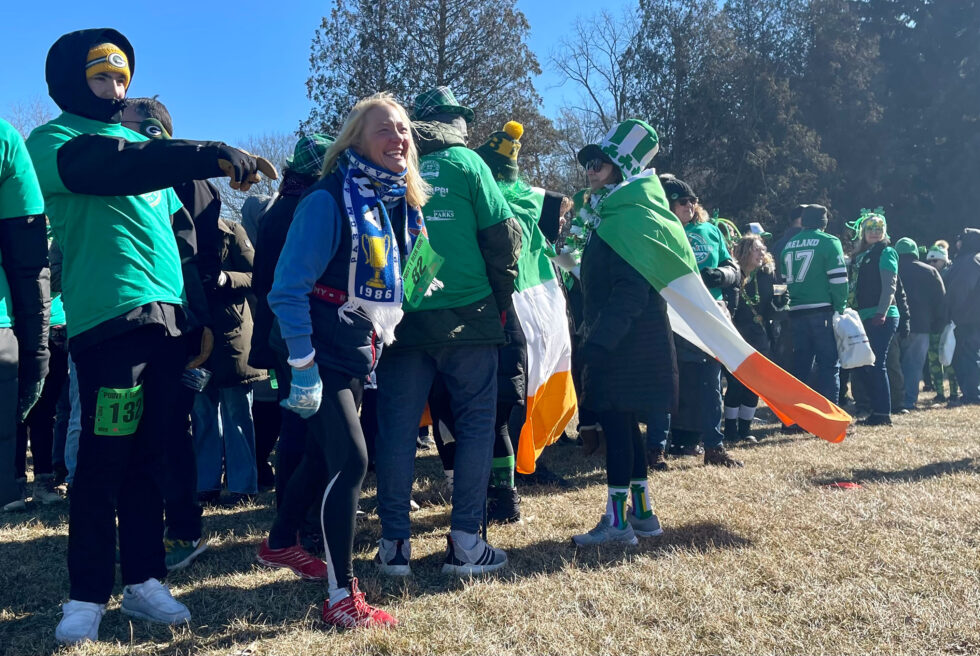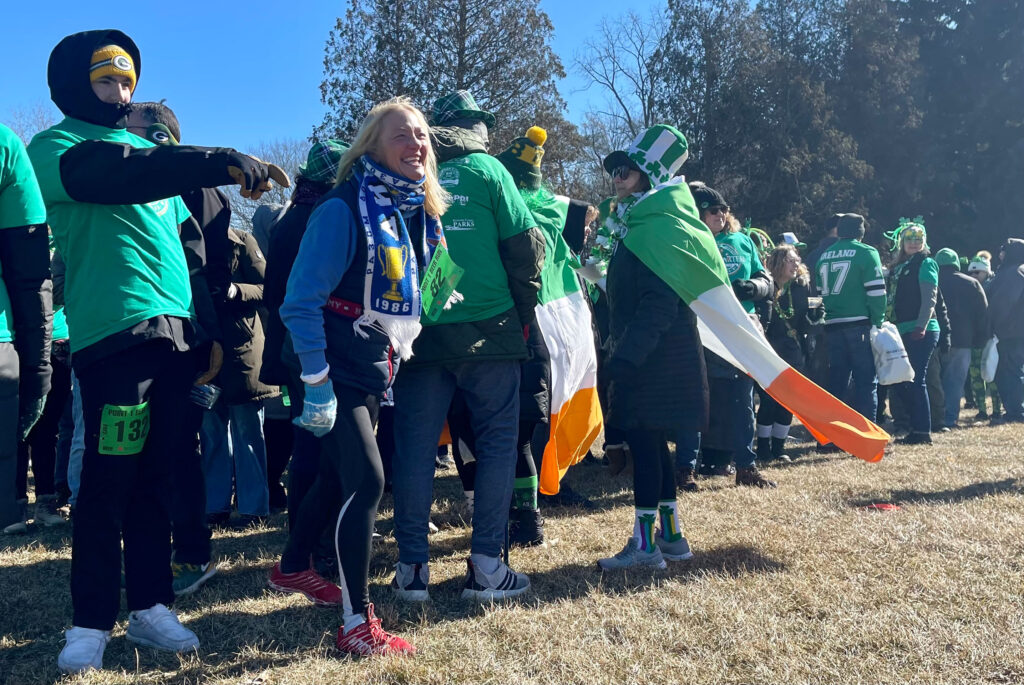 While the competitive juices (not the beer) flowed outside, it was the post-race party inside a huge, heated tent that offered most of the early-St. Patrick's Day shenanigans.
CJ Double DJs fired up the crowd before live performances from Cashel Academy of Irish Dance and Big Style Brass Band.
"It was a great turnout," said Michael Grab, co-owner of the Biergarten. "When we arrived (early Saturday morning) all of the green beer lines were frozen. Then we started pouring regular Miller Lites and those started freezing as well. It just shows how eager people are to get out and enjoy themselves, regardless of the conditions."
Most of the "race" competitors sipped their actual ice-cold beers and snacked on cheese balls as they zig-zagged through the 0.1K course. That's 328 feet for those without a calculator.
Other participants, like Matt Reiser and Jack Bridleman, sprinted to the finish line.
Reiser and Bridleman broke the orange ribbon for a photo finish that was so close, race officials resorted to rock-paper-scissors to determine a winner.
In a best-of-three contest, Bridleman prevailed and took home the first-place "Overachiever" award, a boot-shaped beer mug.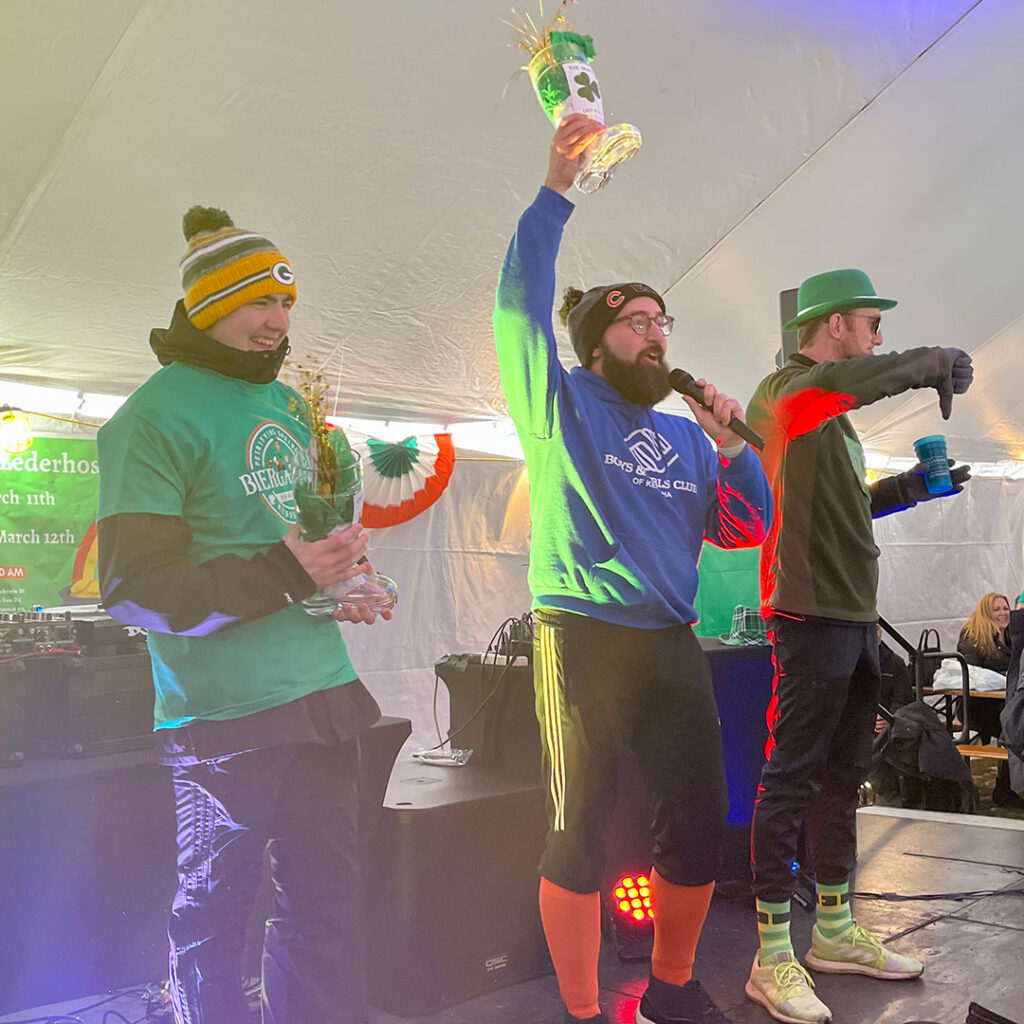 "This was awesome, man," said Bridleman, a Westosha Central High School sophomore. "I went all out, one-hundred percent. I had to win it."
When he discovered he was holding a beer mug, Bridleman said he'd fill it with a different beverage when he got home.
"Chocolate milk," Bridleman said. "I'll pour the whole gallon in there."
Reiser, a Minneapolis resident, is visiting Kenosha for the first time. The 25-year-old declared himself the winner following the race and even convinced race officials to extend the rock-paper-scissors to best-of-three after losing the first round.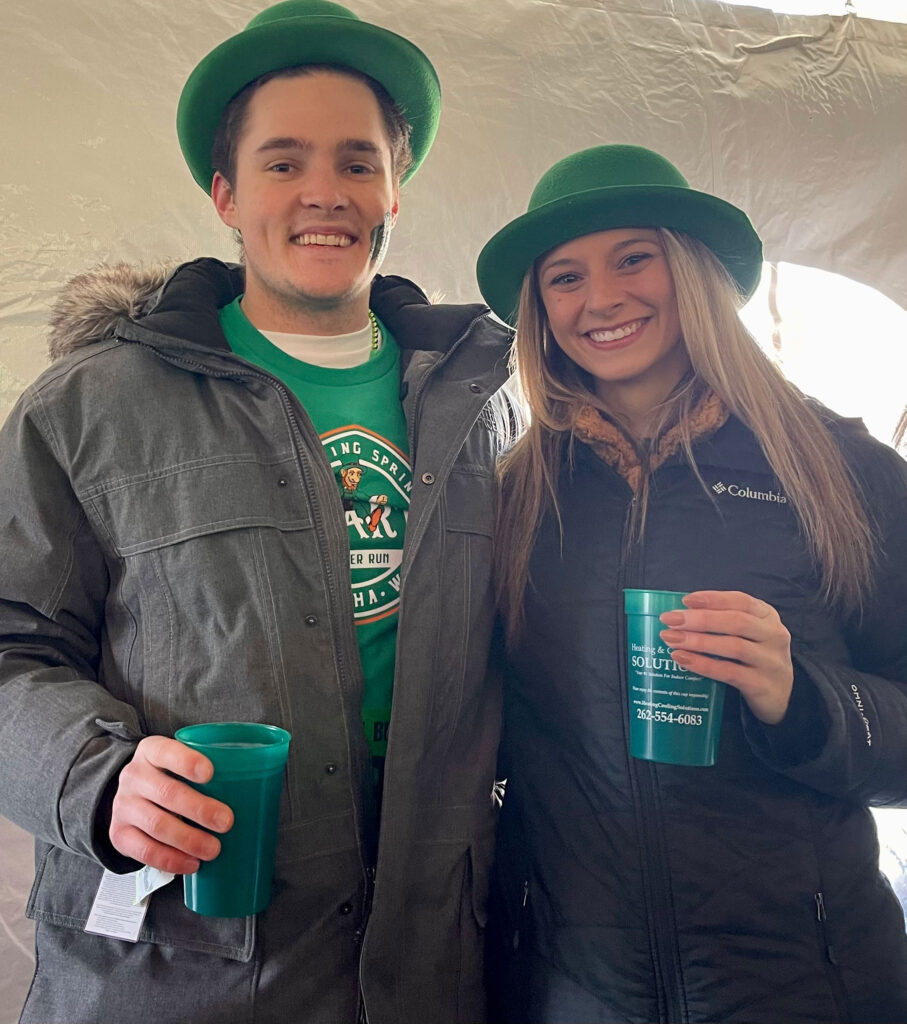 Hours after the race, it was still unclear if Reiser had accepted defeat.
"I'm just going to tell everyone I won," said Reiser, a former University of Minnesota cheerleader. "If I tell enough people, it will be the consensus."
The real "winner" in many eyes was Kenosha's Luke Landwehr, who took home "The Wurst" last-place trophy.
The Leprechaun and Lederhosen 0.1K Beer Run was the first event of the year at the Biergarten. Grab said the season could officially open next month.
"It's weather dependent," Grab said. "Last year, we opened in April because it was in the seventies. Mid- to late-April would be nice this year. If not, we will definitely open in May."