On this date (March 11) in 2006, Shea'na Grigsby overcame more than the hurdles on the course in claiming her final NCAA Division III indoor national title for the Carthage College women's track and field team.
Sixteen years ago today, Grigsby shook off a hamstring injury that had nagged her all season and cruised to the sixth of her eight national championships in the 55-meter hurdles at the 22nd annual meet at St. Olaf College's Tostrud Center in Northfield, Minn.
"I remember (that event) vividly," Carthage coach Stephanie Domin said. "Shea'na had been battling a hamstring injury all indoor season."
At the College Conference of Illinois and Wisconsin event a week prior, Grigsby wasn't her usual dominating self and did not win the 55 hurdles for the only time in her career.
No worries.
A week of rest did the trick, according to Domin.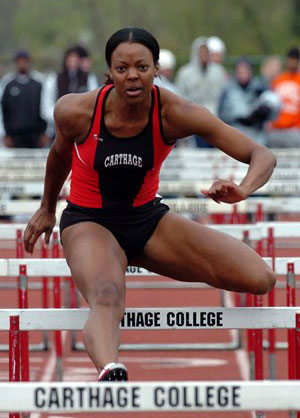 The native of Minneapolis showed she was over the injury immediately by qualifying for the finals with a career-best time of 8.03 seconds. That clocking was also the best in Division III that season, a Carthage record and a Tostrud Center record.
The next fastest qualifying time was 8.13 so it is no surprise that Grigsby secured her third indoor championship with ease.
Grigsby was first to cross in 8.05 while Andria Gentile of Cortland (N.Y.) was second in 8.11.
"Shea'na was a fierce competitor, hard worker and loved a challenge," Domin said. "Nothing was going to stop her from coming out on top."
This victory was part of the greatest career in the history of Carthage track and field.
Grigsby finished with eight national championships, which she parlayed into 17 All-America citations. She was also named United States Track Coaches Association NCAA Division III Women's Outdoor Performer of the Year in 2004 and CCIW Outdoor Track and Field Championship MVP in 2003, 2005 and 2006. Grigsby won 11 individual CCIW titles.
"Shea'na is the most decorated track and field athlete in Carthage history," Domin said. "Her name still covers our record books in various events."
Currently, Grigsby is the Senior Director of Partner Operations at Next College Student Athlete. She recently appeared in the Netflix reality show "Love Is Blind 2."
"It is just as rewarding for me to hear (about a) student-athlete's life after Carthage journey," said Domin, who has been Carthage's coach since 2003. "Shea'na is definitely a success in life and it's been fun to watch her path."
For more information or to comment on this feature, contact the author at dmarran359@aol.com