For those who know Co'ji Campbell, seeing him stand atop the podium at the Kohl Center in Madison Saturday night was not a huge surprise.
The talented St. Joseph Catholic Academy freshman went into his first high school wrestling season with two lofty goals: Win a state championship and go undefeated.
Campbell accomplished both when he defeated Elliott Biba of Iowa Grant/Highland by major decision (12-4) to capture the 113-pound Division 3 state title in the Wisconsin Interscholastic Athletic Association State Tournament. He finished the season with a 32-0 record and 27 pins (26 in the first period).
"I've heard it's pretty rare for a freshman to win any kind of state championship, let alone out of Kenosha," said the 15-year-old, who has been named the Kenosha.com Kenoshan of the Week.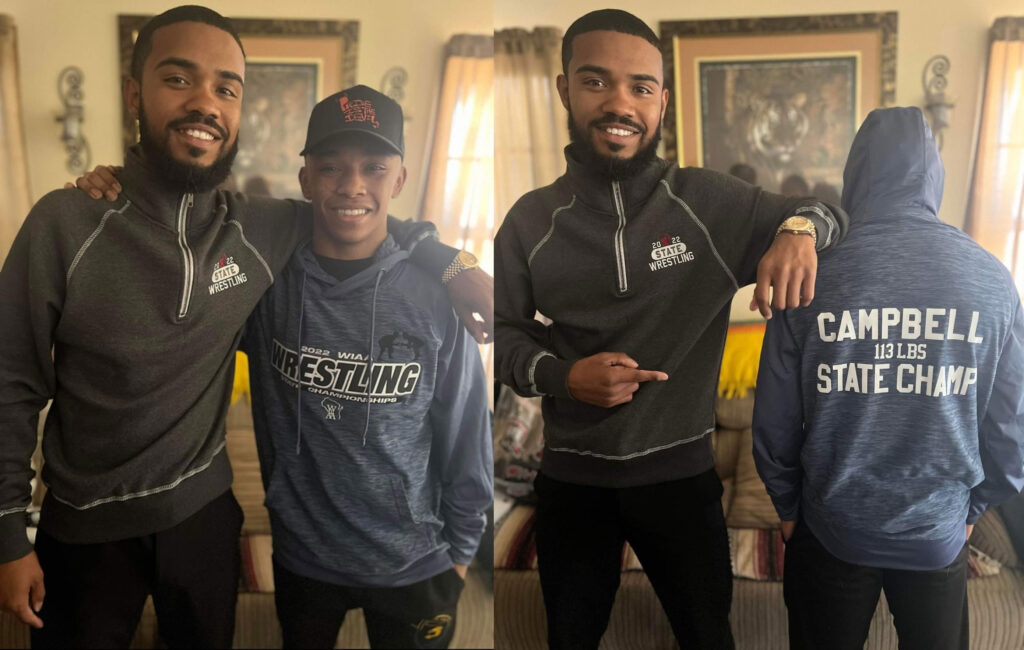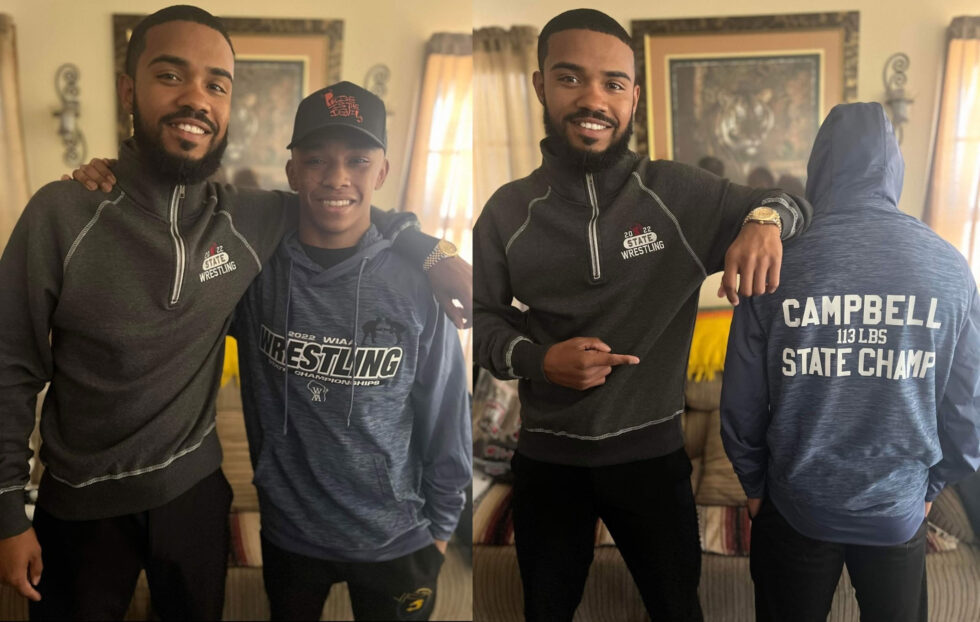 While St. Joseph did have state champions when the Lancers were a WISAA powerhouse under Frank Matrise Sr. in the 1960s and 1970s, the WIAA state wrestling title is the school's first.
Campbell is believed to be the first African American from Kenosha to win a WIAA state wrestling championship.
In addition, he is the first wrestler from Kenosha County to bring home gold since Mark Wilson of Wilmot won the 135-pound title in 2007 and he is the first wrestler from the city of Kenosha to bring home gold since Shane Ramos of Bradford won the 152-pound title in 1992.
The WIAA held its first state wrestling tourney in 1940. Campbell is the 14th Kenosha County wrestler to win a state crown (see the complete list below).
As for an encore?
Kenosha County does not have any repeat champions. Campbell would like to be the first. He certainly is not satisfied with one state title.
"Yeah, I'd like three more," he said.
Twenty-two wrestlers in state history have won four state titles. Three of them achieved it over the weekend — Clayton Whiting of Oconto Falls (Division 2), Tanner Gerber of Cameron (Division 3) and Kole Marko of St. Croix Falls (Division 3).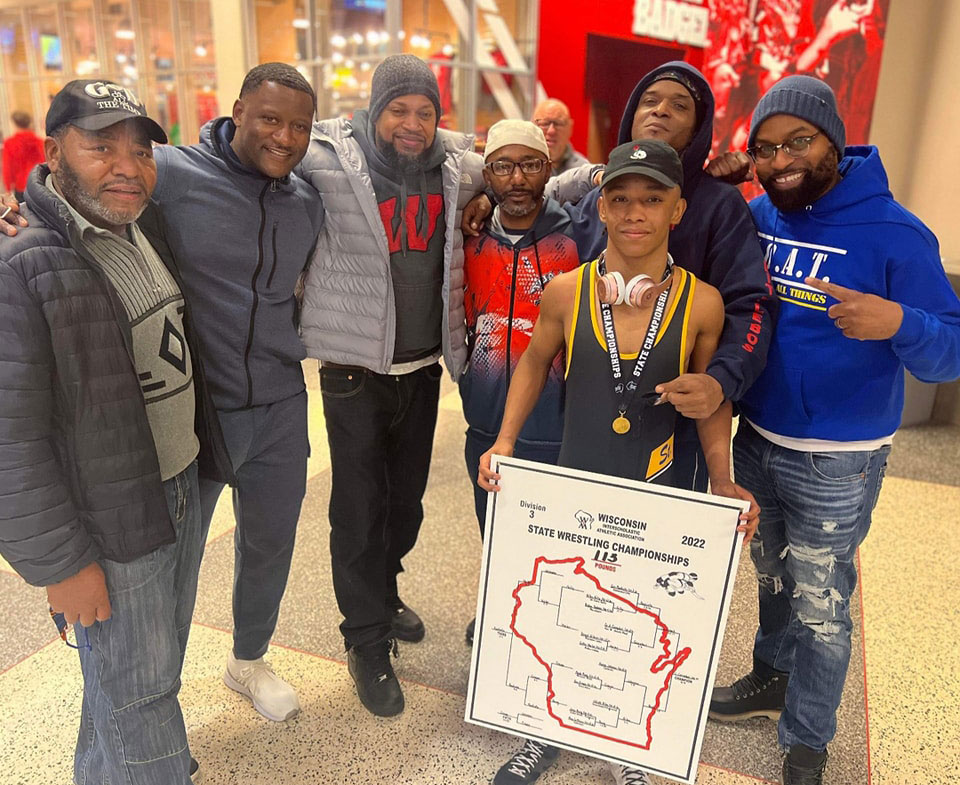 Ranked second in Division 3 going into the state tourney, Campbell had a first-round bye before winning by a 9-3 decision over third-ranked Colton Weiler of Auburndale in the quarterfinals.
In the semifinals, Campbell faced his toughest opponent of the season — top-ranked Ian Radintz of Glenwood City. Campbell was trailing 3-1 in the third period when he pinned Radintz with 43 seconds remaining to advance to the final in dramatic fashion.
"I had a game plan," Campbell said. "I wasn't really nervous for that match. I knew if I could get him to that third period and make sure he was tired, I could win that match."
Campbell, who said his biggest strength as a wrestler is "my stamina," credits his year-round training and "lots of running."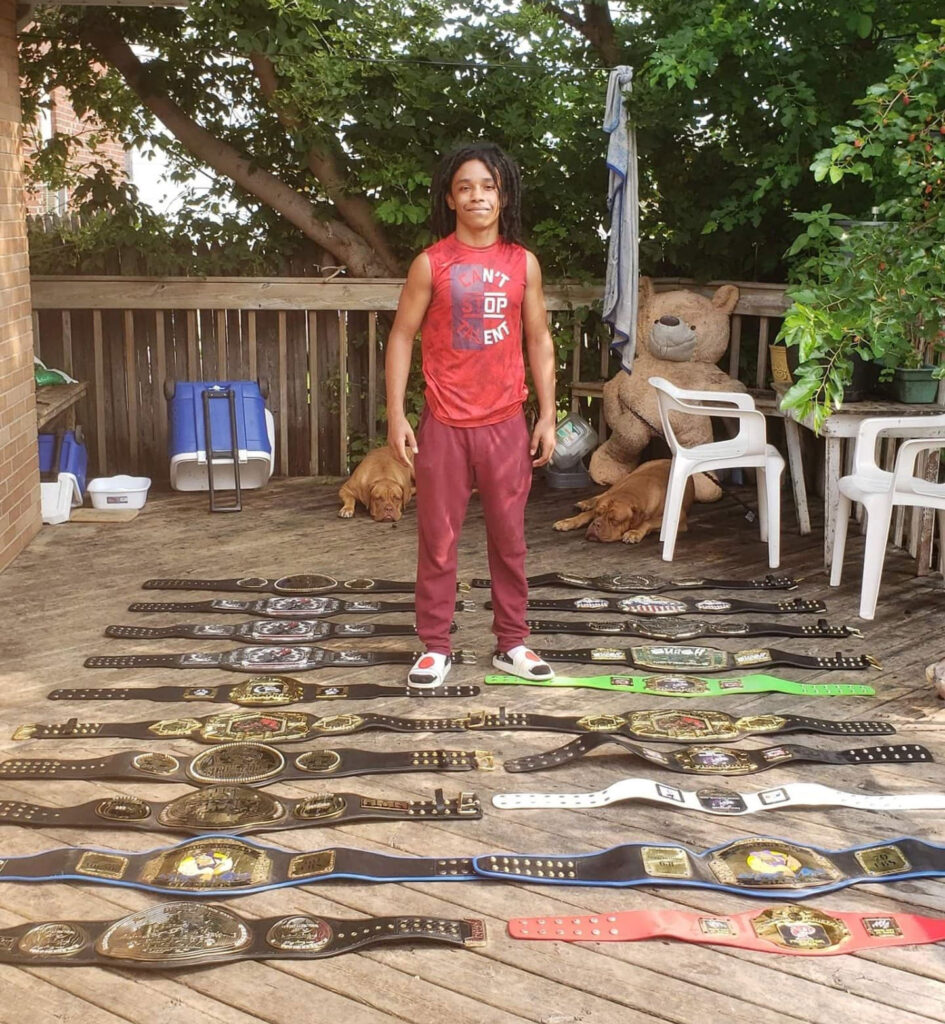 Fourth-year St. Joseph wrestling coach Larry Kamin said Campbell is not an ordinary freshman. He knew there was a realistic shot for a state championship at the start of the season.
"Oh, yeah," Kamin said. "He's got all of the confidence in the world. He's a great kid — hard worker. He does a nice job in the classroom as well. All of the credit to his former and current coaches.
"You could tell that he was something special. He coaches the kids in the room himself. It's nice to have kids in the room who can actually coach each other."
The youngest in the family with five sisters and two brothers, Campbell was given his name by his grandfather, Cherry Campbell Sr.
"My parents couldn't really decide on a name and asked my grandfather and he said, 'Co'ji sounds like a real good name' and everyone agreed," the state champion said.
Campbell started wrestling at 4 years old. Since then, he has more than 1,000 matches under his belt while traveling around the country competing in national and regional tournaments.
According to his father, Cherry Campbell, Co'ji is an 80-time national champion and four-time world champion. The accumulation of trophies, belts and medals is impressive.
That's why the freshman wasn't intimidated competing on the big stage at the Kohl Center.
"Not at all because these 10 years I've been wrestling, I've been around a lot of crowds and people and under the spotlight," Co'ji said. "Really, it was just me going in there and making sure I did what I needed to get done."
While he currently does not belong to a club, Campbell has training partners and is coached by his father along with Derrick Noble and Kyree Noble out of Illinois.
Campbell, who plays football in the fall, will spend the spring on the mat. He is taking part in the 2022 Wisconsin Freestyle & Greco-Roman State Tournament May 7-8 in the Wisconsin Dells.
Over the years, Campbell has received a lot of support from the community. Well-wishers flooded the family's social media pages after the St. Joseph freshman secured his first state title.
"Great management and consistency rule the day," Cherry Campbell said. "You have to be dedicated to the cause if you are going to achieve greatness. There are no shortcuts or easy ways out. The road least traveled is a rough route, but the best route by far."
Kenosha County's WIAA state Wrestling champions
1956 — Bob Anderson, Kenosha High (103); Owen Kingsley, Kenosha High (128); Bill Mitchell, Kenosha High (180). 1957 — Larry Borland, Kenosha High (155). 1961 — Bob Reed, Kenosha High (103). 1965 — Dick Hyser, Bradford (145). 1966 — Alan Krueger, Tremper (127). 1970 — Bill West, Tremper (115); Don Bolyard, Bradford (137). 1992 — Shane Ramos, Bradford (152). 2003 — Jeff Canella, Wilmot (140). 2005 — Tommy Creutz, Wilmot (152). 2007 — Mark Wilson, Wilmot (135). 2022 — Co'ji Campbell, St. Joseph Catholic Academy (113).
NOTE: To nominate a Kenoshan of the Week click here or email Andrew@Kenosha.com.