"I persevered."
"I faced my fears."
"The first three times I tried I fell down, but I got up. Now I'm good at it, and that makes me feel really proud."
Those words may sound like life lessons that most adults are still striving to learn, but instead they come from 9- and 10-year-old students at Brass Community School, inspired by a new experience neither they nor their teachers could have imagined when the year started. Now it has them setting goals, learning a new sport and talking positively about their accomplishments.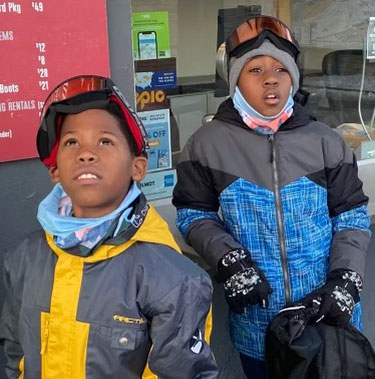 A serendipitous collaboration with Colorado-based SOS Outreach has given 30 Brass fourth graders the opportunity to learn downhill skiing at Wilmot Mountain Ski Resort, 11931 Fox River Rd.
Thanks to SOS Outreach, its partners and a village of volunteers, these Brass Bulldogs are now two weeks into their new adventure, complete with transportation, food, lessons and top-of-the-line gear.
"Their faces, smiles, and comments are everything," said Brass fourth grade teacher Terri McGuire, who has played a key role from the start. "I told the kids that on that first day to hear them encourage each other, help one another up, clap for one another and hear 'I did it' was the most exciting part of the day."
Kids board the bus late in the school day each Monday of the five-week program, along with teachers and several of their family members and friends all volunteering their time. Once the group arrives at the ski resort they are joined by seven Wilmot skiing instructors and a local SOS Outreach member.
The group first hit the slopes on Feb. 7. Absolutely everything was new to them, including their discovery that learning to go up the hill is as important as learning to go down. Those were both daunting tasks, according to students who described how they felt when laying eyes on Wilmot Mountain for the first time.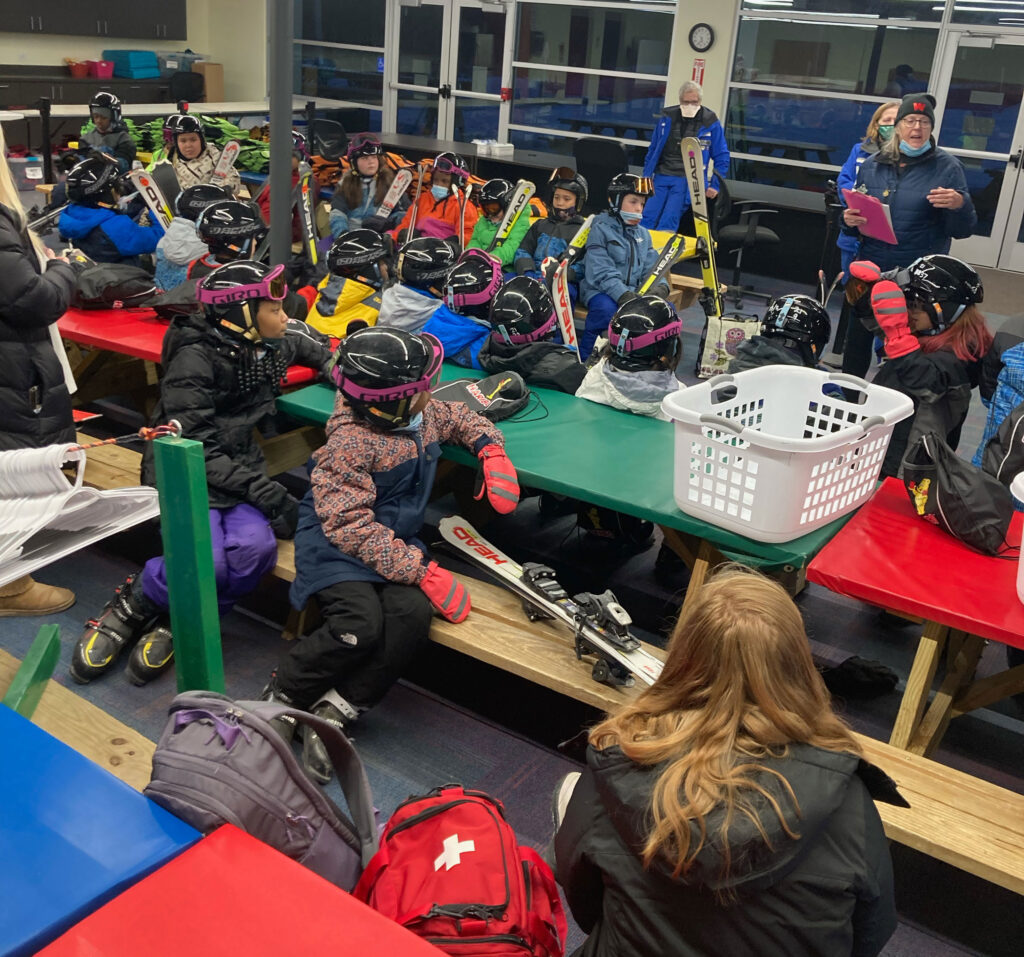 "The most important thing for me was to set a goal to not be scared about going down the big hill," said Cecelia. "I was surprised at how big it is, it was exciting and scary."
Cecelia's assessment of her progress so far: "I'm doing amazing!"
Classmate Rodriguez agreed: "I made a couple of mistakes but I'm doing better now. I was really surprised the mountain was so big. I haven't seen a big mountain in person before, so that was cool."
Brass Principal Joel Kaufmann witnessed those first moments on the mountain.
"As we approached the first night of skiing last week I wondered what impact an opportunity like this would offer the students. Well, I didn't have to wait long to find out," Kaufmann said. "The very first night of skiing the number of smiles, the many times I heard 'thank you" from the students, and the compliments that were handed out by the Wilmot ski Instructors were all I needed to be assured that the impact of an opportunity like this was going to last a lifetime.
"One of the best parts for me as the principal was to see the connection between this event and what we teach at school. I don't know how many times that very first night as I skied from group to group I heard students connect their struggles and successes to them having grit and perseverance. Nothing makes an educator smile more than hearing students talk about school — outside of school."
Those lessons extend with ease from the slopes to the classroom.
During morning meetings, which are part of Brass' social/emotional learning and support, students now have this shared experience to discuss. Coincidentally, in a schedule mapped out for the entire year, February's trait of the month during those lessons is perseverance.
Students initially discussed feeling fearful, and many reflected on being overwhelmed by the size of the mountain. As they learn and grow in their new sport, the conversations turn to sharing what they are proud of and how they worked through their fears.
"We have coached the kids a lot about that feeling and the grit they will need to just keep getting up after falling down," McGuire said. "There is a lot of constant reassurance that their feelings are normal and to be expected."
Skiing is a popular topic of discussion across the three fourth grade classrooms.
"We have related it to our theme and how they have seen themselves persevere through the process of learning a new skill," said fourth grade teacher Maddie Liberacki. "If given the opportunity they would talk about it all the time!"
"It's wonderful to see them partake in the experience. It's so nice seeing them get a potentially once-in-a-lifetime opportunity," she said.
In order to give this story its due, we have to start at the beginning, which can only be described as "kismet."
During winter break, McGuire noticed an email sitting in her school inbox from a sender she didn't recognize. The email was from Tarah Waters, the National Program Operations Coordinator for SOS Outreach in Vail, Colo.
Waters' message explained that her organization wanted to extend their SOS Learn to Ski program to fourth grade students at Brass. The students would be given semi-private lessons with ski instructors and receive lift tickets, equipment, winter clothing and meals.
"In a nutshell, she was offering our children an opportunity to participate in a five-week program centered around learning to ski while developing the SOS core values: courage, discipline, wisdom, compassion and humility," McGuire said. "Her reach-out explained the mission of this nonprofit organization she represents, to change lives and build character in underserved communities through outdoor experiences."
Brass Community School, 6400 15th Ave., is in Kenosha's Uptown neighborhood, which has been through its share of hard times.
"With COVID, partnered with the Kenosha unrest, this community has been hit especially hard," McGuire said. "Many children and families are struggling to get by. Skiing and outdoor activities just aren't in the cards."
Given those circumstances, McGuire checked out the SOS Outreach website to see what this program was all about, and to see if it would truly serve the Brass community.
The organization's mission statement convinced her to reply:
"No matter what social, societal, or economic barriers exist, SOS Outreach believes every child deserves the opportunity to thrive. We start with powerful outdoor experiences. Because it's on the slopes or the trail that kids unearth the courage to step outside of their comfort zones, discover new strengths within themselves and develop lifelong skills. Through our proven curriculum, we empower kids in our communities to discover their true potential." (SOS Mission Statement)
McGuire picked up the phone, and made a call to Waters that has already had a huge impact on Brass students.
"Obviously, I was quite taken aback at the offer and wasn't sure if there was something I was missing," she said. "I explained that while this invitation was hard to pass up, it did not seem plausible due to one main factor, transportation. It was not reasonable or realistic to assume our students could get rides to Wilmot each week.
"With very little hesitation she told me that they would be happy to provide a bus to take our students out to Wilmot each Monday. It was right then that I knew I had to make this happen," McGuire said, adding that her next call was to Kaufmann.
The principal shared her enthusiasm, both then and now.
"I gave her the green light and she ran with it," he said. "Within a week we were committed, finding chaperones and preparing permission slips. What a whirlwind!"
The staff had good reason to be fired up about this opportunity; SOS had the track record to back up their fully-inclusive offer.
In the past 26 years, SOS Outreach has provided a variety of outdoor sport experiences to more than 70,000 youth in nine states. The nonprofit partners with myriad corporations including North Face, Spyder and Epic Ski Resorts, which purchased and renovated Wilmot Mountain Ski Resort in 2016.
In order to make sure skiing is truly accessible to everyone, SOS and partners cover it all: equipment, outerwear, transportation, semi-private lessons and even food. Hairbo, the famous gummy candy maker currently building a new facility in Pleasant Prairie, donated string bags and snacks.
So that's everything, right? Not exactly.
Family buy-in was a hurdle that the fourth grade team worked hard to clear. Until Brass staff and administration thoroughly looked into SOS and learned of their mission and legitimacy, it did seem almost too good to be true. So no one can blame parents for initially feeling the same way.
"Truthfully, there was a sense of reluctance when the permission slips went home initially that this was a legit opportunity," McGuire said. "I think this gives an understanding of the mental state this community is in right now and the reluctance to trust.
"So many kids and families really didn't really know what to expect, and there was a fear of the unknown."
So fourth grade teachers Laura Obenauf and Trish Jardon joined McGuire in making phone calls to families, asking them to reconsider and check out the paperwork. The fourth grade team of McGuire, Liberacki, Obenauf and Katy Crosswite along with many other staff members worked together to measure, weigh, and get shoe sizes for students to properly fit equipment. They hoped that taking care of as many details as possible would make it easier for families to say "yes."
Kaufmann is understandably proud of his staff's "all-in" response.
"When we put the call out to the staff the response was amazing," Kaufmann said. "It only took a few days to secure enough chaperones to attend the five Mondays. Remember, these awesome adults are giving up five hours on a Monday night, away from their families, to make sure this opportunity happens."
McGuire said the one thing she never worried about was having enough support from colleagues.
"This Brass staff is filled with the best educators and each week is filled with multiple teachers willing to sign up and volunteer their evening with students," she said. "That's how dedicated this staff is to their students."
The time and effort has paid off: 30 families signed on, paving the way for 30 first-time skiers.
Here's what some of them had to say:
Evelyn: "(Wilmot) is a great place to go. After the lessons you know a lot of things and you learn a new sport. I was surprised I got to try the big hill, and I made it."
Gregory: "We went on the ski lift, it was really fun, and high up and dark. I liked it because I'm not afraid of heights."
Masayah: "The first time I tried, I wanted to quit. But the second time was really fun and now I know when I go back I'll get to try the ski lift. It was hard, but I pushed through it. "
Deriya: "First you go down the bunny hills, then you get to ride the magic carpet. Then the next week you can go on the big hills and when they think you're good you can ride the chairlift. I learned how to turn, you step on the left foot harder if you want to turn left, I learned to go side to side, I learned what 'pizza and pepperoni' mean. When (the instructor) showed us, I knew I could do it. I said 'I can face my fears.'"
Cherish: "Before you start skiing, you have to learn to get up the hills. You bend your knees and turn your skis to the side. If you turn down you're going to fall. At first it was hard, then I got it, and I felt really excited."
Robert: "I had to learn to get up the hill, then I practiced my turns. Otherwise, if I go straight down I'm going to hurt myself."
Jazelle: "At first it was scary and I panicked a lot. But I persevered through it. I learned how to turn, which kind of slows you down so you can do other stuff and even tricks.
DJ: It's fun to go on the slopes. It was scary at first, but now I can do it and I got to ride on the magic carpet."
Julio: "At first the boots and skis were really heavy, but now one of my favorite things is going really fast. I hope I get to try the ski lift, but I don't think I'm ready yet."
Xylan: "The most important thing is that the kids wanted to go skiing and have fun, and we are trying our best to learn to ski. When we grow up we might get to go on to even taller hills. The biggest surprise for me was that I could do it."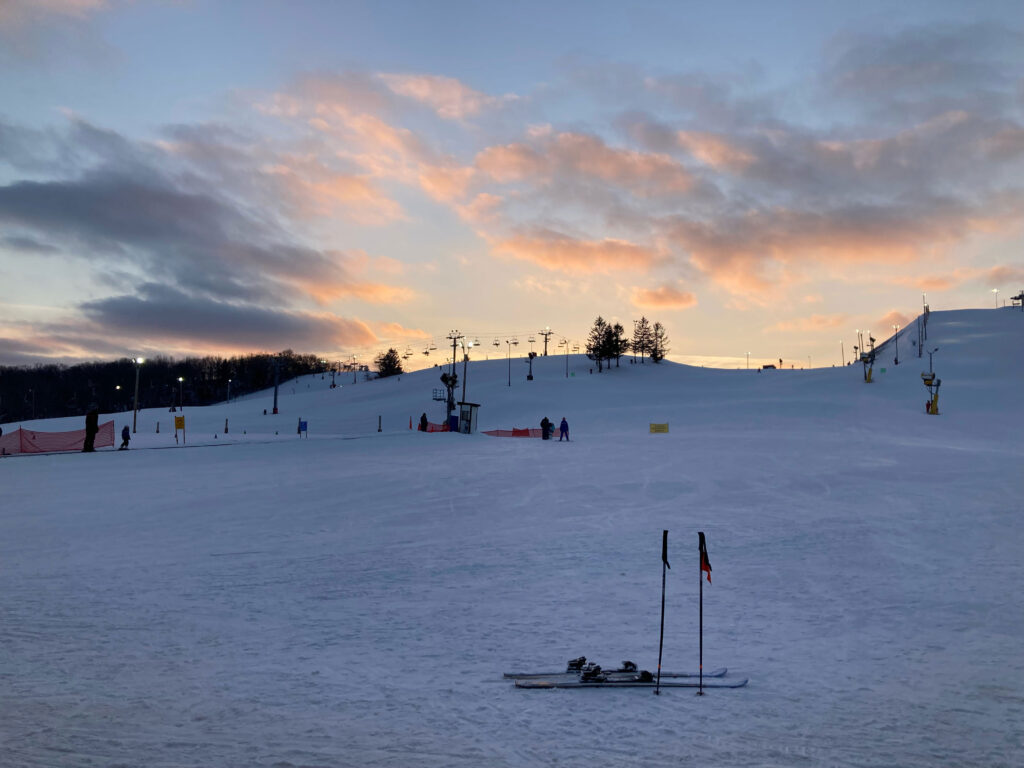 To make sure those reactions evolve into more confidence, more mastery and more outdoor experiences, McGuire said she fervently hopes the program can continue in some form.
"I would love to see this become a sustainable program here at Brass and perhaps in Kenosha County someday, evolving and flourishing," she said. "I became passionate about SOS Outreach from Day 1 and was hooked on its mission. And, truthfully, as an educator, it reignited my fire for teaching while looking forward to something life-changing with my students.
"What a beautiful moment when great ideas and generous people come together."