When Kenosha.com announced its search for Kenosha's Cutest Couple, Bill and Marilyn Nelson stole the hearts of many with a photo that symbolized the epitome of true love and happiness.
But don't for one second believe the cuteness ends there.
Born and raised in Kenosha, Bill and Marilyn met on a blind date to watch "San Antonio" starring Errol Flynn and Alexis Smith at the Kenosha Theatre on Jan. 1, 1950.
"It wasn't love at first sight," said Marilyn, 91. "He thought I talked too much and I thought he was conceited."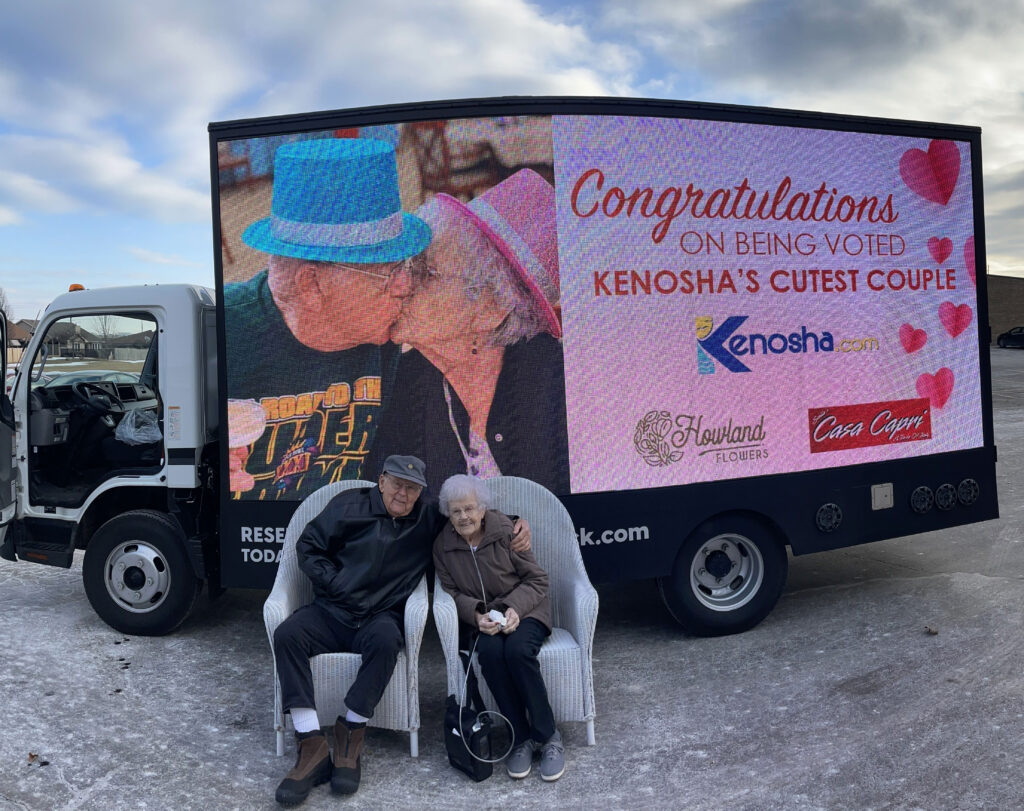 Seven decades, four children, 10 grandchildren and 14 great grandchildren later, the Nelsons are still best friends, lovebirds and Kenosha's Cutest Couple, following a contest they dominated from start to finish.
The Nelsons were one of 70 Kenosha couples nominated for the award and captured nearly one-third of the 10,000 votes submitted by Kenosha.com followers.
In a special Valentine's Day delivery, Kenosha.com founder Jim Gourley presented the Nelsons with a gift certificate to Casa Capri and a stunning arrangement from Howland Flowers of Kenosha on Monday (Feb. 14) at Library Terrace Apartments, 7905 36th Ave.
The Nelsons were humbled and honored to even be considered for such an award.
"I can't believe all of these people voted for us," Marilyn said. "Out of all of these nice, young, good-looking couples."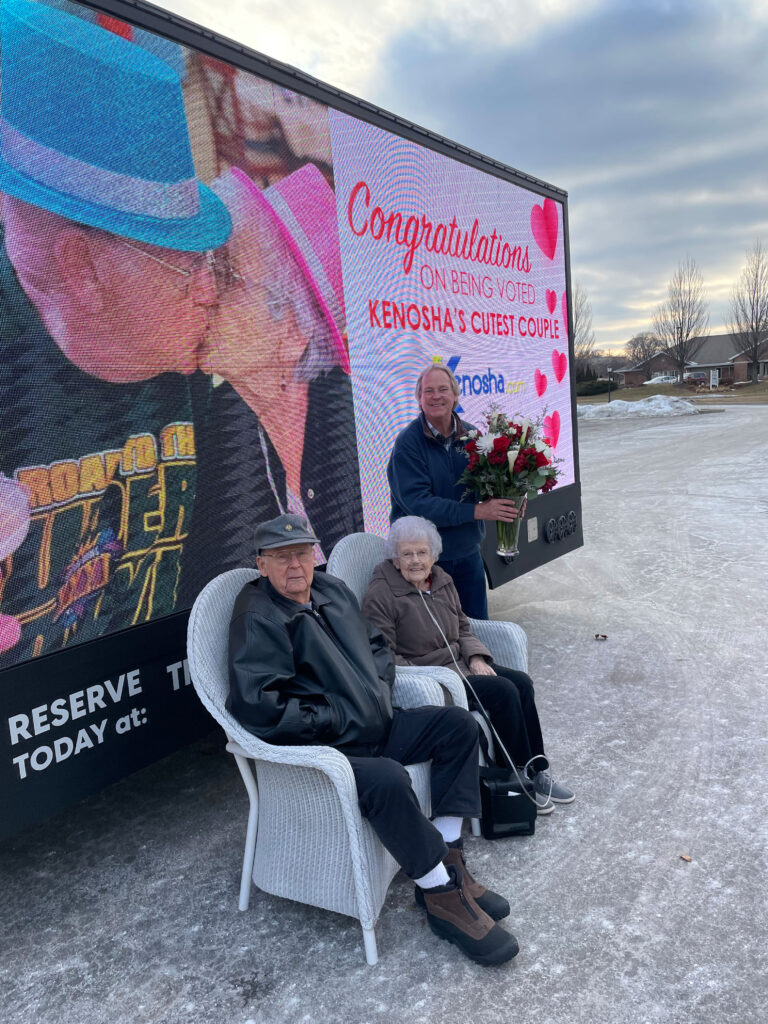 Kenosha's Lanna Luzar nominated them, not only because of their cuteness but their testament to true love, companionship and years of good-natured ribbing.
"You always see young couples nominated — my son just newly married — but that's puppy love," said Luzar, a Life Enrichment Director for 27 years at Library Terrace. "To see the length and longevity of their love story … this is what true love is, being together for 70 years. They're just a lovely couple."
The Nelsons were married on May 19, 1951 at Friedens Lutheran Church in Kenosha. The wedding was pushed ahead for Bill, who enlisted in the United States Army and was off to basic training.
"I was scheduled to go to Korea after basic training," Bill said. "I never made it because I got a tooth extracted and it got infected."
Bill and Marilyn resided in Kenosha for nearly their entire lives. Marilyn worked as a secretary at American Motors Corp. and Bill spent many years at Snap-on and Warwick Electronics in Zion, Ill.
The Nelsons were coworkers at Wisconsin Electric Power Company, where they both retired in 1988.
The couple wintered in Florida for many years before relocating back to Kenosha, the only place they know as home. Marilyn said they returned to Kenosha for a variety of reasons, including the most-Wisconsin answer ever.
"We're brandy drinkers," Marilyn said. "You can't get brandy in Florida."
Becca Ress, one of Nelson's 10 grandchildren, has a special connection with her grandparents. She was elated to learn they were named Kenosha's Cutest Couple and said there was never a couple more deserving.
Ress wore her grandmother's wedding dress to her own wedding on October 14, 2017 in Weyerhaeuser.
"We have a huge, beautiful family and it all started because of a blind date and two people fell in love," Ress said. "Just like the Brad Paisley song."
Marilyn said the three keys to an ever-lasting relationship is faith in God, never going to bed angry and a good sense of humor.
Bill, 93, said there's only one key.
"It was the first thing I learned after getting married: 'Yes, dear,'" said Bill, who said he only removes his thin, gold wedding ring to mix the meatloaf.
The couple offered a reminder that all relationships have their ups and downs. The important thing is to stick together and work through those tough times to make the good times even better.
"In our era, divorce wasn't a problem because it didn't exist," Marilyn said. "We had hard times. Everybody was struggling. We were all kids of the Depression. We didn't have any money, but I think we had more fun."
As Bill rocked back and forth in his recliner, Marilyn looked over and offered a friendly jab.
"We've learned to enjoy each other's company," Marilyn said. "So far."
The Nelsons were one of 25 couples to advance to the final round of voting for Kenosha's Cutest Couple. Other couples with a strong, yet humbling, finish included Dontae Kelly and Ashley Schubert, Josh and Charrie Ferguson, Justin and Amanda Cornell, Andrew and Ashley Gavin and Brandon and Alexis Morris.
Needless to say, the Facebook comments offered days of entertainment:
"I would never complain about free Casa Capri or a beautiful Howland Flowers of Kenosha arrangement, but even Josh and I voted for Bill and Marilyn!! How could we not?!" — Hannah Cruse
"Thanks to the person that signed us up to get our ass kicked by Bill and Marilyn. … Must be how the Bears feel every year having the Packers on their schedule twice. It kind of felt like the rest of us were playing for second place right from the start, which is a testament to them, their love, and, of course, their "cuteness." — Andrew Gavin
"I'm so happy for these two lovebirds. Their story is why I have worked as a Life Enrichment Director for 27 years! They show me what love is all about." — Lanna Luzar
"Congrats to this beautiful couple!!! Life goals right here. Happy Valentine's Day to these two!" — Amanda Cornell
"I knew they would win as soon as I saw their photo. Congratulations on your win and your long life together." — Judy Testard Bauer
"Well deserved! 70 years is the definition of love!" — Sarah 'Sichmeller' Salmon