What happens when you combine one of the oldest sports in the world with state-of-the-art modern technology?
X-Golf.
The fast-growing, virtual golf franchise opened its sixth Wisconsin location on Saturday (Jan. 29) at 8304 75th St., Suite 300 in Kenosha.
X-Golf Kenosha features seven, high-tech simulator bays — one designated for private lessons — and a full-service bar with food and drinks. The franchise offers leagues, tournaments, club-fitting services and professional instruction at nearly 70 locations nationwide.
Rick Leslie, a former Director of Instruction at The Club at Strawberry Creek, is X-Golf Kenosha's PGA General Manager.
"It's a blast," Leslie said. "You can tell just by the atmosphere in here. Everybody is in a good mood."
Geared for family entertainment and designed for golfers of all ages and abilities, X-Golf spent 15 years of research and development to design the most accurate, sophisticated, user-friendly golf simulator ever created.
The simulators perform over 6,000 calculations per second, measuring club path, ball speed, launch angle, rotation and other performance metrics. The technology allows these measurements to perfectly replicate ball flight with fade, draw, hook or slice.
Multiple high-speed cameras allow professionals to analyze a golfer's swing and offer instant feedback and instruction.
X-Golf Kenosha is owned by local chiropractor Chad Sloden, his brother Shane Sloden and Lake Geneva resident Mart Brukwicki.
"We really bought into the technology," Brukwicki said. "This is the future of training. You can sit out on a driving range and hit balls all day long, but you're not going to get a lot of feedback from it.
"You can come into X-Golf, make real-time adjustments and improve your swing in relatively quick fashion. It's something you can't do without this type of technology."
The business model and experience is different from other golf entertainment franchises such as Topgolf, where golfers score points by hitting micro-chipped balls at giant dartboard-like targets on a playing field.
Kenosha County Parks offers a golf simulator at Petrifying Springs, while Tavern on 6th in downtown Kenosha features a pair of simulators.
"Tavern on 6th is a really cool bar with a golf experience," Brukwicki said. "We're a golf experience that happens to have a bar. It's all about golf here."
X-Golf Kenosha entertained a steady crowd in its opening weekend as local golfers dusted off their clubs and enjoyed a round of golf — at their favorite course anywhere in the world — in a comfortable, temperature-controlled environment.
Kenosha's Mike Moreno played a round on Sunday at X-Golf Kenosha with his niece, Lilly Torres.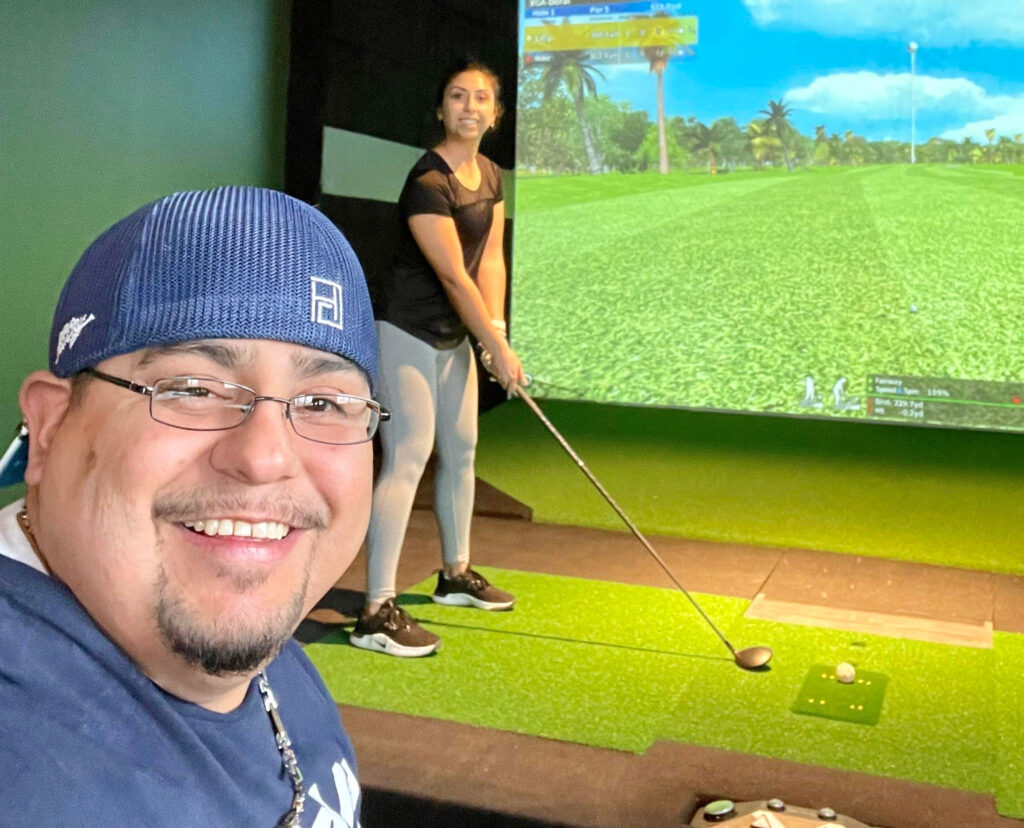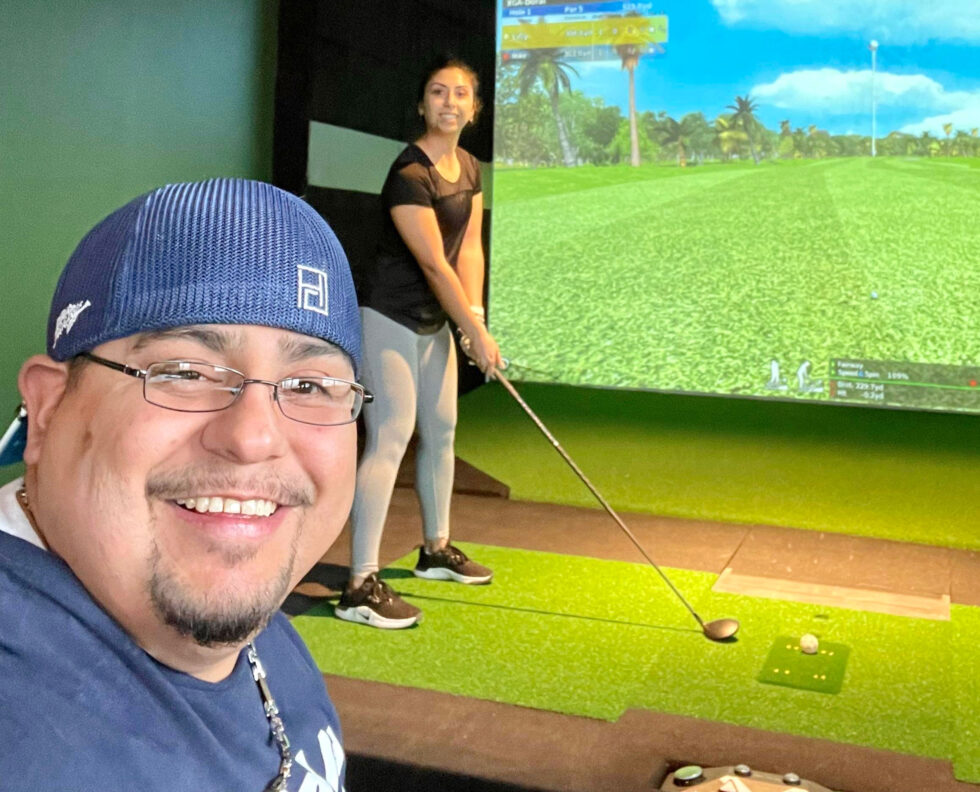 "It was awesome," Moreno said. "I was getting withdrawals from not playing golf over the winter. This was as close as it gets."
A team of "cart girls" were on-staff to provide food and beverage service at each bay.
"We'll deliver the drinks to you," Leslie said. "And you won't have to wait five holes to get them."
A round of 18 holes typically takes around one hour for a single golfer. A foursome would require a four-hour block for a complete round.
Reservations can be made online at XGolfKenosha.com. Hourly rates are $40 on Monday through Thursday and $60 on Friday nights, Saturday and Sunday. Private lessons are also available.