Rustic's Subs is located at 1830 27th Ave., with Chef Paul and Chef Ron in charge of the food. That store is located on the ground floor of a multi-story commercial space/apartment building, on the east end of the Pick 'n Save grocery-store strip mall. Rustic's space looks like a former Subway operation, which it might have been when that building opened.
In any event, all comparison to a national chain ends right there. This is homemade food.
The menu is huge. Rustic's serves breakfast sandwiches from 6 to 10:30 a.m., along with homemade biscuits and gravy. Nine cold subs, seven hot subs, four baked subs (most of those three available in either half or whole), four 16-inch subs, eight wraps, six pressed sandwiches, seven regular sandwiches, homemade soup and a handful of sides.
The staff is friendly, and the service is quick, although you should know that the sandwiches are often toasted or pressed the old-fashioned way, not necessarily in a convection oven, so orders might take a few minutes, especially at peak times. Rustic's also has delivery service.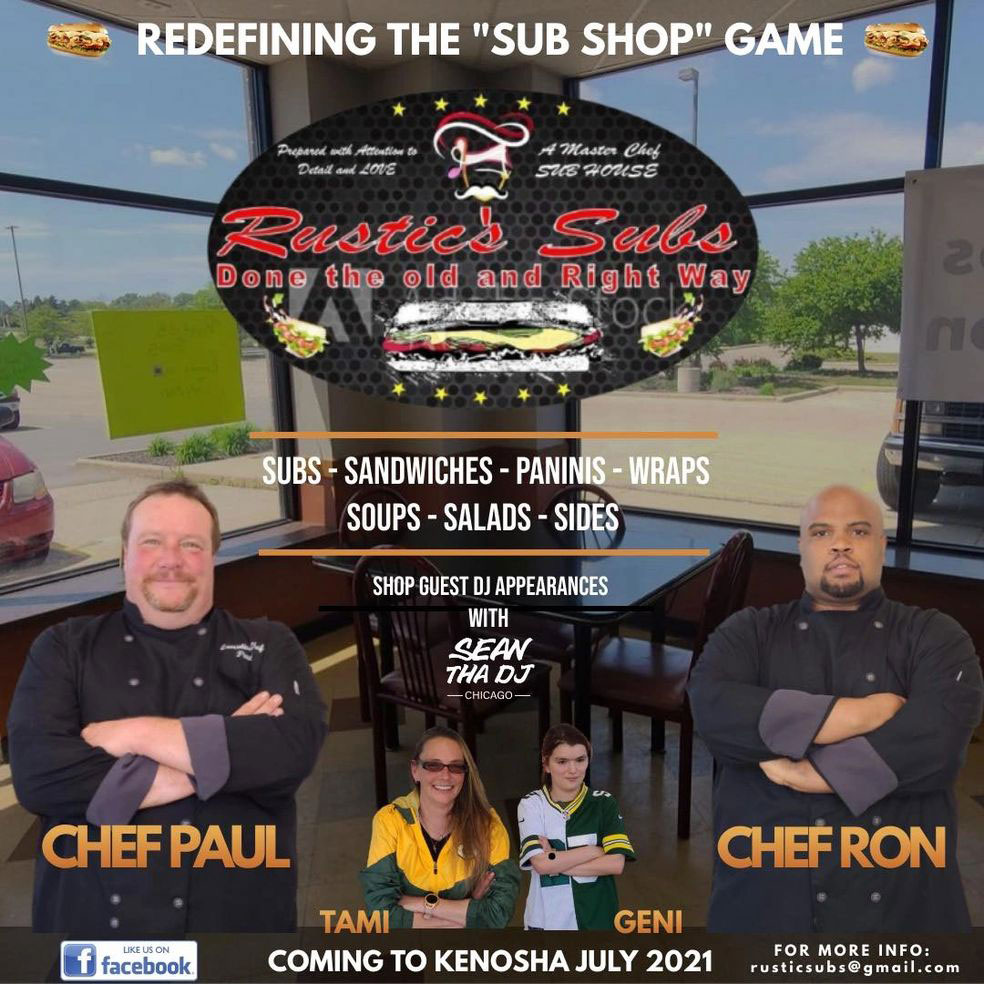 I made three visits to Rustic's. On my second visit on Jan. 27, I went for breakfast. Starting on Wednesday (Feb. 2), Rustic's winter hours will limit breakfast to Fridays, Saturdays and Sundays, same hours. I had the lox and bagel ($8.99), and I'm going to run out of superlatives on this sandwich.
Rustic's gets their bagels, via air-freight, from Just Bagels in the Hunter's Point area of the Bronx, New York. The same bagels are also available on Amazon and QVC. They're not the best bagels I've ever had, but they're in the conversation. They're the real thing, a New York bagel and pretty good. The selection at Rustic's was limited to plain, cinnamon raisin, one type that I forgot and poppy seed, which I had.
Now here's where the superlatives begin and let's start with awesome and unbelievable.
The lox is house made and out of this world. It's fresh tasting, very well-seasoned, just a little salty like it should be, and slightly toothsome. It's ridiculously good. These guys hit a home run with the lox.
As the late chef/food writer Anthony Bourdain used to say, "You need this, you want this." Run, do not walk, to Rustic's for the lox. Outside of Zingerman's Deli in Ann Arbor, Mich., and maybe someplace in Chicago, this is some of the best lox in the Midwest, and the sandwich can stand up to any deli I've been to in New York City. As former Carthage Carthage basketball coach Bosko Djurickovic would say, "Wow, wow, wow."
Now to the rest of the sandwich, which as Cleveland chef Michael Simon would say, "does not suck." The bagel was nicely toasted. It was smeared with some cream cheese that Rustic's lightens up with a splash of heavy cream. Finally, the sandwich was garnished with thin-sliced tomato, thin-sliced red onion and a small handful of capers. Capers!! Way to go, guys! That spells classic.
If you're reading on a day and time that they serve breakfast, stop what you're doing and get over to 18th Street. Otherwise, do it on the next available day, but do it. I could live on this sandwich. And, lucky me, I got a 10 percent Carthage College discount (hey, I still work there), making this a $7.49 sandwich plus tax. It's one great sandwich at a great price.
I went back on Jan. 28 for lunch and had the Philly Cheesesteak ($8 for a half). Served on the same sesame hoagie bun as the Cubano, the Philly has a very large portion of chopped beef that's been steamed on the flat top with white American cheddar cheese and grilled onions. Grilled peppers and grilled mushrooms are optional extras.
The result is a tasty amalgam of beef, totally-melted cheese and onions. The cheese is not visually recognizable, but the taste is there, for sure. The beef was tender, well-seasoned and quite good. The mixture of the beef, cheese and onion was slightly addictive, and I tore the sandwich pretty fast. I wish the hoagie bun had been toasted, but I quibble. It's a very good sandwich, and it's served with the same giant dill pickle that I got with the Cubano. Solid work.
I really wanted the sister sandwich, the Texas Philly, which is an occasional special. That one comes with regular cheddar cheese (I don't care about the color, really) and is served on grilled Texas toast. I'm a sucker for sandwiches on Texas toast. Next time.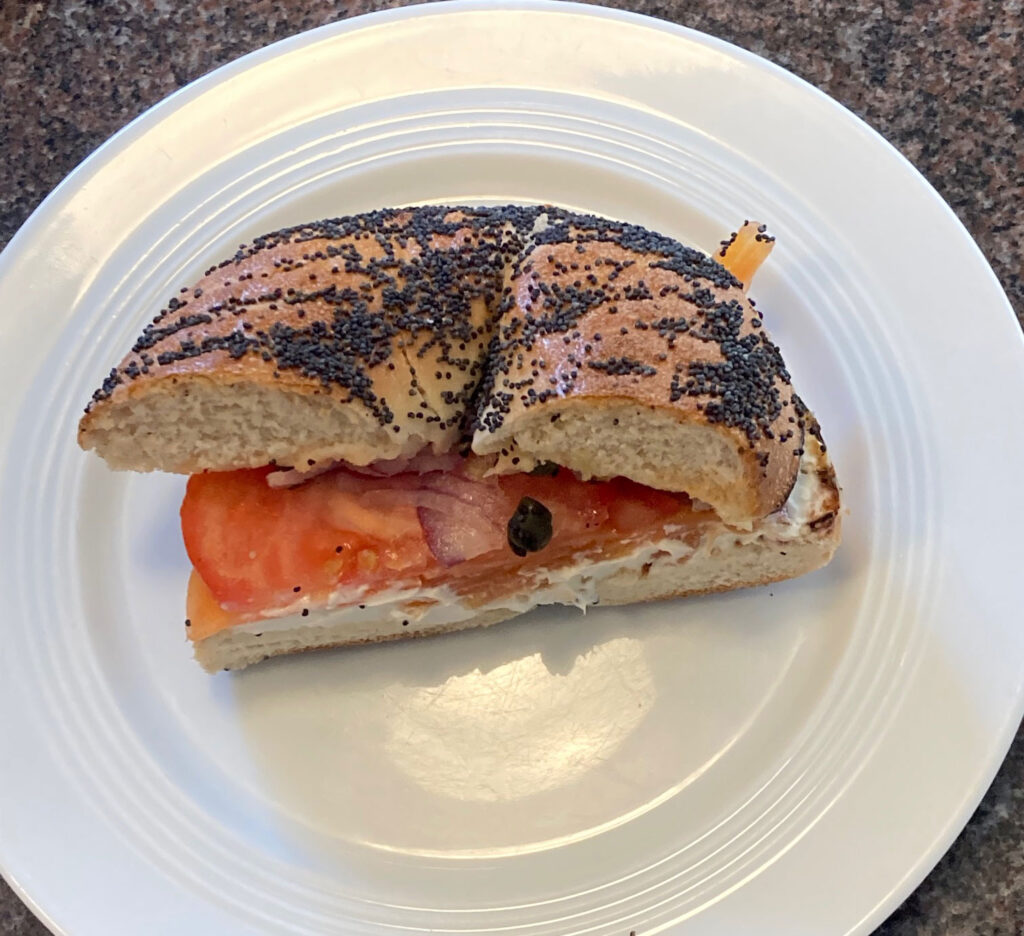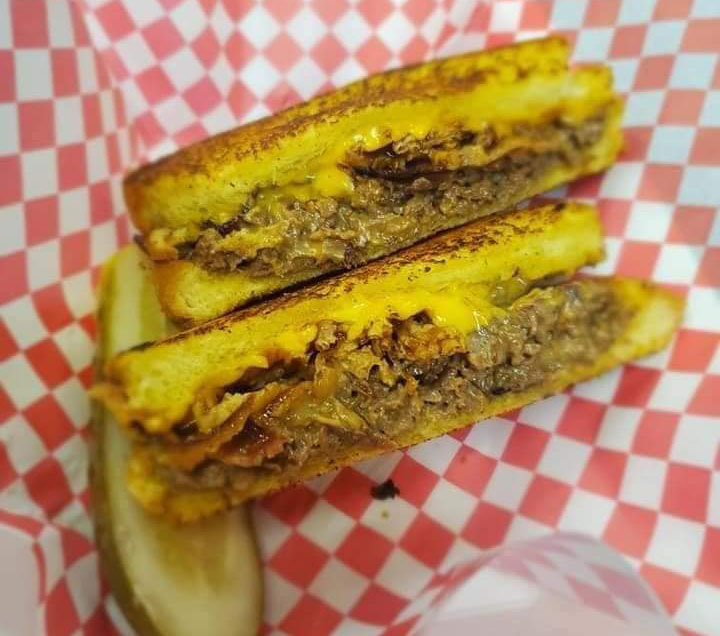 On my first visit on Jan. 13, also for lunch, I had a Cubano ($7.20), which is a recent addition to the menu. A Cuban sandwich is one of my favorites. I've eaten them all over the Tampa and Miami area in Florida, and I also make my own (more on that in a moment). When my Cubano was delivered to the table, I was a little jarred by the sesame hoagie bun — they don't use those in Florida. A minor point, I admit.
Rustic's version was classic Cubano with roast pork, sliced ham, Swiss cheese, mustard and thinly-sliced pickle within the sandwich. The Cubano was clearly prepared with a sandwich press (think Panini machine) that left the bread properly crunchy and the Swiss cheese melted. The sandwich was served with a giant half of a dill pickle, which was terrific.
The first bite, all crunchy and melty, was satisfying, but the next few bites left me rather underwhelmed. The sandwich was bland, except for the nicely-sour sliced pickle. A sandwich typically has three or four elements, so a great sandwich needs all (or most) of its elements to be a cut above normal. I pulled out a bite of the roast pork, which was thoughtfully chopped for easy eating, and the pork needed a lot more assertive seasoning. I could taste some salt, but that was about it. The sliced ham was off-the-shelf deli ham — nothing special or unusual about that. The end result was a nice sandwich that could have been great if the pork and the ham were elevated.
I'm not trying to say I know more about cooking than Rustic's does, but let me tell you about my Cubanos. I use standard Turano sub buns, not sesame, which are readily available all over Kenosha. There is a special Cuban bread that most Florida shops use, and that I've made, but a good sub roll is fine.
The roast pork is the critical element. A few times a year, I'll cook a whole pork shoulder, either with a Cuban-style marinade with a lot of garlic, minced onion, olive oil, dried oregano and juice from fresh-squeezed lemons, limes and oranges, or a traditional American Southern dry rub of kosher salt, cayenne pepper, black pepper, brown sugar, garlic powder, onion powder, chili powder, cumin, dried mustard and smoked paprika.
With either flavoring, the roast has to slow cook (I use a regular oven, but a smoker is great), to reach a temperature of about 210 degrees. That can takes at least six hours, and cooking past the 200-degree mark assures the fat melts and the meat breaks down easily. Now you have copious amounts of roast pork, half of the meat I need for a Cubano. If you don't have the time to fool around with a 10-pound pork shoulder, I get that. The Nuevo Centro Hispanic grocery at 5917 39th Ave. has you covered with its delicious carnitas by the pound.
What about the ham, you might ask? I order a small smoked ham every year around Christmas. I recommend Burger's in Missouri, Harrington's in Vermont or Nueske's right here in Wisconsin. Now I have a perfect salty and smoked meat that pairs perfectly with the sweet pork. I don't obsess about the Swiss cheese or the pickles. I do use something other than ballpark mustard, though. Wisconsin has a lot of great mustards. Middleton, Wis., happens to be the home of the National Mustard Museum. One readily-available brand is Koops', made right here in Pleasant Prairie. I know that plain yellow mustard is the standard for Cubano's, I've used Koops' stone ground, spicy brown, and Dijon for this sandwich. If I had to pick one, I'd use Dijon. For the inside pickles, I use Kosher dill sandwich slices.
There are a lot of good Panini presses on the market. I have a Villaware Model 2160, which was a thoughtful Christmas gift from my wife years ago. That model runs about $100 and does a terrific job with Cubanos.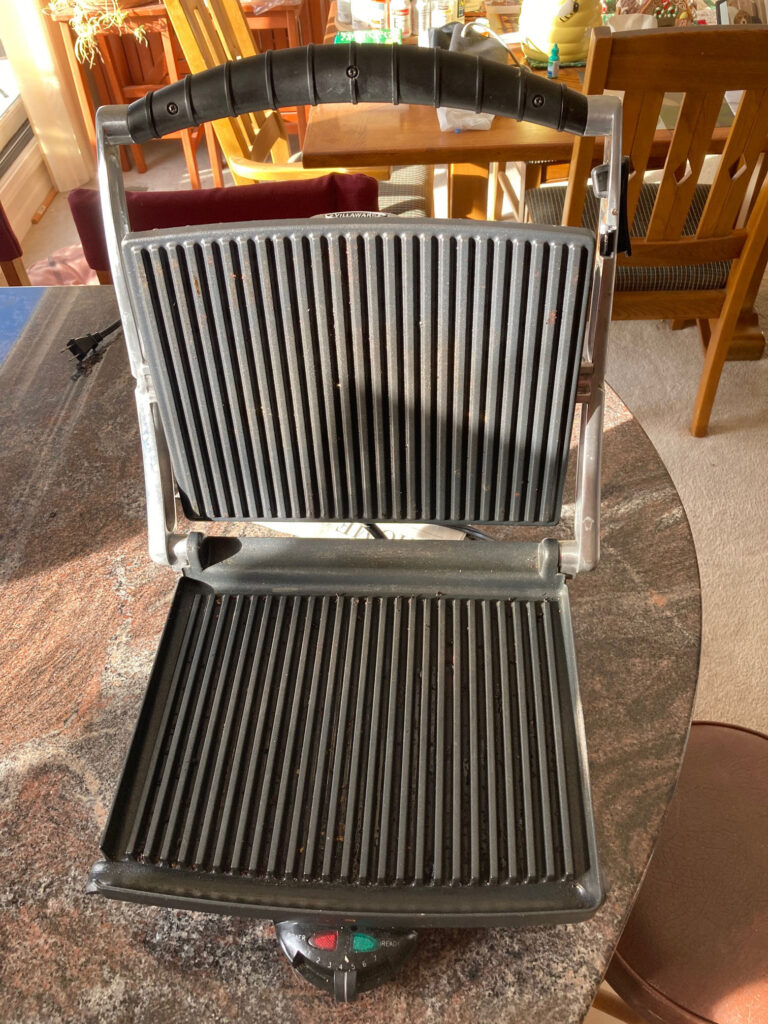 So, here's my point. A great Cubano needs great roast pork and great sliced ham. Rustic's: I challenge you to take the next step.
The final word on Rustic's is this. It's a really nice place with really, really good food. The menu, along with their specials, offers a wide variety of choices. The separate breakfast menu is limited, but it all sounds good. Rustic's is a terrific addition to the Kenosha sandwich scene and a really great option for north side eating.
The final word II: A few days after I submitted this review, Rustic's ran the Texas Philly as a special. I had to have one, and was that sandwich ever worth the trip. The same chopped beef that I had on the standard Philly, but this was on grilled Texas toast with regular cheddar cheese, barbecue sauce and bacon!! I didn't know it came with bacon. Everything is better with bacon. The Texas Philly is an excellent sandwich. The grilled Texas toast is slightly crispy, the beef, as I've already mentioned, is very tasty and matches perfectly with the barbecue sauce. The crunchy bacon just sends it over the top. Note to Rustic's: This sandwich is too good to be relegated to a special — you should put it on the permanent menu, along with the 100 other items already listed on the chalkboard.