On this date (Jan. 31) in 1987, the Green Bay Packers hired Kenosha native Tom Braatz as their vice president of football operations.
This was a revolutionary move at the time for the Packers, who were trying to figure out how the glory days of Vince Lombardi fit into the modern structure of the National Football League.
With the exception of Lombardi's one-year stint as strictly a GM in 1968, Braatz's hiring marked the first time since 1959 that the Packers coach did not have sole authority over football matters.
With the success that Lombardi had — assembling an iconic nucleus that claimed five NFL titles between 1961 and 1968 — it is obvious why the Packers were hesitant to break from the ways of their past.
In the wake of a disastrous 1986 where the Packers went 4-12 and were beset by embarrassing problems on and off the field, it was clearly time for a shakeup.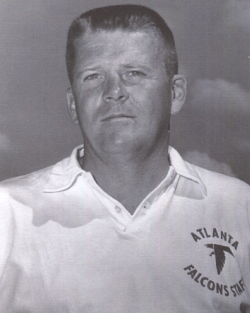 Braatz's post was created by team president Robert Parins. Braatz was chosen after the Packers had interviewed or evaluated 35 candidates.
According to reports of the day, Braatz would be in charge of the scouting department, trades and the draft, "(Braatz) will answer only to the president and be on the same level as the head coach," Parins said at the time.
"We conducted an extensive search for what I would call a knowledgeable football person. We felt in our search we didn't exclude anybody. We felt we needed someone with a great breadth of experience."
Braatz joined the Packers following 22 seasons in the Atlanta Falcons' personnel department. He played at Kenosha High School with Alan Ameche and was an All-Stater in football and basketball. Braatz played collegiately at Marquette serving as captain in his senior season of 1954. His four-year NFL career as a linebacker ended in 1960 with Dallas.
"It's just football," Braatz said when asked what attracted him to the Packers' post. "You don't have to fool with tickets and you don't have to fool with public relations.
"The Green Bay Packers are rich in tradition and have always been regarded as one of the finest organizations in the National Football League. I look forward to working with staff members and players."
The fact that the Packers coach was losing power was a big part of the story surrounding Braatz's hiring.
The fact that the coach was Forrest Gregg — whom Lombardi called "the finest player I ever coached" — really put this move under the microscope.
"Forrest and I have had several discussions (at the scouting combine) in Indianapolis prior to me taking the job," Braatz said. "Everything was ironed out before I said OK."
Said Parins, "(Gregg) was completely agreeable and willing to go along with anything in the interest of the organization. … (Gregg) was fully advised. There hasn't been a step that we haven't shared with the coach."
The Braatz-Gregg tandem didn't last long.
After a 5-9-1 showing in the strike-shortened season of 1987, Braatz fired Gregg and hired Lindy Infante after Michigan State's George Perles, his first choice, looked to have the job before backing out.
The Packers seemed to be turning it around in Braatz's third year when the 1989 club went a magical 10-6 but missed the playoffs.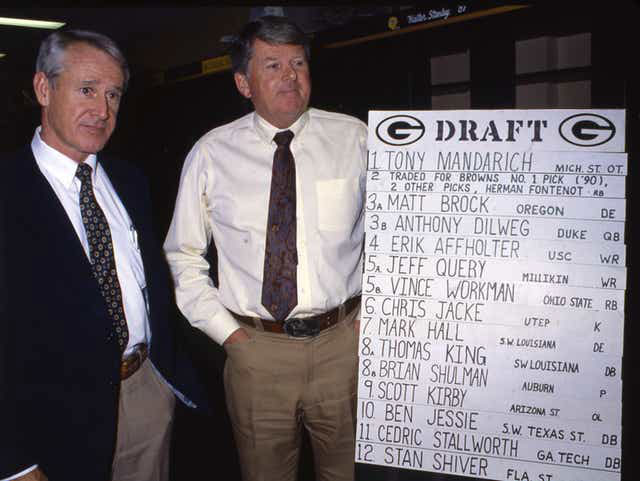 Among that 1989 team's top contributors were Braatz draftees Don Majkowski (quarterback), Sterling Sharpe (wide receiver), Brent Fullwood (running back), Johnny Holland (linebacker), Chuck Cecil (safety) Keith Woodside (running back) and Chris Jacke (kicker).
The future appeared bright as Braatz added to that core with 1990 draftees Leroy Butler (safety), Tony Bennett (linebacker), Jackie Harris (tight end), Bryce Paup (linebacker) and Lester Archambeau (defensive end).
Hope was still hanging in the air when the 1990 team overcame a Majkowski holdout in posting a still-in-contention 6-5 record through November.
However, an injury to Majkowski touched off a season-ending six-game losing streak, which was part of a skid that would see the Packers go 2-14 heading into their Nov. 24, 1991 game vs. the Colts.
Braatz never made it to that game.
President Bob Harlan, on the job for five months after succeeding Parins, fired Braatz on Nov. 20, 1991. Within days, Harlan hired Ron Wolf and gave him complete control of the football operations.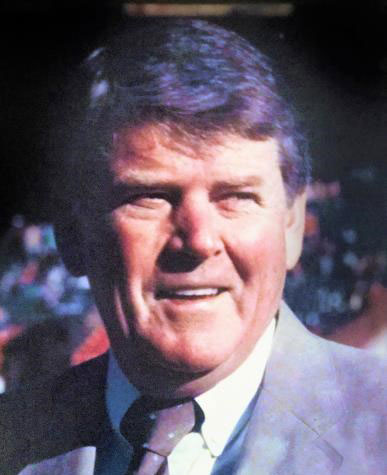 "What it came down to was I thought we needed to revamp our scouting department," Harlan said at the time. "I didn't think we were bringing in the kind of material we needed if we were to win consistently and give this club some new direction."
While Braatz will always be remembered for drafting massive-tackle-turned-massive-bust Tony Mandarich over Barry Sanders, he didn't exactly leave the cupboard bare at 1265 Lombardi Ave.
Butler and Sharpe will be Pro Football Hall-of-Famers one day while Majkowski (a 10th rounder), Cecil, Paup, Fullwood and Jacke all made the Pro Bowl at some point in their careers. In addition, Butler and Jacke were key contributors on the Packers' Super Bowl XXXI champions and Archambeau was a starter for Atlanta in Super Bowl XXXIII.
Oh, and it was Braatz who acquired the extra first-round pick that ultimately netted the Packers Brett Favre.
Braatz, a member of the Kenosha Public Schools Athletic Hall of Fame and the Scouts Hall of Fame, was hired by the Miami Dolphins as their director of college scouting on June 12, 1992. He worked there until retirement in 2003. Braatz died in Ft. Lauderdale, Fla., at age 85 on Oct. 30, 2018.
Notes: Sources for this story included press reports of the day, Braatz's obituary at packers.com and various football websites.
For more information or to comment on this feature, contact the author at dmarran359@aol.com