If you have Paul Vagnoni as a Facebook friend, you will be entertained.
Born and raised in Kenosha, the 1975 Tremper High School graduate can put a seasoned social media expert to shame with his ability to engage an audience.
Vagnoni puts together quizzes and conducts prediction contests for Green Bay Packers games. His last contest attracted 72 prognosticators (only five picked the victorious San Francisco 49ers).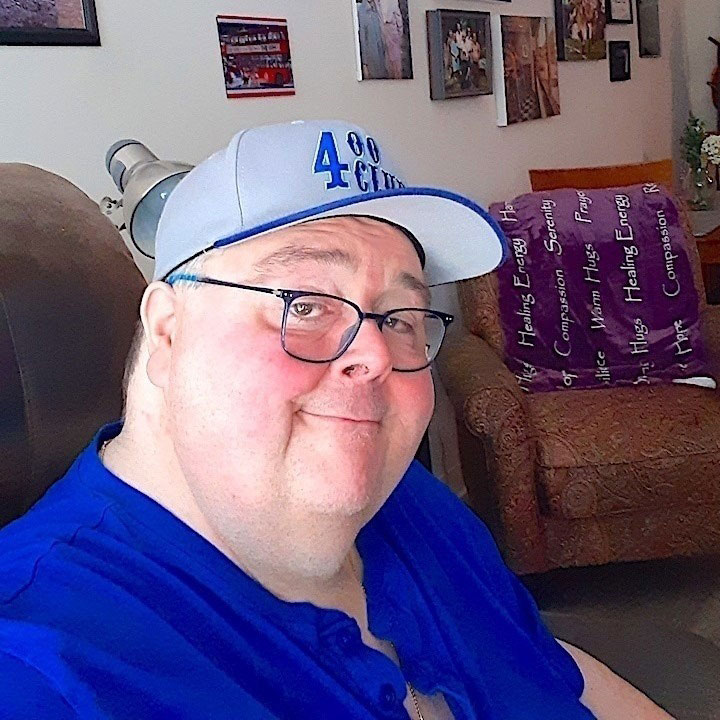 The author of two books — "Some Kenosha Softball" and "More Kenosha Softball" — the 2014 Kenosha Softball Hall of Fame inductee is your go-to guy on anything pertaining to the glory days on the Kenosha diamonds.
His knowledge of classic TV is top-notch, and he is a bobblehead enthusiast with a personal collection of more than 150, including 38 of former Milwaukee Brewers slugger Prince Fielder and one of himself thanks to a recent Christmas gift from friend Jamie Cairo.
Blessed with a terrific memory, he is known to share longform stories, often humorous, about growing up or time spent at Koos, Inc., where he was employed for 17 years and received the nickname "Puddles." He detailed how he was tagged with that moniker not long ago.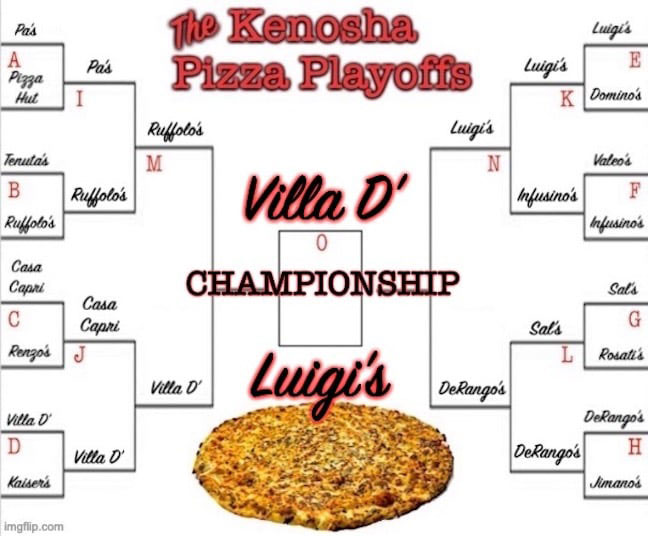 Recently, Vagnoni put together the Kenosha Pizza Playoffs – a tournament bracket, which featured Kenosha pizza places seeded 1 through 16. The only criteria? Vagnoni had to have eaten the pizza at least once in his life. After voting on first-round matchups, voters picked their favorites in the quarterfinals, semifinals and championship.
In the end, second-seeded Luigi's Pizza Kitchen defeated fifth-seeded Villa D' Carlo, 36-25, to claim top honors.
To get to the championship round, Luigi's beat Domino's (18-1), Infusino's (34-7) and DeRango's (43-12), while Villa D'Carlo knocked off Kaiser's (13-6), Casa Capri (24-17) and Ruffolo's (44-11).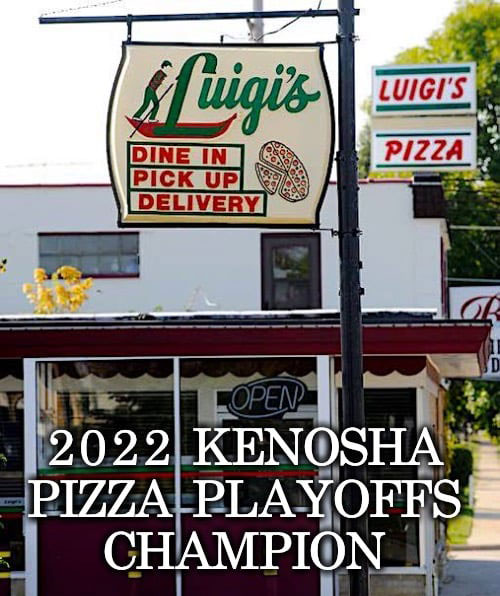 Selected as the Kenosha.com Kenoshan of the Week, Vagnoni grew up across the street from St. Mary Catholic Church and two blocks away from Luigi's, which opened in 1963.
"It was a lot of fun," Vagnoni said. "I like sports, so I just tied the two together. My No. 1 seed was Pa's, but I thought it would be between Carl's and Luigi's. It was surprising that Luigi's won by that big of a margin.
"As my friend Rick Mogensen said, 'We're spoiled here in Kenosha.' There are so many good places to get a pizza."
While health-related issues have limited his pizza consumption in recent months, Vagnoni knew his contest would bring out the passion in people because everyone has their favorites.
"It's just a lot of fun," he said. "People get involved."
It hasn't all been fun in recent years, however.
Covering a 663-day stretch from Jan. 26, 2018, to Nov. 21, 2019, Vagnoni spent 303 days at The Bay at Water's Edge Health and Rehabilitation Center, 296 at Kenosha Estates Living & Care Center, 21 at Lakeview Specialty Hospital and Rehab, 19 at St. Luke's Hospital, 18 at Froedtert Kenosha Hospital and six at Aurora Medical Center.
"During that tour of duty, I had four urethral dilations, a giant prosthetic reinforcement of the visceral sac (60-pound hernia), a scrotoplasty and a urethroplasty," the 64-year-old Vagnoni explained.
Bedridden for about a year, he had to learn how to stand and walk again.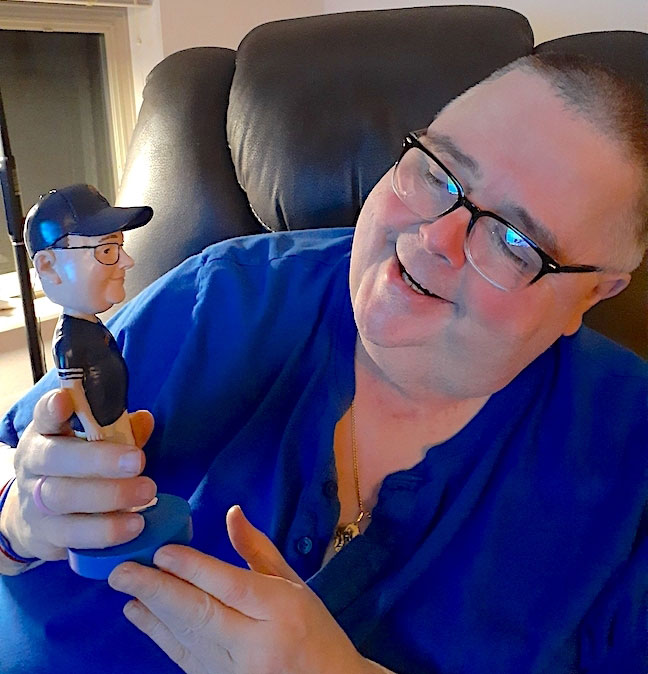 He wants to write a third book about his nursing home experience.
"What I've learned about nursing homes in America is a horrible thing that needs to be talked about," he said.
Vagnoni made sure to mention he did meet employees who went above and beyond and had a memorable moment or two along the way.
A fan of Betsy Ade & the Well-Known Strangers, Vagnoni received a Thanksgiving surprise in 2018 when the band played a 45-minute set in his room while he was a resident of The Bay at Water's Edge. Later, he "got a pass to get out" and went to see the band perform a Saturday benefit show at the Moose Lodge in Racine. The band greeted Vagnoni warmly and acknowledged him during the show.
"When you're down, there are people out there who really step up," Vagnoni said. "People who you thought were really close to you disappear. It works both ways."

Just when Vagnoni thought his health troubles were behind him — noting that "I've now been out longer than I was in" — he was informed on Dec. 6 that he has neuroendocrine cancer. The tumor was found during a recent endoscopy. He is currently waiting for results after undergoing tests earlier this week.
That's what makes Vagnoni's uplifting Facebook page even more impressive.
"You've got to have something to keep your mind off all the crappy stuff in life," he said. "People always tell me, 'I can't believe how upbeat you are with everything you've gone through.'
"What I learned through all of it is you have to focus on what's positive. You have to have stuff to look forward to."
Take five with Paul
Favorite TV shows — The Wire, The Andy Griffith Show, Survivor, The Sopranos, The Rifleman
Kenosha softball players (best he's seen play) — Bruce Meyers, Jack Zimmerman, Dick Laba, Bill Johnson, Jeff Clark
Favorite athletes — Prince Fielder, Giannis Antetokounmpo, Robin Yount, Arella Guirantes, Gino Cavallini
Favorite movies — Bang the Drum Slowly, My Cousin Vinny, The Breakfast Club, Road House, The Peanut Butter Falcon
NOTE: To nominate a Kenoshan of the Week click here or email Andrew@Kenosha.com.