How are those New Year's resolutions going? Sometimes the best resolution is to vow not to make any.
When it comes to books, however, setting a goal has no downside. The sea of great titles, whether current or classic, is so vast that any incentive to dive in will likely pay off. So whether readers choose traditional or e-books, frequent the library, shop new or used bookstores, take advantage of plentiful Free Little Libraries or have shelves of books in their homes waiting to be opened, readers already have what they need to take on this challenge.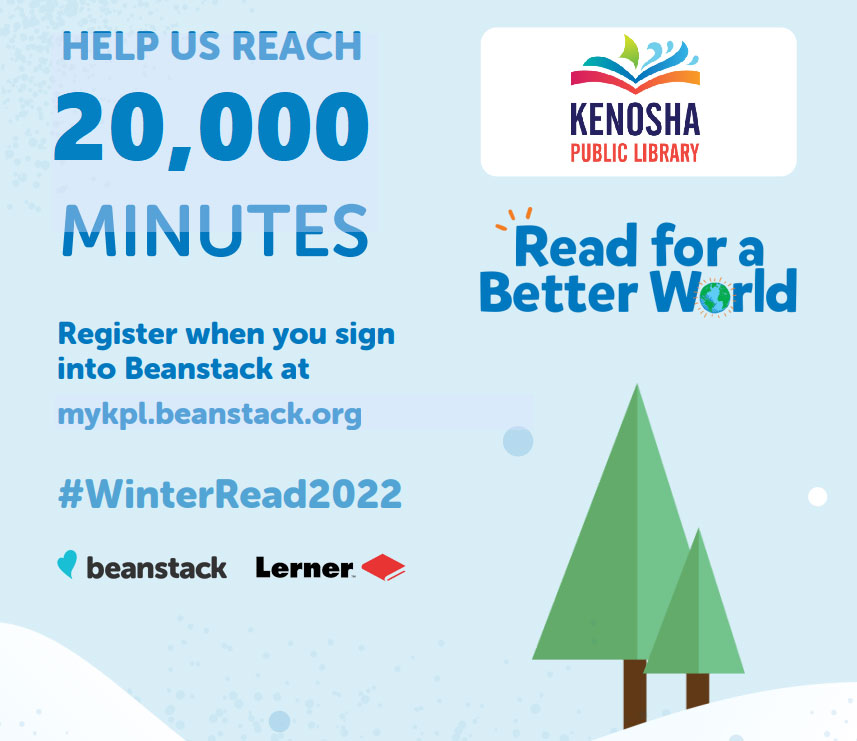 Most library systems offer reading clubs, some annual and others are seasonal such as Kenosha Public Library's current Winter Reading Challenge (through Jan. 31). On a larger scale, one can find websites specifically designed as a way to keep track of and share thoughts about completed books, with added perks such as recommendations, reviews and author interviews.
Perhaps the best known of these online havens for book lovers is Goodreads, a website and app that boasts 90 million participants from all over the world. Among the myriad features Goodreads offers is its popular annual Reading Challenge.
It's simple: Either visit the Goodreads website or download the app. Next, click on the 2022 Reading Challenge banner or icon. Users can set a goal, then come back to record books as they read them. The app keeps track and gives updates on pacing.
A quick glance at this year's Reading Challenge reveals an average goal of 43 books, balancing out lofty goals off 100-plus and many looking to just get started with a goal of 1.
Kenoshans using Goodreads are just as varied. From one seasoned bibliophile in her eighth year of reading into the triple digits annually, to people trying it out for the first time, our city is well-represented. After posting a Facebook question about the merits of Goodreads, some participants checked in to share their experiences.
Anyone who knows lifelong Kenoshan Charity Eigenberger must be aware of her love of books across all genres. It's also apparent that she's a teacher, because her Goodreads Reading Challenge history resembles a straight-A report card. She has eclipsed the century mark on the website annually since she started joining the challenge in 2015.
What's her secret?
"Well, I probably don't get as much sleep as I need to, but I also always have a book with me so if I'm waiting at the doctor or pharmacy or whatever, I can sneak in a chapter or two," Eigenberger said. "One of the reasons I love tracking what I'm reading is because the algorithm gives suggestions about other books like the ones I'm reading. I found a lot of really amazing literature that way."
Another KUSD teacher, Sarah Weber, is newer to the Goodreads Challenge, and has already experienced success — and not just because of her final tally.
"I did it last year and surpassed my goal! I am doing it this year and increased my goal," she said. "One of my favorite things is being introduced to new books and genres I typically don't read, but then trying them and falling in love with them."
Of course it's not necessary to participate in the challenge to use Goodreads' myriad features. Those interested in finding reading communities big and small can click on the Community tab to find reading groups that range from the popular Reese's Book Club with 96,000+ members to groups especially for specific professions, fans of various genres, groups by location, special interests and more.
Groups don't have to be big or well-known to call Goodreads home. One location-based group from Westville, Wis., (population 2,865) has 7 members, which would translate to a book club with 245 members in Kenosha.
Other features include book trivia, Ask the Author, quizzes, quotes and more. Recommendations across all genres are available, and a personalized list is curated for users based on books they've clicked on as a "Want to Read" selection.
Kenosha-area readers responding to our Facebook query also chipped in their recommendations as well as one mini-reivew (listed alphabetically by author), so why not get started with any or all of these:
"The Push" by Ashley Audrain
"The Last Thing He Told Me" by Laura Dave
"The Lies that Bind" by Emily Giffin
"The Storyteller: Tales of Life and Music" by Dave Grohl
"The Midnight Library" by Matt Haig
"It Ends with Us" by Colleen Hoover
"Verity" by Colleen Hoover
"Hidden Valley Road: Inside the Mind of an American Family" by Robert Kolker
"Small Great Things" by Jodi Picoult
"The Ice Monster" by David Walliams
"Then Came You" by Jennifer Weiner
For fans of YA fiction, Eigenberger shared her top recommendation:
" As a teacher, I've had a hard time finding an author I love more than Roald Dahl. But, David Walliams fits the bill! This is a great kids book about a 10,000-year-old mammoth and a misunderstood little girl and how they learn to trust and help each other."
Do you have a book or author recommendation you'd like to share in our weekly Bookmark column? Email Laura@kenosha.com and let us know.