The Restaurant:
KTown Cafe, 2324 18th St., is a brand new eatery on Kenosha's north side featuring classic diner fare.
The Featured Dish:
Oreo Waffles — Chocolate cookie infused sweet waffle batter topped with chocolate syrup, whipped cream, and Oreo crumbles.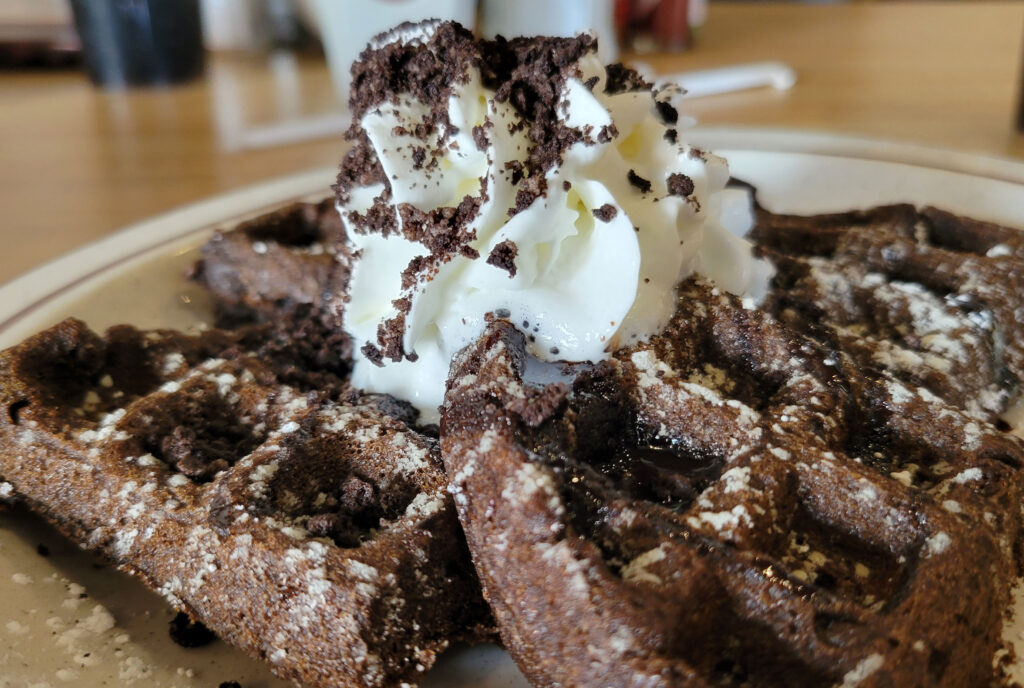 The Flavor and The Story:
KTown Cafe is the newest entry into Kenosha's breakfast and lunch dining scene.
This new restaurant is a welcome addition to the north side, offering up classic diner items and a casual daytime atmosphere.
The large dining room is bathed in natural light and features old photos of Kenosha landmarks as well as a larger-than-life image of Kenosha native Al Molinaro.
The menu features everything you'd expect from a casual diner from breakfast items to homemade soups and gigantic club sandwiches.
Mixed into the large selection of familiar, are some unique breakfast creations that are guaranteed to appeal to your sweet tooth.
I simply could not resist trying the Oreo waffles, and I'm glad I did.
The chocolate cookie waffle batter is about as close to having brownies for breakfast as you can get without judgment from your peers or parents.
The waffles are crispy on the outside while soft and warm in the middle and the flavor is great.
Honestly, the waffles served plain would be delicious on their own, but this dish is just getting started.
The warm, fresh waffles are topped with chocolate syrup, whipped cream, and a dusting of Oreo cookie crumbles that all add to the decadent experience.
KTown Cafe is a welcome new addition to the Kenosha restaurant scene. Check them out next time you can't decide between breakfast or dessert. You can have both here at the same time.
The Oreo waffles are available every day and priced at $7.99.
KTown Cafe is currently open for dine-in and also accepts carryout orders. You can view this and the entire menu on their Facebook page.