Ryan Helton used to lift 14 tons a day.
Now he just lifts his fingers.
Helton is a City of Kenosha Waste Division garbage collector who for years drove trucks that required him to leap out at each stop and load bags weighing up to 40 pounds or more.
"It was tough work — really physical," Helton said. "Everyone was pretty banged up every day: Shoulders, backs, knees, joints. Rolled ankles. It was all by hand, all manual pickup."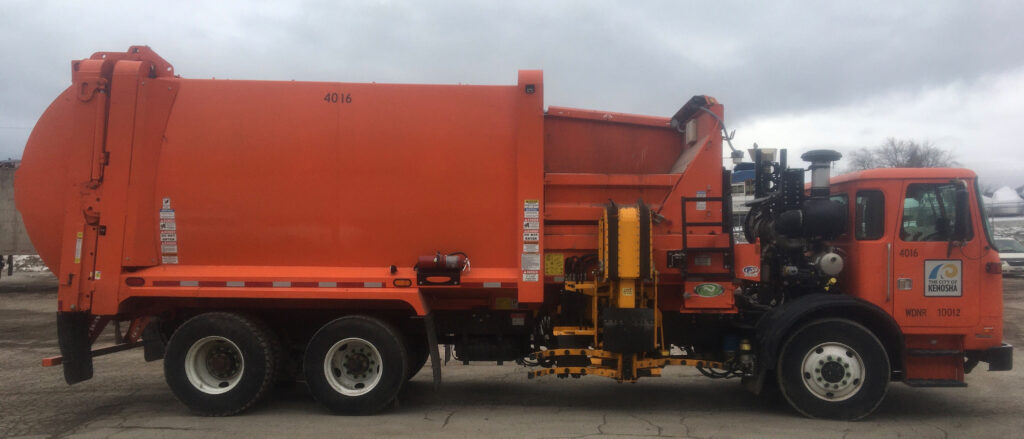 Not anymore. That body-busting labor is now performed by a machine.
Call it a garbage-grabbing godsend.
Beginning in August of 2020, the city switched to trucks equipped with automated arms that extend outward and grasp plastic carts, haul them in and dump their malodorous contents into the hopper.
The arms and their "claws" then place the carts back to their original positions.
The truck's driver guides all that action, using a joystick next to the steering wheel. He or she never has to leave the cozy confines of the cab.
"What a difference," said Helton, 38, a Tremper High School graduate who hired on as a Waste Division driver 10 years ago. "With the old trucks, you had to drive standing up, and jump out every 15 or 20 feet or whatever. So you just left the door wide open. You endured every weather condition — snow, sleet, rain, 100 degrees to minus-zero temperatures.
"Now you can sit and drive with the door closed, and the heating and air conditioning keep you comfortable."
The job also presented mental challenges.
"If you came in thinking you didn't want to be here today because it was negative-20 degrees, that was going to carry on for the majority of the day," Helton said. "It was gonna make it really hard. You had to be motivated every morning, knowing you were going to pick up bags at 700 to 800 houses — all by hand."
The city purchased 14 of the 2020 model New Way trucks new for $280,000 each. Eight are used for brown-cart garbage collection, and four are deployed to pick up blue carts containing recyclables. Two others are spares.
And "spare" these trucks indeed do. As in bodies.
"Before the automated trucks, drivers picked up between 13 and 15 tons of garbage a day," said Waste Division superintendent Keir Powell. "We would average $200,000 a year in doctor bills due to injuries like lacerations, herniated discs and torn rotator cuffs."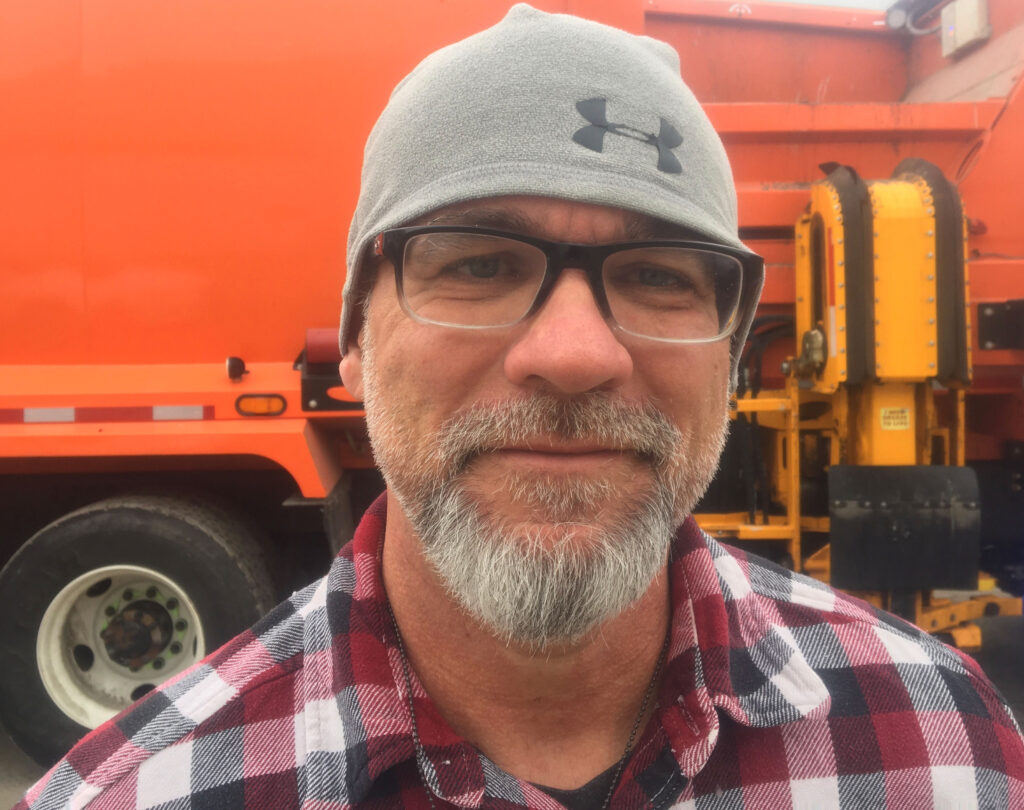 And because the city is self-insured, that was taxpayer money, he said, adding that drivers were put at risk on a daily basis.
Since going automated, the division has experienced just five injuries — only one of them significant.
Ironically enough, that injury was to Powell himself. In a freak accident, he tripped and fell onto a cart.
"I split open my head above my right eye and required nine stitches," he said.
Despite that aberration, the automated system is vastly more efficient, safer and cost-effective, he said.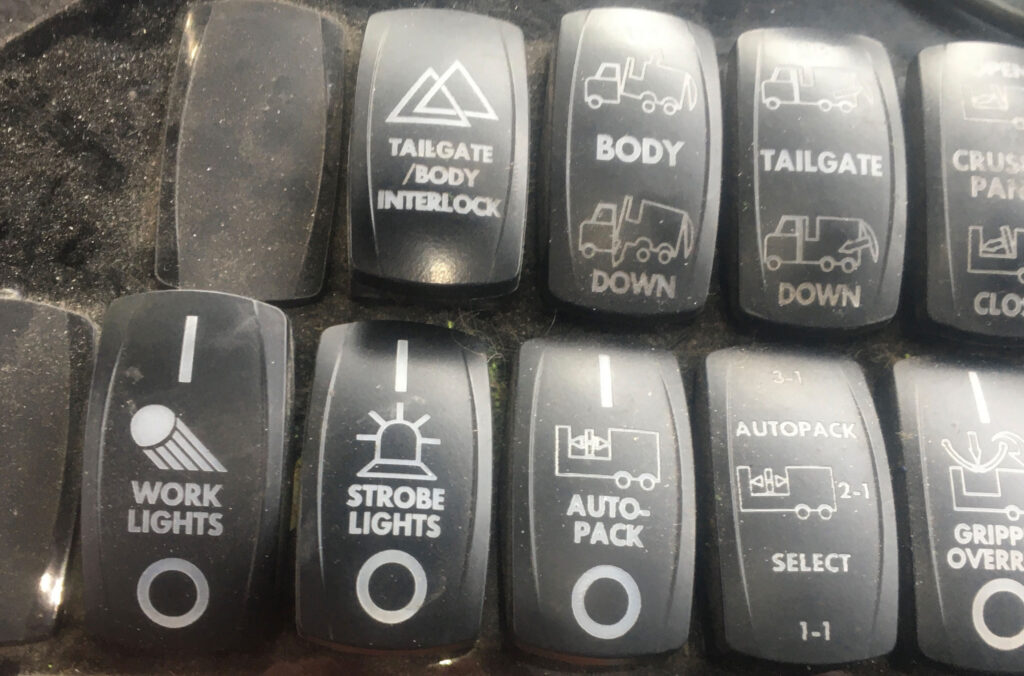 "In the three years before automated collection, we averaged about 120 days of lost (employee) time," he said. "That was either for restricted duty or workers' compensation — being off.
Last year, in 2021, we had zero days of lost work. So we've become much more efficient and dependable when it comes to staffing the trucks."
Also, the sturdy carts present a uniform look — as opposed to the battered cans and unsightly piles of bags in the past.
"It's a more pleasant environment," Powell said.
Hiring drivers is much easier now, because they can look forward to longer, likely injury-free careers, he said.
The one-person, right-hand-drive trucks are equipped with a pair of rugged rear axles and feature push-button transmissions, diesel engines, power steering and air brakes. The rigs can carry 10 to 12 tons.
Each cart issued to citizens has an address-identifying computer chip read by a scanner in the truck, so the division has a record of precisely what was picked up where — and when.
Five cameras are mounted on each truck, and their perspectives are displayed on a screen in the cab.
Said Helton: "The cameras are all around the truck. There's one in front, one in back and one on each side. It's a 360-degree view."
There's also a camera in the hopper.
"So when we dump a cart we can see what falls out," he said. "There's a lot of things we don't take —batteries, tires, paint, microwaves, televisions, electronics. Some people will try to sneak 'em in there, but we can see what gets dumped."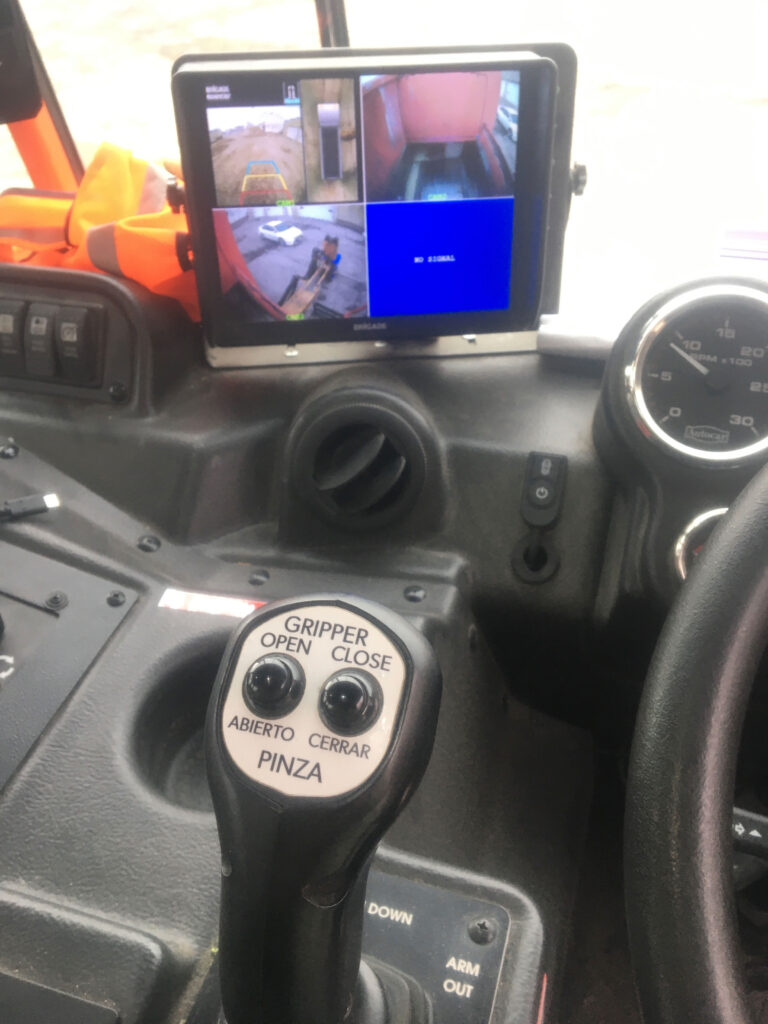 Drivers remove barred items and place them in the parkway. Overall, most people don't try to dispose of disallowed materials, he said.
Still, beginning this year, the division plans to ramp up enforcement of the rules, Powell said. Violators could face fines.
The Waste Division continues to offer a disposal site for items forbidden in the carts, Powell emphasized.
Training for the new trucks was minimal, Helton said.
"This all rolled out right around the time COVID hit really hard here," he said. "We also had the riots in Kenosha — literally the same day we switched to these new trucks.
"So it was kind of get out there and learn as you're going. Just be careful, take your time and drive safely."
The civil unrest didn't affect collection, he said.
"One morning we started an hour later because we weren't sure what was happening, but that was it."
Mastering the truck's functions required diligence. For example, it wasn't easy learning to use the joystick.
"A lot of times the carts are pretty close to a vehicle, or maybe the recycling and garbage carts are literally next to each other, touching," Helton said. "You have to finesse that claw in between them so you don't knock them over.
"A lot of carts got knocked down early on, and drivers got out, picked them up and emptied them."
It took two months for Helton to become fully confident operating the vehicle.
"In a couple of weeks I had it down, but it was still kind of sketchy," he said.
Drivers experienced some mishaps in the beginning — such as nicking with a claw a vehicle parked close to a cart.
"When that happened, we definitely would call our supervisor right away and get the police out there to file a report, take pictures, and let the vehicle owner know," he said. "We take all the necessary steps."
But those incidents are extremely rare now, Powell said.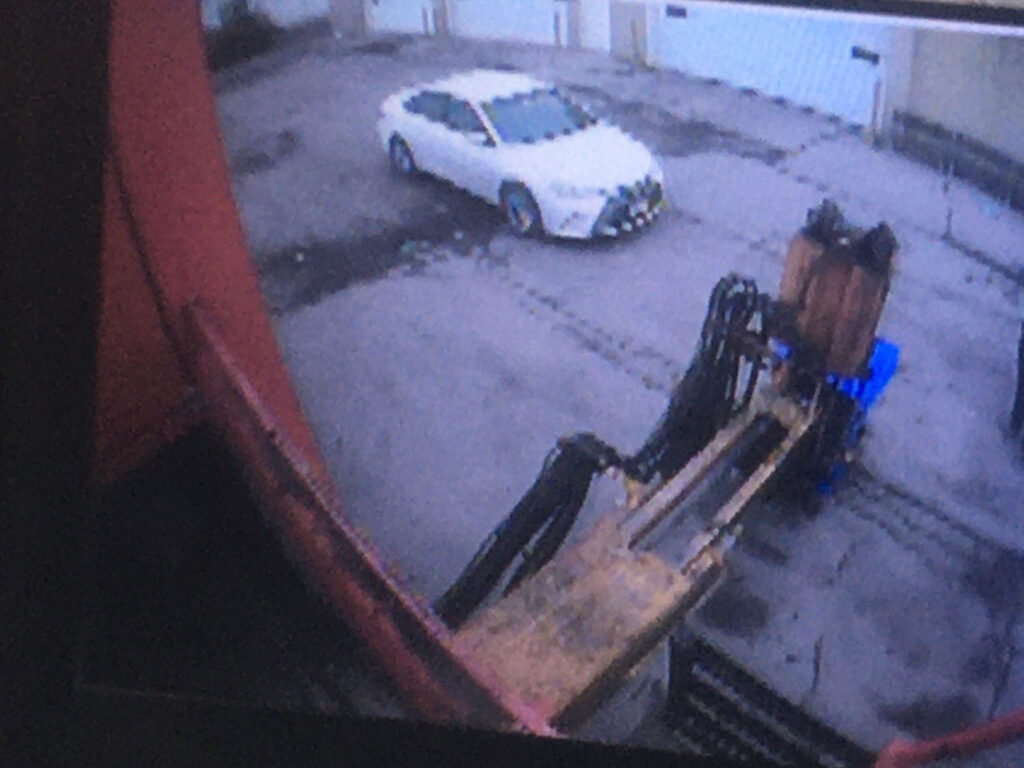 "Anything can happen at any time, but I think everybody has it down," Helton said. "Even the citizens are putting carts in better spots, keeping them away from vehicles. It's been a learning curve for us all, and everybody is doing pretty well with it."
Sometimes, it's impossible to pick up a cart.
"It might be put on the parkway and then somebody will park right in front of it," Helton said. "Obviously, we can't go through a car to pick it up."
The truck features three buttons a driver can press to record reasons for non-pickups at specific locations. The buttons read: Cart not out, cart blocked and cart contaminated (containing prohibited items).
"If the citizen were to call and say you didn't pick up our garbage — with that computer chip in the cart we can say we were there at this particular time and it was blocked or it wasn't out," Helton said.
Placement of carts can be a bit tricky for the public. Putting carts curbside in the street is easiest for drivers, because vehicles can't block access to them.
"A lot of people do put them in their parkways, which isn't a big deal as long as no one parks in front of them," Helton said. "But putting them in the street ensures that your carts are going to get picked up if they were out in time."
Ideally, carts should be placed at least three feet apart from each other. Weather is another factor that influences cart placement.
"If it's snowing, we don't encourage people to put carts in the street because the city will be out there plowing," Helton said.
In that case, citizens may place carts in the approaches to their driveways.
"Some people will actually dig out an area of snow on their parkway, along the curb, and set carts in there," Helton said. "They can't push or pull them to the top of a snow mountain because they're pretty heavy when something's in them."
If citizens do manage to wrestle their carts to a snow-mountain parkway peak, it's usually not a problem. The automated arms can extend 12 feet, lift 1,000 pounds and elevate eight feet in the air.
"It's a pretty good machine," said Helton, who works from 7 a.m. to 3 p.m. five days a week and is assigned soley to garbage collection.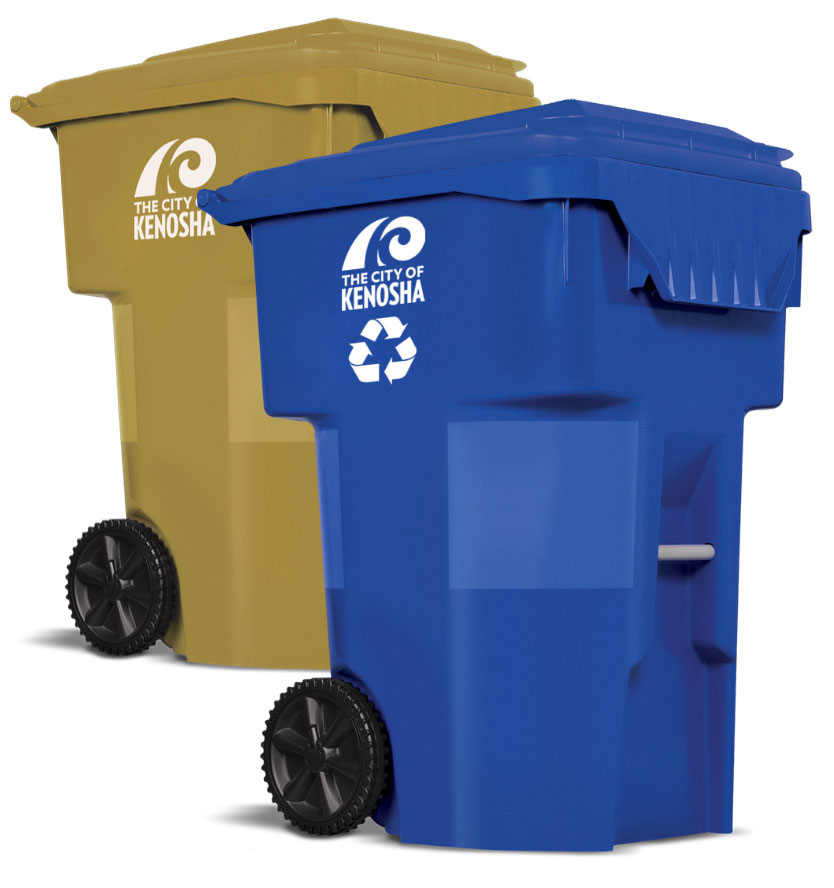 The trucks are longer than their predecessors, and the cabs are located ahead of the front axle, which makes handling somewhat more difficult, he said.
"They're not bad, they're not terrible — it just takes a little bit of getting used to," he said.
City residents may choose between 95-gallon and 65-gallon carts, with the vast majority opting for the larger containers.
The city purchased 66,000 carts for $3.1 million from Rehrig Pacific Co. in Pleasant Prairie, where they are produced.
Elderly and disabled residents who are unable to wield the carts may request that drivers perform the task — moving, emptying and replacing them. About 300 residents receive that service.
Drivers amass garbage and recyclables from an average of 750 residences on each of the city's 60 collection routes.
Garbage is deposited at the Waste Division headquarters at 1001 50th Street and then transported to the Pheasant Run landfill in Bristol. Recyclables are trucked to a transfer station at GFL Environmental, 5421 46th St.
"This whole process has been a collaborative effort between the Public Works Waste Division, employees and the residents of Kenosha working together to make it, overall, successful," Powell said. "It didn't take very long for everyone to get into the new routine. It's been a pleasant surprise for all of us."