Gael Clauson is a longtime member of King Arthur's retail team. A team that makes fresh, hot Focaccia on Saturday mornings at the King Arthur Baking Company in Vermont. This Focaccia is soft, herbal, and perfect for pairing with marinara sauce, soup, or salad. Definitely a new favorite at my house.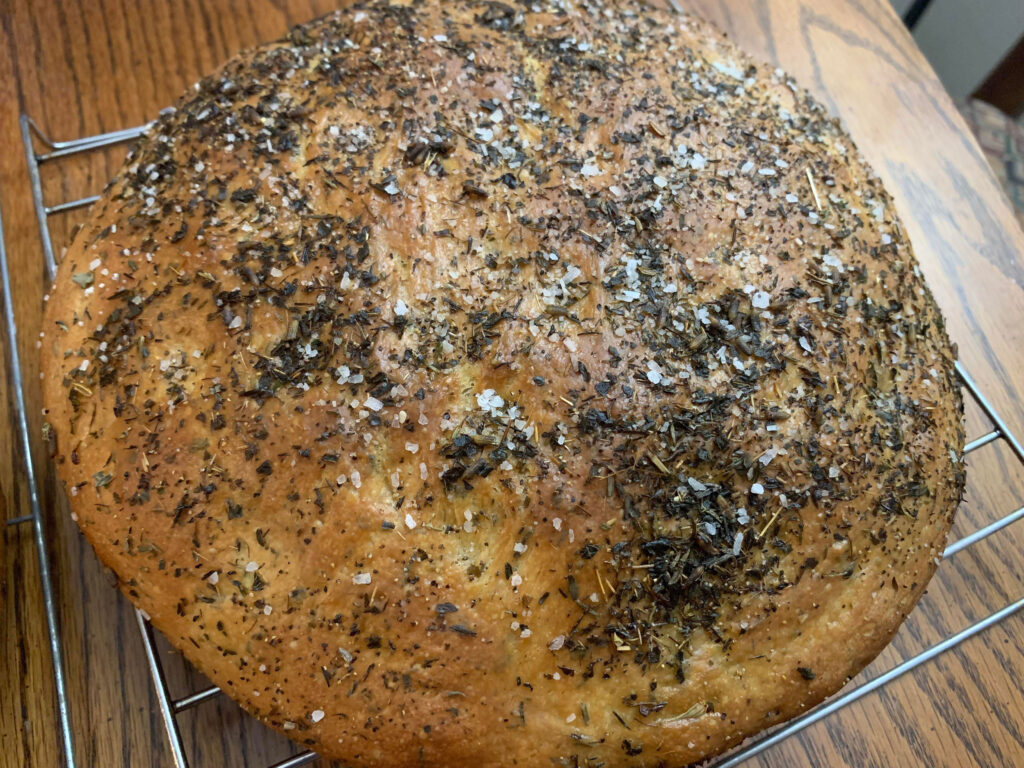 Ingredients:
Dough
2 cups (454g) lukewarm water
1 Tbsp (14g) granulated sugar 
1 Tbsp instant yeast
1 Tbsp (18g) salt
2 Tbsp (25g) olive oil
1/2 cup (82g) semolina flour
4 1/2 – 5 cups (540-600g) unbleached all-purpose flour
2 to 3 Tbsp herbes de Provence 
1/2 tsp black pepper
2 Tbsp (25g) garlic or olive oil for the pan 
*While semolina adds nice color and texture, substitute unbleached all-purpose flour, if desired.
Topping
Herbes de Provence
Coarse salt
Coarsely ground black pepper, optional
Garlic or olive oil 
Instructions:
Combine the water, sugar, yeast, salt, and olive oil, stirring to dissolve the sugar and yeast.
Stir in the semolina, then 4 1/2 cups of the all-purpose flour, the herbs, and the black pepper. Knead the dough — by hand, mixer, or in a bread machine set on the dough cycle — until it's smooth. It'll be quite soft. Gael says, "Your finished dough should be like a marshmallow, very easy to knead. It should clean the sides of the bowl, if you're using a mixer. If the dough seems too slack, add more flour a tablespoon at a time until it comes together. It should feel moist and soft; tacky like a sticky note, but not sticky."
Place the dough in a lightly oiled bowl and turn the dough on all sides to coat with oil. Cover it loosely with plastic wrap, and let it rise for 90 minutes in a warm place, or until doubled in size.
Gently deflate/de-gas the dough by pressing lightly; no need to punch it, says Gael. Turn it out onto a lightly floured counter; it should feel like a big marshmallow, very pliable.
Lightly grease two 8″ or 9″ round cake pans, and drizzle 1 tablespoon garlic oil or olive oil into each pan, brushing it across the bottom. "The oil will ensure that the bottom of the focaccia will be crispy and tasty," says Gael.
Divide the dough in half and gently shape it into rounds to fit whichever pans you've chosen. Place the roughs into the prepared pans, cover the pans, and let the dough rise for 45 minutes in a warm place, until puffy.
While the dough is rising, preheat your oven to 425 degrees.
Use your fingers to gently but firmly dimple the dough, making focaccia's signature little hills and valleys. Sprinkle the top with herbes de Provence, a bit of coarse sea salt for crunch and flavor, and coarsely ground black pepper. Drizzle with garlic oil or olive oil.
Bake the focaccia in the middle of the oven for about 30 minutes, or until it's lightly browned and baked through. It should be brown and crispy on the bottom.
Remove the focaccia from the oven, and turn it out of the pans onto a rack to cool just slightly before serving. Serve with warmed marinara sauce as a dip, or just as is with soup or salad.
Tips:
For a twist, try changing up the toppings: chopped fresh rosemary, grated Parmesan cheese, chopped Kalamata olives, shredded Asiago cheese, crumbled feta cheese, mozzarella cheese, anchovies, oil-packed sun-dried tomatoes, caramelized onions, sautéed mushrooms, diced red peppers.