Like everyone in our community and beyond, Parkside Athletics continues to navigate COVID-19. Twenty-two months later, we are still conducting testing for student-athletes, isolating and quarantining based on positive cases and contact tracing, and continuing workouts, practices, and competitions.   
At the front lines of that effort are three individuals who consistently go above and beyond for Parkside student-athletes — Associate AD and Head Athletic Trainer Katie Bowers and Athletic Trainers Sean Blazier and Catie Zapinski — and they are being recognized as this week's Kenosha.com Rangers of the Week.  
"Making a positive impact for Parkside Athletics is nothing new for Katie, Sean, and Catie," said Andrew Gavin, Director of Athletics. "Long before the COVID-19 pandemic, they were already utilizing their medical expertise and incredible work ethics to selflessly provide care to our student-athletes. For the past two years, they have been nothing short of spectacular."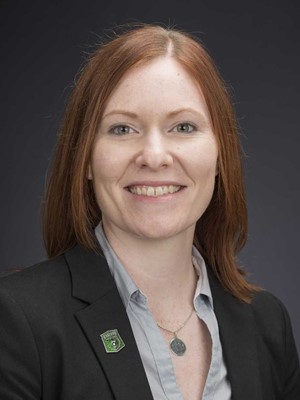 While continuing to perform all of the other aspects of their work at a high level, the sports medicine team has stepped up to conduct COVID-19 testing, track vaccines and boosters, execute contact tracing, and communicate with conference, university, and local health officials.
"The past two months have been incredibly challenging for everyone," said Luke Reigel, head men's basketball coach. "But no group of people have had more added to their plate than our athletic trainers. Led by Katie Bowers, who has always done a phenomenal job with our team, the entire training staff has gone above and beyond to keep our student-athletes healthy and safe. I know our athletes, their families, and the entire coaching staff are very grateful for their incredible dedication."
Bowers joined the staff at UW-Parkside as the Director of Sports Medicine in April 2018, overseeing the athletic training and healthcare services for Parkside's 15 intercollegiate sports teams. She is currently serving as a member of the Great Lakes Intercollegiate Athletic Conference COVID Task Force and is the liaison between Parkside Athletics and its sports medicine partner, Advocate Aurora Health and the UW-Parkside Student Health and Counseling Center.
"Our sports medicine team truly goes above and beyond every single day," said women's soccer student-athlete Myah Strokosch. "They positively adapt despite being short staffed. They make Parkside Athletics better and the care they give has a lifelong impact. Katie Bowers specifically has helped me tremendously the last three years and counting. The value she has given to my experience as a student-athlete is unmatchable. She has kept me physically and mentally on the field."
Blazier, who is an employee of Advocate Aurora Health, has been working as an athletic trainer at UW-Parkside since 2018. He is currently working directly with track & field and men's soccer.
"Sean has been a godsend for our team. Working tirelessly to manage 1,000 different things at once," head cross country / track & field coach Nick Maas said. "We have a team of 60 which is hard enough to manage in a normal year. He, along with all of our Sports Medicine staff deserve a party at the end of this year. Hardest working people in the industry!" 
Zapinski, also an employee from Advocate Aurora Health, came to Parkside in 2018 as well. She works with cross country, volleyball, women's basketball and softball.  
"Catie has juggled so many different things this semester but finds a way to do it all, and do it all to a high level," associate head coach of cross country / track & field Carly Fehler said. "She's been a precious resource for our student-athletes and our staff. We are so grateful for Catie and all she brings to our team!"
Parkside Athletics would like to thank Katie, Sean and Catie for all of their hard work for our student-athletes! We are forever grateful for your time, energy and expertise! 
Ticketing 
Saturday (Jan. 15) is the rescheduled Parkside men's basketball game against Purdue Northwest at 3 p.m. The gameday sponsor is RangerVision Community Champion Festival Foods, so please make sure to stop by the concession stand and purchase a Festival Foods $5 Meal Deal to enjoy as you cheer on your Rangers! To purchase tickets to this event, please visit ParksideRangers.com/Tickets.
If you purchased a ticket to the originally planned game on Jan. 1, please reach out to Robyn Elliott at elliottr@uwp.edu for assistance with your ticket. Since it is a new event, we will issue you new tickets. To view an updated calendar of events for all our winter sports, please visit ParksideRangers.com.