I've been wanting to make some savory scones for a while now, but have been going back and forth between a few different recipes. This past week I found the perfect savory scone recipe that I simply could not pass up. This classic flavor combination of aged cheese and robust pepper packs a punch of flavor! Known as "cacio e pepe" by Italians, this pairing of two timeless flavors is something to be enjoyed by all. They are best served hot with a large pad of butter. Enjoy!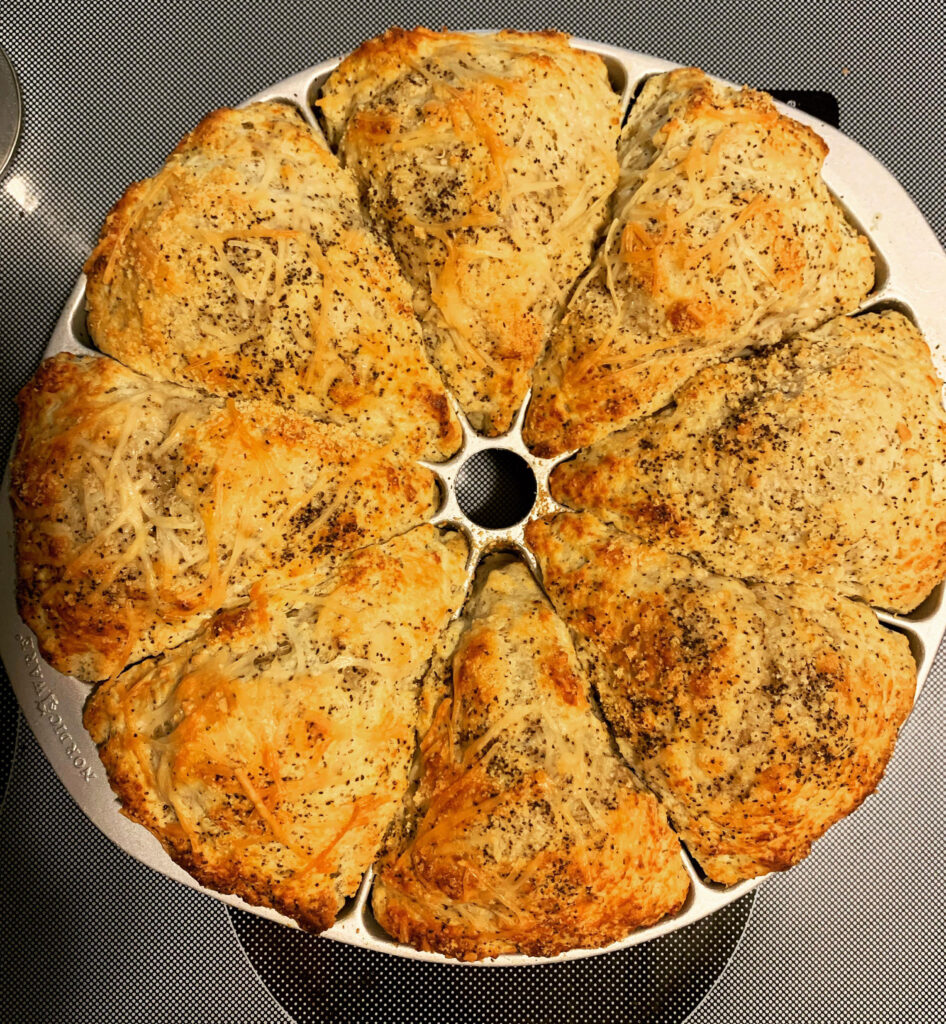 Ingredients:
Dough
2 3/4 cups (330g) all-purpose flour
2 Tbsp (25g) granulated sugar
3/4 tsp salt
2 Tbsp coarse ground black pepper
1 Tbsp baking powder
8 Tbsp (113g) butter, cold
1 1/2 cup (112g) Parmesan cheese or Pecorino Romano cheese, grated
2 large eggs
1/2 to 1/3 cup (112g to 152g) milk
Topping
Milk, for brushing
1/4 to 1/3 (25g to 33g) Parmesan cheese or Pecorino Romano cheese, for sprinkling on top
Coarsely ground black pepper, to taste (optional)
Instructions:
To make the dough: In a large bowl, whisk together the flour, sugar, salt, pepper, and baking powder.
Work in the butter just until the mixture is unevenly crumbly; it's ok for some larger chunks of butter to remain unincorporated (using your hands or a pastry blender/cutter works well).
Add the grated cheese and mix until evenly combined.
In a separate bowl, whisk the eggs and milk together.
Add the liquid ingredients to the dry ingredients. Using a bowl scraper or a large spoon, stir everything together until moistened and holds together. If the mixture seems dry, drizzle additional milk about a teaspoon at a time until the dough comes together. I used 152 grams of milk, and it turned out perfect.
Line the baking sheet with parchment paper lightly sprinkled with flour (if you don't have parchment, sprinkle pan with a bit of flour).
To shape scones: Scoop the dough by 1/4 cupful onto baking sheet. You can use a large ice cream scoop also. If you own a scone pan, this will also work.
Brush the tops with milk and sprinkle cheese and a little pepper on top.
For best results, place scones uncovered in freezer for 30 minutes. This helps relax the gluten and makes them more tender and have a higher rise. It also chills the fat, which helps give the scone a flaky texture. While the scones chill, turn the oven on to 425 degrees. Place your rack on the top third of the oven.
To bake the scones: Bake the scones in the upper third of the oven for 18-20 minutes, until they are a light brown.
Remove scones from oven and let slightly cool on pan. Serve hot and enjoy!
If you plan on storing them, let them cool completely, wrap, and store them at room temperature for several days. To reheat, place scone on baking sheet and tent with aluminum foil. Warm them for 10 minutes in the oven at 350 degrees.