"Miss D" behind the register, fresh meats behind the counter. Narrow aisles packed with everyday items to feed a neighborhood before the birth of big box stores.
And, the smells. The smells!
Of all the cherished memories of the Model Market, the longtime neighborhood grocery store destroyed by fire Wednesday night in Kenosha's Columbus Park neighborhood, the aroma of the store's legendary Italian sausage may be the most vivid of all.
"You walk into the store, and oh my God, that aroma. You never wanted to leave," said John Bilotti, the former Kenosha mayor who grew up near the store and frequented it for decades.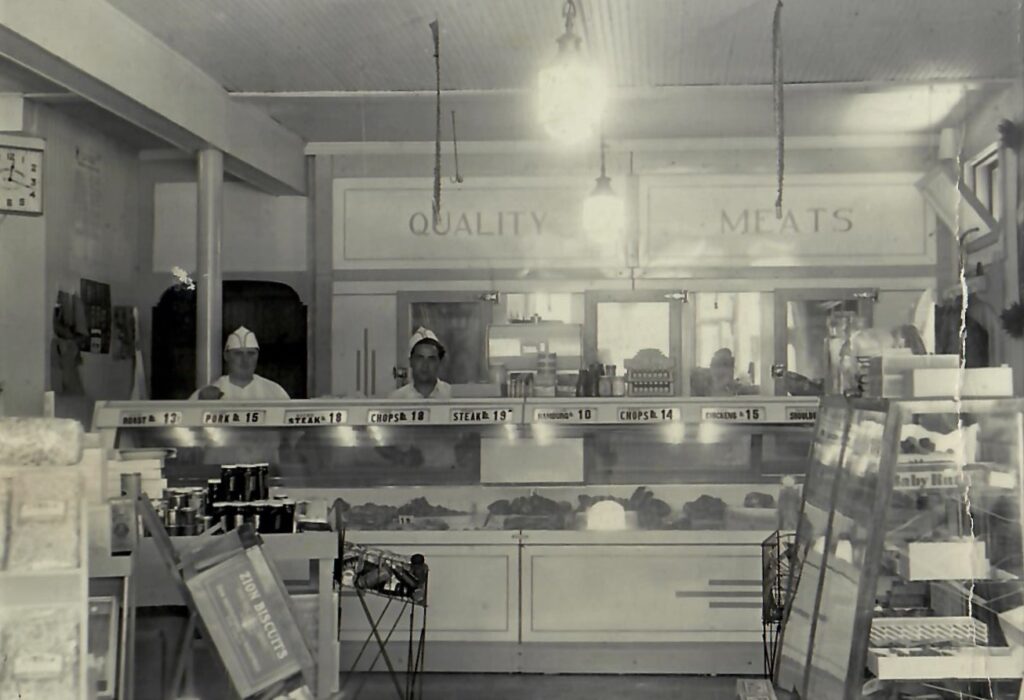 Kenoshans shared their memories of the Model Market, 2327 54th St., less than 24 hours after the fire, which Kenosha Fire Department Deputy Chief Dan Tilton said is still under investigation.
One resident of the building remains unaccounted for, third-generation business owner Tony Del Frate said.
"The building was a total loss," Tilton said. "We were fortunate to not have any firefighter injuries, but the cold weather conditions are always a challenge for us to fight fires."
Tilton valued the financial loss at around $250,000. The sentimental loss is much greater.
"It was such a cornerstone for that little community," said Ben Gentile, great-grandson of Nello and Amelia Del Frate, founders of the Model Market. "Anybody that was part of that neighborhood is part of the store, the story."
"Italian flavor"
The Model Market was a neighborhood staple for generations, one of many like it across the city as Kenosha grew as a manufacturing center more than a century ago.
The building housed a neighborhood store since the early 1900s.
In 1919, four partners — Nello, Louis and Enrico Del Frate and Peter Guidotti — purchased it and "revamped and reorientated it to give it an Italian flavor," according to a written family history shared by Tony Del Frate. Nello was an Italian immigrant who initially settled in northern Michigan to work in copper mines.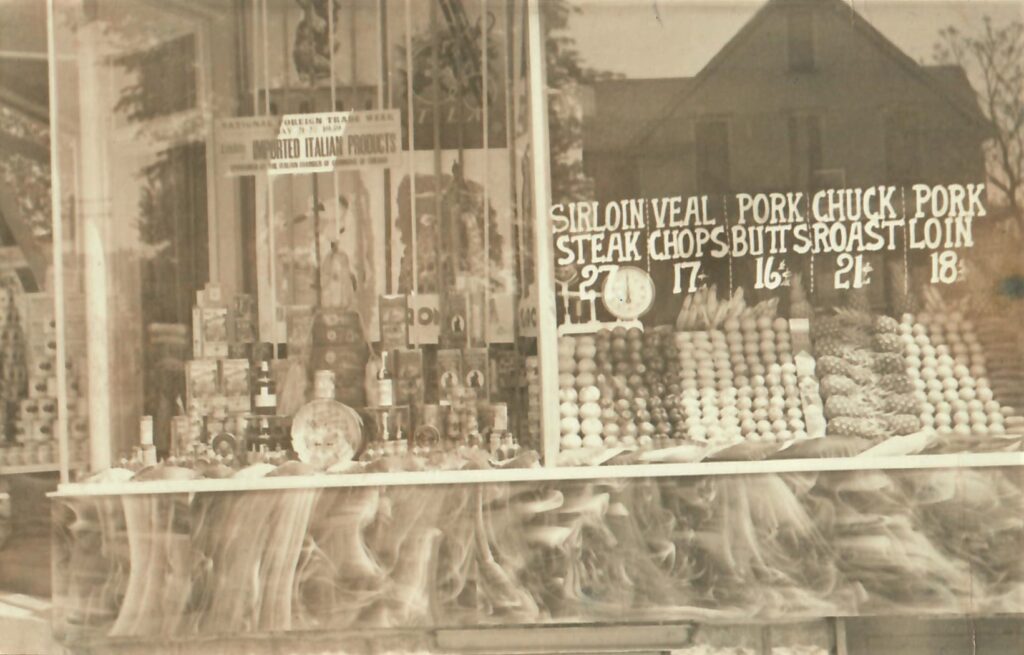 The four renamed it Guidotti's, how it would stay for almost 30 years.
"The store did face numerous competitors," according to the family history, five within just a few blocks and more than 100 across the city. "Each store reflected the owner's nationalities and tastes."
The store was open seven days a week to accommodate workers at the nearby Nash Automobile Company, and did home deliveries. Nello and Amelia Del Frate lived in a duplex on 53rd Street.
In 1946, the four business partners split, forming their own stores. Nello and Amelia kept and renovated the original store.
Then, shortly after taking ownership, tragedy struck.
Nello — while on a trip to Iowa with Amelia, their daughter and another local store owner to pick up a shipment of butter — died after being stranded following a car accident in a snowstorm, "leaving behind five children, his wife and an empty store," according to the family history.
"Amelia returned determined to succeed where her husband left off."
And she did. "Miss D," as she was known in the neighborhood, soon became a fixture.
Amelia Del Frate lived to be 102 years old, and her passion for the business never wavered.
"My grandmother, the matriarch … she kept the business going," Tony Del Frate said. "Ten-hour days, six days a week."
"She worked behind the counter until (her late 90s)," Gentile said. "She was a staple in that neighborhood … a neighborhood icon that every kid knew."
Fausto Fioravanti — who grew up in an apartment upstairs from the Model Market and worked at the store for a decade — said she "was definitely a woman who could do it all."
"Everyone respected her. She demanded respect, and she got respect in return," he said. "She would run house credits because people wouldn't get paid right away. She had a written hand tally of what people owed. She never missed a beat. Some people couldn't pay, and she never held it against them. They knew they needed that neighborhood to survive."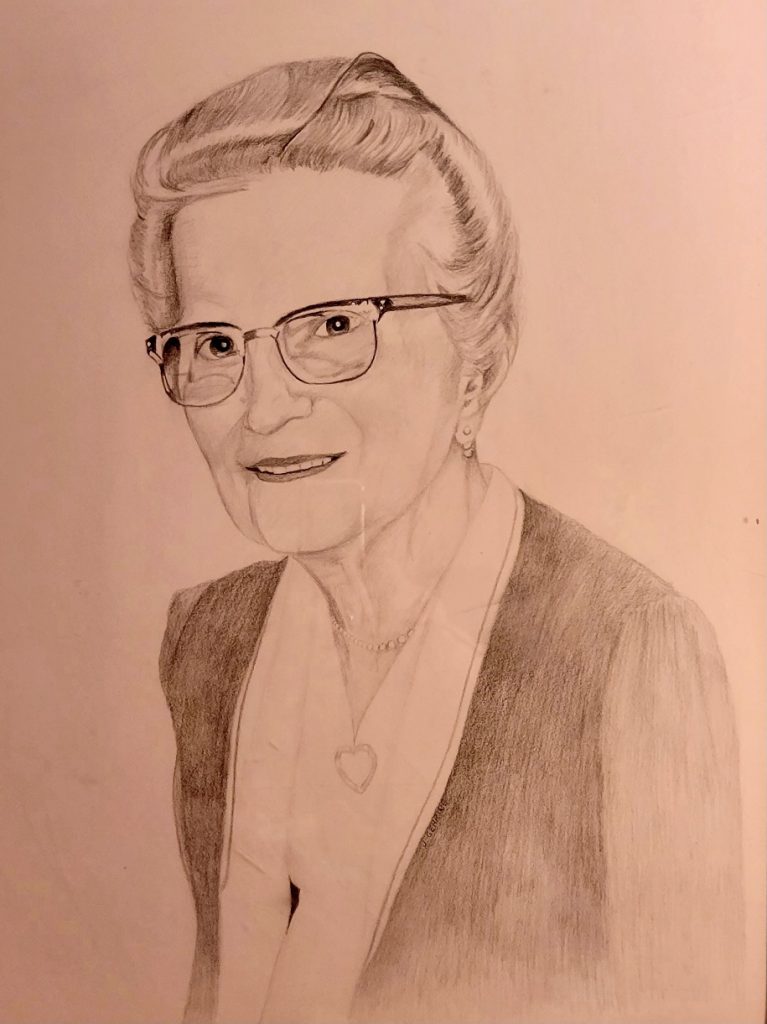 Ronald Del Frate, Nello and Amelia's son and Tony's father, took ownership in the 1970s, and expanded and renovated the store, adding a warehouse to boost its wholesale business.
Tony Del Frate became the third generation owner in 1999. It left family ownership in 2006.
The store's current owners asked for privacy in a Facebook post after the fire.
"We appreciate everyone's kind words and support from the community," they wrote. "Please respect our privacy as our family deals with this and we will update everyone when we can."
Serving more than a neighborhood
As of Wednesday, with its second owners since the Del Frates, the Model Market was still touting its "full line of beef, chicken,pork, seafood, frozen goods. Dry goods. Soda, pop, chips, snacks," according to its Facebook page.
"If we don't have it we can get it for you. We want this to be your one stop shop."
Many used that same term — "one-stop shop" — to describe the Del Frate's store they remembered from decades ago.
Fioravanti remembered the rows of basic groceries, "everyday needs."
Bilotti, who said his mother and grandparents ran a boarding house upstairs from the Model Market, recalled the store's narrow aisles, occasionally with items piled on the floor — and "Miss D" behind the counter. "No matter when you went — if it was early morning, mid-afternoon, or early evening — she was always at the cash register," he said.
Gentile said the store "was a butcher shop at heart."
"The main focus of the store was the meat counter," he said.
Especially the Italian sausage, which would end up at restaurants like Infusino's, Ruffolo's, Luigi's and DeRango's.
"All of your local Italian restaurants would get sausage from us," said Gentile, who delivered that sausage, with other items, to dozens of local restaurants, stores and other businesses.
"I was proud of learning the recipe and working in the sausage kitchen," Fioravanti said. " We were making 3,000 to 5,000 pounds a week of Italian sausage, that's how big it got.:
And the store distributed its own private label of mozzarella cheese "that people still talk about to this day."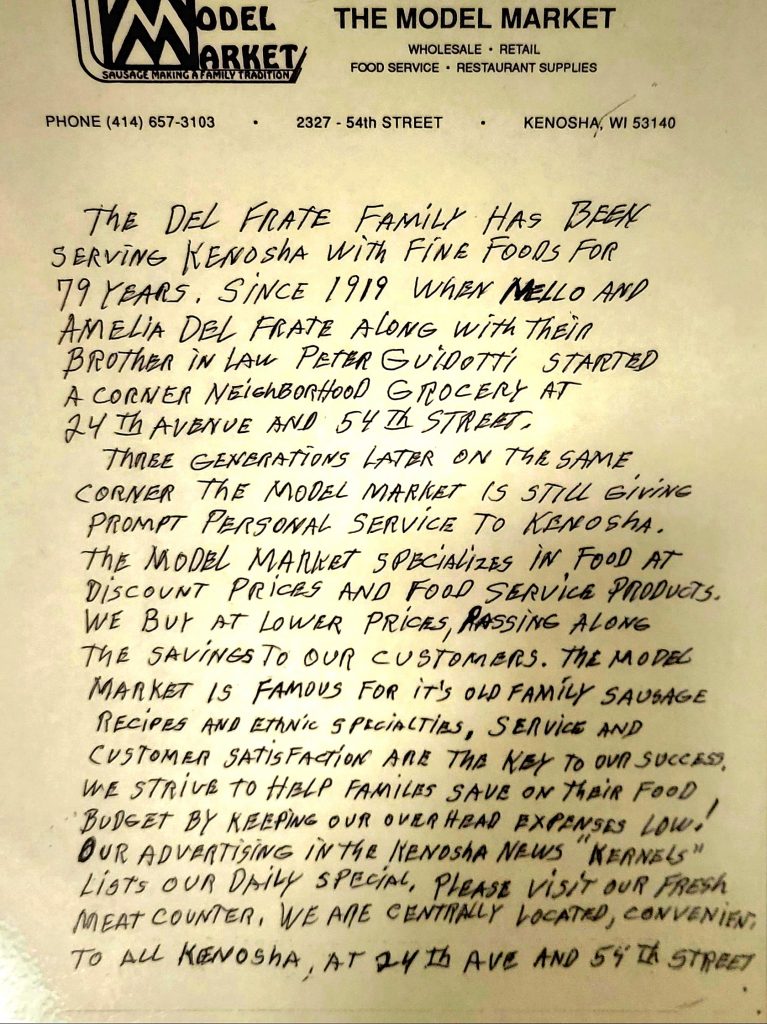 Kenosha Mayor John Antaramian frequently visited the store with his father while growing up.
"It was an interesting place. Interesting smells," he said. "You'd walk in and you'd go, 'Ahhh, what's that one?' That's the type of store that it was.
"I recall one time picking up grapes. My dad bought a bunch of grapes, and there were like two or three crates of grapes to be carried out of the place."
Family ties
Family ties were another hallmark of the store.
"All of the Del Frate children grew up helping out at the store as teenagers," said Gentile, now a broker at eXp Realty in Kenosha. "My dad worked there when I was a teenager."
"It's like losing a family member. It's like losing a part of you."

– Fausto Fioravanti, former Model Market employee
Fioravanti and his three brothers grew up in a small, two-bedroom apartment upstairs from the Model Market, starting in 1974. He later worked at the market and bought a house across the street he still owns. By then the neighborhood was a "melting pot," and Model Market happily served everyone, he said.
"I've been part of that neighborhood forever," said Fioravanti, who now owns Avanti Brothers Wine and Spirits in Kenosha.
The fire, he said, is "devastating."
"It's like losing a family member," he said. "It's like losing a part of you."
Still, fond memories of the Del Frate family aren't far from the surface.
"They spoke softly, but they worked hard," he said. "They were the true definition of what America was built on, the foundation of hard work and family."
And food.
"It was my favorite job," Fioravanti said. "My first job was processing deer. From there I went to stocking shelves and taking out garbage and working the deli and doing deliveries.
"I did everything there. I learned so much."
(The store processed more than 500 deer a season and handled more than 1,000 orders, Tony Del Frate said.)
Employees, Gentile said, "were like family members." One of the butchers was his confirmation sponsor. "We still talk to each other to this day."
Those relationships continue today.
"We owned the building for 100 years. The family traditions, the camaraderie of all the neighbors and tenants and all the employees and customers …" Tony Del Frate said, tearing up.
Gentile said he has received dozens of messages starting shortly after the fire started.
"We are so enamored with the outpouring of support from the community, and from the people who grew up in that neighborhood," he said.
Antaramian is not surprised. He shares those "fond memories of a time past."
"They were anchors of neighborhoods," he said of stores like the Model Market. "It was a different time. You didn't have all these massive grocery stores.
"And yet many of these small stores have been able to survive and succeed, which is a wonderful aspect of what can still happen in a community."