Tuesday night is always "Taco Tuesday" at our home. I made the mistake of making a chicken crockpot dish one Tuesday, and my children will never forgive me. To make Tuesdays a little more exciting, I decided to create Mexican-inspired dishes, besides simply tacos. My children approve of this crunchy, cheesy, and delicious dish.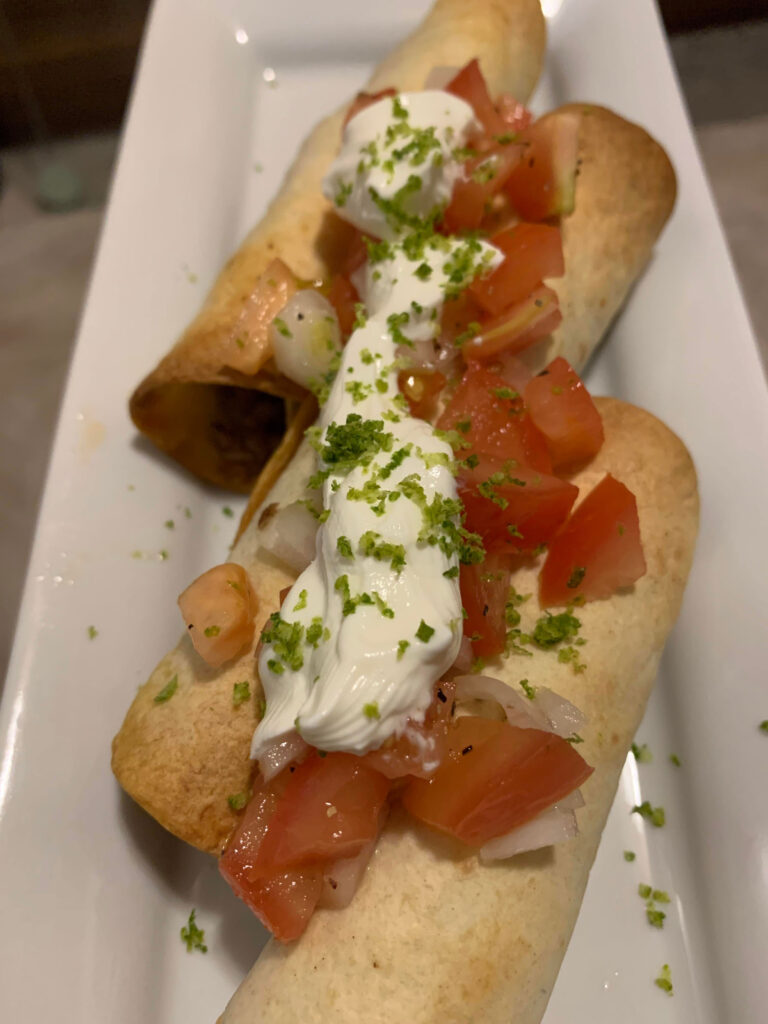 Ingredients:
2 Roma tomatoes (diced)
2 onions (minced)
1 lime (zest & quartered)
4 cloves of garlic (minced)
2 ounces sour cream
1 lb ground pork
3 Tbsp southwest seasoning
1 Tbsp chicken stock concentrate (or 1/3 cup of chicken stock/broth)
12 small flour tortillas
Shredded Monterey Jack cheese (as much as you'd prefer)
Salt
Pepper
2 Tbsp of cooking oil (whatever you prefer)
2 tsp flour
Directions:
Adjust rack to middle position and preheat oven to 425 degrees.
Wash and dry produce. Dice tomato, half, peel, and finely chop onion, zest and quarter lime, peel and finely chop garlic.
In a small bowl, combine tomato, 4 tablespoons onion, a squeeze of lime juice, salt and pepper. In a separate small bowl, combine sour cream and lime zest. Add water (1 teaspoon at a time) until mixture reaches a drizzling consistency. Season with salt and pepper.
Heat a drizzle of oil in a large pan over medium-high heat. Add remaining onion; cook, stirring occasionally, until lightly browned and slightly softened, 2-3 minutes. Add pork, garlic, southwest spice, and a pinch of salt. Cook, breaking up the meat into pieces, until browned and cooked through, 4-6 minutes.
Stir 2 teaspoons flour into pan with pork mixture until thoroughly combined. Stir in stock concentrate and 1/3 cup water (or 1/3 cup of chicken stock). Bring to a simmer and cook until thickened, 2-3 minutes. Season with salt and pepper. Remove pan from heat.
Line baking sheet with foil and lightly oil. Place tortillas on a clean work surface and drizzle with oil; rub to coat all over. When filling is done, evenly divide between one half of each tortilla, then sprinkle with cheese. Roll up tortillas, starting with the filled sides to create flautas. Place, seam side down, on prepared sheet. Bake on middle rack until golden brown and crispy, 8-12 minutes.
Divide flautas between plates; drizzle with zesty crema and top with Pico de gallo. Serve with a lime wedge on the side. Enjoy!