On this date (Dec. 23) in 2017, Kenosha native Trae Waynes joined some exclusive Minnesota Vikings company in fashioning one of the best games of his NFL career.
And he did it at Lambeau Field.
In his third season as a cornerback for the NFC North champion Vikings, Waynes recorded three tackles, including the only sack of his career to date, in a 16-0 victory over the Packers before 78,092 in a rare Saturday night affair in Green Bay.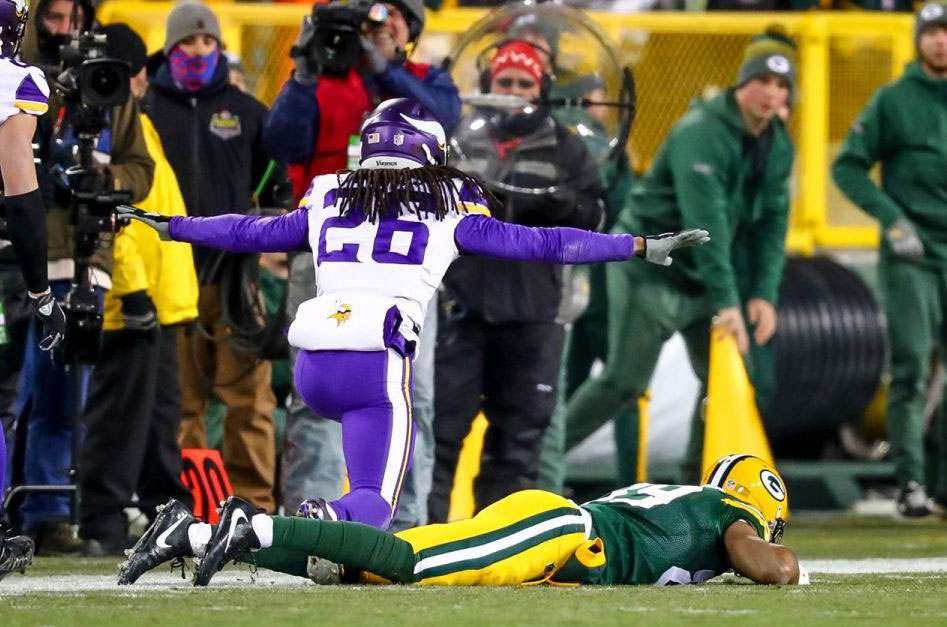 Waynes became just the 13th cornerback in the 57-year existence of the Vikings to notch a sack. His 4-yard takedown of Brett Hundley, starting for the injured Aaron Rodgers, was the first by a Minnesota CB since Captain Munnerlyn in 2015.
Waynes' other tackles came in the fourth quarter after completed passes. Making his 15th start of the season, Waynes' lone pass defensed came on the Packers first series when he got in the way of a deep third-down pass intended for Michael Clark.
The Harborside Academy graduate, who played at Bradford, was on the field for 61 of 67 snaps of a monumental defensive effort by the Vikings.
It was Minnesota's first shutout since a 13-0 victory over the Detroit Lions on Dec. 5, 1993 and its first whitewashing of the Packers since Nov. 14, 1971.
The following week, Waynes made it 16-for-16 in starts in a 22-10 victory over the Chicago Bears in Minneapolis. He finished the campaign with 65 tackles (57 solo), four tackles for loss, two interceptions and 11 passes defensed.
Waynes started both playoff games. He made four stops with a pass defensed in the miracle win over the New Orleans Saints and three tackles and a pass defensed  in the loss at the Philadelphia Eagles in the NFC Championship.
Waynes, a Michigan State product, is in his first season with the Cincinnati Bengals. A hamstring injury has cost him most of 2021 but he did return to action Sunday and recorded two stops in the Bengals' 15-10 victory over former Bradford teammate Melvin Gordon and the Denver Broncos.
For more information or to comment on this feature, contact the author at dmarran359@aol.com