The Restaurant:
Oakfire, 3552 Market Lane, is one of the newest additions to the Kenosha pizza scene with a focus on wood fired Neapolitan-style pies.
The Featured Dish:
Spicy Ezzo — Thick-cut pepperoni, spicy sopressata, roasted red pepper, mozzarella, romano and chili flakes with honey drizzle.
The Flavor and The Story:
In a city with tons of great pizza, Oakfire holds its own with a completely different style than traditional "Kenosha-style."
While ultra-thin crust pizza piled high with cheese and delicious toppings is undeniably delicious, Neapolitan-style crust fired hot is another world of flavor and experience.
The dough is traditionally made with an ultra-fine flour, yeast, salt, water and, most importantly, time.
The simple ingredients come together during fermentation to create a bready, but light and airy, crust that can stand up to the heat of a 1,000-degree oven.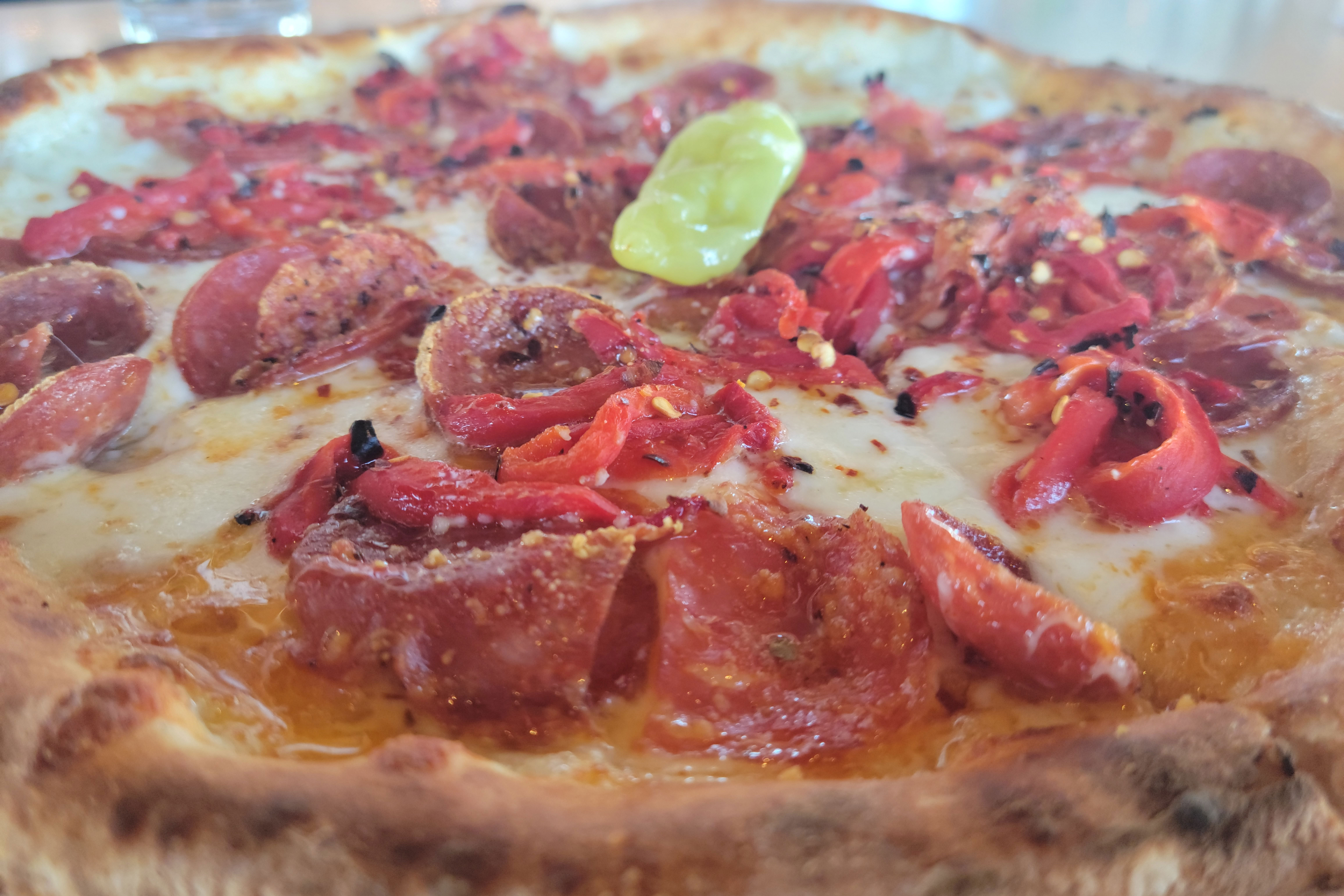 This style of pizza can cook from raw dough and toppings to perfectly crisp in under two minutes.
Generally, due to the short fire time, toppings are kept light, simple and delicious. On my last visit, however, I tried the Spicy Ezzo pizza that is somehow absolutely loaded with delicious cured meats.
This particular pizza comes from the "pizza bianca" section of the menu so there is no red sauce. Without the cooling liquid marinara, the pizzas in this section are able to to support a larger quantity of ingredients without becoming soggy.
On the Spicy Ezzo, the perfectly cooked dough is generously topped with mozzarella cheese and then piled high with roasted red pepper, thick-cut pepperoni and soppressata.
Just these two meats alone would be enough to warrant a heat warning. If you're not a fan of heat, you may want to quit reading and order the margherita. For those who like it hot, though, it only gets better.
Crushed red pepper flakes are sprinkled across the entirety of the pie, kicking up the heat and complementing the spicy meats.
To elevate the dish further, it's finished with a slight drizzle of honey, adding just enough sweetness to balance the flavor profile without taking over.
The Spicy Ezzo is available every day and priced at $19.
Oakfire is currently open for dine-in and also accepts carryout orders. You can view this dish and the entire menu at Oakfire.pizza.