A historic local eatery and watering hole is on the brink of financial collapse — and its proprietor is appealing to the public for patronage.
Kristine Brittich, who operates tg's Restaurant & Pub, which opened more than a century ago and has hosted numerous national celebrities and politicians over the decades, says her business is in dire fiscal straits.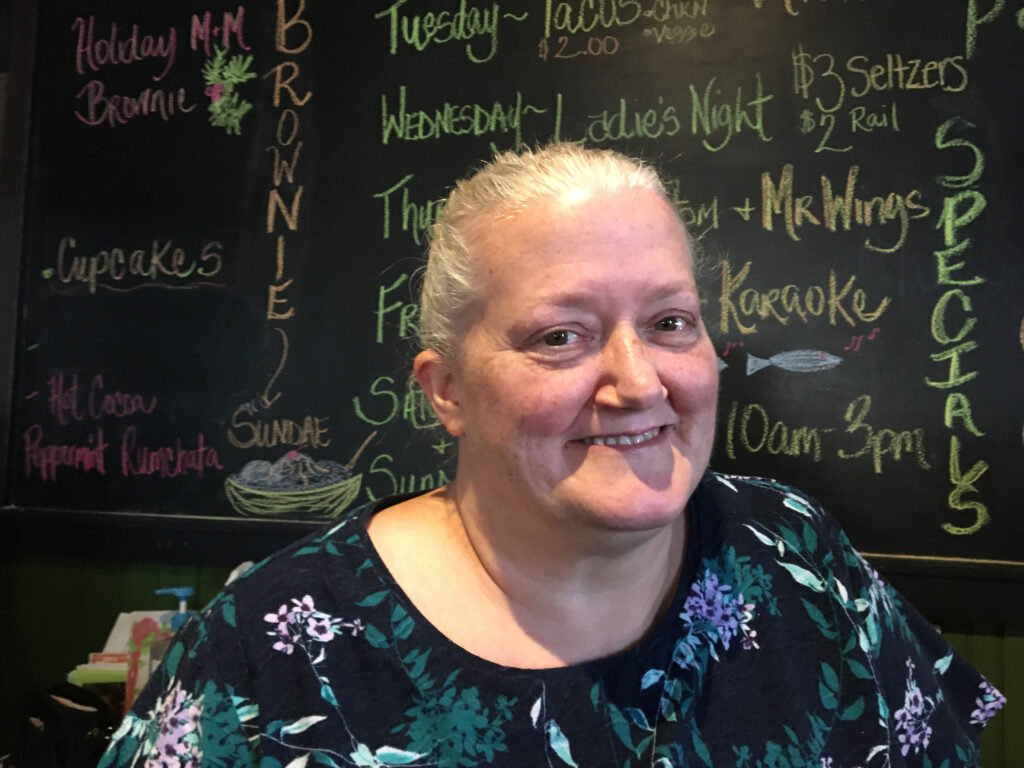 The crisis is due largely to a sort of perfect — and calamitous — economic storm, including the COVID-19 pandemic and the attendant shutdown and capacity restrictions, as well as Kenosha's 2020 civil unrest, which resulted in curfews.
"It all hurt," Brittich said. "Everything was detrimental."
Now, the business is facing foreclosure, she said.
Brittich says she and her husband purchased the iconic locale, at 4120 Seventh Ave., just months before the pandemic hit.
The couple is currently going through a divorce, she said.
"I wasn't thinking (the pandemic) would devastate me," she said. "That never crossed my mind at all. We did the delivery service and the curbside pickup to keep things going. But I still had taxes to pay and insurance and all these other things. And it kept adding up and adding up and adding up."
TG's is hardly the only small business attempting to survive harsh financial realities these days.
"I've heard some horror stories from others, too," she said.
Brittich has five employees, all part-time.
"It's just me, my general manager (Justin Sawyer) and my bartenders," she said. "I basically am doing the cooking from morning 'till night. And the general manager helps fill in here and there."
She hopes to keep the business afloat.
"I want to make a success out of this," she said. "Before the pandemic, I was paying all my bills. Everything."
Not now, she said.
Revenue coming in from customers plummeted, but is slowly picking up, she said. Brittich recently posted a plea for support on the restaurant's Facebook page, saying, "we are nearing a point where the end might be here for us … we ask you to help keep this landmark open, and we cannot do it without the love and support of the Kenosha community."
Long noted for its hot beef sandwiches, community fundraisers and nostalgic atmosphere, tg's was at one time an essential stopover for national Democratic party candidates vying for votes in the crucial Wisconsin primary.
Luminaries including John, Robert and Ted Kennedy and Hubert Humphrey dropped by during their presidential campaigns. Autographed photos of John and Robert Kennedy adorn the premises.
Frequent visitors also included sports stars such as the Chicago Blackhawks' Bobby Hull and the Green Bay Packers' Ray Nitschke.
When Humphrey and his entourage visited the tavern in 1968, they ran up a $100 shot-and-a-beer bar tab — and departed without paying.
Then-owner Chet Matoska, dubbed Kenosha's North Side Mayor because of his considerable political clout, complained so forcefully that the national media — including Newsweek magazine — picked up the story.
Humphrey subsequently forked over the cash.
The venerable establishment, which has undergone a succession of owners and names, features an array of vintage sports memorabilia including photos and posters, some autographed.
Matoska operated the alehouse — at that time called Chet's Sports Bar — for four decades. He retired in 1983 and an ensuing owner, Tony Roscioli-Greco, renamed it tg's.
Lore has it that during Prohibition the site served as a popular speakeasy. And for years during that era, placing bets on Major League Baseball games was a daily diversion for the tavern's working-class denizens.
But now the locale itself could strike out at the (culinary) plate.
"Please consider placing your holiday hot beef orders, pick up dinner for the family made by us, or let tg's be your next destination for a cold pint," Brittich's Facebook post implored.
"We need as much help as we can get," she said.