At the end of a ceremony on Saturday (Dec. 11) to honor UW-Parkside women's basketball's 2011 and 2012 NCAA Sweet 16 teams, Director of Athletics Andrew Gavin surprised the attendees with the unveiling of Jenny Knight-Kenesie Court in Alfred and Bernice DeSimone Gymnasium.
Honoring the winningest coach in program history, Jenny Knight-Kenesie Court is the south practice court in the renovated facility.
"I'm still in shock, I don't see this being something I would've ever thought about happening," Knight-Kenesie said. "I'm so very honored, but it's all about our student-athletes. They are the ones that brought in these amazing teams with their commitment and dedication, so I owe everything to them. It's an incredible honor to have my name in this gym."
A Kenosha native and St. Joseph graduate, Knight-Kenesie has been selected as the Kenosha.com Kenoshan of the Week.
The opportunity to honor Knight-Kenesie was spearheaded by head women's basketball coach Jen Conely through conversations with Parkside alumni and program supporters. Numerous women's basketball alumni that played for Knight-Kenesie returned to campus to participate in Alumni Weekend.
"It was great to welcome back our alumnae this weekend to celebrate the 10th Anniversary of our Sweet Sixteen teams and honor Coach Jenny Knight-Kenesie," Conely said. "Jenny created champions on and off the court; her commitment to excellence helped empower and shape the women in the program. She is such an inspiration and we are so thrilled to be able to honor the greatest coach in our program's history."
Knight-Kenesie led the program from 2002-13, amassing 195 victories in her 11 seasons as head coach. During that span, the Rangers advanced to five NCAA Tournaments, making consecutive runs to the Sweet 16 in 2011 and 2012. Knight-Kenesie was inducted in the Parkside Hall of Fame as part of the Class of 2018.
"It has been an important goal of our time at Parkside and specifically the RangerVision 2020 campaign to connect our present progress and future goals with the proud history of Parkside Athletics," Gavin said.
"As we planned and executed the DeSimone enhancement, we were thrilled to honor Coach Knight-Kenesie with this well-deserved recognition of her success and leadership."
DeSimone Gymnasium will be officially rededicated as Alfred and Bernice De Simone Arena on Tuesday (Dec. 14) in a ceremony at 5 p.m. For more information and to register to attend the event, please click here.
What they're saying about Jenny Knight-Kenesie:
"Coach Knight instilled this sense of mental toughness in each and every one of her players which translated on and off the court and can be seen in many of her former players' achievements and successes. She created a culture of excellence and family, which we carry throughout our every day lives." — Stephanie Furr, former Parkside player
"Jenny is kind of a throwback coach. She was tough on everybody, but yet everyone loved her. If you wanted to get better, be challenged and grow, well then Jenny was the perfect coach for you. It goes without saying she knew basketball inside and out, but her off-court impact is still evidenced today. The ladies who played for her include her in reunion gatherings and weddings. I've honestly never heard anyone say a bad thing about her." — Steve Kratochvil, former Parkside sports information director
"What a fitting honor for arguably the best coach this county has ever seen. Jenny was a true professional in every sense of the word and took the Parkside women's basketball program to heights no one could have imagined. If I were starting a program, she would be the first call I would make." — David Marran, former Kenosha News sports editor
"She totally changed the culture of the program. If you didn't give 100 percent effort, you couldn't play for her." — Gary Nephew, longtime Parkside supporter
"Coach Knight is the type of coach that doesn't only make you better at the game of basketball. She instills values in you that you take with you for the rest of your life … hard work, perseverance, and an always-keep-fighting attitude. She recruited the greatest group of girls who would always want to leave it all on the court for her, because we all felt so fortunate to play for one of the greatest coaches! No one deserves this honor more than Coach Knight! — Danielle (Slivka) Stade, former Parkside player
"Coach Knight's demands for excellence were incomparable. She was a very direct, straight shooter about what it meant to work hard and excel at something. It doesn't matter if it's about basketball or any aspect of life, I can still pull her voice into my head when something is feeling tough. There's an element of, 'What would Coach say/do/think' that you carry with you after having those years of experience with her. She is someone you want seeing you putting your best foot forward in whatever you're doing." — Sierra West, former Parkside player
"In my nearly 20 years of covering local sports, Jenny Knight-Kenesie is the greatest coach I've ever followed. Her ability to get every ounce of effort and ability out of every single player she coached was unmatched. She led by example, too. I don't think I've met a stronger, more determined human being." — Jeffrey Zampanti, former Kenosha News sports writer
Kenosha.com contributed to this report.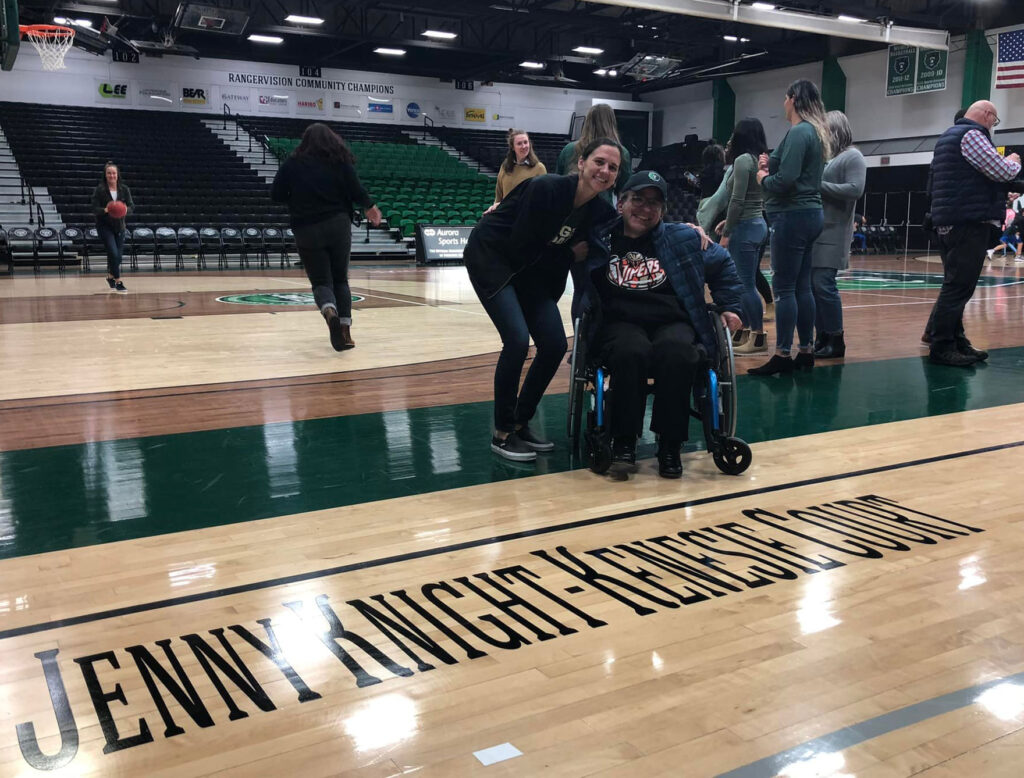 NOTE: To nominate a Kenoshan of the Week click here or email Andrew@Kenosha.com.